15 Days Everest Base Camp Trek Itinerary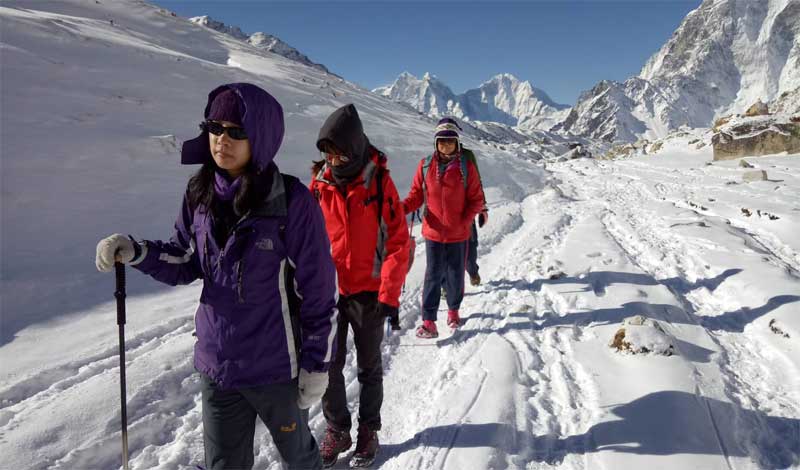 15 days Everest Base Camp Trek is the best trek itinerary. You will have sufficient days for rest and acclimatization during this trek. Acclimatization will help you adjust with the varying weather, temperature, and altitude while trekking. Thus, this trek is suitable for people of all grades. 
To a trekker who has a good level of physical fitness, the 15 days Everest base camp itinerary is a perfect one. Trust me, even if you are a first-time trekker, this 15 days trek to EBC will be pleasing. 
The 15 days Base camp trek Itinerary  count from arrival to till departure from Kathmandu and  The trek begins with a flight from Kathmandu to Lukla. From Lukla, the trek ascends gradually gaining an adjustable altitude every day. 
With two rest days, one at Namche and the other at Dingboche, it will be easy for us to adjust with the increasing altitude. We will trek through Phakding, Namche, Tengboche, Dingboche, Lobuche, Gorakhshep, Everest Base Camp, Kalapathar, and back to Lukla retracing the previous trial. From Lukla, we will fly back to Kathmandu via Lukla flight. 
15 Day Everest Base camp Trek Cost
—————————————————-
This 15 days Everest Base Camp trek itinerary package costs between USD 1200 to 1400. The price depends on what kinds of Accommodation you take in Kathmandu and during the trek. Generally  the cost 1200 to 1400 includes all your 2, 3 star Hotel in Kathmandu and standard lodge accommodation, food, transportation, and permit costs, and others during the trek and during your stay in Kathmandu. 
This cost excludes extra facilities like your drinks, trekking equipment, gears, your international ticket fares, and others. 
This trek is an advantage since we will do all the arrangements for the hotels in Kathmandu.
You don't have to worry about anything. You don't have to stress about having to arrange for your accommodation in Kathmandu, airport pickups, transportation, and several other things. 
If you have any queries on Everest base camp trek cost, contact us. 
Highlights of 15 Days Itinerary for Everest Base Camp
_____________________________________________
Lukla Flight: The short, scenic, and thrilling flight Kathmandu to Lukla and back is exciting. Landing experiences at one of the most dangerous airports in the world is exhilarating.
Namche Bazaar: The heart of Khumbu is a wonderful place with a cluster of colorful houses, lodges, shops, and others. 
Tengboche monastery: Visiting the biggest monastery in Khumbu is a blessing. The chants and prayers at the monastery are spiritual. Also, the striking Himalayan panoramas from Tengboche is beyond amazing.
Sagarmatha National Park: It is one of the natural UNESCO World Heritage sites in the Everest region of Nepal. The park is a home of hundreds of plants, animals, birds, amphibians, reptiles, and several others. The park is famous for amazing Himalayan views also.
Everest Base Camp: The root of Mount Everest, the highest peak in the world is the destination of this trek. Standing at the base camp with enthralling views of snow giants surrounding you is a great feeling. 
Kalapathar: It is the most popular viewpoint of Mt. Everest. From there, you will see a 360-degree panorama of Mt. Everest and the other Himalayas. The early morning hike to Kalapathar and the sunrise view is the best part of this trek. 
Sherpa Culture, Lifestyles, and Traditions: The basic way of life, unique traditions, and culture of the Himalayan Sherpas are inspiring. People are hospitable. You will love the warm hospitality and friendly nature of the locals. 
Natural Scenario: The Himalayas, diverse terrains, beautiful landscapes, amazing wildlife, vegetation, everything about Everest is amazing. You will have a wonderful time trekking in Everest.
Things to Know Before Going on 15 Days Everest Base Camp Trek
__________________________________________________
Everest Base Camp is a high altitude trek. You will reach 5555 meters in 9 days. Despite having acclimatization days, you should always be careful of altitude sickness. Walk slow, hydrate yourself from time to time. Take care of your health.

The trekking trails are rugged and remote. Walking on such trails for 12 days can be exhausting. Moreover, you'll have to walk for 8 to 9 hours a day while returning. Make sure you boost your stamina and have a healthy mindset.

Wear comfortable trekking shoes. Bring a good quality sleeping bag. Also, bring every essential equipment and gears based on the season of trekking. 

Weather and temperature at high altitudes can change drastically at any time of the year. So, you should prepare yourself to cope with any kind of

weather at Everest Base Camp

that can prevail.
Why Should You Choose 15 days Itinerary for Everest Base Camp Trek?
Listed below are some of the reasons why you should choose our 15 days Everest base camp trek itinerary. Have a look, 
Adequate acclimatization. Acclimatization day keep AMS away! You will have two acclimatization days at Namche and at Dingboche. These days are enough for your body to cope with the increasing altitude.

We provide you services on your arrival and departure. We will receive you, arrange for your accommodations while you are in Kathmandu. You need not worry or hustle about finding a place to stay and about hotel and airport transfer.

An extra day in Kathmandu after the trek puts you in a safe zone. You won't have to worry about missing your international flight back home even if the Lukla flight gets delayed by one or two days. 
At Last, 
The 15 days Everest base camp is a beautiful journey to the base of the highest peak in the world. This amazing journey is a lifetime journey. You will have wonderful experiences with natural and socio-cultural aspects of Everest. These 15 days are going to be the most memorable days of your life. 
Irrespective of the fact that whether you are a beginner or a pro, you can go trekking to Everest base camp. Plan your trip based on your preferences. Bring all the essential trekking gear based on the time of the trek. Sometimes, inadequate or inappropriate trekking gears also makes it difficult while trekking. 
Join us on our Everest Base Camp in 15 days trek. You will have a gracious time with our organized team. Adventure Great Himalaya is a renowned trekking agency in Nepal. We organize the best treks and tours in all parts of Nepal. If you want to trek with us, contact us. 
Why booking with us ?
Fully Locally Owned Company
Quality Of Service and Competitive price
Highly Professional Staff
Flexible and customization trip itinerary
100% Customer satisfaction
Need help?
Nepal: 00977-9841273869
whatsapp
: 00977-9841273869
24 hour customer service