Annapurna Base Camp Trek is one of the world's most incredible and adventurous hikes. For a mountainous hike, it's undoubtedly the most family-friendly hike with lesser difficulty and easier access. Located on the glacial basin at the foot of the Annapurna range, the Annapurna Base Camp trek  itinerary can be different. One is via the Ghorepani Poon Hill, a famous short hiking destination, and another is direct to the Base Camp. The trek is ideal for hikers seeking a less demanding yet rewarding hike.
The trek distance depends on which route you choose and the optional side treks you do. The shortest trail of Annapurna Base Camp can be hiked in as many as six days, while the longest route can be traveled in two weeks.
A standard route to Annapurna Base Camp is to start in Nayapul and hike up to Poon Hill to Chhomrong and Machhapuchre Base Camp for almost two weeks. From there, you can climb steep slopes and walk along the Annapurna glacier before finishing at the top.
Another popular route for beginners and trekkers with special needs is via Sinuwa. It's the fastest trek route with a relatively shorter distance and moderate challenges. This trek is ideal for anyone seeking to hike the base camp in the least travel time.
It isn't as relaxing as the previous ones since you have to cover a maximum distance in a minimum time. There is no time for acclimatization on this hike, and you can't explore multiple tourist attractions.
The hiking trail via Sinuwa is not as busy as the one detouring Poon Hill. However, it does have its fair share of rugged terrains with steep hills and glaciers. There are many twists and turns along the way, which can intimidate and tire you out.
However, you'll have to keep your speed up to finish the trek on time. Hikers taking this trail will have a little longer journey, but they'll get to explore far many more places than the ones choosing a short route.
Direct Annapurna Base Camp Trek  Itinerary -10 Days From Kathmandu ( 7 days From Pokhara)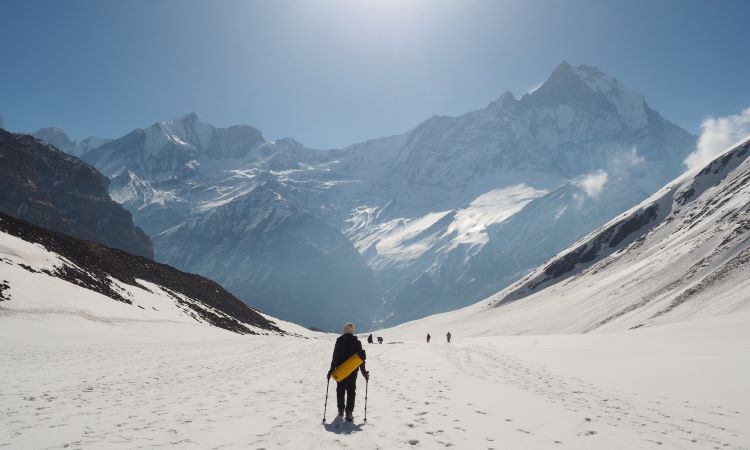 Itinerary:
Day 01:  Arrive in Kathmandu
Day 02: Drive To Pokhara
Day 03: Drive from Nayapul / Syauli Bazaar / Kimche, Trek to Ghandruk
Day 04: Trek from Ghandruk to Chhomrong
Day 05: Trek from Chhomrong to Himalaya
Day 06: Trek from Himalaya to Annapurna Base Camp via Machhapuchre Base Camp
Day 07: Trek from Annapurna Base Camp to Bamboo
Day 08: Trek from Bamboo to Jhinu Danda
Day 09: Trek from Jhinu Danda to Siwa/Ghandruk Phedi, drive to Pokhara via Nayapul
Day 10: Drive back Kathmandu
Annapurna Base Camp Trek is arguably one of the most fabulous hiking trails. It's the cheap and easy , moderate trek option, with several professionals and amateurs hiking the trail. The trek also provides multiple options for trekkers to reach the camp, including a direct route.
The Direct Annapurna Base Camp Trek  Itinerary will be 7 days from Pokhara and 10, 11 days from Kathmandu , The Trek begins just outside Pokhara, almost a 41.0 km drive away in Nayapul. We'll finish the road trip in Syauli Bazaar and then continue hiking, although the real trek begins from Kimche. From here, the trail takes you to Ghandruk, a popular Gurung village with rich history and culture.

After spending a night here, we'll continue our trek with a steep descent to Kimrong River and a climb high up to Chhomrong. Upon reaching the village, you'll enjoy the spectacular scenery of Annapurna and its surrounding hills.

We'll trek the Himalayas, passing through verdant forests and crossing Chhomrong Khola, Sinua, Bamboo, and Himalaya. From Himalaya, we'll follow the trail through the glacial valley past the Machhapuchre Base Camp. From here, the trail inclines upward, taking us all the way to the Annapurna Base Camp. It will take four days to reach the Base camp, but it's worth it in the end.

Throughout the journey, you'll get to see the breathtaking scenery of Annapurna massif, Dhaulagiri, and Gangapurna. The trail also offers us an incredible view of tropical forests and glaciers.
After wandering the camp, we'll climb down the trail, going through Modi River Valley and ending at Bamboo. Our trek continues with a further walk down to Kimrong Khola and through the rhododendron, bamboo, and oak forests.

Soon upon reaching the Chhomrong village, we'll prepare for our trek to Jhinu Danda. Located in a small ridgetop, the village is most famous for its hot springs. On the last day of the trek, we'll trek Siwai and finally return to Ghandruk.

After descending the trail from the village, we'll drive to Birethanti and take another road trip to Nayapul. We'll leave for Pokhara the following day, taking a four-hour ride with some mind-blowing views.
Annapurna Base Camp via Poon Hill  Itinerary -13 Days from Kathmandu ( 10 Days from Pokhara)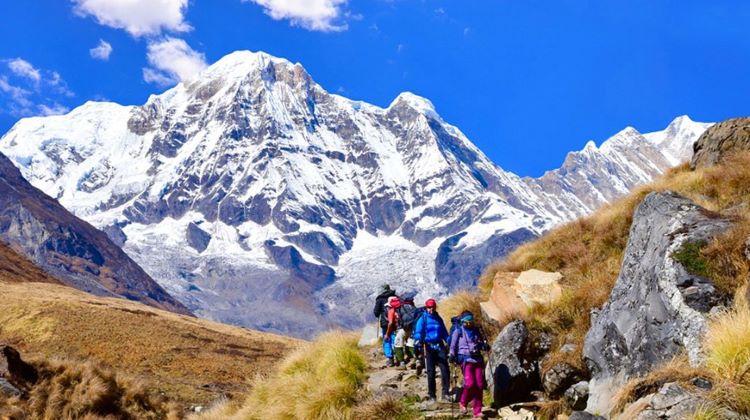 Itinerary:
Day 01:  Arrive in Kathmandu
Day 02: Drive to Pokhara,
Day 03: Drive from Pokhara to Nayapul, Trek to Ulleri
Day 04: Trek from Ulleri to Ghorepani
Day 05: Early morning hike to Poon Hill viewpoint, then trek to Tadapani
Day 06: Trek from Tadapani to Chhomrong
Day 07: Trek from Chhomrong to Dovan
Day 08:  Trek  To  Machhapuchre Base Camp
Day 09: Trek to Annapurna Base Camp
Day 10: Trek from ABC to Dovan
Day 11: Trek from  Dovan to Chomrong
Day 12: Trek to Jhinu Danda to drive to Pokhara
Day 13: Drive from Pokhara to Kathmandu
The Annapurna Base Camp trek from Ghorepani poon hill route is perfect for thoes  trekkers who wiling to  explore the Beautiful Sunrise view from Poon hill, The trek will be 9, 10 days from pokhara and 13 days from kathmadu to Kathmandu.

Annapurna Base Camp Trek via Poon Hill is a Days long-distance trekking route that begins in the town of Pokhara. To reach the town, we'll have to take a road trip of 6-8 hours along the Trishuli and Marsyangdi Rivers. The next day, we'll drive to Nayapul via Tirkedhunga, then head to Birethanti, which passes Bhurungdi Khola.

Shortly after arriving here, we'll climb off the hillsides to Ulleri, passing through villages like Sudame and Hile. Walking along the trail, we'll enjoy spectacular views of towering hills and lush green forests.

After spending a night at Ulleri, the trekking continues with a gentle walk through the rhododendron forest and up the hill to Ghorepani. Nestled at 2,874 meters elevation, Ghorepani is a beautiful village with surrounding mountains and sharp hills.

The early next morning, we'll climb the steep slope of Poon Hill to catch the beautiful sunrise view. We'll also seize the opportunity to watch the unrivaled Himalayan scenery and beautiful landscapes.

After spending some time at the viewpoint, we'll descend the trail to Ghorepani and continue our journey to Tadapani. We'll pass several villages with the likes of Deurali and Banthanti to reach the village.

From Tadapani, we head to Chhomrong, passing the beautiful village of Ghandruk and descending to the Kimron River. Upon arriving here, you can see the lofty mountains with Annapurna in the south and Machhapuchre in the north.

The journey from Chhomrong is quite long and tiring. The trail extends almost 12 km, ascending steep slopes and running through oak, bamboo, and rhododendron forests. After finishing at the top, the trail descends to Bamboo lodge, passing Kuldigar village.

We'll make our final ascend of the day with a trek to Himalaya. Tomorrow is the big day, so we'll go to bed early on this day and get some rest. Early in the morning, we'll have breakfast and leave for the trail, which weaves through a narrow gorge along the Modhi Khola Glacial Valley.

The trail takes us through the Hinku Cave before making a long ascent to Machhapuchre Base Camp, which offers a panoramic view of towering mountains. Before we steer off the course, we'll continue our trek to Annapurna Base Camp with a steep climb for about an hour.

Finally, after reaching the foot of Annapurna, we'll take the time to appreciate its beauty and watch the 360-degree view of Hiunchuli, Gangapurna, Annapurna III, and Pisang Peak. After some exploration and sightseeing, we'll leave the camp and retrace the steps to Bamboo.

We'll further descend the trail in the following days, making our way through Jhinu Danda and Gurung Phedi. We'll cross Kimrong Khola during the trek and walk through the rhododendron and oak forest.

After bidding a final goodbye to Ghandruk, we'll head to Pokhara, covering a distance of 11 km driveway. From Pokhara, we'll travel back to Kathmandu, following a 200 km route that passes through Marsyangdi River and Trishuli. We'll also pass some remote villages and terrace farms before winding up at Kathmandu.
For More information Contact us.
Call WhatsApp: +9779841273869
Email: info@adventuregreathimalaya.com