Manaslu Circuit Trekking- Cost, Itinerary and the best time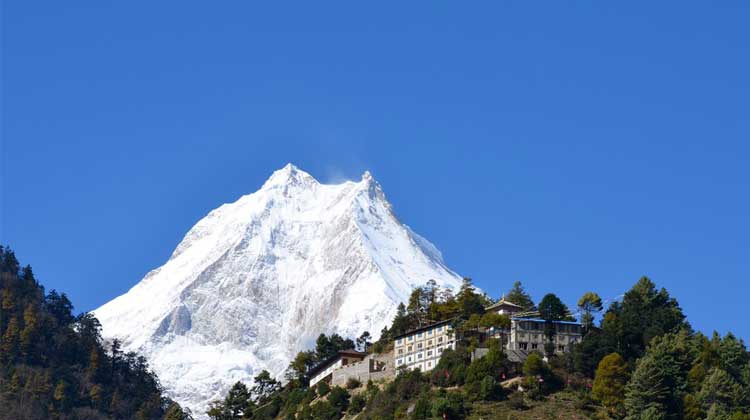 The Manaslu Circuit Trek sees fewer tourists than other major trekking destinations in the country but, needless to say, is a very attractive trekking option. It is one of the best tea-house trekking destinations of Nepal as you find great numbers of tea-houses as lodging options on the way. Amongst other things, the Budhi Gandaki River, the Larkya pass (5160 m), and the enchanting Manaslu mountain ranges are the highlights of this trek.
 This is a stunning trek with spectacular views of the Manaslu Mountain (8163 meters), which is the eighth highest peak in the world, and the Ganesh Himal range. As you go up the trail, you will experience a mix of unique Hindu and Buddhist lifestyle and villages. This exciting trip takes around 17 days from the capital Kathmandu and follows the trail of the Budhi Gandaki River from the village of Arughat to its source which is around the Larkya Pass at 5160 meters above the sea level. The major mode of accommodation for the trek is tea houses but camping is also an option. The trails in the trek are off-beaten and are untouched by the spread of modernization and thus offer the most authentic of trekking adventure. The best months to go on this trek are October to November and March to April.
Standard Manaslu circuit Trek  Itinerary-17 Days
Day 01: Arrive in Kathmandu via respective airlines.
Day 02: Trekking Preparation
Day 03: Drive to Arkhet by Bus/Jeep The Trek to Soti Khola.
Day 04: Trek to Machhakhola 869m – 06 hrs.
Day 05: Trek to Jagat 1,340m – 06 hrs.
Day 06: Trek to Deng 1,860 m – 06 hrs.
Day 07: Trek to Ghap 2,397 m – 05 hrs.
Day 08: Trek to Lho 3,180 m – 06 hrs.
Day 09: Trek to Samagaon 3,520m – 05 hrs.
Day 10: Rest day in Samagaon for acclimatization and local hike.
Day 11: Trek to Samdo 3,875 m – 06 hrs.
Day 12: Trek to Dharamsala / Larkya Phedi 4,460 m – 04 hrs.
Day 13: Cross Larkya- la 5,160 m trek to Bimthang 3,590 m – 08 hrs.
Day 14: Trek to Gho 2,595 m – 05 hrs.
Day 15: Trek to Dharapani 1,860 m-06 hrs.
Day 16: Dharapani to Kathmandu by Private Jeep.
Day 17: Depart Kathmandu for international departure.
Manaslu trek Route
The trek begins with a drive to Arkhet Bazar from Kathmandu. Soti Khola is the starting point of the trek. The traveler's then trek through Machha Khola and trek along the Budhi Gandaki River to reach Jagat. From Jagat, the trek rapidly ascends to Deng. The Buddhist prevalence begins as the trek heads to Ghap. Going pas numerous monasteries on the way, the next destination is Samdo after spending a day at Samagaon for acclimatization. Following the pristine trails under the Manaslu Himal ranges, the trek reaches its culmination at Larkya pass at an astounding height of 5,160 meters from the sea level. Descending along numerous glaciers, the destination is Bimthang followed by Gho and Dharapani. The journey finally ends as the drive from Dharapani heads to Kathmandu.
Altitude Variation
As the journey starts at Arkhet Bazar which is at a pretty low height of 608 meters above the sea level, the altitude varies a lot throughout the trip. It is a strenuous trek which requires travelers to be in good physical health. The trekkers pass through various villages such as Jagat (1340 meters), Ghap (2397 meters) and Samagaon (3530 meters) finally making their way up to the Larkya Pass (5160 meters) which is the highest point of the trip. The trek gains massive altitude within a span of a few days and the vegetation, wildlife and cultures vary accordingly as well.
Manaslu Trekking Permit Cost
Getting the visa for Nepal is the simplest of procedures. Travelers can either choose to get a visa via Diplomatic Missions Abroad or just get an on-arrival visa. Tribhuvan International airport, 0which is the only international airport in the country, provides on-arrival visa services. Various land borders around the country also offer on-arrival visas for visitors. The costs for a Nepali Visa are as follows:
A 15 days visa costs 25 USD
A 30 days visa costs 40 USD
A 90 days visa costs 100 USD
If you are traveling with an agency, it will take care of the required permits. But it is recommended to double check that you have the required permits before travel. You will require a RAP permit which costs 70 USD for the first week and additional 10 USD per day after that from September to November and 50 USD and additional 7 USD per person from December to August. You will also require both the Annapurna and Manaslu Conservation Area Project passes which costs around 40 USD combined.
This 17-day trip costs around 1250 USD. This cost can vary if you choose to extend the trip for a few more days and visit other spots in the region. It will also vary depending on the lodging option and the type of transportation that you choose to and from Kathmandu. This cost includes a couple of days of accommodation in Kathmandu. It will also include a professional English-speaking guide and a porter (limited baggage allowed) for the trip. It comes with insurance for emergency services and covers government taxes and other service fees as well. The cost does not include personal expenses and tips on the way. Discounts may be available depending on the size of the group.
Gear and Equipment
Here is a list of some essentials that you require for a trek to the Manaslu Circuit. Some of the following might already be provided by the trekking agency or also could be available for rent.
Good sleeping bag – it can be cold in early spring and late November.
Down Jacket
Sunglasses
Woolen Gloves
Head-torch
Buff
Wide-brimmed hat
Trekking poles – great on the hills and steep descent from the pass and trail to Dharapani.
Water Purification Iodine Tablets
Daypack
Toiletry Kit.
So, what's the wait for? Pick your agency, book your flights to Kathmandu and begin your circuit around one of the top ten peaks of the world. With all its magnificence and beauty, this trek is bound to be a surreal experience for all. Reveling in the warm hospitality, you can immerse yourself into nature and have a wonder of a trip.
Why booking with us ?
Fully Locally Owned Company
Quality Of Service and Competitive price
Highly Professional Staff
Flexible and customization trip itinerary
100% Customer satisfaction
Need help?
UK: 1803328214
Thai: 081-5546979
Nepal: 00977-9841273869
24 hour customer service