The Best and Most Beautiful Hiking Adventures in Nepal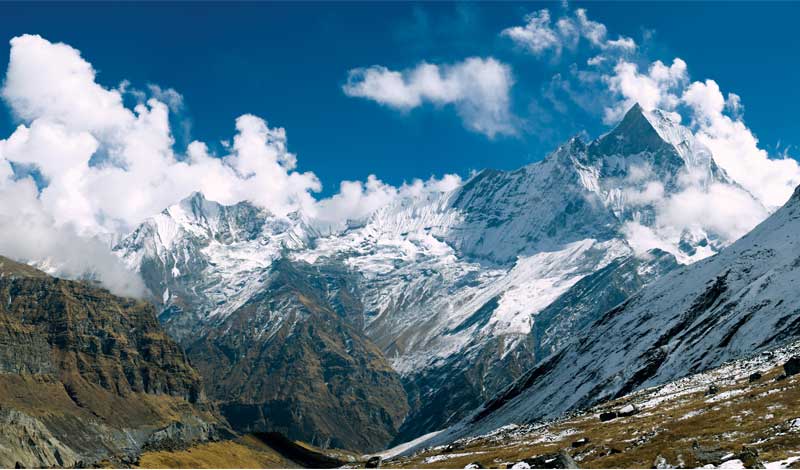 Nepal is something of a wonderland to most of us. The culture-rich land is equally beautiful as it is
intimidating, known for housing some of the most difficult mountain trekking in the world. However, as
there are so many hiking adventures to choose from, it can be hard to narrow it down. We've compiled
the best and most beautiful so you'll have no regrets – only fond memories and the satisfaction of
conquering such a large challenge.
Located in the stunning Annapurna region, the Mardi Himal Trek is perfect if you're looking for a short,
moderate adventure. This route will take you underneath the glorious Mount Machhapuchhre, which
that alone is worth the trip. However, you'll go further, through lush and lively jungles, cross icy rivers,
and through the unique villages of Rai and Limbu.
This isn't the normal trekking experience you may be thinking of in the frigid mountains. Instead, you'll
encounter an array of flora and fauna, such as the elusive Red Panda, jungle pheasants and Danphe
birds. It's hard to find this much diversity in such a short trip!
You'll definitely want to make sure that particularly on this adventure, that you bring along waterproof
gear, ideally kept in a waterproof backpack!
This is another moderately-rated trek in terms of difficulty yet will still take you through the awe-
inducing vistas of the Annapurna panorama. Much like the previous adventure, this one will also take
you through cultural villages and into the rhododendron forests.
Ultimately, if you want the experience of Nepal hiking without having to train for months, this is the one
for you. You'll have no risk of altitude sickness though you'll get to enjoy an environment few get to.
One huge part of this trek is the hike to Poon Hill just before sunrise. Experiencing the sun coming up
from over the giant mountains is an unreal experience, but not to worry – you'll get plenty of time to
take photos and then return back to Ghorepani.
If the previous adventures we've covered so far are a bit too relaxed for you or you want something
that's really going to challenge your physical and mental strength, then check out the Manaslu Circuit
Trek. It's important to note that this one is much longer than the previous ones, as it's 17 days.
In these 17 days, you'll get to see mountains like the Manaslu Himal, Annapurna Range, and the
Gangapurna Peak, along with various others. You're also going to go through one of the tallest mountain
passes: the Larkya La Mountain Pass. This pass offers some of the most unreal views that is sure to make
a lasting mark in your mind.
A significant part of the journey involves heading through the Manaslu Conservation Area, which is a
protected area and covers over 600 square miles. This area is home to 33 species of different mammals,
including the snow leopard, musk deer, and Himalayan tahr! This isn't counting the over 100 different
species of birds, almost 2000 flowering plants, and even a few species of reptiles! This section makes for
a nice peek into the Himalayan's natural richness. You'll need to make sure you have extremely warm
and waterproof gear, placing special importance on footwear like waterproof boots.
Nar Phu Philanthropy Trek
This trek is quite a bit different from the others we've covered so far. This adventure will have you
joining BACKPACKER Magazine and Wild land Trekking through Nepal to aid in earthquake recovery
efforts. This adventure will leave you satisfied with your physical efforts, along with knowing that you're
helping support communities greatly in need of assistance.
In 2015, the Gorkha earthquake ripped through Nepal, killing nearly 9,000 people, and injuring almost
22,000. Needless to say, countless schools and villages were severely damaged, with some even being
completely destroyed. Even though it's been years since this time, rebuilding efforts are still highly in
demand.
The 9-day trek will take you through sights including enormous rivers, waterfalls, vistas, and valleys as
well as let you experience delicious local cuisine. If you really want to make a difference, this is the
adventure for you.
Since we were small children, most of us had heard of Mount Everest and it being the highest, most
difficult ascension in the world. While you won't be climbing to the summit, with the Everest Base Camp
Trek, you can at least say you adventured through Mount Everest!
This climb is of moderate intensity, making it a great option for most trekkers. Starting off with a short
little flight to Lukla, you'll disembark the plane and immediately feel a cool breeze – a precursor of
what's to come! The trek will then start off through ethnic Sherpa villages all the way until you get to
base camp. Not only that, but you'll walk through the famous Rhododendron forests, over suspension
bridges, and visit a monastery that will make you feel like you're in a fairy tale.
Summary
Now that you've had the chance to read all about the best and most beautiful hiking adventures in
Nepal, which one will you be partaking in? No matter which one you select, what's most important is
that it's ideal for your fitness level and hiking experience. Safety is our first priority and should be yours
as well, though you should make sure to select an adventure that fits your timeline best, too. We hope
that our guide has helped you select which one is ideal. Thanks for tuning in and we'll see you again
Why booking with us ?
Fully Locally Owned Company
Quality Of Service and Competitive price
Highly Professional Staff
Flexible and customization trip itinerary
100% Customer satisfaction
Need help?
Nepal: 00977-9841273869
whatsapp
: 00977-9841273869
24 hour customer service