Nepal, the birthplace of Lord Buddha, is rich in culture and traditions. Hinduism is the most practiced religion in Nepal. But, many parts of this country reflect Buddhism as well. Buddhism is the second most practiced religion in this country. Besides, Buddhism is more of a way of living, and not just a religion.
At present around 9% of the population in Nepal practice Buddhism. There are hundreds of different Buddhist pilgrimage sites in Nepal. The history of Buddhism traces back to Lumbini, the birthplace of Lord Buddha. Swayambhunath and Boudhanath are other two places with rich culture of Buddhism in Kathmandu.
Also, there are different Himalaya treks to discover Buddhism in Nepal. Trekking itself brings peace to your mind. Trekking in the Himalayas lets you visit the mighty Himalayas at their doorstep. You can almost touch these giants, and the beautiful landscapes will remain in your heart forever.
On top of that, you get to experience the traditional Buddhist culture while you go on Himalayan treks to discover Buddhism. Almost all places near the Himalayas are influenced by Buddhism. You can see Tibetan Buddhism in most places. The areas are surrounded by prayer flags, stupas, prayer wheels, and all these sorts of spiritual stuff.
Here are some of the best Himalayan treks to discover Buddhism in Nepal.
Highlights of Buddhism Himalaya Treks
Panoramic view of the mountains
Explore some of the most remote places in Nepal
Spend your time with the locals and ancient tribes
Travel back to the past with historical monuments and landmarks
Experience Tibetan-Buddhist lifestyle and their culture
Travel through  lush vegetation and dense forest
An opportunity to learn more about the ancient Buddhist tradition
Experience soothing Buddhist chanting in ancient Monasteries
3 Popular Himalayan Treks to Discover Buddhism in Nepal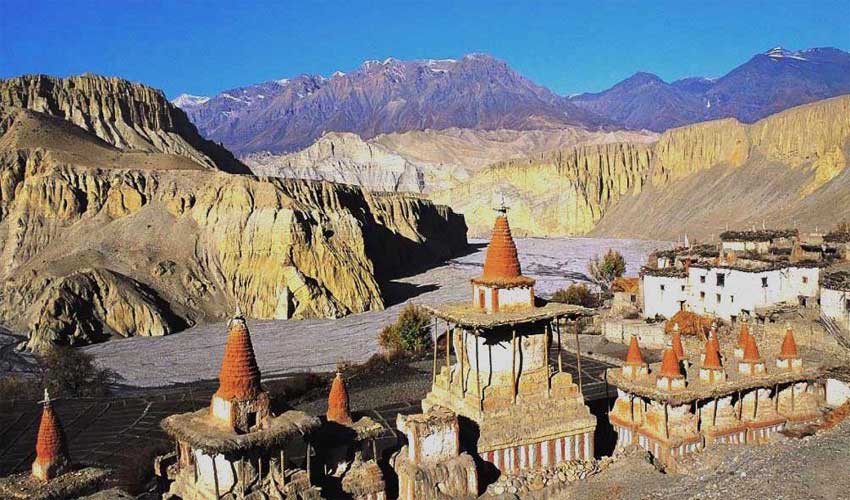 There is no doubt to the fact that Upper Mustang is one of the most beautiful places in Nepal. The desert-like terrains, marvelous landscapes, and prestigious culture will melt your heart. You will fall in love with this place at an instant.
Upper Mustang also known as The Forbidden kingdom of Nepal, was a separate Kingdom ruled by the local king. This mystical place reflects ancient Tibetan Buddhism culture, with its own recognition. Lo Manthang, the ancient capital still holds the home to the last king of Upper Mustang.
The monasteries of Lo Manthang are filled with cultural beliefs. Thubche, Jyampa, and Chodye are the three monasteries of Lo Manthang. There are other monasteries like Namgyal, Charang, Loghekar, and Ghiling with years of historical values. Each corner of this kingdom reflects ancient Tibetan Buddhist culture and traditions.
These places are covered in Chortens, paintings, manuscripts, sculptures, and other artefacts. These valuable assets reflect not only Buddhism, but also a way of living. Upper Mustang has the next level of beauty and significance.
The sky caves are still mysterious to many, and the palaces of Lo Manthang and Charang are as beautiful as ever. The mountains stand tall, beautiful landscapes are all around, and the touch of Buddhism is around every corner. Upper Mustang is the ultimate Himalaya Trek to discover Buddhism.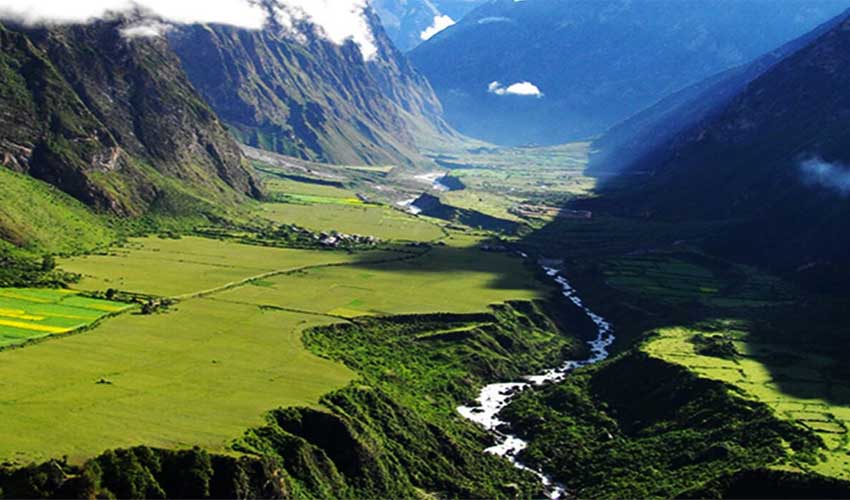 Tsum valley is another secret valley in Nepal. Just like the Upper Mustang, Tsum valley is also rich in Tibetan Buddhism culture and tradition. This trek is one of the best Himalaya Trek to discover Buddhism. It is one of the most isolated places of Nepal, lying peacefully at the base of the Himalayas.
This magnificent place still remains the same with very little changes in the surroundings. The primary settlement in Tsum is covered by Tsumbas. These people are descendants of Tibetans and have been living in this region for a long time now.
The square chortens, ancient monuments, and stone houses all have unique significance in terms of Buddhism. There are some Gumbas which are hundreds of years old. People in Tsum valley celebrate different festivals. The horse festival is exciting. Also, people remember Lord Buddha in the day of Full moon. People celebrate Nirvana and Enlightenment on this day.
Tsum Valley is a heaven on earth. There are beautiful landscapes, ancient monuments, Monasteries with soothing chanting, and astounding Himalayas. All these make this place a beautiful destination for all. This place is filled with natural beauty and ancient culture. The people are nice and loving. You will love this place.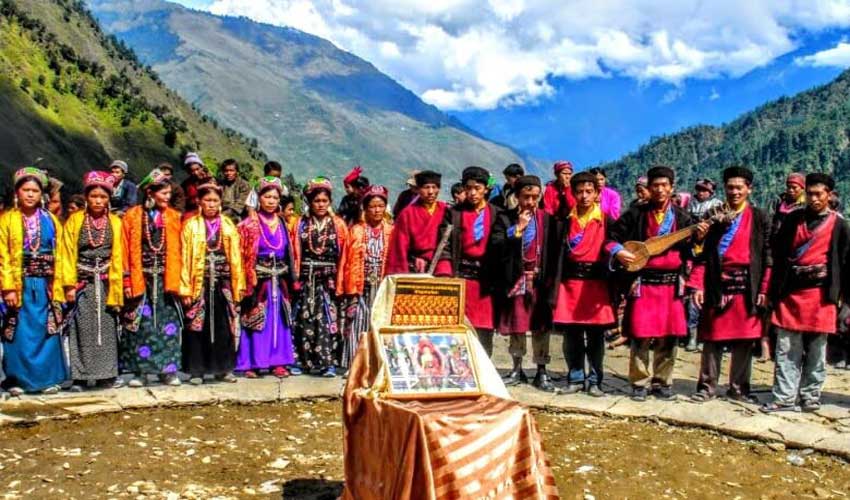 Unknown to many trekkers and tourists, the Tamang Heritage trek takes you on a journey to the remote places around Langtang region. This isolated region is rich in Tamang culture with Tibetan touch and lifestyle. The Tamang Heritage trek does not offer you high-end accommodations, and rest stops.
What it offers is the ultimate sight of giant Himalayas, lush vegetated landscapes, and an ancient culture. You can see traditional houses, ancient monuments, and a unique lifestyle of the early descendants of Tibetans. You will fall in love with the people and the places.
Buddhism has had a huge influence in these regions. There are hundreds of years old  Gumbas, and monasteries have a different vibe to them. Just like other Himalaya Trek to discover Buddhism, this trek offers you a different view towards the ethnic groups of Nepal.
The reward is exquisite as well. The panoramic view of the mountains raises your hair, and the lush forest tells you lots of stories. Whereas many places changed due to the devastating earthquake back in 2015, the tradition still remains unharmed. You can get chills seeing the outcomes of that disaster, but at the same time you will be amazed by the lifestyle in those Tamang villages.
Other Himalaya Trek to Discover Buddhism
A trek to the Everest region is every traveler's dream. The mighty mount Everest dominates this region, and there are lots of other gigantic mountains. Besides its landscapes and mountains, the Everest region  is famous for its ancient culture and traditions.
This place reflects the Tibetan-Buddhism culture. Tengboche, a small settlement holds one of the most beautiful monasteries in this region. If you are lucky, you will get to witness the soothing Buddhist chanting in this monastery.
The Everest region is filled with rich culture and traditional monuments. The fluttering sound of prayer flags cannot be unheard. The prayer flags are a sign of peace, and they reflect the lifestyle of the vibrant traditions in such region.
You can see different manuscripts, inscriptions, and stone structures during your trekking in the Everest region. Besides the monuments, the lifestyle of ancient tribe around the Everest region is a major attraction. Their warm hospitality and loving nature how Buddhism influences our way of living.
Probably the most famous trekking route of Nepal, the Annapurna Circuit Trek is something you will never forget. This trekking route takes you on a journey through the remote areas of Nepal and into the lap of the Himalayas.
You can see how Buddhism has had a  huge impact in the Annapurna region. There are monasteries which are hundreds of years old, and the lifestyle is unique.
Just outside the hidden kingdom of Upper Mustang lies a famous destination for hundreds of Pilgrims, Muktinath temple.  This holy place is popular for its beauty and isolation, but more than that, Muktinath is famous for its versatility.
Each year, thousands of pilgrims from all around the world come to visit this place. Muktinath is a  religious mutualism between Buddhism and Hinduism. This holy destination lies at the base of mountains and surrounded by desert-like terrains.
Landmarks and Monuments
Stupas
Stupas are the sign of enlightenment. They resemble the enlightened mind of Lord Buddha. Stupas hold a major significance in the Buddhist culture. These towering structures are believed to keep the evil spirits from significant places.
The Stupas are covered with inscriptions and Mantras (spiritual writings).  People believe these Stupas watch over them and help to achieve enlightenment.
Five colored flags
During your entire journey, you will see thousands of prayer flags fluttering in the wind. These flags add to the beauty of such places. But, these flags have their own significance. The prayer flags are covered with Mantras and prayers.
These flags are the symbols for long life, prosperity, wealth, and healthy life. Also called Lungta in Tibetan, these prayer flags are hung over the major passes as well. In fact, the five colors represent different forms of energy. Yellow represents earth, Blue represents space, Red represents fire, Green represents water, and white represents air.
Mani walls
Mani walls are long stone walls carved in with different Mantras. These walls are the symbol of protection.
Buddhist mani stones
You will find different rocks and stones with powerful writings in Tibetan throughout your journey. These are not just mere stones but carry powerful meanings with deep significance.
These mani stones are carved in Mantras.These symbols give a positive impact on your mind while you traverse through the main passes in the Himalayas.
Prayer wheels
You will see hundreds of prayer wheels in different forms in the Himalayas. These wheels hold a significant place in Buddhism. These prayer wheels consist of powerful Mantras, which tend to guide your spirit towards enlightenment.
You can see these prayer wheels in different sizes and in different forms. People carry the smaller wheels, whereas there are some large individual  prayer wheels in the Monasteries. Generally, these prayer wheels are embedded in walls in large numbers.
What are Buddhist Mantras
You have probably heard of the word Mantra a lot during till date. These Mantras are not just random words or writings but hold a special place in the Buddhist culture. Mantras are sacred utterance which has a direct impact on your spirit.
Buddhist Mantras possess spiritual value and effectiveness. The most common Mantra in Buddhism is "Om Mani Padme Hum."
Other sacred Buddhist Mantras are:
Om Tare Tuttare Ture Soha
Om A Ma Ra Ni Dzi Wan Ti Ye Soha
Om Amitabha Hrih
Om Muni Muni Maha Muniye Soha
Om Ah Hung Benzar Guru Pema Siddhi Hung
Conclusion
Buddhism is not just a religion, but a way of living. Being the birthplace of Lord Buddha, Buddhism has a huge influence in Nepal. And there are lots of places which reflect Buddhism and its significance.
A visit to the Himalayas can be Enlightening. The rich Tibetan Buddhism culture around the Himalayas is incredible. Himalaya trek to discover Buddhism can be done by anyone. The mountains will melt your heart, and the incredible landscapes will be an amazing experience.
Such remote places have a unique lifestyle and value. I suggest you trek to the Himalayas in Nepal, and explore these isolated places with greater meaning.