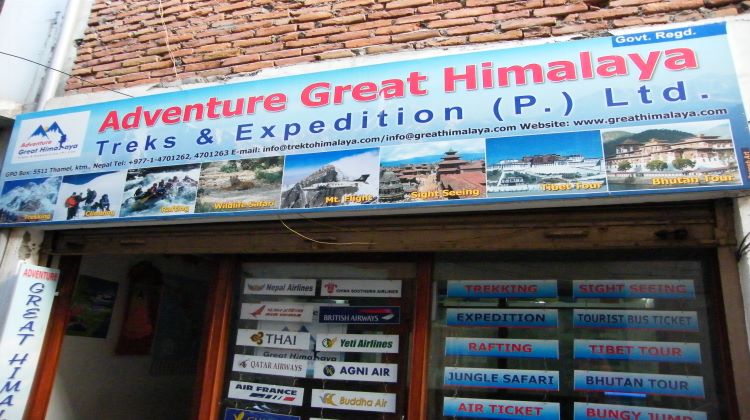 Adventure Great Himalaya Treks & Expedition
_____________________________________________________________
Name:-    Adventure Great Himalaya Treks & Expedition (P) Ltd
Service  : –  Hiking,   Trekking,   Peak Climbing ,
Company Location:  Saatghumti , Thamel, Kathmandu, Nepal
Company Value :-   Rs 85,00000 –
Company Registered:    2009 / 04 /27
Total Trekking Guides:-     13
Total Trekking Porters:-   18
Expedition Guide:-  2
Culture Tour Guide:-  2
Car Driver:-    1
Office Administrator :-   1
Company Owner:-  Babu Ram Karki
General Manager:- Gokul Karki
___________________________________________________________
At Adventure Great Himalaya Treks & Expeditions, we're all about  Great adventure Treks!
The trekking company was founded over a decade ago, and has been wowing clients ever since. The company is owned by Babu Karki, a travel enthusiast with over 20 years of experience in trekking the mountainous country of Nepal.
With a team of 16 professional guides and 22 trekking porters, Babu and his team help you delve in the awe-inspiring scenery and epic treks through the mighty Himalayas, picturesque valleys, and blooming rhododendron forests. Experience the best of snow-capped mountain views and local culture, cuisine, lifestyle, and all that contributes to Nepal's unique identity.
Adventure Great Himalaya Treks & Expeditions is registered by the Nepalese government to ensure the best possible experience. We are committed to the safety and well-being of our staff and clients. We hire only the best trekking and tour guides who are familiar with traveling in Nepal.
All our staff members go through a thorough vetting process and are fully trained and insured. We take special precautions to make sure that all of our team members are well-equipped to handle any situation. Our expert guides are well-trained and familiar with the culture, history, flora and fauna, and first aid help. So you can rest assured that you will be properly taken care of during your trip.
Responsible Tourism
At Adventure Great Himalaya Treks & Expeditions, we believe in responsible tourism and giving back to the community. Adventure Great Himalaya Treks & Expeditions has always taken a pro-active stance to combat some of society's issues, which is why we also run various charity programs to help and support poor rural villages that are deprived of proper healthcare facilities, including sanitation, hygiene, and safe drinking water.
Adventure Great Himalaya Treks & Expeditions has also played an active part in providing schools with educational materials along with raising awareness on the need to protect the environment and the beautiful, thick forests of Nepal from deforestation. This commitment has become an integral part of our company's philosophy and the way we do business.
The tour packages offered by Adventure Great Himalaya Treks & Expeditions give you a fantastic value for money, which is why we are confident you won't find a better tour package any place else in Nepal. We aim to provide a truly authentic experience for both thrill seekers and first-time travelers. Make your trip to Nepal a holiday of a lifetime with Adventure Great Himalaya Treks & Expeditions.
________________________________________________
 Our Working Team
____________________________________________
Company Legal Documents 
_______________________________________________
Why booking with us ?
Fully Locally Owned Company
Quality Of Service and Competitive price
Highly Professional Staff
Flexible and customization trip itinerary
100% Customer satisfaction
Need help?
Nepal: 00977-9841273869
whatsapp
: 00977-9841273869
24 hour customer service