Manaslu Circuit With Tsum Valley Trek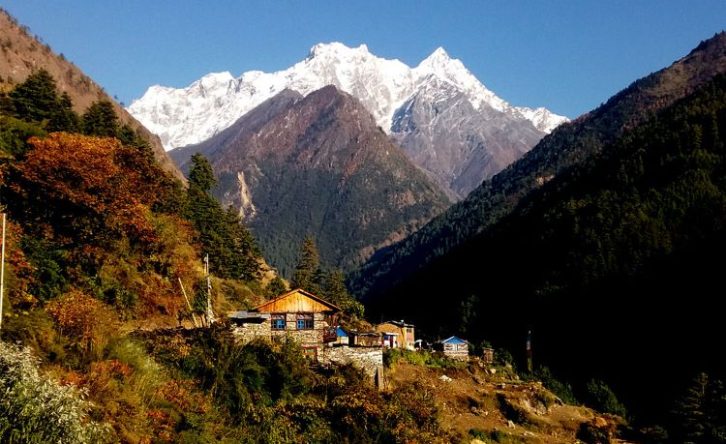 Trip Facts
Overview
The Manaslu Circuit  with Tsum Valley Trek  is a popular and challenging trekking route in Nepal that offers stunning views of the Himalayas and an opportunity to experience the local culture of the region.
The trek starts from Arughat, a small town in Gorkha district, and follows the Budhi Gandaki River upstream. The trail passes through beautiful forests, quaint villages, and across several suspension bridges, and eventually reaches the Tsum Valley, a hidden gem that was opened to trekkers only in 2008.
Tsum Valley is a sacred valley with its own unique culture and traditions. It is home to several ancient monasteries, chortens, and mani walls, and is believed to be the place where Guru Rinpoche meditated on his way to Tibet. The valley is also famous for its wildlife, including the Himalayan tahr, musk deer, and snow leopard.
After exploring the Tsum Valley, the trek rejoins the Manaslu Circuit and heads towards the Larkya La Pass, which is the highest point of the trek at 5,160 meters. The pass offers spectacular views of the surrounding mountains, including Manaslu, Annapurna II, and Himlung Himal.
The trek ends in Besisahar, where you can take a bus back to Kathmandu. The Manaslu Circuit Trek with Tsum Valley is a remote and off-the-beaten-path trek, and it requires a good level of fitness and trekking experience. The trek is best done between September to November and March to May when the weather is clear and the skies are blue.
Manaslu Circuit Tsum Valley Itinerary
Cost Include / Exclude
Service Include
Airport / Hotel/ Airport
3 Nights Hotel in Kathmandu with breakfast
Meals In Trekking:  3  Meals a day  (13 Breakfast,  14 Lunch and 13 Dinner)
Hot Drinks : tea / coffee
Necessary Trekking Permit and  Company necessary paper works
Transportation:  Bus  / Sharing Jeep
Lodge to Lodge  Accommodation In Mountain
  Trekking Guide : An experienced, helpful, friendly and English speaking Trekking guide.
Trekking Porter : Carry Your Luggage, One Porter between 2 Members
Guide, Porter insurance, Meals, accommodation and well paid salary
Trekking Equipment: Sleeping bag, Down Jacket ( refundable after the trek)
Oxe -Meter- To Check your oxygen saturation and heart rating
Arrangement of Emergency Helicopter service which will be paid by your Travel insurance company.
Adventure Certificate.
Medical supplies (first aid kit will be available).
All government taxes & Vat and Company Service charge
 Farrell Dinner
Service excluded
Personal travel insurance and  rescue Evacuation  encase  of Emergency
Private Comfort Jeep – $ 200  per jeep for one way
 All Bottle of drinks,  Hot chocolate, WI-Fi, recharge all electronic device like mobile, camera
Tips
More Inforamtion
Manaslu Circuit Tsum Valley Trek Difficulties
Manaslu Circuit Trek with Tsum Valley is not like a short treks. Expect 15-20 days of traversing through varying landscapes with steep ascents, treacherous terrain, and a lot of altitude gain. Moderate-difficult is the difficulty level, but your effort will surely be rewarded. The trekking adventure begins with an easy hike through idyllic valleys and meadows of emerald green. As one advances farther, the journey gets tougher as the passes become more mountainous, needing technical skill and experience to traverse.
Yet, the majestic views make the challenging trek worth it, with stunning panoramas of rice fields, villages, and other natural wonders. The rugged landscape is marked with landslide zones, and the trails are often tricky and inclined. Forget about the risks that might arise, for you have a carefully curated itinerary to ensure an amazing experience. Starting at Machhakhola at 930 meters above sea level, you can gradually increase your elevation and make yourself comfortable with the altitude.
It is a tough task to walk for more than 6-7 hours for nearly 3 weeks and cross Larkey La  pass 5060 meters, so we advise you to get into shape with the help of appropriate physical activities before visiting Nepal. In recognition that particular ages and physical abilities can demand more time, we are always glad to tailor the schedule to your requirements. Even rookies and kids have had a blast exploring the stunning valley.
Best Months for The Trek
Behold the stunning spectrum of Manaslu's seasonally-flowing beauty – beginning with the Budi Gandaki River Valley and cascading towards the Tibetan Plateau, greeted with varying altitude levels of 600 to 5179 meters. As winter approaches, the Larke Pass closes its doors to the Manaslu Base Camp and the Tibetan border. The welcoming teahouse in Dharmasala remains still during the January and February months. Regardless of the time of year, Manaslu's journey remains remarkable in its own right.
In Late December to Early March, the winter brings an icy chill to the air and a different beauty to the landscape of Namrung. Stunning waterfalls and rivers are frozen in time, yet risk lurks in the snowy trails that lead to Manaslu Base Camp. Stunning waterfalls and rivers are frozen in time, yet risk lurks in the snowy trails that lead to Manaslu Base Camp. To explore this winter wonderland, one must pass the challenging Larke Pass in 1 day, which can take 12 to 13 hours if Dharmasala's lodge is closed. The beauty of Spring abounds in March as the Rhododendrons burst into brilliant color and the Birendra and Ponkar Lakes emerge from their winter slumber.
Villagers who had traveled for the winter come home to find an adventure that awaits them with the climbing expeditions around Manaslu Base Camp. Though the occasional snow flurry may still blow through the peaks, the lower altitudes are rapidly warming by mid-May, welcoming summer's embrace. That's why you have to be prepared for the heat, for it will surely make its presence felt.
April is the best time to trek Manaslu as the temperature is perfect for the journey. The blooms of the forest are especially beautiful in every color imaginable, most notably the Rhododendron. June to Mid September brings freshness to the forests and pastures. Rainfall has restored the greenery. However, it has also brought along some unwelcome guests- mosquitoes, bugs, and leeches. Be wary if you venture away from the beaten path, as small streams have multiplied, creating a challenge to cross even the smallest bridges. Don't forget to be aware of the possibility of calamities like landslides and erosion this season.
The harmonious tones of autumn echo through the mountains of Manaslu as the ideal season for trekking draws near. The temperature is mild, the sky is a deep and vivid blue, and the world is laid before you like a panoramic painting. Not to mention the always-breathtaking Larke Peak. Of course, these perfect conditions attract a crowd too. But even with the added trekkers, you'll be rewarded with pristine views and the opportunity to participate in the Manaslu Marathon if you feel up for the challenge. The mountain trails of Manaslu and Tsum Valley are most breathtaking in spring and autumn.
Traversing from mid-October until mid-December is the perfect way to explore the beauty of the autumnal season, and mid-March until the first week of June is the perfect time to enjoy a vibrant spring. If you can brave the chill of winter, you can make the most of the stunning clarity of the skies from December to mid-January. Plan your Manaslu trek for any of these times for an incredible journey.
The Manaslu circuit is a trekker's paradise, with the most delightful routes available to explore during the spring and autumn. The autumn window offers vibrant foliage and enchanting panoramas from mid-October until mid-December. Conversely, mid-March until the first week of June is the circuit's most colorful spring. However, if you are game for a chilly experience, winter is also a viable choice; although it may be bitterly cold, the skies are clearest between December and mid-January, making this time of year worth every second.
Summer Treks: Summer is a popular time for Manaslu Trek With Tsum Valley due to the warmer temperatures and longer days. However, this can also mean higher crowds and higher costs.
Pros:
Warm temperatures
Longer days
More available guides
Cons
Higher prices
Larger crowds
Some trails may be too hot or dry during the summer months.
Winter Treks: Winter is not typically considered an ideal time for Manaslu Trek with Tsum Valley due to colder temperatures and shorter days. However, winter treks offer unique advantages such as fewer crowds, lower prices, and snow-covered landscapes.
Pros:
Lower prices
Fewer crowds
Stunning snowscapes
Cons:
Colder temperatures
Shorter days
Less available guides.
Spring Treks: Spring offers milder temperatures than summer with fewer crowds than summer or winter treks.
Pros:
Milder temperatures
Fewer crowds
More accessible trails due to melting snow
Cons:
Wetter terrain due to melting snowpack
Fewer available guides
Higher prices as it is peak season for trekking.
Fall Treks: Fall is a great time to go trekking due to the mild temperatures and stunning fall foliage.
Pros:
Milder temperatures
Stunning fall foliage
Lower prices than peak season
More available guides than winter or spring treks
Cons:
Shorter days due to earlier sunsets
Wetter terrain due to rain showers
Higher crowds than winter or spring treks.
Manaslu Tsum Valley Trek Permit

Trekking the Manaslu Region requires a permit called MRAP (Manaslu Restricted Area Permits) from the Department of Immigration in Jagat. You can get the permits for $70 per person (From September to November) – you will have to pay an extra $10 per person after a week. If you are traveling during December to August, it costs around $50 per person and the additional $7 will be added after a week.
For Manaslu Conservation Area Permit (MCAP) and Annapurna Conservation Area Permits (ACAP), you have to approach Nepal Tourism Board. MCAP will cost $100 per head if you are traveling from September to November. Similarly, $15 will be added in your account for each additional day. It costs around $75 per person if you set out for Manaslu from December to August and an additional $10 will be added per day after a week.  For the trek also required  Annapurna Conservation Area Permits cost you around NPR 3000, which is around $22.
Getting a special permit to trek  is not easy -For buying the Special permits, you will have to submit a form with a copy of trekker's passport and valid visa and guarantee letter. Likewise, a list of names of the trekkers, guides, and other staff, insurance documents for the guide and other staff (with names filled in the online application form) should be mentioned. Apart from that, you have to have a tax clearance certificate from the trekking agency.
Transportation
Traveling in Manaslu was once daunting as the only access to its trails was Arughat. With relentless efforts of the locals, the road networks have extended up to Philim, a stone's throw away from Arughat. Public transportation can still take you to Machhakhola, while private jeeps can take you to Dovan to start your unforgettable journey. Traversing on the Manaslu Trek with Tsum Valley offers a thrilling adventure accessible only by road.
Hop aboard a public bus from Kathmandu's New Buspark, and you'll find yourself in Arughat in a matter of hours, a six to seven-hour ride. From there, climb on board a private jeep or a public bus to continue your trip to Soti Khola or Machhakhola, taking a further two to three hours. An opt-out is a two-hour-long drive through the historic town of Gorkha Bazaar to Machha Khola. Although a private jeep is the more comfortable and speedy mode of transportation, the public bus is the more budget-friendly choice, but no less fulfilling.
Accommodation around Manaslu Trek and Tsum Valley
Accommodation services Manaslu Trek with Tsum Valley offers several accommodation facilities from the luxuries of tea house stays to the ruggedness of camping treks – you can choose the mode of your stay. Tea houses provide a vibrant, uplifting atmosphere that is the perfect place to meet fellow travelers and share stories over a chat and a cuppa. You'll find even the most basic amenities and facilities, with bedrooms that come in twins, along with pillows and blankets. Although not always attached to the bedrooms, the toilets are generally decently kept and hygienic. The cost of a stay in the tea houses varies dramatically depending on the altitude: the lower you go, the cheaper it becomes.
Spending the night in the valley might only cost you a few dollars, but venturing up the mountainside can quickly add up to $5-$10. Should your room be a brief respite for one, it may come with an additional charge.
Explore Manaslu's majestic mountains and stay in one of many cozy tea houses. Arughat is your first stop, where you'll find View Manaslu Resort, Hotel Third Step, and Hotel Manaslu. Machha Khola got you covered with Hotel Tsum Valley Resort. Try Mount Everest Guest House, Royal Garden Guest House, or Hotel New Asia Trekkers Lodge if something else suits your fancy. Philim has plenty of Hotels, such as the Royal Garden Guest House. For your next stop, Chisapani, stay at the Tea House at Chisapani.
Reviews of Manaslu Circuit With Tsum Valley Trek