Khopra Danda Trek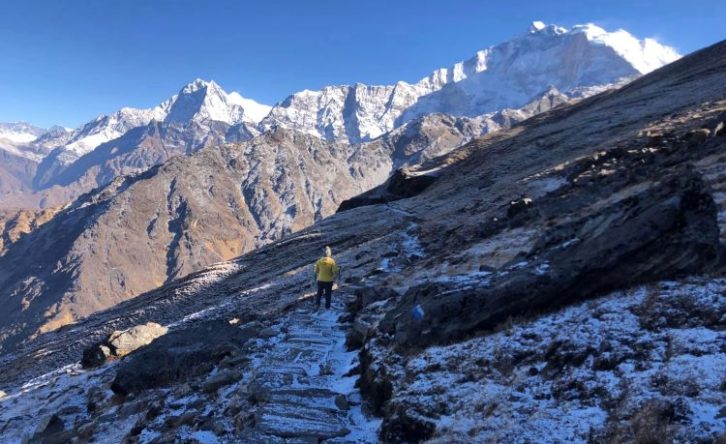 Trip Facts
Best Time
Sep-Dec and Feb to Jun
Mode of Trip
Lodges / Tea-House
Overview
Khopra Danda  Trek  is a week-long journey through slightly off-the-beaten-path terrain with stunning views of nature. Khopra Ridge is among Nepal's isolated Himalayan peaks, in the heart of the Annapurna Region. It is located 3640 meters above sea level.  You will go through rural villages and meadows, experiencing the authentic essence of Nepal.
Khopra Danda Trek is a Newly opened and less crowded trekking route that offers outstanding  mountain views, cultural experiences, and an opportunity to explore the unspoiled  beauty of natural , The Khopra Danda is a  ridge of mountain,  3640m which provides Stuning views of the surrounding mountains, including Dhaulagiri, Annapurna South, Fang, Nilgiri, and Hiunchuli.
The Khopra trek  is moderate level trekking ,  It can be complete in 7, 8 days,  The trek start from Ghandruk which drive about 2 hour from Pokhara city and end to Tattopani.
The Trekking Parsees Through of   several local settlement, lush forests, clear mountain streams and terraced fields which are the hallmarks of the Himalayan foothills , After reaching Khopra danda, The trekkers can also visit the holy Khayer Lake and experience the traditional Gurung culture and lifestyle.
Another aspect of the trek is that you  will be staying in lodges and homes of the local community that is sometimes called home-stay which has gained popularity in recent days. This goes on to benefit the local community by giving them an opportunity to make extra income other than farming. In places which lack these facilities you could be staying in local tea houses or tented camps prepared by our own staff and meals prepared by our cooks.
What you Expect  in this Trek?
Amazing closest Mountain views such as Mt Dhaulagiri, Annapurna South etc
Less Touristic, peaceful Trek
Walking through of beautiful rhododendron forest.
Visit the Holy  Lake ( Khayar Tal) at the bottom of Annapurna South.


Attraction of Annapuran Khopra Trek

Mulde Viewpoint:   The Mulde Viewpoint is at 3637m in elevation and is about a 30-minute trek from Dobato. From here, you may enjoy amazing views of 25 mountain peaks Dhaulagiri (8,167m), Nilgiri (7,061m), Bhara Shikhar (7,647m), Annapurna I (8091m), and Machhapucchre (6,997m)., including Fewa Lake in Pokhara. Mulde Viewpoint is famous all over the world for its stunning sunrise and sunset views. The mountain ranges include the Annapurna, Dhaulagiri, Nilgiri, Lamjung Himal, and many others.

Khopra Ridge or Danda: The trek's highlight is the breathtaking view from Khopra Ridge. The ridge is located at an elevation of 3660m and offers a stunning 360-degree view of Nilgiri, Annapurna South, Bara Shikhar, Tukuche Peak, Mt. Dhaulagiri, and an array of smaller snow-covered beauties. The entire two days of the ridge trek are loaded with amazing views of mountains on all sides.

Mohare Hill or Danda: Mohare Danda (or Mohare Hill) is also one of the trek's excellent viewpoint locations. It is located 3300 meters above sea level. From the vantage point, you can see Mt. Dhaulagiri, Annapurna I, Annapurna South, Nilgiri, and other peaks. The forests around the hike are stained a magnificent red color in the spring by the blossoming Rhododendrons, making the scenery even more fascinating.

Khayar Lake: Khayar Lake, located at an elevation of 4665 meters, is one of the most popular lakes in the Annapurna Region. This lake has recently attracted a large number of trekkers due to its breathtaking views of the Himalayas. The Hindus consider this lake to be sacred and think that diving into it will lead to Nirvana
Best Time to Khopra Ridge Trek
The best time to go on the Khopra Ridge Trek depends on what you are looking to get out of the trip. The trek can be done year-round, but the weather and the availability of certain facilities may vary depending on the season.
Spring (March to May) and autumn (September to November) are generally considered the best times to go on the Khopra Ridge Trek. The weather is generally clear and dry, making for the best views and the most comfortable trekking conditions. The temperatures during these months are also moderate, making it comfortable to hike during the day.
Summer (June to August) is also a good time to go on the Khopra Ridge Trek, as the weather is generally clear and dry. However, the temperatures can be quite hot during the day, so it is important to start early in the morning and take frequent breaks to avoid heat exhaustion.
Winter (December to February) is also a good time to go on the Khopra Ridge Trek, as the weather is generally clear and dry. However, the temperatures can be quite cold, especially at higher elevations, so it is important to bring warm clothing and to be prepared for the cold.
Overall, the best time to go on the Khopra Ridge Trek is a matter of personal preference and depends on your individual needs and interests.
How Hard Khopra Ridge Trek ?
The Khopra Ridge Trek is considered to be a moderate to challenging trek, and is suitable for hikers with some prior trekking experience. The trek involves hiking for about 5-6 hours each day over varying terrain, including steep uphill and downhill sections.
At the highest point of the trek, hikers will reach an elevation of around 4,660 meters (15,290 feet), which can be challenging for some people due to the thinning air at high altitudes. Altitude sickness is a common concern on this trek, and it is important to take necessary precautions to avoid it.
Overall, the Khopra Ridge Trek requires a good level of physical fitness and the ability to hike for several hours each day. It is important to be properly acclimatized to the high altitudes, and to take necessary precautions to avoid altitude sickness.
Accommodation Khopra Danda Trek
Tea houses are the most common form of lodging along the Khopra Danda trekking trail. In some of the locations, you can also get the experience of spending a peaceful night in community lodges. The community lodges are basic accommodations run by the families who live in those areas. They generally have communal bathrooms and decent sleeping beds. Cultural and entertaining events are organized by the teahouses and community lodges.
Visitors, particularly in the evening, create an entertaining experience and make you feel as if you are in heaven. The teahouse rooms have two single beds, each with a comfortable bed covered with a clean sheet and a blanket. Some of the teahouse's rooms are quite large, with four or five beds. Because there are just a few teahouses along the route, the rooms are mainly shared, with a common bathroom and toilet.
Meals on Khopra Danda  Trek
The food on the Khopra Danda trekking trail is similar to that found on other Annapurna Sanctuary trails. DalBhat ( Rice, Lentil, Veg Curry , Pickle), a traditional Nepali dish, is available at almost all teahouses and community lodges.
In addition to Dalbhat, you can choose from Indian, Chinese, and continental cuisines in the teahouses. Generally, you eat dinner and breakfast at the teahouse or community lodge where you stay overnight, and you eat lunch at any best spot along the way. All your weariness will be relieved by the food offered with affection and warmth by the people.
Khopra Trek Itinerary
Cost Include/Exclude
What's include
Airport/ Hotel/ Airport Transportation
Two Nights 3 Star Hotel in Kathmandu including Breakfast.
Two Nights Hotel in Pokhara including breakfast.
3 Meals a day (Breakfast, Lunch and Dinner) during the trek
Drinks : Tea / Coffee
All the Permit and Company necessary paper works
All Ground transportation by Bus,Kathmandu to Pokhara and Kathmandu.
All accommodations in lodges/tea houses during the treks.
Trekking Guide: An experienced, helpful, friendly and English speaking Trekking guide , everything for him such as well paid Salary, Food, Drinks, Accommodation, Transportation and Insurance.
Trekking porter: A porter carry your luggage. ( One porter for every 2 members, maximum load is 25 Kg)
One night standard accommodation in Pokhara.
Arrangement of Emergency Helicopter service which will be paid by your Travel insurance company.
Trekking equipment: Sleeping bag, down jackets, Duffel bag .
Adventure Certificate.
Medical supplies (first aid kit will be available).
All government taxes.
Service charge.
What's excluded
Nepal entry visa fee (you may easily issue the visa upon your arrival at Tribhuwan International Airport Kathmandu).
Travel insurance.Emergency rescue Evacuation
Lunch Dinner in Kathmandu and Pokhara
All the bar bills like coke, beer, bottle of water, hot water etc.
International airfare
Tips for the guide and porter.
Gallery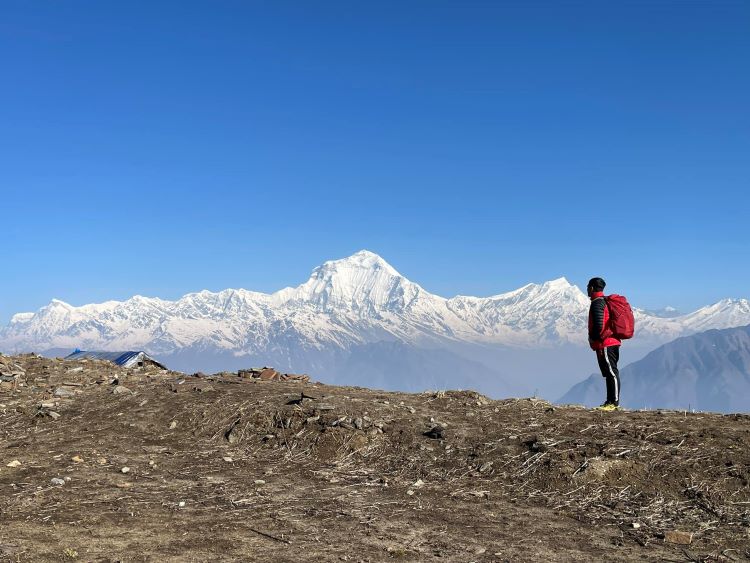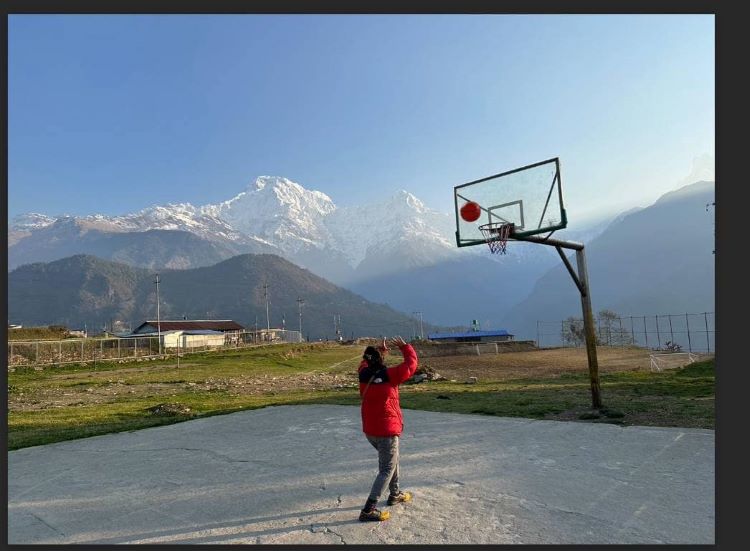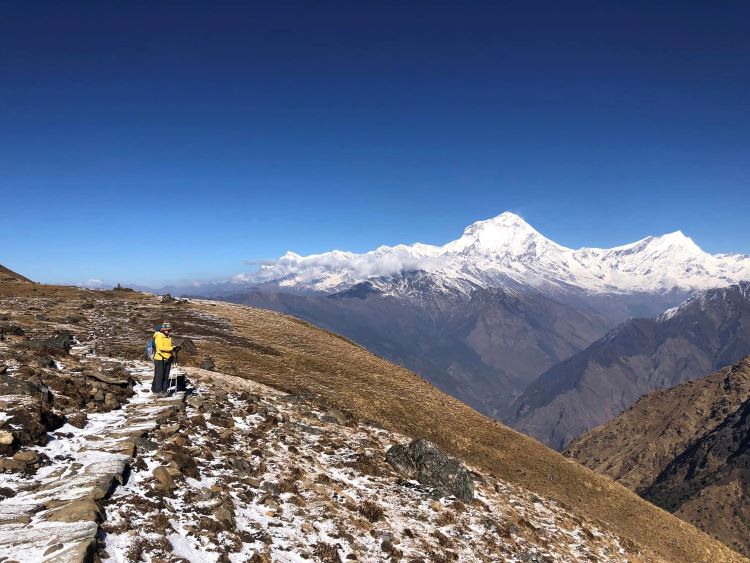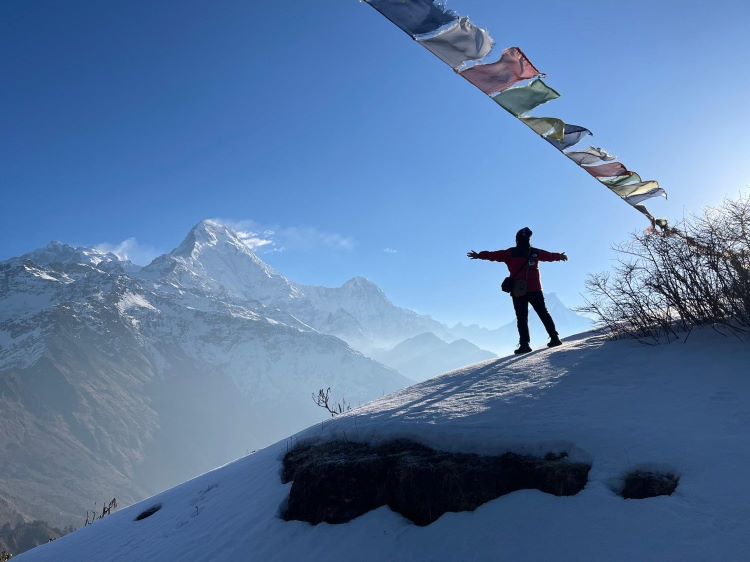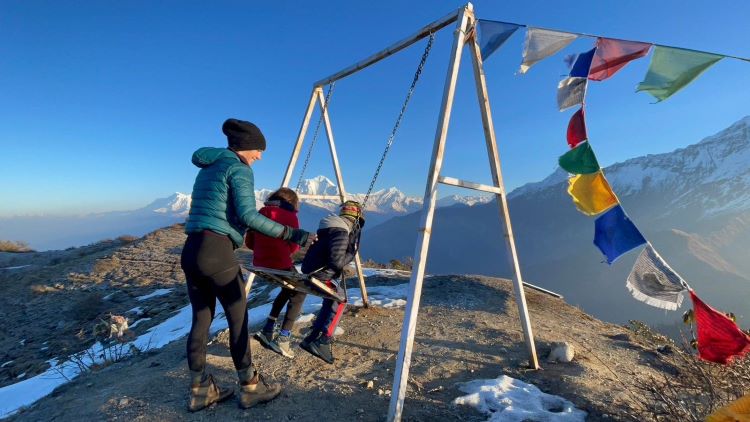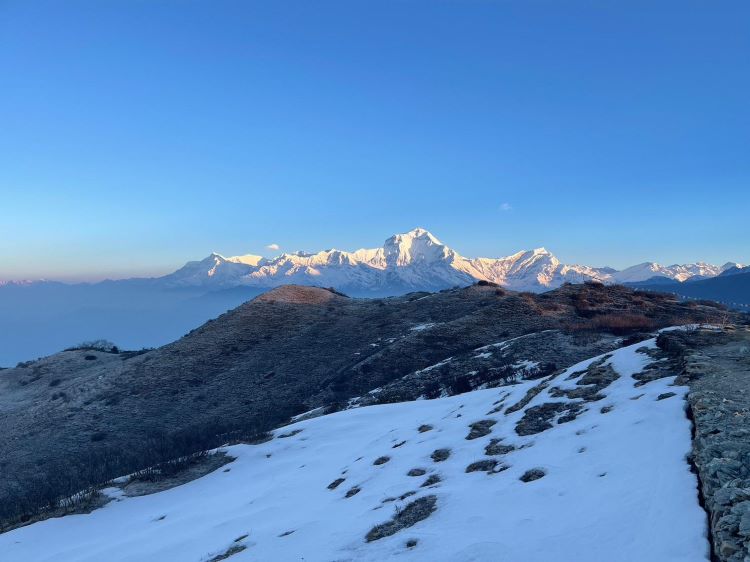 Reviews of Khopra Danda Trek