Annapurna Base Camp Trek -9 Days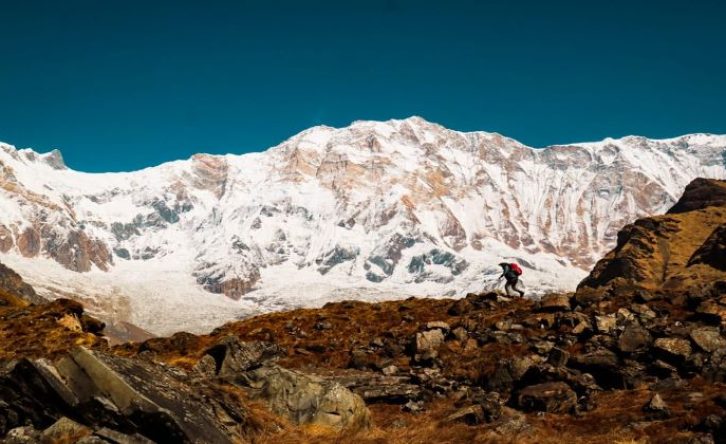 Trip Facts
Best Time
March / April and November
Overview
Annapurna Base camp trek is  famous for Himalaya hiker  because of  Mount Annapurna , The 8th World Highest peak. The elevation 8,091 m (26,545 ft) Every year thousand of visitor visit the Annapurna base camp for Outstanding Annapurna mountain  view and Ice glacier
The Annapurna Base camp trekking is  second most favored trekking destination after Everest Base Camp Trek, This trek traverses through quaint settlements and villages of Annapurna Sanctuary. Nestled deep into the heart of Annapurna Conservation Area (ACAP) this trek is moderate considering the final elevation of Annapurna Base Camp(ABC) (4130m / 13549 ft).
The trail to Annapurna Base camp  is filled with enthralling experience and tranquil ambiance of nature. You may immerse yourself in the typical culture of the natives residing in the region, especially, Chomrong, which is home to hundreds of houses. Whether you're a beginner who wants to explore the wilderness or a professional who wants to enjoy the serenity of culture, food, geography and nature, Annapurna Base Camp Trek satisfies your trekking needs. This trek is distinguished by its diverse landscape, which changes seemingly with the slightest altitude change. From civilization to vegetation, from food to geography, this trek has it all.
The surreal journey to Annapurna Base Camp is both fulfilling and adventurous. You pass through various lower-altitude villages inhabited by Brahmins and Chettris as you make your way up the mountain, but the higher elevated section is inhabited by Gurungs and Magars. The tea houses you pass through offers a variety of cuisines, specially Tibetan and Nepalese dishes You are required to strictly adhere to the conservation area's rules and norms while visiting Annapurna Base Camp, it is strictly forbidden to consume or take meat products there.
This Annapurna base camp trek 9 days itinerary  begins from the submissive city of Pokhara. We follow through Pokhara-Muktinath Highway headed further west from Pokhara towards Nayapul and drive further towards Jhinu, our start point of the trek. Jhinu resembles a typical Nepali village with vernacular architecture houses, The trek then following ascends through small Gurung settlements: Chomrong, Sinuwa, Dovan, Deurali, Machhapuchre Base Camp before reaching the your ultimate destination; Annapurna Base Camp.
Attraction of the Trip
Annapurna Sanctuary comes off as one of the most naturally rewarding areas. From the submissive city of Pokhara to natural host springs to raging mountain river, quaint villages and diverse flora fauna, Annapurna provides it all. As a matter of perspective, the major attraction of Annapurna Base Camp Trek are:
Picturesque Mountain Vista:
The Annapurna Sanctuary is home to some of the most amazing Himalayan mountains. The  alluring vistas of Annapurna range is appreciated by any traveller in the region. Annapurna range consists of one peak over 8000 metres, Annapurna I (8091m), 13 peaks over 7000 metres and 16 peaks over 6000 metres. There are multiple raging rivers originating from Annapurna massifs, to the north east from Manang region originates Marsyangdi river, to the south of the range flows Seti River, and to the north originates tributaries of Kali Gandaki river.
Unique Culture and Traditions:
The trek to Annapurna Base Camp pierces through sparsely located small Gurung and Magar settlements. You are bound to experience unique culture and walk of life of these people. These tribe of people have a distinct food habit and their culture is also typical relative to other group of people in Nepal. Chomrong, Ghandruk, Ghorepani, Jhinu are amongst the dense settlement of Gurung and Magars during Annapurna Base Camp Trek,
Hot Water Springs:
There is source of hot water spring or geo thermal spring along the trail to Annapurna Base Camp. Jhinu dada is your stopover during the trek which is also the last village that is accessible by roadways. There is a small pool created from the underground water source in order for people to bath in. It is believed that hot spring water has healing properties, aids in curing skin problems and reduces joint problems.
Diverse Landscapes:
The elevation range during your trek ranges from 800 metres in Pokhara to 4130 metres at Annapurna Base Camp. The topographic variation during the trek observed will be from Tropical to Oak and Rhododendrons forests in the mid hills to Alpine like climate at the base camp. Within a span of 8-10 days you will experience sub-tropical to alpine climate within the trek. Furthermore, the flora and fauna within the trek also is diverse and variated.
Annapurna Conservation Area:
Annapurna Conservation Area spans a total of 7629 sq km all across the Annapurna Mountains. It reaches Manang in west, Myagdi to the east, Mustang region to the north and Pokhara to the south. Annapurna Base Camp trek pierces through the core areas of Annapurna Conservation Area. There are usual sightings of 1,226 species of flowering plants, 105 mammals, 518 birds, 40 reptiles and 23 amphibians.
Best season for Annapurna Base Camp Trek
Annapurna Base Camp Trek is best enjoyed during Spring and Autumn for it is the time the temperature is mild and the weather window is fabulous.. Nepal is bestowed with 4 major weather patterns: Spring (March-May), Autumn ( Sept- Nov), Summer/Monsoon ( June- August), Winter ( Dec-Feb). Summer and Winter are considered the extreme weather conditions in Nepal as they are harshest with extreme temperature and unfavourable travel conditions. Winters in Nepal are characterised by heavy snowfall in mountainous region with extreme cold temperature while Summers in Nepal is pervaded by the monsoon cloud from the Bay of Bengal which affects the visibility and several rain showers all across.
Difficulty of Annapurna Base Camp Trek
Any trekking trail is described as Easy, Moderate or Demanding based on the elevation it reaches and the thrivability of tourists in the region. Comparative its counterpart treks like Everest Base Camp Trek and Langtang Valley Trek, Annapurna Base Camp Trek is moderate for its maximum elevation reaching merely 4130 metres at Annapurna Base Camp Trek. Trekkers will have to traverse through some of the remotest part of the region that are barely inhabitable, which makes it challenging yet thrilling.
Timely hydration and proper acclimatization is paramount for Annapurna Base Camp Trek. The trail of this trek is rocky and rugged as you elevate to higher altitudes. Keeping yourself warm during the night and walking at a consistent slow pace is what we recommend our trekkers to do. Annapurna Base Camp is relatively difficult but is definitely doable given you have proper guidance and assistance from the professionals.
Annapurna Base Camp Trek is a teahouse trek which pertains that you will be accommodated in teahouses or similar to mountain lodges in the alps. Teahouses are wooden built houses along the trail that provides with basic accommodation facilities.
Most tea houses in the trekking trail have common bathroom ,  the teahouse which you will have to share with other guests. Hot Shower and Internet services are available but costs extra. Each room in the tea house have at least 2 twin beds. The beds in teahouses have foam pad, pillow and blanket. You can always ask for an extra pillow or blanket to your guide if the provided one is warm or comfortable enough.
It is cold in the higher elevation and a central heating system, a Bukhara Stove( iron cylinder fit with chimney duct where log fire is ignited) is available in dining of all the teahouses. Power sockets are provided in the dining areas usually since the electricity. in teahouses at higher elevation is Solar Powered.
Meals On ABC Trek
During your trek teahouses offer Nepalese and Tibetan dishes on their menu. The most favored dish by the Nepalese is Daal Bhaat ; Rice, Lentil Soup, Vegetable Curry and Pickle which is nutritious and filling as well. Daal Bhaat is taken for Lunch and Dinner but you may opt to eat other items from the menu which includes dishes like Pasta, Noodles, Pies or others. Breakfasts in teahouses have varieties to choose from: Tibetan Bread, Soup, Porridge, Pancake and others. You can tell your guide if you have any other special meal requests beforehand,
Details Itinerary
Cost Include / Exclude
What's include
Airport transfer (Airport – Hotel – Airport) by private vehicle
 2 Night 3 Star  Hotel in Kathmandu with breakfast ( Hotel Kailash Kuttee or similar Hotel)
2 Nights   hotel in  Pokhara with Breakfast . ( Hotel Iceland)
 Kathmandu to Pokhara / Kathmandu  Flight ticket
Pokhara to Ghanrdurk  Nayapul by Car / Jhinu /  Pokhara by Private Jeep
3  meals a days  (Breakfast, Lunch and Dinner) during the trek
 Annapurna Conservation permit , TIMS Permit
Lodge to Lodge  Accommodation in Trekking
 Trekking Guide. A Professional English speaking guide
Trekking Porters:  ( One porter for 2 members) No Porter for Solo trekkers
guide porter insurance, prepaid salary
Equipment: Sleeping bag, Down jacket
Medical supplies (first aid kit will be available)
All government taxes and service charge.
welcome  dinner
What's excluded
International airfare and Nepal entry visa fee
 Travel   insurance.
Lunch and dinner in Kathmandu and Pokhhara.
All the Bar bills and personal expenses (phone call, laundry service, battery recharge, All Hot and bottle of Drink, hot water, shower, WI-FI
Tips
Cost & Date
Note: The below Price and Travel date is for the Group Join Basis. If you take private trip all travel dates are guaranteed. Private Trip
| Start Date | End Date | Trip Type | Price | AVAILABILITY | Booking |
| --- | --- | --- | --- | --- | --- |
| Fri, 22 Mar, 24 | Sat, 30 Mar, 24 | Group Join | $ 475.00 | GUARANTEED | Book Now |
| Fri, 5 Apr, 24 | Sat, 13 Apr, 24 | Group Join | $ 475.00 | GUARANTEED | Book Now |
| Fri, 19 Apr, 24 | Sat, 27 Apr, 24 | Group Join | $ 475.00 | GUARANTEED | Book Now |
| Sat, 27 Apr, 24 | Sun, 5 May, 24 | Group Join | $ 475.00 | GUARANTEED | Book Now |
| Fri, 3 May, 24 | Sat, 11 May, 24 | Group Join | $ 475.00 | GUARANTEED | Book Now |
FAQs
Gallery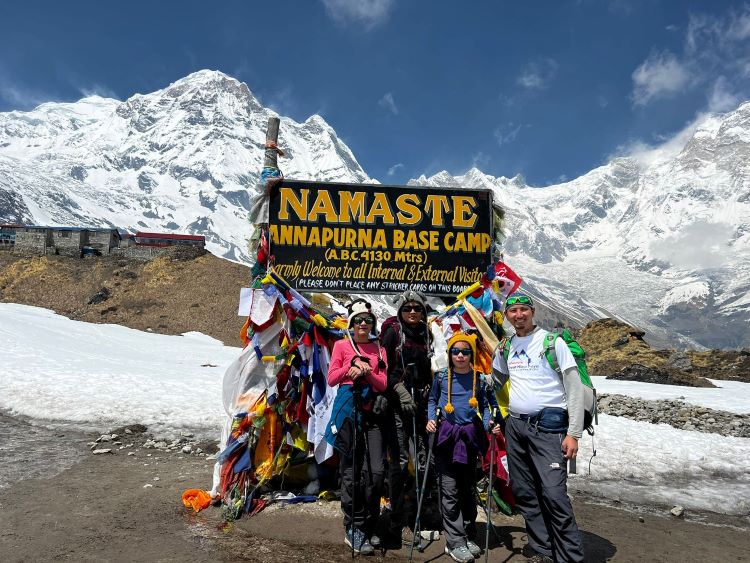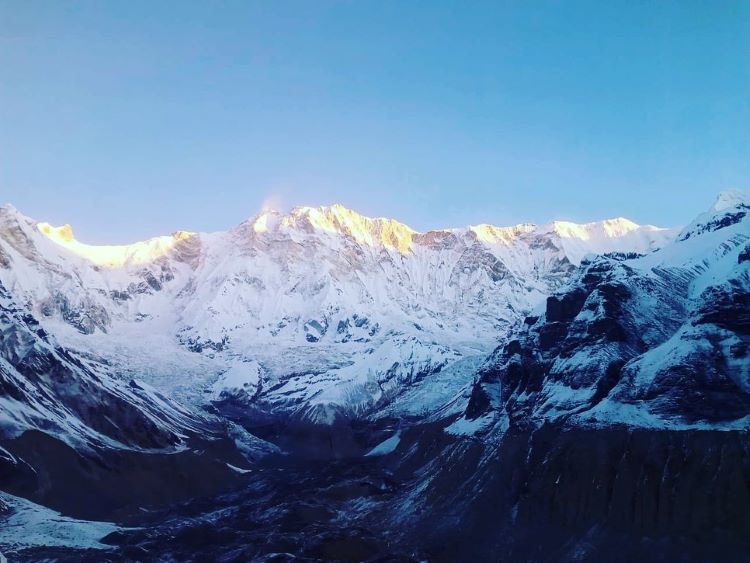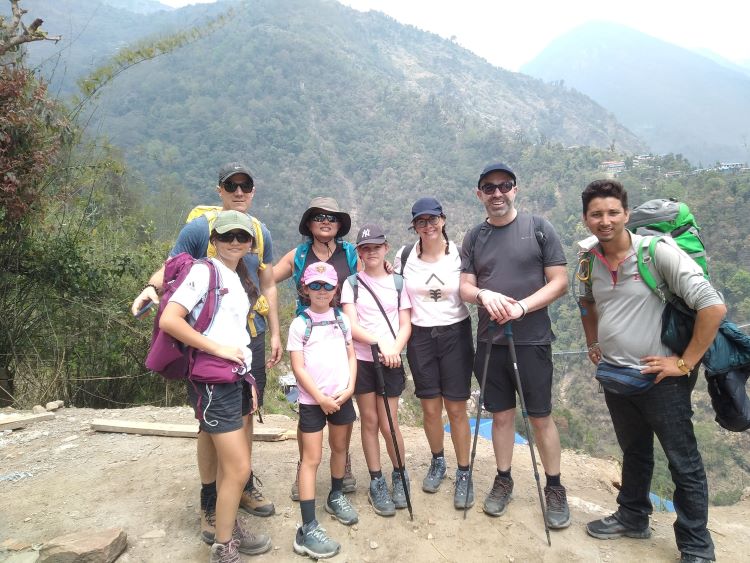 Reviews of Annapurna Base Camp Trek -9 Days