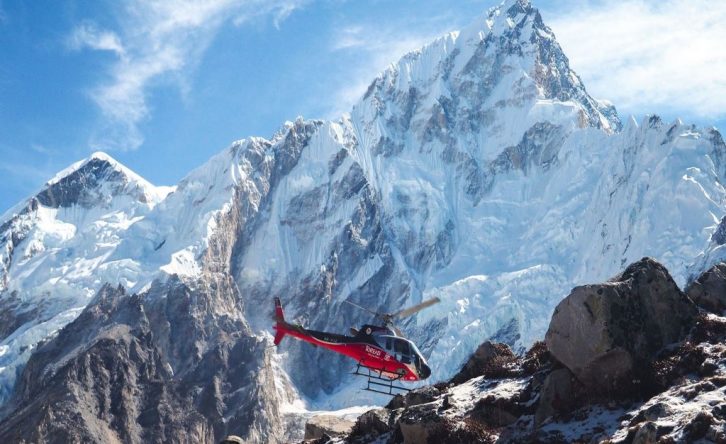 Trip Facts
Best Time
November /Oct and April /May/ March
Activities
Everest Sightseeing & Photography
Destination
Everest Base Camp & Kalaapther
Group Size / Passenger
3-5 person
Overview
Everest Base camp Helicopter Tour is one of the best available options  for those visitor who wanting to see world highest peak (Mt Everest) and they are not physically   fitness and timely unable to go Everest Base camp trekking.
The Everest  Helicopter   Tour offers mind-blowing grand vista of world highest mountains from world highest Mt. Everest- 4th highest Mt. Lhotse, 5th highest Makalu to 6th highest Cho-Oyu in the comfort of Helicopter with spacious relaxing seats.
Everest base camp (EBC)  helicopter Tour  is once in a life time experience flying high above rivers and valleys and over green rolling hills dotted with many farm villages and terraces.
The sceneries of stunning mountains never cease on this Helicopter or chopper flights from the start to the end with glamorous views that surrounds you on this Mt. Everest Helicopter Tour.
The Everest Base camp  Helicopter  tour Starting early, as morning the best time with clear sky for the views of mountains in a moderate size Helicopter of comfortable 3-4 seats perfect for this scenic tour on air, from the take off begins our tour with panorama of peaks overlooking from Manaslu-Ganesh-Langtang-Jugal Himal towards Cho-Oyu and Mt. Everest includes views of Mt. Makalu.
After an hour ride landing at Lukla for refreshment and continue flight towards  Namache Bazzar, And stop for Everest View Hotel, Our Flight Landing to Everest Base camp for a while then then flying to   Everest base camp at 5,357 m / 15,500  and  Kalapther ( 5545m) . The best Himalayas View point, Enjoy the marvel the close views of tumbling Khumbu Ice Falls and glacier and heading back with short stop at Thyangboche Monastery a wonderful spot surrounded with high peaks and lovely forest.
 Our Helicopter tour continues above famous Namche Bazaar and Lukla town  stop for few minutes. then landing back at Kathmandu airport for the drive back to your hotel, after an amazing and marvelous time around Everest Base Camp on Helicopter Tour.
Highlights of Everest Base Camp Helicopter Tour
A magnificent eagle-eye view of the Himalayan Range
View of the mountains and the villages from an altitude of above 5000 meters
Tour of Everest and other great mountains in just a day
Panoramic 360 view of the Himalayas
 An up-close experience of the snow-capped mountains
No extensive walks
Everest Base Camp Helicopter Tour Cost
Private Helicopter Group tour Cost:
$ 4300 For 1 Person
$ 2150 Per person for 2 People (Pay together)
$ 1800 Per person 3 People group pay together
$ 1300 Per person for 4 -5 People group Pay together
$ 1100 Per person for 5 People group Pay together
Private Tour Departure:– Any Date on your Request
Fixed Departure:  Daily Departure from Mid of September to December and March to end of May

Why Everest Base Camp  Helicopter Tour?
The helicopter tour of Everest Base Camp is much more superior to the trek as it provides you with ease of access along with the opportunity for everyone to witness the glorious mountains themselves. The Everest Base Camp Helicopter tour is mainly designed for people with a limited amount of time for travel or not physically capable of taking the Everest Base Camp Trek.
The following are some reasons why you should choose the helicopter tour of Everest Base Camp.
Ease of access
The helicopter tour of the Everest Base Camp provides you with easy access to the Base Camp experience within only 4-5 hours. With the helicopter tour, you don't have to worry about the rocky trails with twists and turns that you will have to endure before finally reaching your destination. The Everest Base Camp Helicopter Tour is considered as an ultimate solution for your need for convenience and ease of access to the Base Camp.
Time benefit
Everest Base Camp Helicopter Tour is mainly popular for the time benefit it provides. Instead of spending days on end on the harsh terrain trails of the Everest Base Camp trek, you can reach the destination in a day. Reaching the viewpoint at Kalapatthar and relishing in the scenes of the great Himalayas within 4-5 hours is a great deal. This will help you save a lot of time and provide you with opportunities to find and venture into new adventures around you.
Great views
The helicopter tour is also known for its 360-degree panoramic views of the Himalayas from multiple angles. Unlike the trek where you get to see the mountains from beneath as a tiny being, you can relish in the beauty of the mountains from above. Being above the great mountains, the views you will see are unmatched to any other.
Safety
Compared to the other routes or the trails you take to Everest Base Camp, the helicopter tour to Everest Base Camp is secure. You are provided with a guide pilot and the trip is only 4-5 hours long, you will be safer during this trip. you won't have to worry about carrying a porter or equipment. There are no chances of you getting lost. The professional next to you will be at your service to guarantee your safety throughout the tour.
Fit for all
The major benefit of the helicopter tour is that it provides the opportunity for everyone to get up close to the highest mountain in the world. This is mainly designed towards the people who are physically unable to get to the base camp through trekking or those who do not have the time for the days-long trek.
Best Time for EBC Helicopter Tour

Everest Base Camp Helicopter tour is suitable all the time of the year. The helicopter tour is suitable for every season. Every season has its own charm.
The best season among all is considered the Autumn and Spring season. The months from September to November and the months from March to May provide you with clear skies. Thus, the view from the helicopter and the hotel will be very clear and vibrant at that.
In the summer, you will have a warm climate. You need not have to worry about the freezing cold winds in the summer. Also with the ice melting, you will be able to see the beautiful glaciers on your way.
The winter season may be cold but the mountains will be in their full-blown beauty covered in snow. The coniferous vegetation around the mountains will be covered in snow revealing tiny green parts. These views are magnificent in the winter.
So with every season having its own charm, you can decide which season suits you the best for you.
Others Everest Helicopter  Tour Service & Cost



1,  Gorakhshep to  Lukla Helicopter Flight Cost $ 1500

The helicopter trip to from Gorak Shep to Lukla is also available in our trip options. The  Helicopter from Gorakhshepto Lukla cost $ 1500 per head,   This incredible aerial trip reduces the travel time significantly for travelers . In This trip the Travelers  hiking to Everest base camp and taking helicopter flight back to Lukla then fly back Kathmandu with regular flight.
2, EBC / Gorakhshep to Kathmandu By Helicopter
we will provide the service pick up from Gorakhshep ( Everest Base camp ) to Kathmandu. It takes about 2 hour, and cost you anywhere from 4000 to 5500 per heli)  The  helicopter pick you from EBC to Lukla and After a stop at Lukla for refueling,  and directly fly back Kathmandu. this helicopter trip is ideal for trekkers who don;t want  trek  back same way to lukla after explore the Mt Everest base camp.  The Cost EBC from Kathmandu
3, Kathmandu to Lukla  By Helicopter ( $ 550 ) per person

The helicopter flight from Kathmandu to Lukla is a short trip that takes you to the gateway of the Everest region.  It cost you 550 $ per person, This flight on a helicopter is perfect for those travelers who don't want to get in delays and cancellations,  These helicopters can fly in low visibility conditions compared to airplane flights. Therefore, there are fewer weather-related delays in comparison.
Travelers can observe the snow-clad mountains of the Everest region during this ride. There are other natural diversities, including green hills, waterfalls, rivers, lakes, mountain passes, etc. It takes around 35-40 minutes to arrive at the destination of Lukla from Kathmandu. Moreover, you can also travel from Lukla to Kathmandu in a helicopter.
4, Gokyo lake to  Kathmandu By Helicopter $ 4200 Per heli ( 3,4 people)

The helicopter flight from Gokyo Lake to Lukla takes you through incredible landscapes. The beautiful region is known for its astonishing turquoise Gokyo lakes. This trip is ideal for those who want to trek through the off-the-beaten landscapes and return on a helicopter.
After trekking through challenging landscapes, you will finally fly back to Lukla on a helicopter. This way, you will get an outstanding adventure combined with luxury travel. You can directly fly to Kathmandu after a short refuel stop at Lukla.
5,  Dingboche/Pheriche to Kathmandu By Helicopter Flight
The helicopter flight from Dingboche/Pheriche is also available in the Everest region. Trekkers can take this luxurious helicopter trip from either Dingboche or Pheriche. You can shorten the total duration of the trekking journey significantly if you take this trip.
The travelers can directly arrive at the destination of Kathmandu or fly to Lukla. This saves you time on your schedule as you will complete your journey in a few hours. The incredible helicopter trip also lets you observe the tranquil region from the top. The magical views of the snow-clad Himalayas are another highlight of this helicopter trip.
Note: Other different helicopter services can be managed on your demand. Contact us if you need any helicopter services in the Everest region. Call WharsApp: +9779841293869 ( Babu)
Things To Carry EBC Helicopter Tour
Small Day Bag pack
Windproof Down jacket
Windproof Trouser.
A Bottle of water.
Sun glass Camera and mobiles
Passport
Camera or mobiles
EBC Helicopter Tour Booking and Cancellation Policy
Here are some booking and cancellation terms and policies that you must go through before booking with us. The below-mentioned terms and conditions will be liable and guide for any unprecedented circumstances.
Booking Policy
For booking a helicopter tour with us, you have to pay exactly 24% of the total cost as advance payment. The cost is a refundable cost where some conditions apply. You can know them in the Cancellation Policy down below. You have to send the booking amount and your passport's soft copy for booking confirmation. The remaining amount, i.e., 76%, is payable after you arrive in Kathmandu. However, you can pay the total cost in advance as well.
We accept deposits through several payment mediums like Credit Card, Master Card, Visa, and Direct Bank transfers. For these medium payments, you will be charged some extra fees. However, you can also make payment through our Website's safe payment gateway. If you want to pay in cash or cheque, we are okay with that.
(Note: All the remaining costs have to be paid before starting the Everest Base Camp Helicopter Tour. As you know, we have to manage everything in advance.)
Cancellation Policy
There can be situations when you have no option other than canceling the tour. It can be your emergency or different unseen situations where we have to cancel the excursion. That is where these cancellation policies will guide us.
If you cancel the tour one day before the tour, you will not get 25% of the deposit.
If you cancel the tour three days before the tour date, you will not get 15% of the deposit.
If you cancel the tour a week prior to the tour date, you will not get 10% of the deposit.
If the tour gets revoked due to weather circumstances, you will get 100% of the deposit.
If the customer wants to cancel the tour after the start of the trip, you shall not get any money back.The day the company finds a
cancellation request will be the cancellation day, and cancellation charges will be levied accordingly.
If the company cancels the tour, the cost will be either fully refunded to you or the time will be postponed. It's your choice.
Tour Itinerary
Cost Include/ Exclude
Service inclusive
Airport Pickup / Drop
Helicopter landed Airport charge
Everest National park fees ( RS 3,000)
Local Government tax (RS -2,000 )
3 Hour Helicopter tour from Kathmandu to Kathmandu.
Government tax and 13 % vat
Company Service Charge
Service exclusive
Meals
Personal Insurance and equipment
Airport transfer
FAQs
Gallery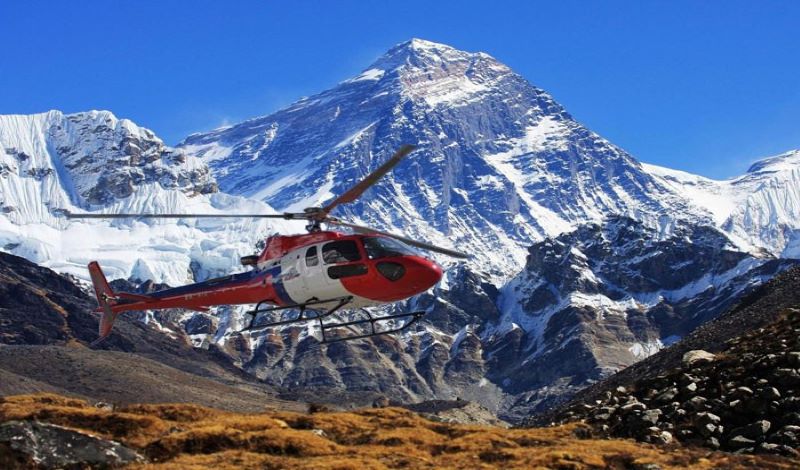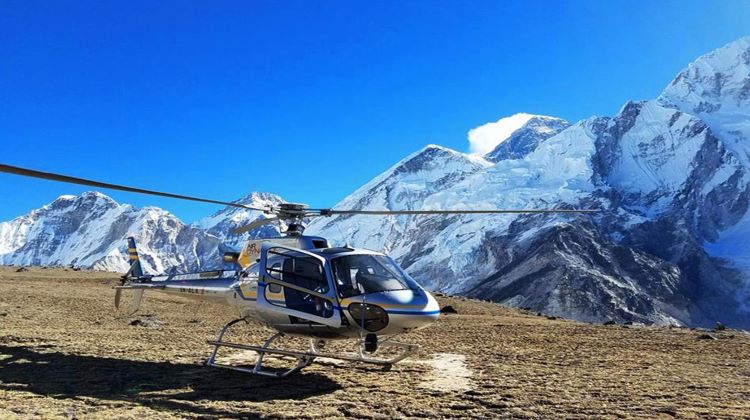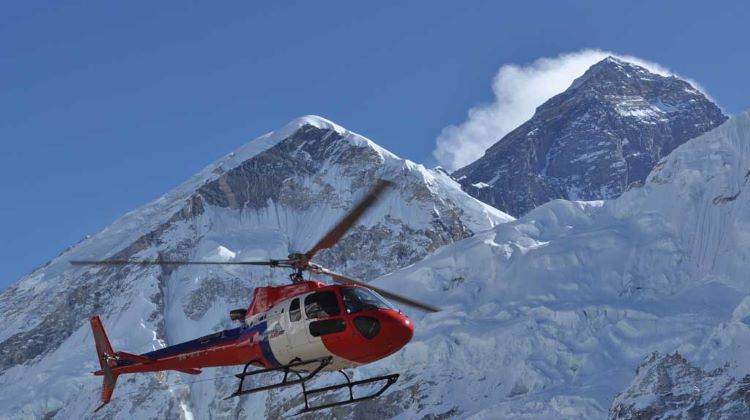 Reviews of Everest Base camp Helicopter Tour