Tent peak Climbing (Tharpu Chuli )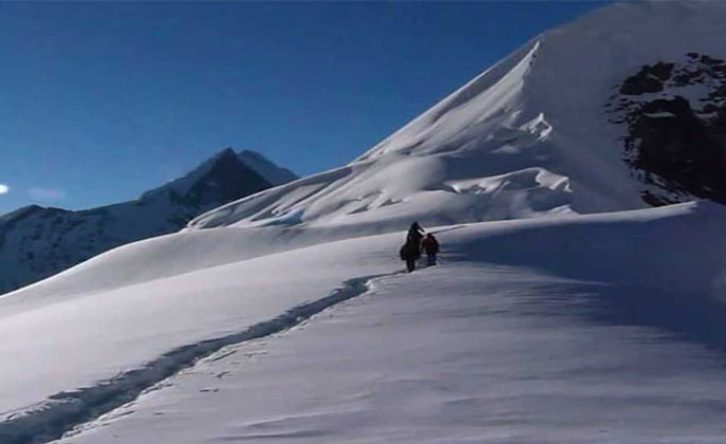 Trip Facts
Mode of trek :
Tea house / camping
Maximum Altitude :
5500m.
Overview
Tent Peak Climbing is as known as climb to  Tharpu chuli  peak. The peak is challenging and an exciting peak in the Annapurna region.It is located in the Annapurna sanctuary. The Sanctuary is an amphitheater, with a range of impressive Himalayan Peaks forming a vast bowl, accessible only from the South through the Modi Khola River valley. The immense South Face of Annapurna South (7291m), situated at the head of the Annapurna South Glacier, guards the Western flank of the Sanctuary. And right in the middle this all is Tharpu but also seeing ranges of mountain scenery.
Tent peak or Tharpu Chuli is 5663m, where the surrounding peaks are presented in all their glory from summit. The South Face Base Came of Annapurna is the fine a scent to the climbing teams, not only to the enjoying. The trek to advance camp involves crossing the South Annapurna Glacier. This is not an easy crossing. It involves a steep descent into the glacier through very rough ground among the confused mass of loose rocks of all sizes on the glacier floor. Then need to be climbed up the other side of the glacier. It takes almost 7 hours to reach advance camp. However, you are rewarded with breath-taking views all the way. Advance camp is roughly at 4500m, just on the snowline.
Trip Itinerary
Cost Include/Exclude
What's include
Airport/Hotel /Airport Trasportation
3 Nights hotel accommodation in Kathmandu including Breakfast.
Kathmandu Pokhara/Kathmandu by Tourist Bus.
3 times meals (Breakfast/Lunch/Dinner) during trip
A professional English speaking trekking guide,
Necessary Trekking porters
Climbing guide, including his climbing Equipment for all crew.
Necessary  Permits, National Park permits Fees and garbage deposit.
Generally climbing equipment like ropes , Ice axe, tent.
All official taxes and service charge.
What's excluded
International air fare.
Travel insurance
Personal climbing, trekking equipment.
All bar bills. Like coke, beer, bottle of water etc.
Emergency rescue evacuation
Food in city like Pokhara and Kathmandu.
TIPS for staff and garbage fee.
Gallery