Everest Base Camp Trek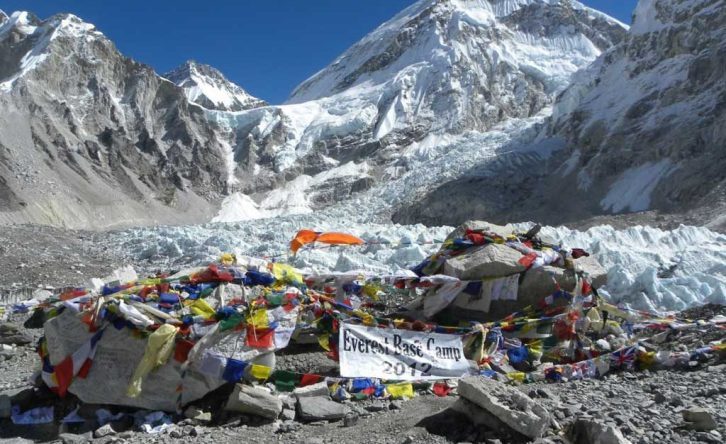 Trip Facts
Mode of Trip
Tea-House / Lodge Basis.
Grade
Moderate to Adventurous.
Highest elevation
5,545 m.
Trek duration
14 Nights / 15 Days
Best Time
Sep To Dec and Feb to Jun
Overview
Everest Base Camp Trek   is world  famous and  popular trekking route in the Himalayas of Nepal, Trekking at the base Camp of the world's highest Mt. Everest at 5,357 m / 15,500 ft high, Exploring Sherpa traditional villages enriched with Buddhist culture and custom.
Trek To  Everest Base camp  gives the wonderful experience of Tibetan culture in high elevation, pleasantly colorful views of rhododendron fir forests and massive of outstanding Himalayas views including the world's highest peak Mt Everest.
The Everest Base Camp Trekking( EBC Trek)  Starts from Lukla after 45 Minutes scenic flight from Kathmandu, Nepal.  We continue our hiking to Sherpa Kingdom Namche, Tyangboche, Dingboche, Lobuche  Gorakhshep, and finally reach EBC.
We have designed the  15 days Everest Base camp Trek package (Including days in Kathmandu)   from  Arrival to Departure . This package take you Everest Base camp and Including climb kalapatthar. The 15 days EBC Trek Itinerary is the best  Itinerary for experienced as well as beginner trekkers.
In this Itinerary  two acclimatization days at Namche and in Dingboche. This will help you to cope with the thin air and changing atmosphere. Altitude sickness is one of the difficulties when trekking to the height of 5545 meters at Kala Patthar. It is because the amount of oxygen at a higher altitude is comparatively low which results in difficulty in breathing
Adventure Great Himalaya Treks & Expeditions presents this delightful and adventurous Everest Base Camp tour where you can release yourself with amazing sceneries of mountains that surround you along with the great hospitality of Sherpa the Highlanders of Himalaya, including the utmost service of Adventure Great Himalaya Treks & Expeditions expert guides and staff.
Why Trekking to Everest Base Camp ?

 Hiking up to the Base Camp of the highest mountain in the world.

Spectacular views of the mountain ranges such as Mt. Everest, Mt. Ama Dablam, Mt. Thamserku, Mt. Makalu, Mt.  Lhotse, and many more.

Exploring the Sagarmatha National Park, UNESCO world heritage site.

Walking to Khumbu ice fall and glacier along the way to the Everest Base Camp.

Exploring the oldest monastery of the Everest region, Tengboche Monastery.

Exploring Sherpa communities.

Climb to 

Kala Patthar

(5545 m) Overview of Mount Everest Sunrise and Sunset View


EBC Trekking Difficulties



Trekking to Everest Base camp straight forward with good and wide path,  Walking 6, 7 hour each day from 7 am after breakfast to till 3, 4 pm.  Anyone who is reasonably fit will be able to complete this trek. There are no specific exercises for the trek, but some cardiovascular training is always recommended. You should start Cycling, hiking, swimming, climbing or hill walking at least two weeks before the trek.
The trek has a complete itinerary of 15 days and therefore fit for those who have a long holiday planned and want to trek a leisurely pace. The long trekking days also ensure that all the trekkers are properly acclimatized and relaxed even with a long day of trekking.
The risk of altitude sickness is always present. If you are taking some medication, you should consult your doctor for advice for trekking in such high altitude regions. A right level of fitness will make the trek pleasant and comfortable.
Here are More  information about EBC Trek difficult
Best Time to  Everest Base Camp Trekking
Arguably, the best time to  Everest base camp Trek is the autumn season of September to November. The trek of Everest base camp from late September to November has many perks.
Some of the major highlights of the trek include the spectacular view of the mountains, moderate trekking temperatures, and unobstructed views of the mountains. There might be some instances of unfavorable conditions which is quite common. The weather around the Everest Base Camp is quite unpredictable in comparison.
The amount of precipitation is quite less in lower elevations and snowfall is less as you move higher along the trail. You should always check for weather conditions before you start the trek and prepare accordingly.
Besides this, the small window from March to May is also a great time to trek the Everest region. The trails look beautiful, and the rhododendron flowers bloom well over the hills painting the hills red and pink. The Everest region has an excellent climate and weather, and the moderate temperatures make for a great trekking experience.
Everest Base camp Trek Itinerary
Cost Include/ Exclude
Service included
All Airport Transfer (Airport – Hotel – Airport)
3 Nights  3 star Hotel in Kathmandu  with Breakfast
3  Meals a day  during the trek  ( Breakfast, Lunch, Dinner)
Hot Drinks –

Tea / Coffee

 11 Night Lodge to Lodge Accommodation in trekking,

All Necessary Trekking Permit ( Sagarmatha national park,Khumbu Local Tax and TIMS Permit)

Kathmandu  –  Lukla /  Kathmandu  Flight ticket Limit weight is 10 kg and hand- Cary 5 Kg
 Trekking Guide: An experienced, helpful, friendly English speaking trekking guide

Trekking  Porter – Carry your Luggage (One Porter for 2 members) No Porter for Solo Trekkers
Guide, Porter, Insurance
Trekking Equipment: Sleeping bag, Duffel Bag a.- Refundable after the trek.
Oxe -Meter- To Check your oxygen saturation and heart rating
Free Everest Trekking map.
Souvenir Company T-Shirt, Hat
All Government Taxes and Service charge.
Service excluded
International Air fair and Nepal entry visa fee
Travel insurance and emergency rescue evacuation.
All  the Drinks
  Wi- Fi, Hot Shower
Electronic device re-charge such as Mobile, Camera etc.
Tips
More Information
Lukla Flight & Weather
Lukla rests perfectly on a hilltop surrounded by mountains on all three sides. There are no direct roadways to reach Lukla from Kathmandu, only flight options. Plus, its airport is known as the world's most thrilling one due to the short runway.And There are mainly  3 airlines are having regular flights to Lukla from Kathmandu.
Currently, flights are the only direct transportation available from Kathmandu to Lukla. So, the weather has a significant impact on its flight schedule. During dramatic climatic conditions, the chances of flight delay and cancellation are high.
Afraid of flight cancellation? Worry not, you can take helicopters  from Kathmandu to Lukla / or return  Kathmandu. The helicopter cost would be $350-$500 per person for one way flight.
Note: If the weather is worst and no visibility, helicopters also might not make flights.
So, the flights are only scheduled in the mornings because the weather is evident in the mountains at that time. A tailwind slowly builds up by afternoon, making it impossible to fly and navigate the landing.
Also, the visibility and seasonality add up to it. During monsoon, the rain clouds come into play with thunderstorms and wind, while in winter, the fog impacts the flight creating high chances of flight cancellations and delays.
Traveling during bad weather conditions is the worst scenario possible, so always read the weather forecast or travel during peak seasons. Weight restrictions: Flying  to Lukla, the weight limit is 15 kg per person,  You can carry maximum 10Kg of luggage and maximum 5kg of hand-carry. If you want take More than weight limit, it  will cost you  US$ 1  for  extra Kilograms .
Altitude Sickness & prevention
Typically, Trek  to Everest takes you above 5000m elevation. So, altitude-related sickness is the most common problem you face during this journey.
Most travelers think AMS occurs when you travel above 3500 m, and this trip begins from 2800 m altitude. So, the chances of altitude sickness are high during Everest Base Camp Tour.
Headache, vomiting, nausea, dizziness, shortness of breath are some of the usual signs of altitude-related sickness. If you start to detect any of the symptoms, inform your guide and follow their instructions.
When suffering from AMS, do not continue the trek; instead, stay in the same destination or head to lower areas.
Trekking to Everest Base Camp is not an easy journey, but with some tips, you can make it a bit easier:
Do not consume alcohol or smoke cigarettes
Avoid eating meats in this trek as they are not fresh and hygienic.
Keep yourself hydrated by drinking 3 to 4 liters of water each day.
Walk slow and steady while covering 10 to 15 km each day.
Required Trekking Permit

Without trekking permits, you cannot complete your Everest Base Camp Tour journey. So, for this trip, you are required to carry two permits: Sagarmatha National Park Entry Permit and Khumbu Rural Municipality Entrance Permit.
Khumbu Rural Municipality Entrance Permit costs NRP 2000; $20 (for all visitors). Likewise, Sagarmatha National Park Entry Permit costs NRP 3000; $30 (for Foreigner) and NRP 1500; $15 (for SAARC).
EBC Trek Total  Distance
Everest Base Camp Trek, one of the iconic treks in the world, is about 130 km long in total. That means while you trek toward Everest Base Camp, you will cover 65 km. And 65 km more while returning from Everest Base Camp. You must cover a 130 km distance to complete it, starting and ending at Lukla.
The Everest Base Camp Trek distance is easy, moderate, or difficult. It depends on your experience level and preparation. If you have been on similar treks in the Himalayas, the trek's distance is okay.
However, it can be a bit demanding and massive for beginners. You have to cover a distance of 15 km per day on average. The trail is rough, rocky, steep, slippery, and sometimes descends. The conditions might slow you down. Otherwise, 15 km a day is relatively easy. You'll have around 6-10 hours daily to cover that distance. Come well-prepared to cover an average of 15 km per day. And you will have a walk of life.
EBC Trek Travel Insurance

Travel Insurance is mandatory if you want to begin your Everest Base Camp Trek. It is because no one can predict what mishaps can happen in the mountains, so having insurance covers these issues.
While choosing a company, make sure their plan covers all medical and travel problems like altitude sickness, emergency rescue, sprained ankle, and more. The insurance plan should be able to give you facilities like helicopter rescue, clinical attention, air ambulance, and so on.
Most importantly, many insurance companies do not cover treks above 4000 m, so make sure your cover trips above 5000 m altitude. With travel insurance, you can complete your expedition with no worries.
Guide for Everest Base Camp Trek

Trekking solo is possible for Everest Base Camp Trek, but we recommend not to because the routes are mentally and physically challenging. So, if you dislike traveling in groups, you can hire experienced guides for extra comfort and a stress-free trek.
Having a guide will not only help you with navigation, but they will also take care of your security and safety. They will be your closest companion who helps you connect with local culture and communicate with the people.
Trekking Porter – For Carry Your Luggage
Having a porter lessens your baggage weight, as they carry all your heavy belongings allowing you to enjoy the trek without feeling fatigued. They are also the locals of these areas, so they know many shortcuts. Porters are less expensive in comparison with licensed guides and a great companion with basic English speaking skills.
Tip for Guide, Porter
Tipping is a lovely gesture to service providers around the world. And it is no new in Nepal's trekking trails. After loving the service of their guides and porters, trekkers want to offer some tips to them. Tipping is not compulsory, but it can surely make your porter and guide's day. It is all your choice.
As it is optional, there is no exact number for tipping. You can give as much as you like. Still, if we have to help with how much to offer, we would suggest you a suggestion. If your trek is ten days long, you can give them around USD 10 to 15 per day as a tip. So you can use this rate to tip your guide or porter. That is a standard tip amount. If you can give more or less, that is no problem.
There is no need to tip your team every day. You can just complete the trip and pay them at last. Make sure the given amount goes into the hands of the right people. You can use an envelope to give a gratuity.
Hot Shower

Almost 95% of tea houses and lodges have a hot shower facility during the EBC trek. In lower areas like Namche, Phakding, you can quickly get a hot bucket or tap shower at a low price. However, the hot showers are expensive as you ascend above to Dingboche, Gorak Shep, Tengboche, etc. Getting running water is a challenge in the upper region, so bucket water is better.
How much Money Carry for EBC Trek?
Even though our package covers most of your costs like meals during the trek, accommodation, Guide, Porter, Lukla flight etc., it doesn't cover your personal bills. So, you need to carry extra cash to pay for your beverages, restaurants, snacks, souvenirs, hot showers, and more.
Each day you might spend about $15 to $20, depending on your spending habits. So, carry the equivalent money for payment as the shops in the mountains do not accept visa cards or e-payment.
Toiletry and Room
Basically, Everest Base Camp Trek is a tea house trip, so all the accommodations provide simple facilities. The rooms are primarily twin-sharing, so you have to share them with other travelers. Each room consists of beds, pillows, and blankets, but they are warm and cozy.
As for the toilets, you find attached bathrooms in lower regions, but you only find shared bathrooms as you keep ascending.
 EBC Trek Equipment List

For the Everest base camp trek, The following Items are recommended  for every trekker ,  This List is only for Guide. There are numerous option brands and versions of each piece of equipment. EBC Trek Packing list
Booking & Cancellation
Before preparing for your treks, you should carefully read the booking terms and conditions. If you wish to book your trip with us you should send a completed booking form and a scan of your passport along with a 25% amount of the  trip.when you pay  deposit then your trip is confirmed.
The trip deposit can pay by online,  or  pay directly through the bank, they impose a service charge.
Please note that the initial booking deposit is not refundable if you cancel 45 days prior to departure
After receiving your documents, you get your final confirmation receipt.
Where are How to pay the remaining Balance?
You need to pay the remaining balance after arriving in Nepal. It is to be paid in USD or Nepalese rupees in cash before your departure. If you pay via debit or credit card, an additional fee of 13% will be charged to cover the tax and vat.
Cost & Date
Note: The below Price and Travel date is for the Group Join Basis. If you take private trip all travel dates are guaranteed. Private Trip
| Start Date | End Date | Trip Type | Price | AVAILABILITY | Booking |
| --- | --- | --- | --- | --- | --- |
| Fri, 15 Mar, 24 | Fri, 29 Mar, 24 | Group Join | $ 1300.00 | AVAILABLE | Book Now |
| Thu, 28 Mar, 24 | Thu, 11 Apr, 24 | Group Join | $ 1300.00 | AVAILABLE | Book Now |
| Fri, 12 Apr, 24 | Fri, 26 Apr, 24 | Group Join | $ 1300.00 | AVAILABLE | Book Now |
| Sat, 20 Apr, 24 | Sat, 4 May, 24 | Group Join | $ 1300.00 | AVAILABLE | Book Now |
| Fri, 26 Apr, 24 | Fri, 10 May, 24 | Group Join | $ 1300.00 | AVAILABLE | Book Now |
| Wed, 18 Sep, 24 | Wed, 2 Oct, 24 | Group Join | $ 1300.00 | AVAILABLE | Book Now |
| Fri, 27 Sep, 24 | Fri, 11 Oct, 24 | Group Join | $ 1300.00 | AVAILABLE | Book Now |
| Fri, 4 Oct, 24 | Fri, 18 Oct, 24 | Group Join | $ 1300.00 | AVAILABLE | Book Now |
| Sun, 13 Oct, 24 | Sun, 27 Oct, 24 | Group Join | $ 1300.00 | AVAILABLE | Book Now |
| Fri, 18 Oct, 24 | Fri, 1 Nov, 24 | Group Join | $ 1300.00 | AVAILABLE | Book Now |
| Wed, 23 Oct, 24 | Wed, 6 Nov, 24 | Group Join | $ 1300.00 | AVAILABLE | Book Now |
| Mon, 28 Oct, 24 | Mon, 11 Nov, 24 | Group Join | $ 1300.00 | AVAILABLE | Book Now |
| Sun, 3 Nov, 24 | Sun, 17 Nov, 24 | Group Join | $ 1300.00 | AVAILABLE | Book Now |
| Sun, 10 Nov, 24 | Sun, 24 Nov, 24 | Group Join | $ 1300.00 | AVAILABLE | Book Now |
| Fri, 22 Nov, 24 | Fri, 6 Dec, 24 | Group Join | $ 1300.00 | AVAILABLE | Book Now |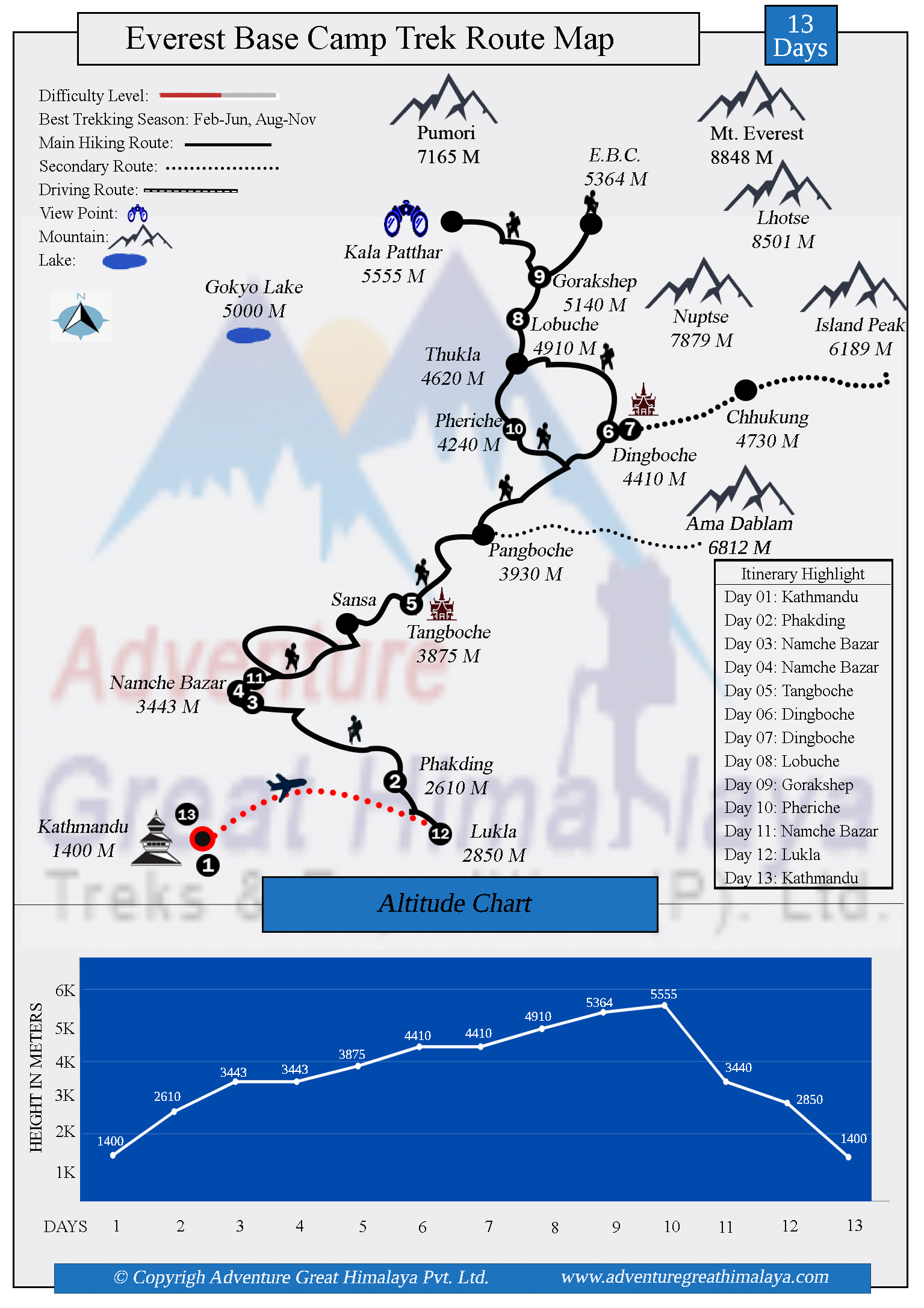 FAQs
Gallery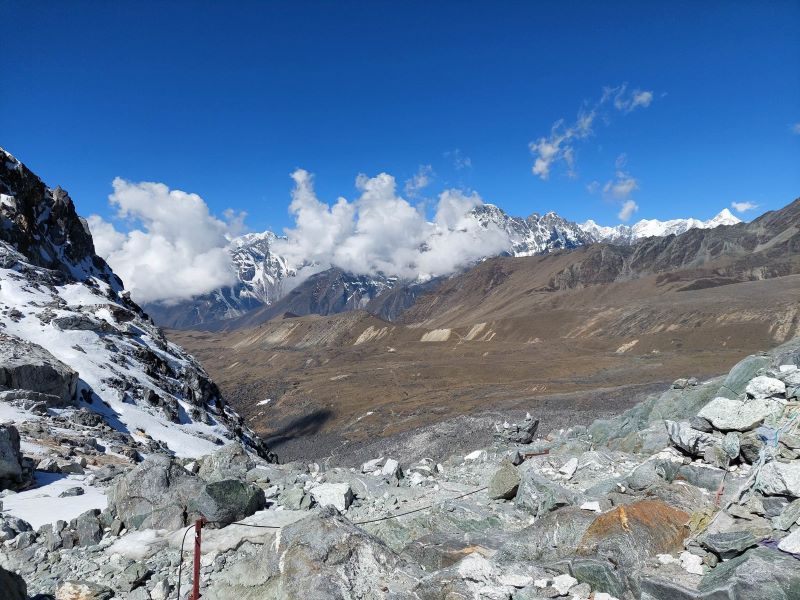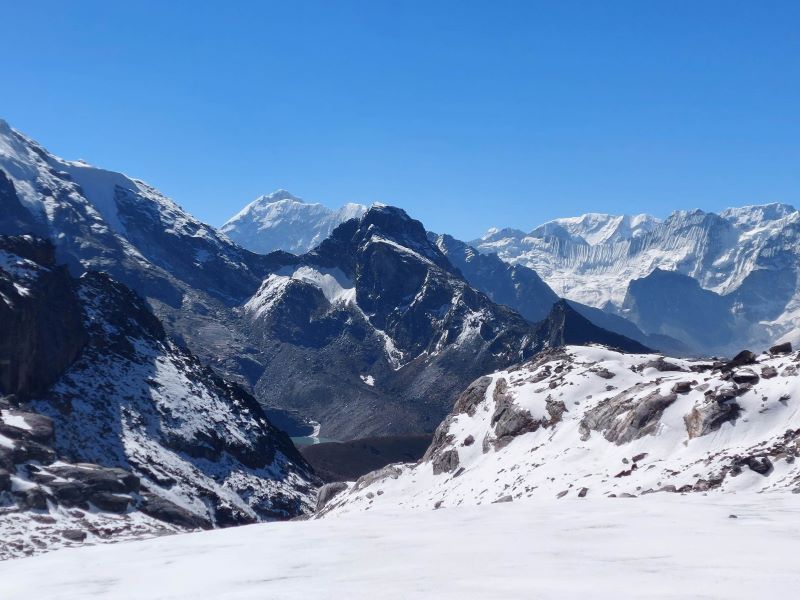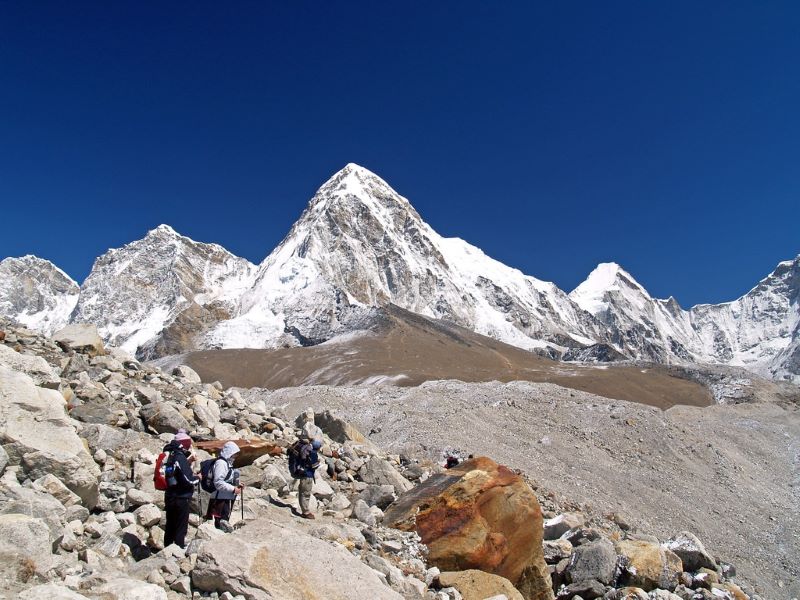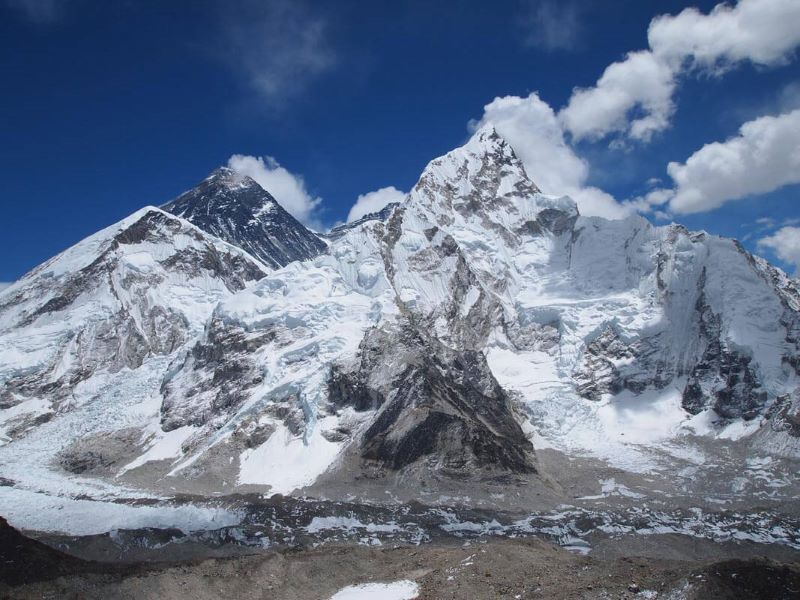 Reviews of Everest Base Camp Trek