Mardi Himal Trekking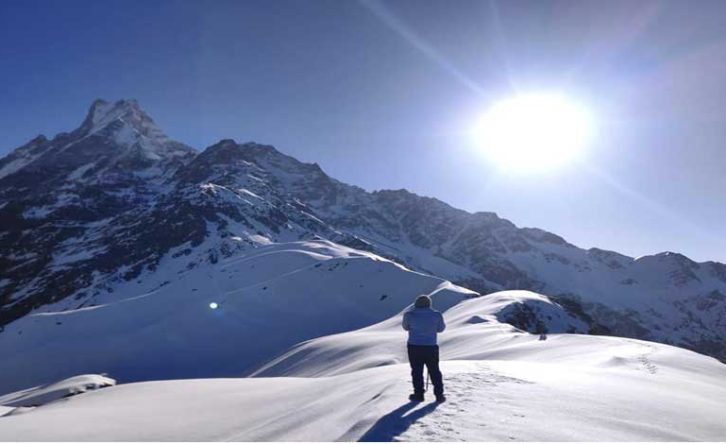 Trip Facts
Mode of trekking:
Tea house
Best Time
Feb- Jun and August - December
Overview
Mardi Himal  Trek is a relatively new and unspoiled trekking destination located in the Annapurna region of Nepal.  It is Popular Trek and offers breathtaking views of the majestic Himalayan mountain range, including Machhapuchhre (Fishtail)(6993m), Annapurna South(7219m), Dhaulagiri(8167m), Hiunchuli(6441m).
Geographically, the Mardi Himal trekking is characterized by its diverse landscapes, which range from terraced rice fields and rhododendron forests to high-altitude rocky terrain and snow-capped peaks. The trail passes through several traditional Nepali villages of: Dhampus, Pritam Deurali, Forest Camp, Low Camp and High Camp , where trekkers can experience the unique culture and way of life of  Gurungs and Magars.
Flora and fauna in the Mardi Himal trekking route are abundant and diverse, owing to the region's rich biodiversity. The lower altitudes of the trek are home to lush forests of rhododendron, oak, and bamboo, while higher elevations feature alpine grasslands and shrubs. The Mardi Himal trek is especially famous for its springtime blooms of rhododendron, which blanket the hillsides in vivid shades of pink, red, and white.
Wildlife enthusiasts will be delighted to know that the Mardi Himal trek offers opportunities to spot a wide variety of fauna, including Himalayan black bears, musk deer, leopards, and various species of birds. The region is also known for its impressive array of butterflies, which are sure to delight nature lovers.
Mardi Himal Trek – 5 Days  journey begins from Pokhara and officially initiating trek from Phedi to Deurali. The trail goes along small winding paths, easy at the beginning transforming into steep hills up to Forest Camp. Through the alpine forests with magical rhododendron blooming, the trekkers start stepping in the jungle on the top of a ridge. The trail drops steeply and then slowly gains height and then back onto the ridge escalating to High Camp. The landscape changes quite abruptly into a rugged high mountain landscape, with amazing views of Mt. Machhapuchhre (6,997m) ahead and Mt. Annapurna (8,091m) in the south.
After the witnessing the mesmerizing view from the Base camp of Mardi Himal, we head back to High Camp and then head to Siding. From Siding the trek follows the trail towards Lwang. Basically a village, Lwang offers home stay inhibited majorly by the Gurung, Magar, Brahmin, and so on. Eventually, the trekkers will trek to Pokhara and later to their destination i.e. Kathmandu. The most favorable months to trek here are Mar-May and Sept-Nov as the skies get clear and the trails are dry.
Mardi Himal Base Camp Trek is a distinct 5 days trek package organized by Adventure Great Himalaya to trek a pristine base camp lavishly offering the trekkers who prefer secluded places like this. Different from accustomed trekking trails, Mardi Himal Trek is spaciously unique in its geography and is designed trekker-friendly to create a brilliant trek experience.
Highlight of Mardi Himal  Trek
One of the best short trekking trails in the Nepalese Himalayas.
Magnificent views of the Annapurna Massif, Mount Fishtail (Macchhapucchre), and Mardi Peaks.
 trekking in the Annapurna Sanctuary to experience the best of teahouse experiences here.
A proper adventure going through lower hills to forests and finally the scenic ridges to the Mardi Himal Base Camp (4500m).
A cultural trip to witness the Gurung culture passing by small settlements of this region.
 Balanced walking days with well-planned high-altitude sections for best trek results while keeping altitude sickness in check.
 Wildlife and vegetation encounter opportunities from the lower hills to the alpine zones of Nepal.
Mardi Himal Trek Difficulties
We will grade the Mardi Himal Trek in the Moderate category while discussing different trekking trails of the Nepalese Himalayas. One of the main reasons this trek is doable to travelers is well-segmented  walking hours each day. Our Itinerary here is planned in such a way that you don't have to push harder any day to reach the destination. Similarly, by following it you can also keep altitude sickness in check.
Another factor in favor of the Mardi Himal Trek is the flexibility of the trail. You can plan to complete this trek anywhere between 5 to 15 days. So, the itinerary here is customizable accordingly. Similarly, the presence of tea houses in regular intervals also makes trekking easier. However, you have to trek for a few days over the 3000 meters mark. With all these taken under consideration, we suggest this trek to everyone alongside local guides to assist you.
Best time for Mardi  Himal Trek
Unlike the Annapurna Circuit, Mardi Himal Trek is possible to complete throughout the year. However, for the best experience, we suggest you start the trek during the spring or autumn season in Nepal. Autumn lasts from September till November and spring from March to May. The post-monsoon period during autumn sees clear trails and views to enjoy for trekkers. Similarly, spring brings out the colours and scenery of blooming flowers and forests to enjoy as well from the trail.
Off-season Mardi Himal Trek
Off-season treks to Mardi Himal are gaining popularity in recent times. There are small windows during these times when you can complete this trek safely and witness a different shade of the Annapurna region here. Just before extreme winter trekkers can enjoy a snow-covered trail with some magical landscape views nearing the Mardi Himal BC.
The close view of Macchapuchre peak alongside the surrounding peak is also majestic while trekking in these times. However, only some tea houses operate and the weather is uncertain during off-seasons at Mardi.
Accommodation in Mardi Himalaya Trekking
Annapurna region as a whole is known for its Tea house trekking experiences. Mardi Himal Trek is no exception. This trail allows a proper tea house adventure for trekking enthusiasts. Tea houses are locally operated businesses providing food as well. The dining room is communal and in higher elevation heated by a large stove. Your rooms are simple with single-person beds and a table.
Teahouses do provide you with blankets and mattresses. As for the bathroom, you might find an attached room or share a communal bathroom. You might have to pay extra for services like hot water and wifi. Make sure you ask the tea house owners about these before settling for them.
Meals In Mardi Himal Trek
Meals during the Mardi Himal Trek might vary according to the elevation. The tea houses in lower elevation can boast a large selection of menus with organic local produce. In the tea houses over the low camp, you can still find good quality food but the menu is limited.
The standards of the tea houses are maintained by the designated officials so you don't have to worry much in these regards. Similarly, you can also try some Gurung and Tibetan delicacies while staying in the tea houses. Tibetan bread, Dal-Bhat (Nepali Traditional Food), Dhindo, Millet Porridge, and Tongba are some of our top picks for you to try here.
Mardi Himal Trek Cost
The Mardi Himal Trek  Cost is depends on Group size , travel season  and  Mood of transpiration.  Generally The Mardi Himal Trek  Package cost you  $600 to 800 for 6, 7 days Including Kathmandu travel days,  This cost will be includes, guide, Meals,  accommodation,  Permit,  and ground transportation etc.
Mardi Himal Trek Itinerary
Cost Include/Exclude
What's include
All airport transfer
Hotel in Kathmandu and Pokhara as per itinerary
Kathmandu to Pkhara / Kathmandu flight ticket
Trekking Permit : Annapurna Conservation Fees and TIMS Permit
 Trekking Guide: An Experience, English Speaking Trekking Guide
Trekking Porter: One porter between 2 Members ( No  porter for Solo Trekkers)
Pokhara to kande -Siding to Pokhara by Private Van / Car / Jeep
Full board meals during the trek ( breakfast, Lunch, Dinner)
Lodge to Lodge Accommodation during the trek
Trekking Equipment: Sleeping Bag, Down Jacket, walking poles ( refundable after the trek)
Government Tax and vat
Office Service charge.
What's excluded
Personal Travel Insirance
All Bar Bills, bottle of drinks, Extra Tea / Coffee
Tips for Guide, Porter
Gallery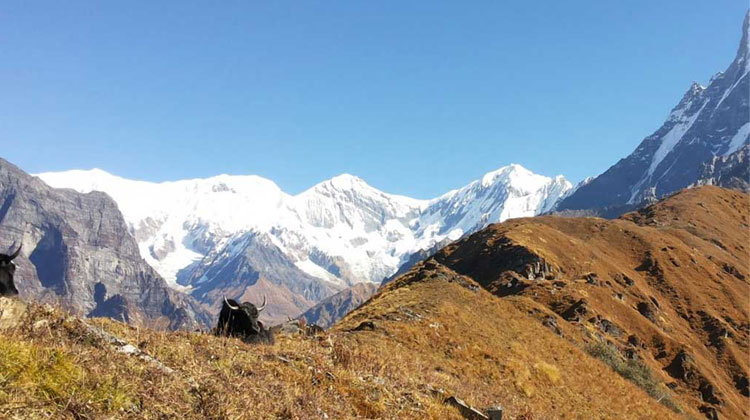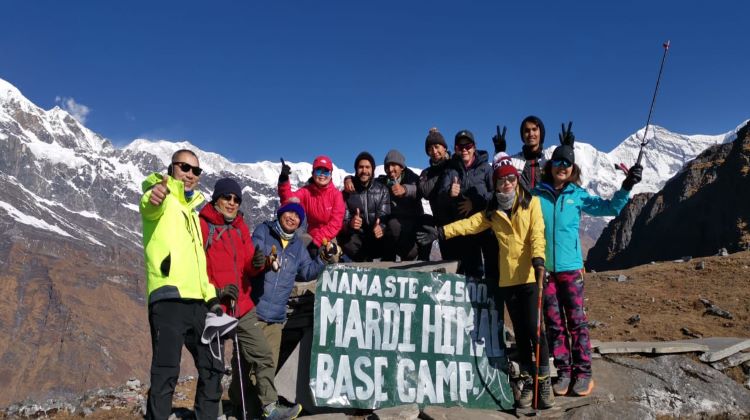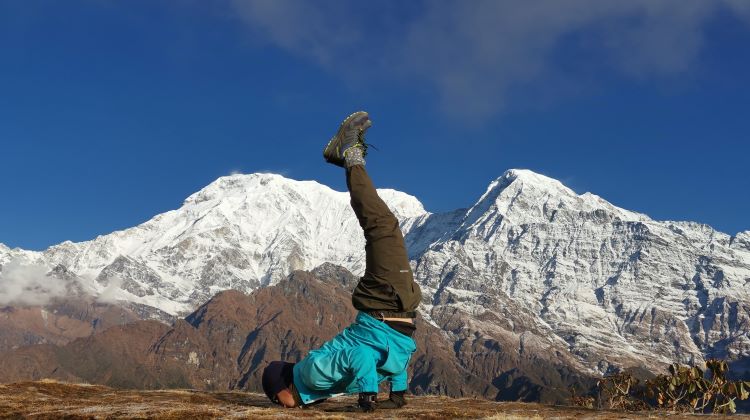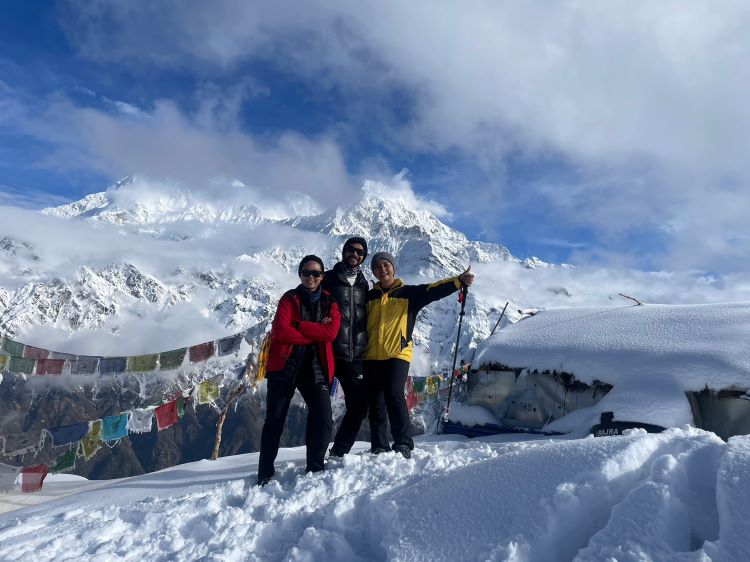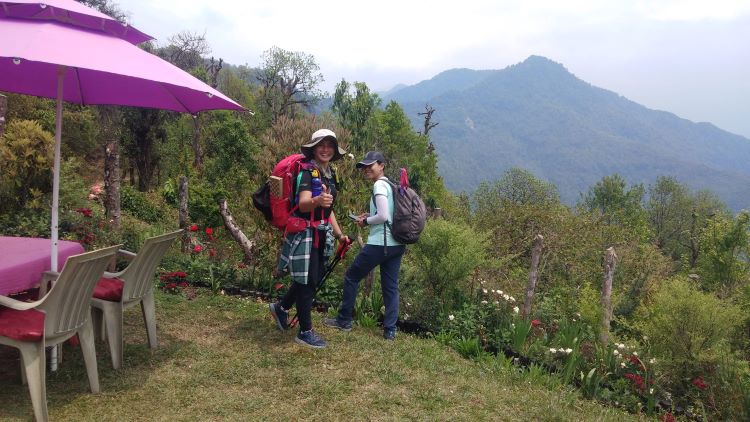 Reviews of Mardi Himal Trekking