Yala Peak Climbing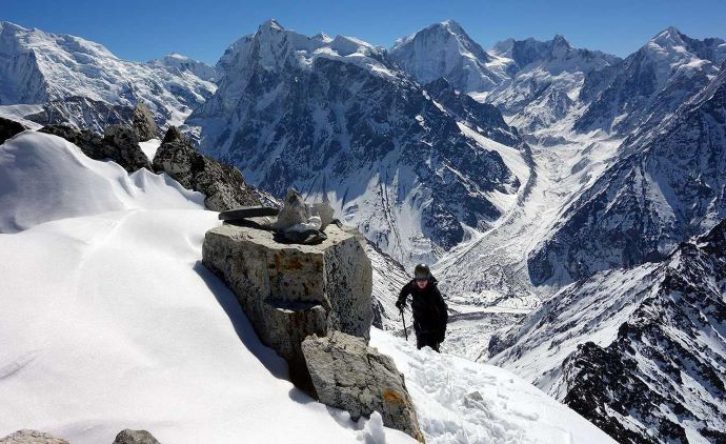 Trip Facts
Time for Nepal Total :
13 Days
Walking and climbing duration:
12 days
Mode of trek :
Tea house / camping
Maximum Altitude :
5500m.
Overview
Yala Peak, a gorgeous peak in the Langtang Region, is a less frequented, simple, and non-technical climb. It is a match for beginners who want to gain climbing experience. The journey to the top of Yala Peak is incredible, scenic, and full of adventures.
At 5,550m of elevation, Yala Peak lies on the northern border of Nepal and Tibet in the Langtang Region, the home of peaks like Langtang Lirung and Dorje Lakpa. As per the NMA(Nepal Mountaineering Association), Yala peak is a trekking peak. Trekking peaks are mountains that require little or no technical climbing experience are easier ones. It is a perfect peak for any novice climber with no alpine experience looking for an easy climb.
You will travel north from Kathmandu Valley to mesmerizing Langtang Valley to scale the peak. Starting from Syabrubesi-the entrance to Langtang Region, the Yala Peak journey passes via the iconic villages of Tamangs, Langtang National Park's lush vegetation, and breathtaking valleys. You will pass all the major stops of Langtang Valley trek, including the earthquake-affected area.
Ultimately, your journey will succeed at the summit point of Yala Peak(5,550m). From there, you will get a fantastic panorama of the whole Langtang Region. Mountains like Dorje Lakpa, Langtang Lirung, Sishapangma, and more appear from the viewpoint, close and clear.
In a nutshell, Yala Peak Climbing is a nontechnical climb suiting favorably novice climbers. Without any big risk taken, a climber will learn to apply basic climbing skills on the journey. Alongside, the climber will experience Langtang Region's unparalleled natural and cultural beauty.
Major Highlights of Yala Peak Climbing
A safe climb for novice climbers.
Do a fantastic trek through Langtang Valley.
Meet and know the Tamangs, their lifestyle, their stories about the 2015 earthquake.
Walk and explore the lush vegetation of Langtang National Park.
Ran in front of Himalayan Yak grazing in the Himalayas.
Hear the rivers making big sounds and birds chirping.
Know what it is to live a Tibetan-influenced lifestyle.
Pass numerous Buddhist mani walls, prayer flags, gompas, and monasteries.
Touch Yala Peak's summit and observe Langtang Lirung, Dorje Lakpa, Shishpangma, Yansa Tsenji, etc.
Difficulty Level of Yala Peak Climbing
Yala Peak is a trekking peak graded as Grade F under the Alpine Grading System. The mountains with F grades are easy and facile with no technical sections. That means Yala Peak is not a challenging climb. You can accomplish this simple and non-technical peak if you have basic climbing commands.
Moreover, you will need to sustain the extreme weather of the region. The long, steep, and rough trekking trail can put some problems for you. Also, high altitude gain can be another problem. Other than that, Yala Peal should be a comfortable peak for you.
Best Time for Yala Peak Climbing
There are two well-known seasons to dwell in the Himalayas; April to May and October to November. The same goes for Yala Peak Climbing. The Autumn and Spring seasons are two great times for climbing the mountain. In these two seasons, you shall have stable weather conditions like less snowfall, low rainfall, bright sun, clean and clear weather. You do not get to experience those conditions in Winter and Monsoon seasons. Therefore, you would not get a better time than the Autumn and Spring months.
Yala Peak Climbing Itinerary
Cost Include / Exclude
What's include
Airport / Hotel /Airport Transpiration
Two night's  Hotel in Katmandu Including Breakfast
Full Board Meals during the trek  (Breakfast, Lunch and Dinner)
Hot drinks: tea / Coffee
 All Necessary Trekking and Climbing Permit
All Lodge/ tented Camp Accommodation during the trek
 Trekking / Climbing Guide.
 Trekking porter
Guide / Porter insurance
Arrangement of Emergency Helicopter service which will be paid by your Travel insurance company.
Medical supplies (first aid kit will be available).
All government taxes.
Service charge.
Drop to airport by car/van/Bus
What's excluded
International Airfare and Nepal entry visa fee
Personal Travel Insurance and also Rescue evacuation  encase of emergency
Personal Trekking and Climbing equipment.
All Bar bills and personal expenses( phone call, laundry service, battery recharge, bottle of water, hot water, shower, pot of tea, coffee etc.
Tips for the guide and porter.
FAQs
Gallery