Island Peak Climbing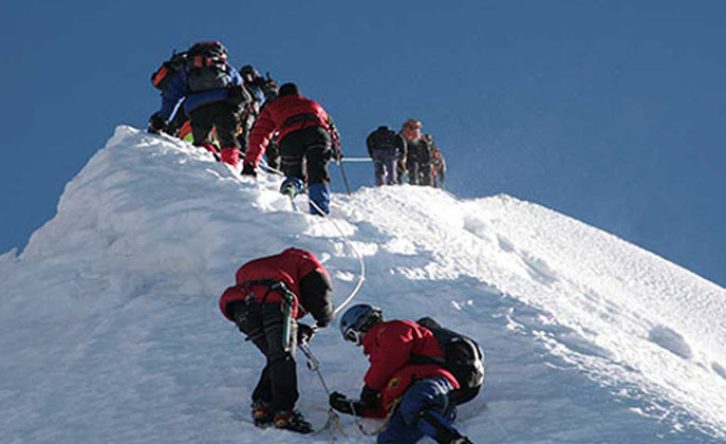 Trip Facts
Best Time
Sep/Dec and Feb/ Jun
Mode of trek :
Tea house/camping
Maximum Altitude :
6200m.
Overview
Island peak is a famous 6000m trekking peak in Nepal. It is popularly known as "Imja Tse" by the locals. This fantastic mountain towering at 6160m is ideal for climbing by beginners and amateurs. Climbers also need to trek through remote terrains of the Everest region before arriving at the summit.
Moreover, this tranquil region offers you the best adventure in the bliss of mother nature. This gorgeous mountain peak looks like an island of ice from Dingboche. The snow-clad mountains of the Everest Mahalangur Region including Mt. Everest (8848.86m) looks enthralling from the peak.
The peak climbing can be taken as a side trip on the Everest Base Camp trek. Moreover, the walk trails pass through the tranquil landscapes of the Sagarmatha National Park. There is incredible wildlife and vegetation in this UNESCO-listed natural heritage site.
The trails of this itinerary  pass through ancient settlements experience the rural villages of the local people. village lifestyle and its heritage and traditions will enthrall you. This peak climbing itinerary also offers you a serene cultural exploration opportunity.
During the Climbing you will faces some technical challenges along the route, including a headwall. Hence, trekkers require training with gear and equipment to complete this journey with ease. The climbers need to be in proper shape, both physically and mentally. This spectacular peak climbing adventure is one of the best in Nepal. Read further to learn about the Island peak climbing journey and other related details.
Highlights of this Trip
Climb Island peak (6160 meters) summit during the journey
Trekking through the naturally stunning terrains of the Everest region
Various side hiking trips during acclimatization
Exploration of the culture, heritage, and tradition of the region
Awe-inspiring views of towering Himalayan peaks including Mt. Everest
Experiencing Himalayan sunrise and sunsets from the viewpoints
Warm welcome and hospitality in the journey
When is the Perfect time for Island Peak Climbing?
Spring
The Spring from March to May is ideal for Island peak climbing. There is stable weather in the region with no cloudy skies. Besides, there are no weather challenges in these peak seasons. No heavy rainfall means dry trails throughout.
The clear weather and blue skies offer trekkers with majestic Himalayan vista. Spring also comes with blossoming trails with diverse wildflowers and vegetation. Wildlife in the region remains active as well, which is another highlight.
Autumn
From September to November, there is ideal weather in the beautiful Everest region. In the daytime, you can experience perfect temperatures and calm weather overall. Clear skies with minimal precipitation are another attraction of the trek in Autumn.
Trekkers have the opportunity for cultural exploration this season as various festivals fall during this season. The pristine snow-clad mountains look incredibly beautiful in the region. Besides, you will get stunning views of the region's natural landscapes.
There are various weather-related challenges like landslides, floods, avalanches, and slippery trails in the off-seasons. The winter season is quite extreme with weather conditions and freezing temperatures. While you can trek in the off-season, you will need to prepare well with proper preparation. Therefore, the Island Peak climb is more comfortable and safe in peak seasons.
Difficulty Factors of Island Peak
Altitude Sickness
This Island peak expedition takes you to the highest altitude of 6160m. Besides that, you will trek above the altitude of four thousand meters. Since you will cover increased altitude in a short amount of time, acute mountain sickness remains quite common.
Acclimatize adequately along the trail so that you will remain safe. Moreover, you should also take proper rest between treks and hydrate regularly. Trekkers should drink 4-5 liters of water or other liquids during the trekking journey.
Dehydration can make the trek quite challenging for all travelers. Hence, you should avoid alcohol and other stuff that can cause dehydration. You can also carry rehydration salts during the walk to keep you hydrated. Another important aspect is to avoid gaining more than 500m on a trekking day.
Challenging sections
The Island peak has some challenges along the route as it takes you through remote trails. Hence, it requires some form of training. Trekkers must have knowledge about the trekking gear and equipment. They should also hire some trekking and touring guides with high experience. The journey is generally a 7-8 hours trek for a couple of weeks. This remote uphill trek in rugged terrain requires proper fitness and stamina.
Weather related factors
The high altitude weather remains pretty challenging during most of the trek. There is unpredictable weather throughout the journey. This makes the trip quite tricky for all trekkers. Overcast conditions and strong harsh winds are pretty common as you move high along the trail. Hence, you should prepare well with the proper gear, equipment, and training.
Trip Itinerary
Cost Include/Exclude
What's include
Airport/Hotel/Airport transfer
Three night's 3** Star Hotel in Kathmandu.
Your stander meals (Breakfast, Lunch and Dinner) during the trekking.
All Trekking  & Climbing permit.
Domestic Flight Ticket (Kathmandu to Lukla/ Kathmandu) / domestic airport Tax.
All accommodations in lodges/tea houses during the treks.
An experienced, helpful and friendly Trekking and Climbing Guide, porters
Trek arrangements with tents, cook and porter/s. NMA Registered Climbing Guide for trek and climbing.
Arrangement of Emergency Helicopter service which will be paid by your Travel insurance company.
Medical supplies (first aid kit will be available).
All government taxes.
Service charge.
What's excluded
Nepal entry visa and International flight ticket.
 Travel insurance.
Lunch dinner in Kathmandu.
Personal Climbing gears
All Bar bills and personal expenses( phone call, laundry service, battery recharge, bottle of water, hot water, shower, pot of tea, coffee etc.
USD 400 to take helicopter if regular flight cancel
Tips for the guide and porter.
FAQs
Gallery