Trip Facts
Trip Duration : 10 Days
Grade : Moderate
Highest elevation : 3,870 m
Activities : Trekking/ Hiking
Best Time : March / April and October to December
Trek Start Point : Shybrubesi
All price inclusive


$ 490 USD
Langtang Trek is a  marvelous and scenic destination around Central Himalaya just North of Kathmandu of 32 k.m. aerial distance, The Langtang trek suitable for all people in  a week  holiday.
Langtang Trek is Trekking in to  Langtang valley.   Langtang valley is dominated by Langtang Lirung Mountain [7246m], the highest peak in the area. This is a superb introduction to trekking place  in Nepal among some of the most beautiful scenery in the whole country
Langtang  Trek  is an easy and short  Treks that  can be packed up within a weeks. It is  one of the most popular trekking trails because you will have Stunning  Mountain views and Several Glacier with Short hiking and  does not require any  training and experiences of mountain trekking as in other trekking trails and  climbing.
The 8 Days  wonderful journey  langtang Valley  Trek start  from Kathmandu with an interesting drive to Langtang area at Syabrubesi village, from here our walk follows high above hills and ridges past farmland and villages and into lovely forest to reach a wide and spectacular Langtang valley.
As you progress up the wide spread Kyanjin valley you are surrounded by snowy peaks from all four sides. The trail takes you up to Kyangin at 3800 meters, where you get an opportunity to ascend Kyangjin Ri from where 360◦ mountain views are fantastic.The trek runs through sparsely populated areas and you can visit the yak cheese factory After an ascent of Kyanjin Ri.
Enjoy the views of mountains from Annapurna-Manaslu-Ganesh-Langtang to Jugal Himal range with spectacular scenery along the route.
After a grand time concluding Langtang Valley trek with a drive back to Kathmandu with wonderful services of Adventure Great Himalaya guides and staff.
Why Langtang Trek
 Climb to Kynjin Ri (4700m) Over  Mountain View of  Dorjelakpa (6990m,  Langtang (7227m), Langtang Lirung (7200) and Ganesh himal
Test of the Best Yak Cheese in Kyanjin Goumpa.
Tamang settlements and Their Unique Culture
 Beauty of forest of rhododendron, pine, bamboo and juniper trees and other medical herbs too
 the flow of mountain-streams and cliff of rocks amuses for those who love nature and it's magic
varieties of rare wild life- Himali Black Bear, Red Panda, Langur
Langtang Trek itinerary – 10 Days

Day 01: Arrived in Kathmandu.
Day 02: Drive to Syabrubesi 1,460m- 07 hours.
Day 03: Trek to Lama Hotel 2,240m -06 hours.
Day 04: Trek to Langtang village 3,430m – 05 hours.
Day 05; Trek to Kyanjin Gompa 3,850m – 04 hours.
Day 06: Rest-Day for leisure for hike around.
Day 07: Trek back to Lama Hotel 2, 470m -06 hours.
Day 08: Trek back to Syabrubesi -06 hours.
Day 09: Drive back to Kathmandu – 06 hrs journeys.
Day 10: Departure from Nepal
Best Time For Langtang Trekking
Langtang Trekking is one of the preferred trekking destinations in Nepal. Before planing this trek, you should know the  When is the Best Time . This will let you experience the best with fewer difficulties.  Trekking in Langtang Region is possible all year round. The valley looks stunning in all seasons. And every season has its typical splendor.
Best Time for Langtang Trek is Autumn (Sept to Nov) and Spring (March to May) are the most preferable seasons. The weather is warm, moderate, and stable. The average temperature on these seasons ranges from 10 to 15 degrees.
In such climates, you can enjoy the fondest part of nature. Especially in spring, the trails bloom in colorful rhododendrons and other wildflowers. While in autumn, you get the most beautiful views of mountains and valleys. There are no heavy rain and snowfall. So, you can enjoy the rejuvenating environment.
Also, these seasons are the peak time of the year. You will walk with many fellow travelers on trekking trails. Thus, you can opt for a safe & sound solo travel too.  if you love trekking in less crowded locale, you can choose for the remaining seasons. With appropriate trekking gears, the Langtang trek is doable. Plus, you need to have strong physical and mental preparedness too.
Difficulties of Langtang Trek
Langtang Trek is a famous trek with a moderate grade. Any trekkers with basic physical and mental fitness can go for this trek. Yet, there are many difficulties you might face on the way. It will help you prepare well if you can identify them beforehand. Following are the factors for Langtang Trek Difficulties:
The foremost difficulty is Langtang Trek Route. The total walking distance of the trek is about 70-80 Kilometers. The trekking paths follow uphill climb most of the time. You must prepare to walk around 6-7 hours on such challenging terrains.
The next aspect is the unpredictable weather and temperatures. Sometimes, there is a drastic change in weather and climatic condition.
The major difficulty is the high-altitude and chances of getting AMS (Altitude Mountain Sickness). The vantage point of Langtang Trek is Kyanjin Ri, at 4773 meters. At such altitude, the amount of oxygen starts decreasing. As you head towards higher elevation, you may face altitude sickness.
Thus, to avoid such difficulty during the trek, you need to have a good preparation. Indulge yourself in several exercises at least a month ahead. Whilst on the trek, be careful while ascending uphill. Walk slow and try not to over stress your body. Drink plenty of water and keep your body hydrated.
In any case, if you suffer from AMS related symptoms like nausea, vomiting, shortness in breathing, etc, descend immediately. Don't forget to take related medications and proper care afterwards.
Food and Accommodation at Langtang Trek

The standard of food and accommodation in the Langtang Region is basic. Every resting point has several teahouses providing ample services. However, the facilities may vary with the change in altitude. Most of the point, the teahouse has additional facilities like gadget charging, Wi-Fi, hot showers, etc.
You will be staying in a normal room with two beds and a table. They will also provide bed-sheets, mattress, blanket, and pillows. Your room may or may not have an attached toilet. Every teahouse also has a big dining room with indoor heating. You can enjoy your meal and hang out there.
Regarding food, dal bhat is common. They will serve it with available seasonal vegetables. You can add-on this food as much as you can consume. It will cost the same price. Besides, the menu also has western items like pizza, spaghetti, toast, soup, noodles, pasta, and macaroni. However, the price of these items may vary accordingly.
How to get Langtang Trek
Langtang Region is quite close to Kathmandu. You will travel vis a bus or a jeep to Syabrubesi. This is the starting point of your trek. You travel through several narrow and graveled roads this day. This trip will take about 8-9 hours. There are various routes to reach Syabrubesi. You will either take the route from Tokha or Galchhi.
After the trip to Syabrubesi, you will start to trek. You will trek to Lama Hotel on the first day. You will be walking through magnificent forests, alpine pastures, and meadows. You will then reach Kyanjin Gompa via Mundu and Langtang Valley. You can have an extra day at Kyanjin Gompa and discover Kyanjin Ri. here, you enjoy the 360-degree panorama of the Langtang range. Then, you will retrace your way back to Syabrubesi again. Finally, you will drive back to Kathmandu.
Langtagn trek Permit
You also need some permits and a TIMS Card for Langtang Trek. You will require the Langtang National Park Entry Permit. It is available in Nepal Tourism Board, Kathmandu. Or, you can buy them at the entry point in Dhunche.
You also have to pay Shivapuri National Park Entrance Fee if you follow the Helambu Trail.
Details Itinerary
At Kathmandu Tribhuvan International Airport you will be well received by AGH guide and staff for transfer to your hotels in the hub of Kathmandu city, after getting refreshed our guide / leader brief of the trip to Langtang Valley, hotels, lodge, includes responsible trekking with welcome dinner in a nice Nepali restaurant with entertainment and culture programs.
Starting Langtang Valley trekking with drive on Nepal's mountain highway to reach Langtang area at Syabrubesi village, journey leads past many farm villages and towns with views of mountains. On reaching Dhunche at 1,965m, a major town of Langtang area and Rasuwa district and an entrance of Langtang National Park. From here drive continues downhill for few hours to Syabrubesi village for overnight stop.
First day walk leads uphill for a while with rest of the walk on gradual and winding trail through terraced farms and villages, walk descend to join a path of upper Syabru near Riverside. From here another hour walk to reach a small forest clearing at Lama Hotel for overnight stop.
Morning walk follows Trisuli or Langtang River upstream, leading to a climb into rhododendron and oaks forest after few hours walk reaching at Ghoretabla in the middle of the forest.
After a nice stop continue walk for few hours to Langtang village through forest and crossing streams and leaving the tree line behind at Langtang village for overnight.
Langtang village mostly inhabited by Tamang and Bhotias tribe, morning walk leads on gradual path for a short while, then winds up for few hours coming across "mani-prayer wall", walk leads further east where the gorge opens up into a wide scenic valley with views of peaks at close distance.
After a good walk of 3 hours reaching at Kyanjin Gompa, a beautiful place with panorama of mountains and close views of Langtang Lirung at above 7,000m with icefall, here in a nice lodge with afternoon free for short walk visit the cheese factory established some 25 years ago by Swiss Technical Assistance and local support.
A rest day to enjoy and marvel the super views, an ideal spot for leisure hike to nearby hill Kyanjin Ri at 4,700m high.
Around Langtang valley enjoy views of GhenguLiru (Langtang II 6571m / 21,560ft), Langtang Lirung (7,425m / 23,765ft) Kimshun (6,745m / 22,137ft) and Shalbachum (6,918m / 22,699ft) to the south, the ChimsedangLekh forms a ridge of peaks which includes Naya-Kanga 5,846m and Gangchempo, Tilman's beautiful Fluted Peak.
Beyond it continues to the Jugal Himal, ending with Dorje Lakpa (6,980m / 22,929ft), extending further east on the upper meadows of the Langtang range ends in a huge and massive mountain wall, forming the border with Tibet.
After a great time at Kyanjin Gompa, return back on the same trail to Lama-Hotel a small settlement in the midst of the forest at the bank of upper Trisuli River.
Trek follows on same route all the way, after crossing bridge walk is pleasant through bamboo forest; on leaving the river walk downhill through farm terraces till Syabrubesi is reached for overnight stop.
Last day of this wonderful trekking concludes with an exciting drive down hill back to Kathmandu, in Kathmandu transfer to your hotels with free afternoon for individual activities.
Today, last day in unique Nepal of Himalayan wonders, after great adventure and experience around Langtang Valley trekking and as your flight time
AGH staff transfer you to Kathmandu airport for your international departure homeward bound or to your next port of call.
What's include
Airport/ Hotel/ Airport Transportation
2 Nights Hotel in Kathmandu

Meals:  3 Times meals a day  (Breakfast, Lunch and Dinner) During the trek
Trekking Permit:  Langtang Conservation fees, TIMS permit  and Company necessary paper works
Transpiration:  Kathmandu to Syabrubensi and returned Kathmandu by Bus.
All accommodations in lodges/tea houses during the treks.
Trekking Guide: An experienced, helpful, friendly and English speaking Trekking guide , everything for him
Adventure Certificate, Company T-shirt
Medical supplies (first aid kit will be available).
All government taxes.
Service charge.
What's excluded
International airfair and Nepal entry visa fee
Lunch and Dinner Kathmandu
All the bar bills like coke, beer, bottle of water, hot water etc.
Trekking porter  if needed  ( $ 145 for one porter)
Tips (expected)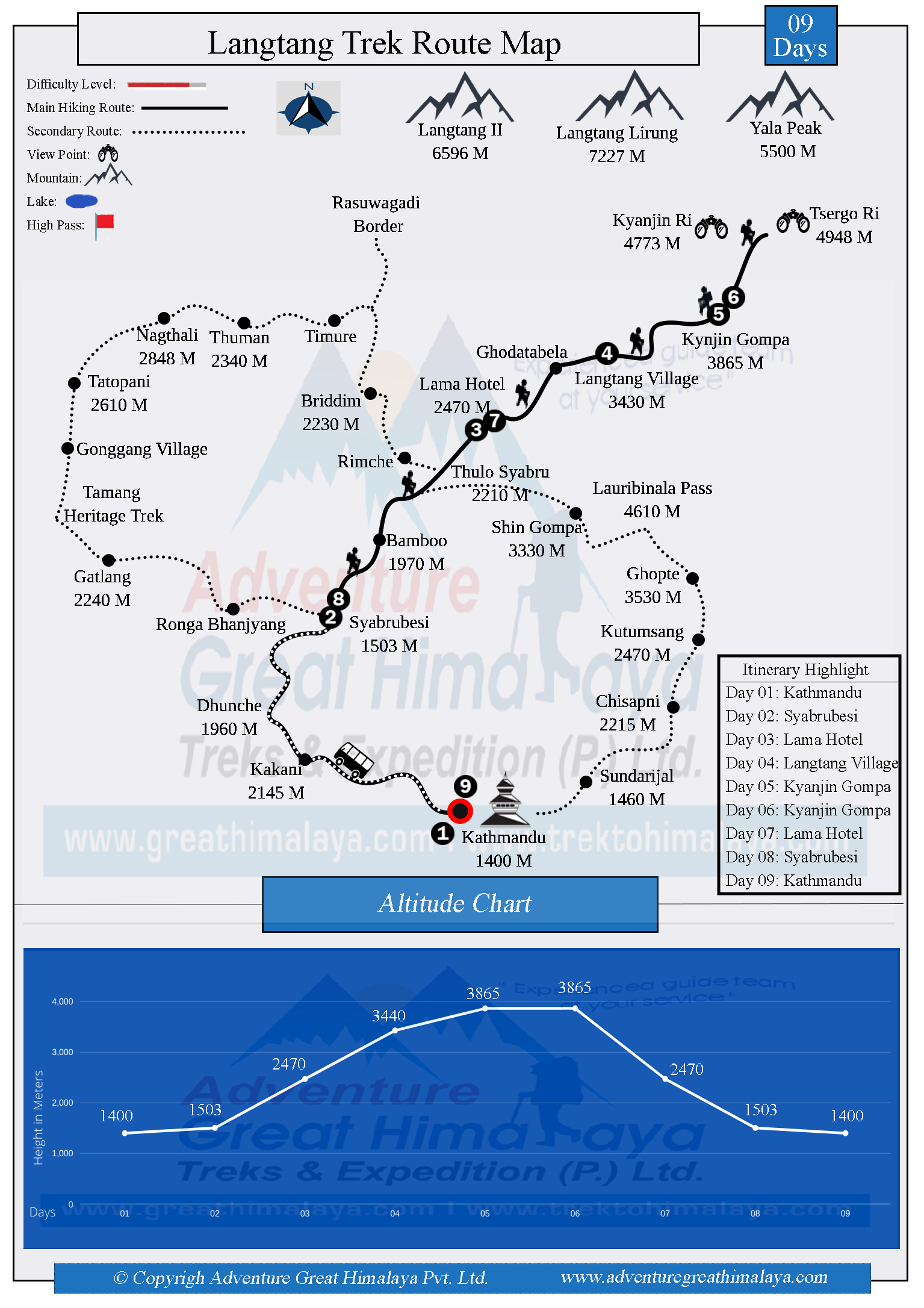 Customer's Reviews in TripAdvisor: