Manaslu Circuit Trek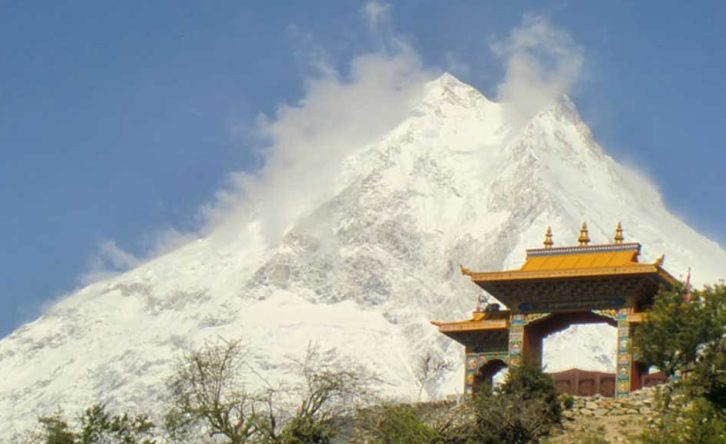 Trip Facts
Mode of Trip
Lodge/ Tea house
Trek Grade
Moderate to Adventurous
Highest elevation
5,200m / 17,060 ft
Trek duration
12 Nights & 13 Days
Season
Sep/Dec and Feb/ Jun
Overview
Manaslu Circuit Trek is one of the most stunning Trekking routes in the Nepal Himalayas for discovering authentic culture and savoring the unrivaled alpine beauty with a wide variety of flora and animals.
Manaslu Trek is a virgin area been opened for trekkers in just last two decades due to its sensitive border with Tibet, which is just mere distance from high Manaslu valley of Sama and Samdu villages.
Manaslu  Circuit Trek is  a great combination adventure from semi-tropic temperature to alpine forested area to remorseless ice-fields and glaciers of arctic terrain at Larkya-la. This marvelous trek ends at the famous and popular Annapurna Circuit Trekking listed as world top Ten Adventure Destinations.
During the Manaslu  Circuit Trek , you will  get a chance to see an incredible view of Manaslu-Boudha-Himal- Chuli. This extends to Ganesh Himal towards east and Annapurna Himalaya in the west. On this trek explore varied range of culture of Hindu religion in the low and mid hills to Tibetan culture interwoven of Buddhism religion on higher areas of Manaslu.
The Manaslu Circuit Trek starts with an overland drive on the nice highway and then on the rough scenic road to reach Soti-Khola. We will continue our trekking toward the high Manaslu Valley by crossing the villages of Jagat-Dyang-Logaon and Samagoan. You could see a close view of  Mount Manaslu which is the world's 8th highest peak at 8,163 m. In addition, you could get a chance to learn and experience Tibetan Buddhist culture.
Our adventure continues over high Larkya-la pass to reach at Dharapani around Manang area where this fabulous Manaslu Circuit trek concludes with a drive back to Kathmandu.
Why  Manaslu Circuit Trek ?
You should go on the Manaslu circuit trekking because you won't want to miss the attractions of the trek like:
Best remote trail in Nepal
Amazing Cultural Experiences: Unique cultural blend of authentic Hindu and Tibetan-style Buddhism
Pristine Budhi Gandaki River valley
Eye-catching views of the eighth highest peak in the world, Mt. Manaslu and it's neighboring peaks
Crossing Larkya La pass, 5153 meters
Unspoiled ecosystem and biodiversity
Peaceful trekking environment
Enticing natural sceneries
Safe trekking Read More ,

10 Reason Why you should go Manaslu Circuit Trek? 
Manaslu Circuit Trek Route
The Manaslu Circuit trek  route  begins with a drive to  Soti Khola, It is the starting point of the trek. The traveler's then trek through Machha Khola and trek along the Budhi Gandaki River to reach Jagat. From Jagat, the trek rapidly ascends to Deng.
The Buddhist prevalence begins as the trek heads to Ghap. Going pas numerous monasteries on the way, the next destination is Samdo after spending a day at Samagaon for acclimatization.
Following the pristine trails under the Manaslu Himal ranges, the trek reaches its culmination at Larkya pass at an astounding height of 5,160 meters from the sea level. Descending along numerous glaciers, the destination is Bimthang followed by Gho and Dharapani. The journey finally ends as the drive from Dharapani heads to Kathmandu.
Adventure Great Himalaya design  16 Days Mananslu Circuit  trek and The trekkers will hike  13 days in Mountain, this is the standard and comfort itinerary including  acclimation day which  minimizes the chances of altitude sickness
Manalsu Trek Altitude Variation
As the journey starts at Soti khola which is at a pretty low height of 730 meters above the sea level, the altitude varies a lot throughout the trip. It is a strenuous trek which requires travelers to be in good physical health. The trekkers pass through various villages such as Jagat (1340 meters), Ghap (2397 meters) and Samagaon (3530 meters) finally making their way up to the Larkya Pass (5160 meters) which is the highest point of the trip. The trek gains massive altitude within a span of a few days and the vegetation, wildlife and cultures vary accordingly as well.
Best Time to do Manaslu Circuit Trek
The time between mid-September to mid-December is arguably the best time for Manaslu circuit trekking. Along with this, the time between March to late May is the second-best time of the year for Manaslu trekking.
These times are the most popular times because they have the best climatic conditions. The best weather and mild temperature create the best environment to trek. Also, the distant sceneries will be at their best during these times.
Manaslu Circuit Trek Difficulties
Crossing the Larkya Pass, 5125 meters, is a challenging thing during Manaslu circuit trek. Due to its high altitude, climbing and crossing the pass is tough. You are at a risk of altitude sickness. Also, the pass remains covered in snow and ice during winter and hence remains closed. Likewise, crossing the pass in monsoon is also tough.
Arranging the permits. You need a special permit called the restricted area permit for Manaslu Circuit trekking. Obtaining the permit requires different terms, conditions and procedures. We can help you arrange your permits if you'd allow us to.
There are some landslide prone areas on the trek route. Walking through these areas means you're walking with high risk. The area on the trek route between Khorla Besi to Tatopani and on the stretch from Dobhan to Yaru are the areas with risks of landslide.  Read More Manaslu Circuit trek difficulties
Required Manaslu Trek Permit & Cost

Manaslu  trek is a restricted area trekking in Nepal. You will need three trekking permits to trek in the region. They are the Manaslu restricted area permit, Manslu Conservation Permit and Annapurna Conservation Permit,  This trek, required minimum 2 trekkers, The slow trekkers can;t get permit,
Permit Cost
Special Manaslu Permit:     December to August $ 75  Per person for 7 Days  and  September to November $ 100 Per person
Annapurna Conservation fees :  NPR :3000 per person
Manaslu Conservation fees:       NPR 3000 Per person
If you are trekking to Tsum valley also, then you will require the Tsum valley permit. Also, if you have any plans on joining the Annapurna trekking route while returning, you need to get a TIMS card.
Manaslu Circuit Trek itinerary
Cost Include / Exclude
Service Include
Airport / Hotel / Airport transportation
3 Night Hotel in Kathmandu Including breakfast
All necessary Trekking permit and Company Paper work
Full Board  Meals –  ( Breakfast, Lunch, dinner)
Hot Drinks – Tea Coffee with Meals
 Transportation –  Kathmandu to Sotikhola by Bus  and Tilje to beshishar by jeep then drive to  Kathmandu by  Bus.
Accommodation in Mountain – Lodge to Lodge  Accommodation In Mountain-,
  A Professional  English Speaking Trekking Guide .
 Trekking porter ( One porter for 2 members) Wight limit 16 kg
Guide , Porter Insurance
Trekking Equipment: Sleeping bag, Down Jacket ( refundable after the trek)
Oxe -Meter- To Check your oxygen saturation and heart rating
Arrangement of Emergency Helicopter service which will be paid by your Travel insurance company.
Adventure Certificate.
Medical supplies (first aid kit will be available).
All government taxes & Vat and Company Service charge
Service excluded
International airfare and Nepal entry visa fee
Personal travel insurance and  rescue Evacuation  encase  of Emergency
 All bar bills, Cook, beer, water,  WI-Fi, recharge all electronic device like mobile, camera
Private Comfort Jeep – USD 380 Per Jeep
Single Supplement -US 250
Tips
More Trip Info
Meals on Manaslu Circuit Trek

The Manaslu Circuit Trek includes tea houses along the trail where you will have your meals. These tea houses offer you the Nepalese "Dal Bhat" delicacy for lunch and dinner. Dal Bhaat is a staple dish found in most Nepali homes. It is served for dinner and lunch in these tea houses. It is a balanced diet, providing enough energy for long trekking hours.
The tea houses also offer other cuisines like noodles, momo, dumplings, thukpa, etc. There are plenty of varieties of hot beverages, including tea, coffee, garlic soup, hot lemon, etc. Besides, trekkers should also carry protein bars, chocolates, and other snacks for instant energy during the trek.
Accommodation On Manaslu Circuit Trek

During the Manaslu Circuit Trek, the teahouses and lodges along the trail serve as your primary accommodation. These accommodations are not fancy at all. You will stay in a basic facilities room with a bed and blanket. Moreover, it would be best to carry sleeping bags as the blankets provided might not be enough during the night.
Besides, there are squat-style toilet facilities, and you will have to bring your toiletries. The tea houses provide meals and a warm place to stay. However, you should book all your accommodations in advance as they can get packed, especially in the peak seasons. In case the tea houses are full, you will have to share a room with fellow trekkers.
Manaslu Trek Transportation
Transportation is quite a challenge in these high-altitude trails with remote landscapes,   Trekkers will get transferred to the  Sotikhola The starting point of this Manaslu Circuit trek , There are option of Transportation that travels can chose either taking Local Bus or Private 4*4 Wheel jeep .  The Local Buses are cheaper than Private Jeep. however,  Adventure Great Himalaya Highly Recommended  and offer Private jeep ,
Travel With  Private Jeep is More Comfortable, wide Seat and safety your luggage.  The private Jeep can travel faster than a local bus. The local buses stop Everywhere and  pick up , Drop the Local  passengers.   The Road  from Kathmandu to Tari Beshi  is nice road, it takes 4, 5 hours  drive after that continue to Sallyan Tar, Arughat to Sotikhola is a tough road.
Manaslu Circuit Trek Travel insurance
Travel insurance is another essential factor to consider in this trek in the Manaslu Circuit. This is a high-altitude trek that has many risk factors. Hence, you should get proper travel insurance covering all aspects before starting your tour.
The travel insurance package must cover various aspects of the trek. This must include emergencies like accidents, acute mountain sickness, injuries, loss, property theft, and others. Since most travel insurance does not cover above a certain altitude, you must ensure that the travel insurance package covers altitudes above 4000m. Hence, you should also get yourself proper travel insurance before this trek.
Guide / Porter for Manaslu Circuit Trek

The guides and porters are essential for any trekking journey. There are excellent professional guides available for this Manaslu circuit trek. They provide you with guidance through navigation along the trail. Moreover, they will also keep you safe and comfortable on the journey. Hence, you will have an excellent time trekking in the region.
The guides also serve as a companion and help you interact with the locals by working as a translator. You should go through a complete background check and ensure that they have many years of experience.
f you hire Porters will take the weight of your back as they carry your luggage along the trails. This will allow you to trek the challenging terrains without any hassle. They can carry upto 20kg – 25kg.
Tips
Tipping is not much of a custom in Nepal. However, professional trekking guides and porters generally expect to get tipped at the end of the trip. The tip amount generally depends upon the total cost of the trip, type of trip (solo or group), duration, and others.
Moreover, tipping is entirely upon your choice. The general tradition is to tip one day's cost or around 10-15 percent of the total cost. On average, the tip amount is about $5 per day and $2 to $4 per day for your guides and porters, respectively. Group trekkers can tip around $10  and $5 per day for guides and porters. Besides that, you can also tip cooks, service workers, restaurant workers, etc., during the trek.
Trekking Equipment
Trekking equipment are  very important while you are trekking. if you don;t have in your home, you can rent or buy in Kathmandu. see below  suggested list of trekking gear.
Trekking Equipment
Cost & Date
Note: The below Price and Travel date is for the Group Join Basis. If you take private trip all travel dates are guaranteed. Private Trip
| Start Date | End Date | Trip Type | Price | AVAILABILITY | Booking |
| --- | --- | --- | --- | --- | --- |
| Sat, 16 Mar, 24 | Sun, 31 Mar, 24 | Group Join | $ 1050.00 | OPENED | Book Now |
| Sat, 23 Mar, 24 | Sun, 7 Apr, 24 | Group Join | $ 1050.00 | OPENED | Book Now |
| Sat, 30 Mar, 24 | Sun, 14 Apr, 24 | Group Join | $ 1050.00 | GUARANTEED | Book Now |
| Sat, 6 Apr, 24 | Sun, 21 Apr, 24 | Group Join | $ 1050.00 | GUARANTEED | Book Now |
| Sat, 13 Apr, 24 | Sun, 28 Apr, 24 | Group Join | $ 1050.00 | GUARANTEED | Book Now |
| Sat, 20 Apr, 24 | Sun, 5 May, 24 | Group Join | $ 1050.00 | GUARANTEED | Book Now |
| Sat, 27 Apr, 24 | Sun, 12 May, 24 | Group Join | $ 1050.00 | GUARANTEED | Book Now |
| Sat, 4 May, 24 | Sun, 19 May, 24 | Group Join | $ 1050.00 | GUARANTEED | Book Now |
| Sat, 11 May, 24 | Sun, 26 May, 24 | Group Join | $ 1050.00 | OPENED | Book Now |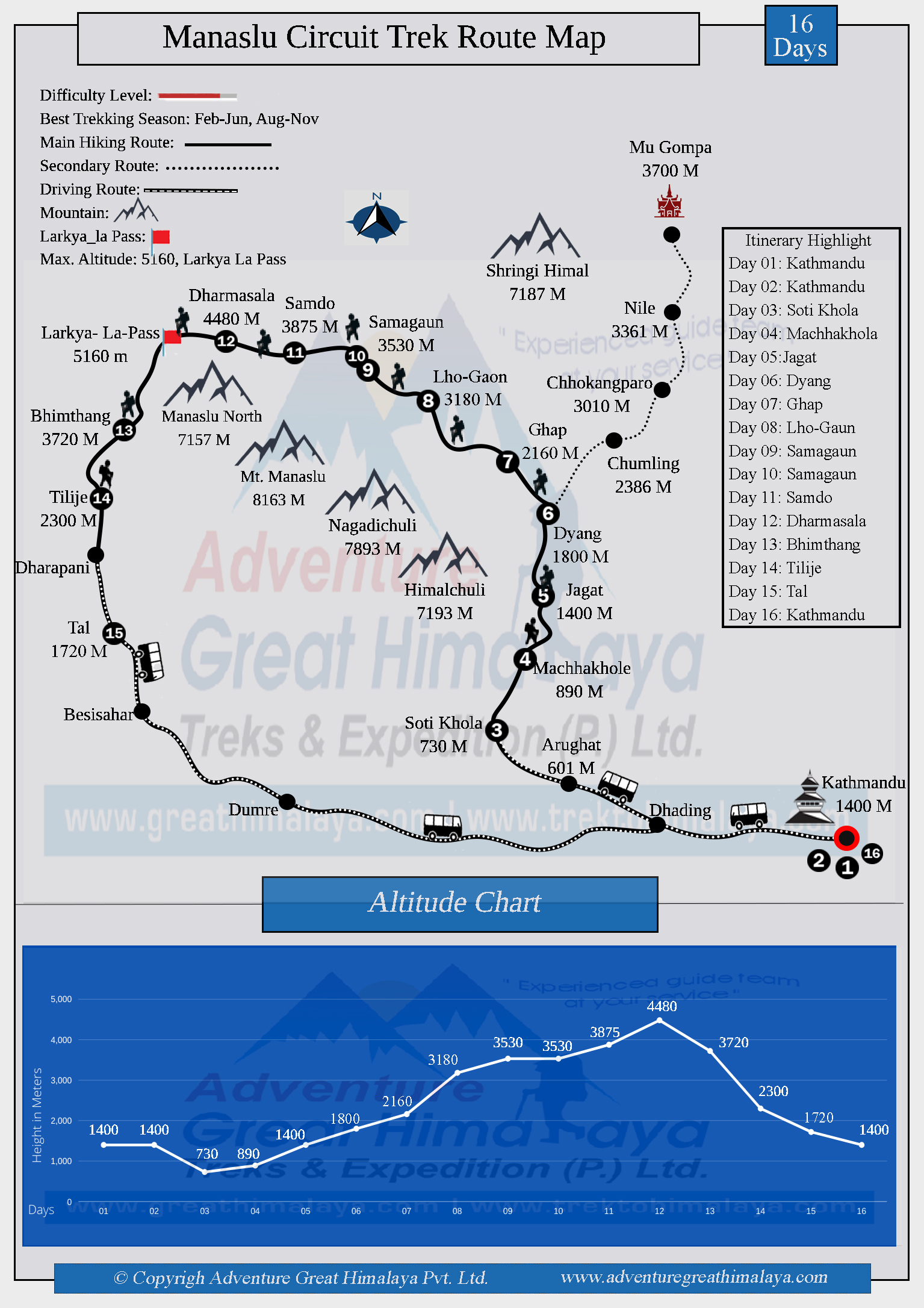 FAQs
Gallery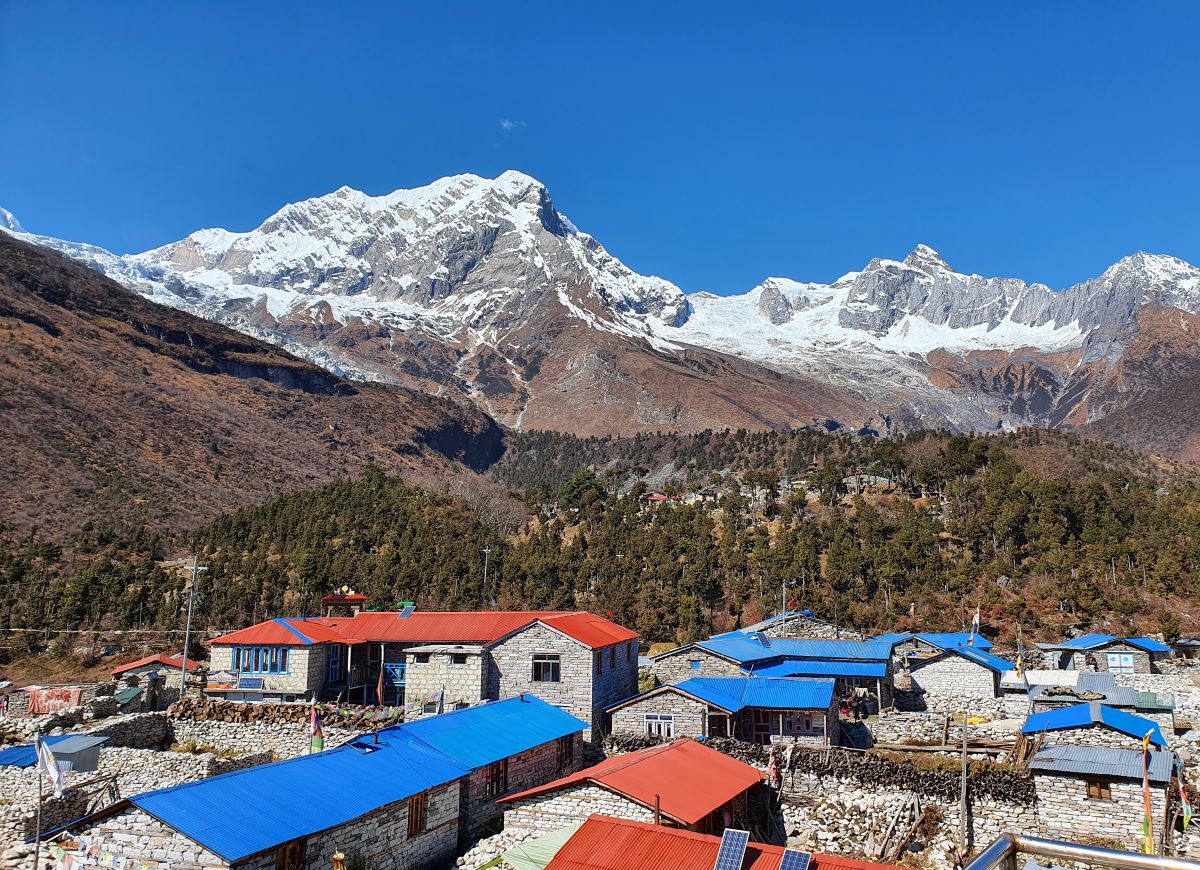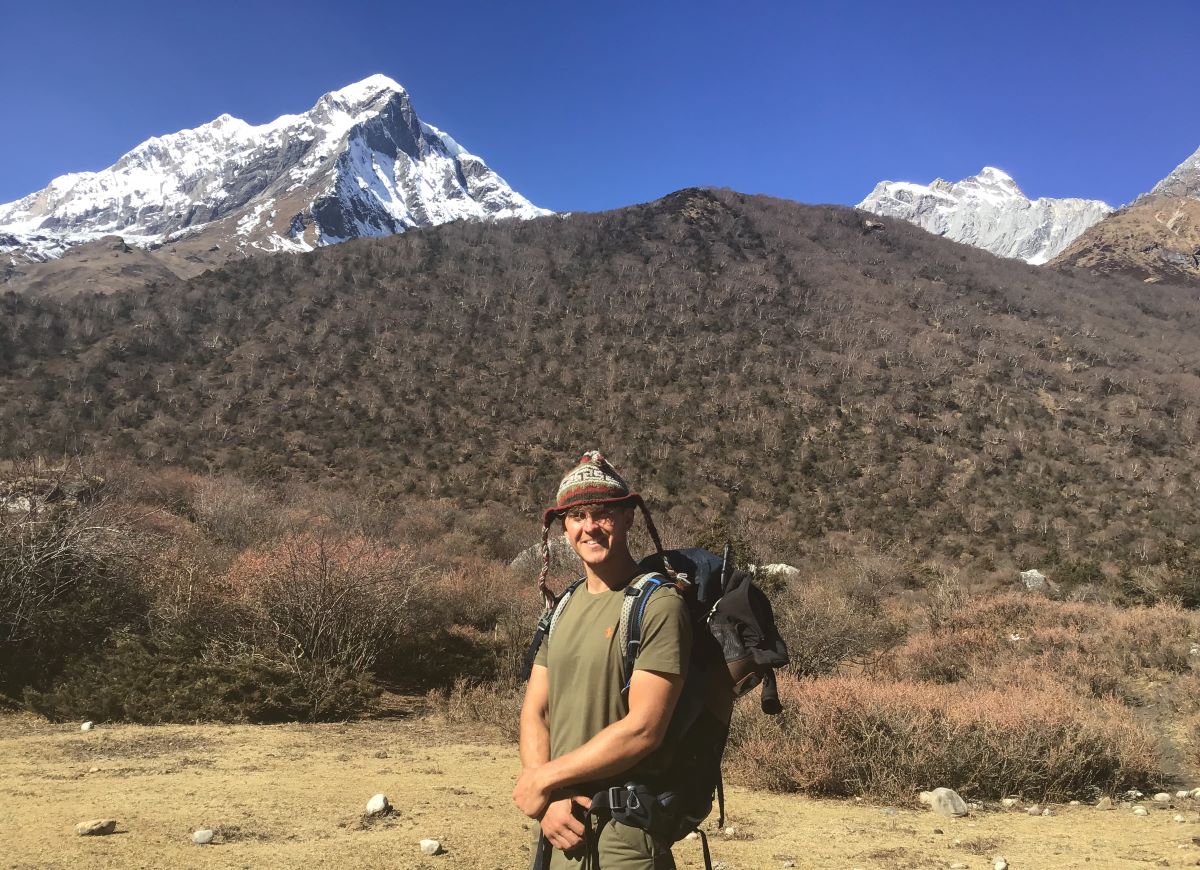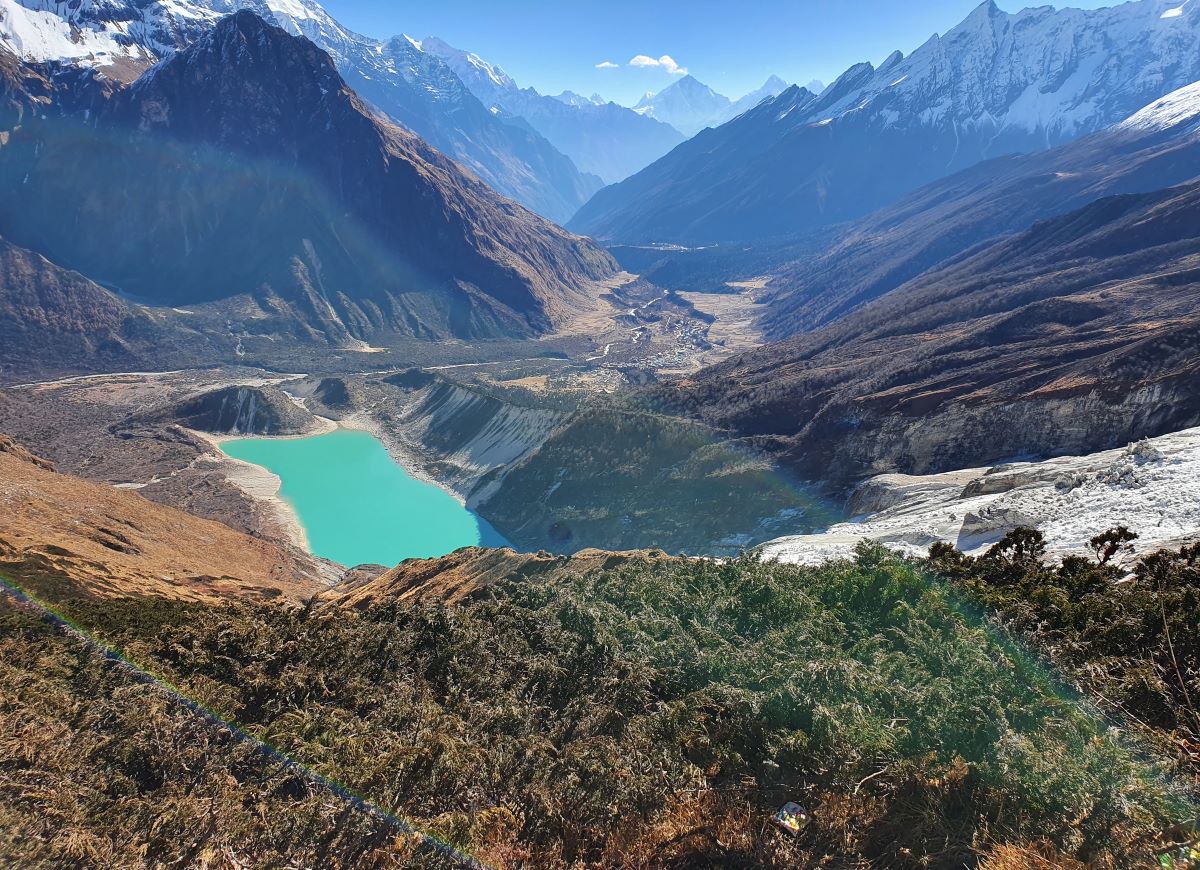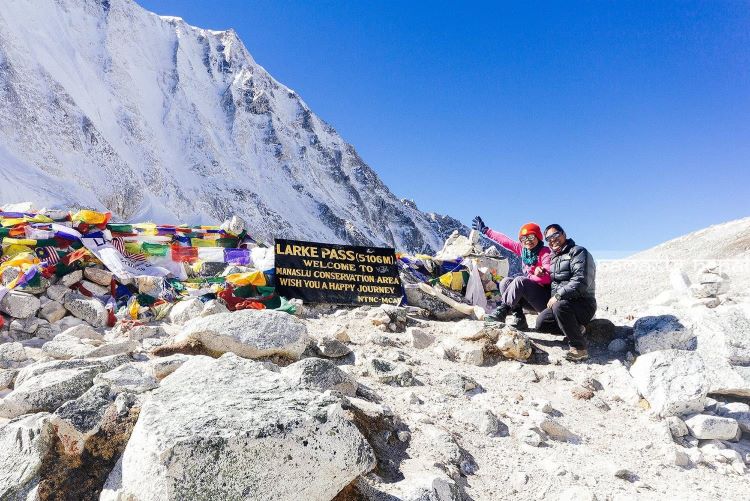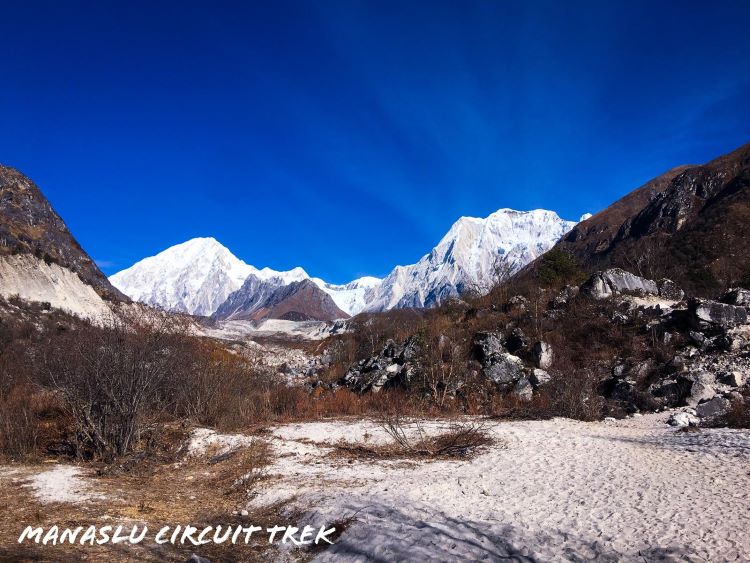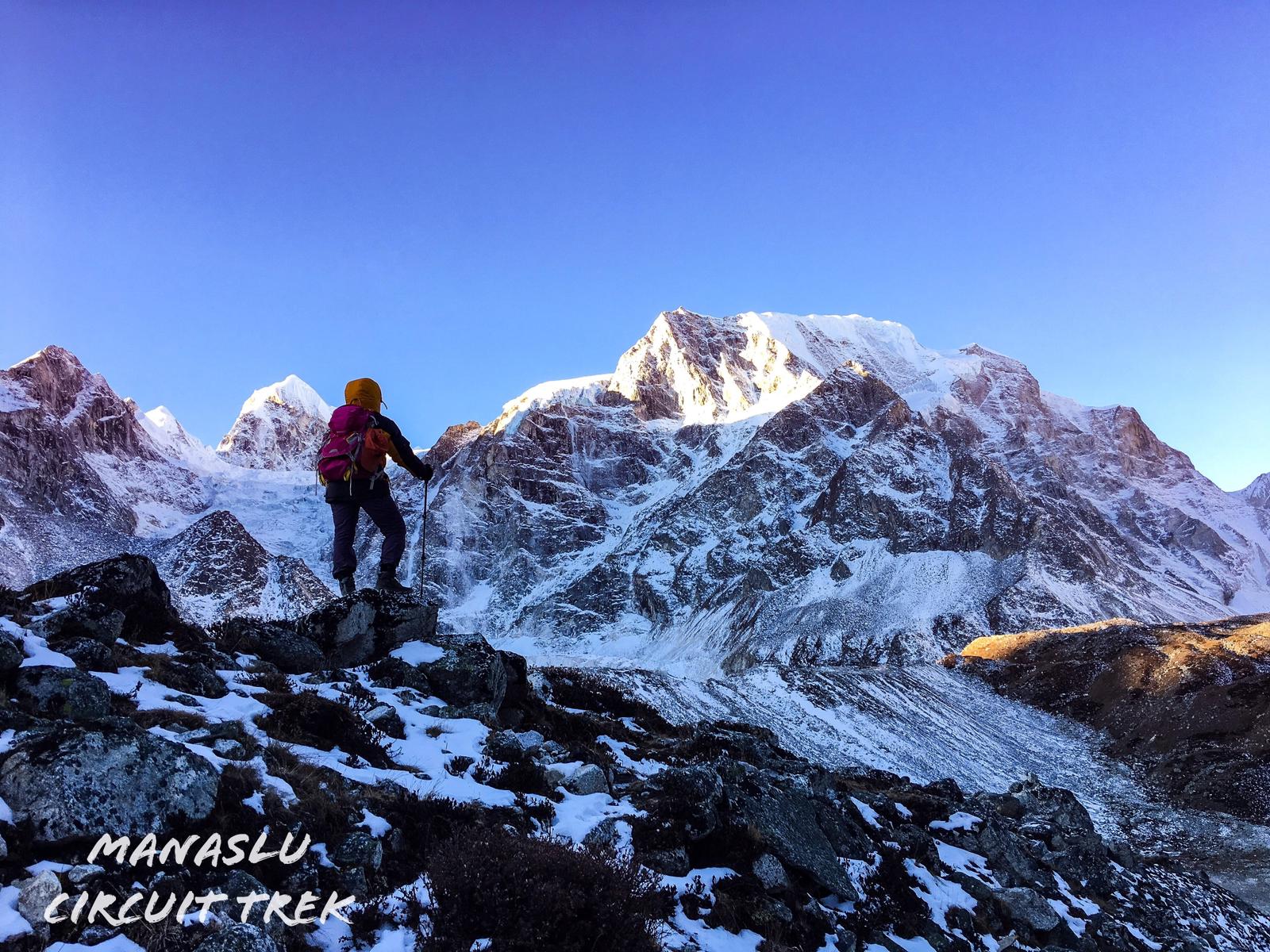 Reviews of Manaslu Circuit Trek