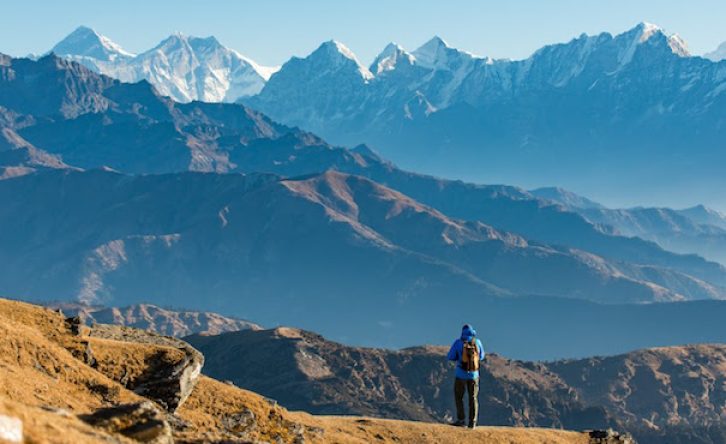 Trip Facts
Mode of Trip
Tea-House / Lodge Basis.
Best Time
Sep To Dec and Feb to May
Transportation
4*4 wheel Jeep
Overview
Pikey Peak Trek – Wonderful trekking experience to the best vantage point of Everest
Many Trekkers call it as best point to witness Everest. Even Sir Edmund Hillary claimed it as his favorite spot to enjoy Everest.
The name Pikey is derived from local Sherpa Clan deity which represents the sky over the nature.
Pikey Peak Trek is newly introduced trekking route in Khumbu region which allows us to enjoy up-close view of Everest and lower Khumbu region along with magical landscapes. The view of sunrise and sunset over the giant peaks is so magical that it will become your lifetime memory. Apart from majestic Himalayan views, you will get opportunity to discover unique geography and the life it supports. The unique Sherpa Culture and their hospitality is very intriguing. Being a newly discovered trekking route, it offers an off-beat and solitary trekking experience.
7 days Pikey Peak Trek Itinerary is designed to minimize the risk of AMS by limiting the daily gain in altitude. The Pikey Peak trail route is covered with lush forests of rhododendron, oak and pine. You will walk through numerous villages perched on ridge tops surrounded by terraced fields.
From Pikey peak, you will get the grand view of mountain peaks – Dhaulagiri, Everest, Makalu and Kanchenjunga to the far west. The tea house accommodation along the trekking route is simple and offers very basic facilities.
Pikey Peak Trek is suitable for anyone willing to witness the Himalayan peaks and authentic local lifestyle within few days.
Pikey Peak Trek – Physical Requirements
For those willing to undertake a Pikey Peak Trekking, even for a one-shot adventure, it's not enough to just show up with your gear and guidebook.  You must be physically and mentally prepared to achieve the height and the distance, as there are not any quick exits from the side of a mountain.
So if you are planning to take on a peak, we suggest you to spend an appropriate amount of time and energy to prepare yourself to face the challenge that mountains puts on you.
Jogging, Running, Swimming and Leg exercise few weeks prior the trek would be an appropriate physical training to prepare yourself for the trek.
Also make a Pikey Peak Trek Map handy and consider reading Pikey Peak blog before starting the journey.
Pikey Peak Trek – Best Season
September – December during autumn and February – June during spring are the best time of the year for Pikey Peak Trek. These seasons are known for wonderful weather and excellent views. Autumn brings happiness in Nepal as the major festival of Nepal falls in this season. Likewise, the spring is the time of joy with different flowers blooming around the entire country.
Monsoon brings heavy rainfall in Nepal; inviting the threat of landslide and flood. Moreover, the trail will be slippery and leeches will encroach you throughout the forest trail. But this season might be perfect for keen botanist as the entire trekking trail will be filled with lush vegetation.
The extremely cold temperature in winter might not be perfect for every trekkers. If you are willing to trek Pikey Peak in winter, we suggest you to check the availability of tea house at higher altitude. The tea house often remains closed; as people migrate to lower elevation to escape cold and snow.
Pikey peak Trekking Itinerary
Cost Include / Exclude
What's included
Trekking Permit: Necessary  All Trekking Permit and company paperwork.
Transportation:  (Kathmandu to  Phaplu and return to Kathmandu  by sharing 4*4 Jeep.
 Trekking Guide: An experienced, helpful, friendly, and English speaking trekking guide
Trekking Porter- Carry your luggage- One porter for two members-
Meals during the trek:  3 times Meals a Day  ( Breakfast, Lunch, Dinner)
Accommodation in Trekking: 6  Nights Lodge to lodge Accommodation
Trekking Equipment: Sleeping bag and Down jacket. refundable after the trek.
Everest Trekking map,Walking Poles if needed.
Company T-Shirt,  Duffel Bag if needed.
All Government Taxes and Service charge.
What's excluded
International Air fair and Nepal entry visa fee
Travel insurance and emergency rescue evacuation.
All Bar bill, Beer, coke, Hot chocolate, etc
Wi-fi
Hot Shower
Electronic device re-charge such as Mobile, Camera etc.
Additional cost by out of management control due to bad weather condition, illness, change of government policies, strikes, and physical condition etc
Tips
Cost & Date
Note: The below Price and Travel date is for the Group Join Basis. If you take private trip all travel dates are guaranteed. Private Trip
Gallery