Manaslu Trek -12 Days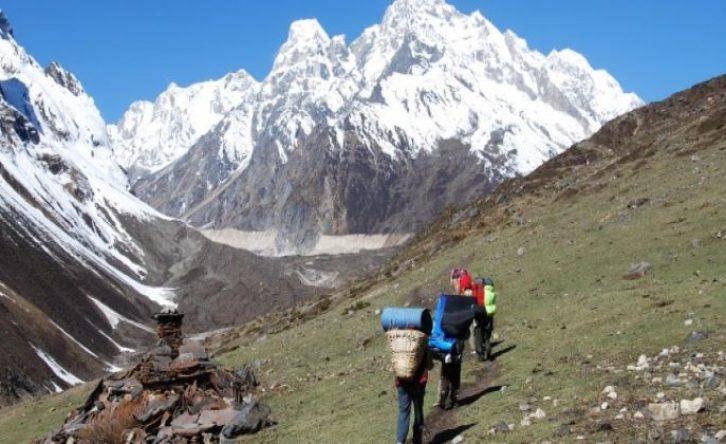 Trip Facts
Best Season
Automn & Spring Season
Maximum Elevation
50106 m
Type of Trekking
Tea house / Lodge
Overview
Trekking the stunning foothills of the Manaslu massif is an enchanting adventure. This off-the-beaten journey takes you through the virgin, untracked paths of the region. The spectacular Manaslu Circuit Trek package from "Adventure Great Himalaya" is an outstanding opportunity for all adventure enthusiasts.
The Manaslu region is an ideal trekking destination in western Nepal. One of the major highlights of this trekking journey is passing through the diverse natural terrains. Trekkers can also observe the scenic Himalayan vista of the entire region. The beautiful landscapes are challenging to cross but equally awe-inspiring. We will also get to observe the region's pristine natural diversities and wildlife.
This 12 Days Short  Manaslu Circuit Trek starts with a drive from Kathmandu to Arughat (640m). You will rest and then trek to Soti Khola (710m) on the same day. The next day, you will trek to Machhakhola (870m). From there, our scenic trails lead you to Jagat (1350m). The trail passes through the settlement of Deng (2130m), Namrung (2630m), and Lho (3180m) on the following days.
Finally, you will arrive at Samagaon (3500m) on day 7 of the Manaslu Circuit Trek 12 days. After acclimatization day at Samagaun, you will trek to Samdo (3860m). The next destination on the trek is Dharamsala (4480m). You will cross the majestic Larke la pass (5213m) before arriving at Bimtang (3720 m).
From Bimtang, you will trek for the last time on this journey to Dharapani (3720m). Our trek in the Manaslu Circuit ends with a drive on a private jeep from Dharapani to Kathmandu. This outstanding trip is a once-in-a-lifetime Himalayan adventure.
Since it is a Buddhist-dominated area, you will find ancient Buddhist heritage sites and landmarks. These include gompas, mani walls, prayer flags, chortens, and others. The local people follow Buddhism, mostly followed by Hinduism. You can find the majority of Sherpa, Gurung, Tamang, and other ethnic communities in the region.
Since it is a higher altitude trek in rugged terrain, proper exercise is essential. To complete this adventure, the trekkers must have incredible physical fitness and mental stability. There is also a side option to take a trip to the Tsum Valley region. This mystical region is famous as the meditation site of Milarepa and Guru Rimpoche (Padmasambhava).
You will pass through the ethnic community settlements and stay in the local tea houses. There you can observe the cultural heritage and experience the rural lifestyle. Overall, the Short  Manaslu Circuit Trek 12 days is one of Nepal's most beautiful and adventurous trekking journeys.
Contact us for other information, and book your trip now! Happy Traveling!
Highlight of Short Manaslu Circuit Trek
Take a full-fledged walk on Nepal's underrated circuit trail, Manaslu Circuit.
Visit the majestic abode of the world's eighth tallest peak, Mt Manaslu(8,163m).
Get lost in Nepal's magical, heavenly, happening yet off-the-beaten region.
Explore the wild and untouched vegetation of the Manaslu Region.
Run into a place home to diverse wildlife like Himalayan Thar, Deer, Jhum, Yak, Marmot, and many more.
Witness impressive snow-loaded peaks such as Ganesh Himal, Lidanai Peak, Himalchuli, Nadi Chuli, Mt Manaslu, Naike Peak, Manaslu North, and more.
Cross the exciting and scenic mountain pass of Larkya La Pass(5,106m) and enjoy the majestic panorama.
Kiss the thrilling and rewarding prominent hilltops of the region like Panbari, Khayang, Saula, Samdo Himal, and more.
Experience and learn about locals' unique culture, art, architecture, and lifestyle.
Taste the organic food made by locals and exist around their traditional homes.
Pray prayers at religious monasteries, chortens, mani walls, and gompas.
Pay visits to important Labrang Gompa, Pungyen Nunnery, Kagyu-Pema Chholing Gompa, and others.
Avoid crowded trails of Annapurna and Everest Region and enjoy the adventurous trail that runs through virgin land.
Share the journey with the electric Budhi Gandaki River, its deep gorge, and numerous suspension bridges.
Manaslu Trek Cost 2023 /2024
12 Days Manaslu trek cost start from USD  950 per person, The price is depend on number of pax ,  trekking season or taking private trip,  see below group discount price for 2023/ 2024
Group Join basis – USD 950 per person (Minimum 2 People)
Private Trip
USD 1,000 Per person for 2 people group
USD 930 per person for  3-7 people, Pay together
USD 900 per person for 8 to 12 people group pay together
16 Days Manaslu Circuit trek package from arrival to departure Cost: USD 1050 per person – book it
Trip itinerary
Cost Include / Exclude
Service included
Trekking Permit: Necessary All Trekking Permit and company paperwork.
Transportation :- By Bus / Jeep
Trekking Guide: An experienced, helpful, friendly, and  English speaking trekking guide, his meals, accommodation, insurance and well paid salary
Trekking Porter< Carry your luggage ( one porter for 2 Members)
Meals:- 3 Meals a day during the trekking ( Breakfast, Lunch, dinner)  Including Tea / coffee
All Lodge Accommodation During the trek : 11 Night Twin Sharing Lodge to lodge Accommodation
All Government Taxes and Service charge.
Service excluded
Travel insurance and emergency rescue evacuation.
All Bottle of Drinks, Wi- Fi, Hot Shower
Electronic device re-charge such as Mobile, Camera etc.
Tips
Cost & Date
Note: The below Price and Travel date is for the Group Join Basis. If you take private trip all travel dates are guaranteed. Private Trip
| Start Date | End Date | Trip Type | Price | AVAILABILITY | Booking |
| --- | --- | --- | --- | --- | --- |
| Mon, 18 Mar, 24 | Fri, 29 Mar, 24 | Group Join | $ 950.00 | GUARANTEED | Book Now |
| Mon, 25 Mar, 24 | Fri, 5 Apr, 24 | Group Join | $ 950.00 | GUARANTEED | Book Now |
| Mon, 8 Apr, 24 | Fri, 19 Apr, 24 | Group Join | $ 950.00 | GUARANTEED | Book Now |
| Mon, 15 Apr, 24 | Fri, 26 Apr, 24 | Group Join | $ 950.00 | GUARANTEED | Book Now |
| Mon, 22 Apr, 24 | Fri, 3 May, 24 | Group Join | $ 950.00 | GUARANTEED | Book Now |
| Mon, 29 Apr, 24 | Fri, 10 May, 24 | Group Join | $ 950.00 | GUARANTEED | Book Now |
| Mon, 6 May, 24 | Fri, 17 May, 24 | Group Join | $ 950.00 | GUARANTEED | Book Now |
Gallery