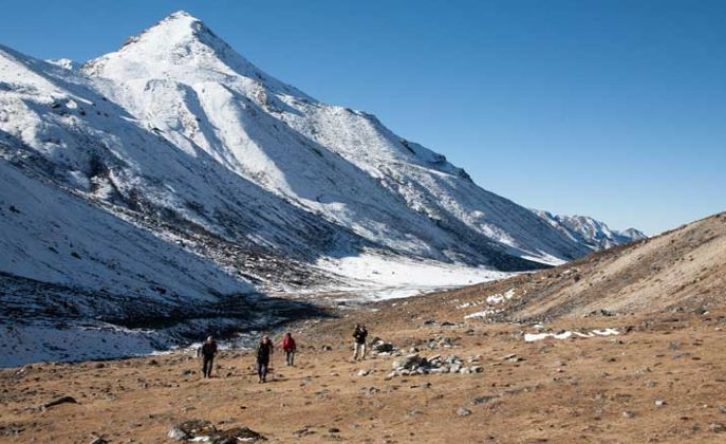 Trip Facts
Mode of Trek
Lodge to Lodge
Grade
Modrate / Adventure
Best Time
Oct/ Nov and March / April
Overview
Trekking To  World Third Tallest Mountain Kanchenjunga. The  elevation of 8,586 m."
Kanchenjunga Trek is a restricted trekking area in Nepal. The trek is a perfect opportunity to explore the untouched and unspoiled highland wilderness. During the Kanchenjunga Trek, you will reach North and south Kanchenjunga Base Camp  via several high passes.
The Kanchenjunga trek takes you through diverse landscapes, from lush subtropical forests to rugged alpine terrain. Along the way, you'll encounter a variety of ethnic communities, including Rai, Limbu, and Bhutia, and have the opportunity to observe their unique cultures and lifestyles. The trek also offers stunning views of the Kanchenjunga massif, as well as other peaks such as Jannu, Kabru, and Rathong.
It's important to note that this trek is not recommended for beginner trekkers, as it requires a high level of physical fitness and the ability to acclimatize to high altitudes. It's also important to be prepared for extreme weather conditions and to have a proper gear. It's essential to use the service of a professional guide or trekking agency.
Kanchenjunga   Trek is an isolated trek situated in the north-eastern part of Nepal. The trek begins with a short flight to Bhadrapur. From there we will drive to Ilam and then to Taplejung.Taplejung is the point where you begin your actual trek. We trek through Taplejung, Mitlung, Chiruwa, Sakathum, Amjilassa, Gyabla, Gunsa, Khambachen, Lhonak, and finally to the Northern Base Camp of Kanchenjunga.
From the Northern Kanchenjunga base camp, we will trek through Khambachen and back to Gunsa. After crossing Tseram, we will move through Ramche from the Southern Base Camp of Kanchenjunga.  The hiking trails back to Torntan, Yamphudin, Kheswa, and to Taplejung. From Taplejung, we'll drive to Bhadrapur and fly to Kathmandu from there.
The Kanchenjunga massif displays wonderful and exotic views of snow giants above and below 8000 meters. You can see Mt. Kanchenjunga, Mt. Everest, Mt. Lhotse, and many other peaks during the Kanchenjunga circuit trek.
You can enjoy the amazing landscapes and topography during Kanchenjunga trek. The trek is full of alpine grasslands, sub-tropical forests and low river valleys. Walking across beautiful waterfalls, thickets of rhododendron and amazing mountain vistas is a great feeling.
The trek passes through Kanchenjunga Conservation Area that houses diverse species of flora and fauna. There are chances of seeing wildlife such as Snow Leopard, Musk deer, Red Panda, etc while trekking. You might also see some threatened species of birds like Impedance Pheasant and Red-billed blue magpie.
While trekking, you will see the amazing valleys and traditional villages. The local people are hospitable. The isolated communities are not affected by modernity. You will see the diverse local groups preserve their amazing culture and traditions.
Kanchenjunga trek is a combination of tea house and camp trekking. At places like Lhonak, Northern Base Camp, Khambachen, Gunsa, Selele Kharka, Tseram you should stay in your tents for overnights. Whereas in other places, there are lodges and teahouses for stays.
The tea houses en route aren't well facilitated. They provide basic facilities for foods and stays. Food and accommodation are expensive than in other treks due to remoteness of the place. Carry extra hand cash to pay for extra services like hot shower, wifi, extra blankets, etc.
Highlights of Kanchenjunga Trekking
Mount Kanchenjunga 8586 meters, the third highest peak in the world
The blend of traditional Nepali and Tibetan culture
Wild, remote, and unspoiled nature including amazing landscapes, forests, rivers and waterfalls
Exploring around the northern and southern base camp of Mt. Kanchenjunga
Crossing the  several  Glacier. Such as Kanchenjunga glacier, Yalung Glacier and many others
Crossing the  Numbers of High passes Such as Sele La pass (4290 meters), Mirginla Pass (4480 meters) and Sinelapcha Pass 4646,

Remote picturesque villages and the local ethnic groups
The Kanchenjunga Conservation Area, diverse wildlife such as Snow leopard, Musk deer, Red panda, etc.
Best Season for Kanchenjunga  Trek

Autumn (September, October, and November) and Spring (March, April, and May) are the best time for Kanchenjunga trek. This time is perfect for trekking, touring, and mountaineering in Nepal.
Weather in the Kanchenjunga region mostly remains stable and clear during these times. During the best time, there are least chances of rainfall, snows, or bad climate. The beautiful weather enhances beautiful and unobstructed views of the distant surrounding vistas. The temperature is also moderate which is suitable for trekking.
Kanchenjunga Trek is possible in any time of the year. However Summer (June, July, and August) and Winter (December, January, and February) are less popular seasons to trek.  Summer receives heavy monsoon rain in Kanchenjunga region. Winter is colder with freezing temperatures at nights.
Kanchenjunga Trek Difficulties
This is a high altitude trek with higher risks of altitude sickness. You will trek up to an altitude of 5143 meters at the Kanchenjunga base camp.
This trek is a longer trek above 22  days trek. Trekking in the entirely isolated trekking trail far from modernity can be difficult. There are some trekkers who feel exhausted in the middle of the trek. Make sure you can do it before you choose to trek.
Trekkers must walk for 6 to 7 hours a day on average during the trek. Walking for such long hours over rugged and different terrain is difficult for beginners. Practice some exercises and strength training starting a month before you go.
Inadequate gear might bring difficulties to your trek. So, get information on packing lists before trekking to Kanchenjunga. Pack what is mandatory. Remember! You'll need gear for camping also.
This is a high altitude trek with uncertain weather and climatic variations. Be prepared to encounter any sorts of weather changes while trekking.
People and Culture Around Kanchenjunga  Trek
Kanchenjunga Trek traverses through the heart of Kanchenjunga region in the eastern vicinity of Nepal. This region is majorly inhabited by 3 group of people
The Limbus :
Limbu people are one of the region's biggest ethnic groups of eastern Nepal. They are known for their hospitality and are often referred to as the "guardians of the eastern Himalayas". Limbu people celebrate "Chasok Tangnam" as their main festival which falls on the full moon day in the month of November or December.
The Sherpas:
Sherpas are another ethnic group that are well-known for their mountaineering abilities and have been guiding climbers to the summit of Everest for decades.. They are inhabited in the Kanchenjunga region sparsely. Sherpas celebrate "Manirimdu" as their main festival which usually falls on October every year.
The Rais:
Rai people are indigenous to Nepal, and they are known for their traditional farming and crafts. They are skilled at making handicrafts. Rais inhabit the major portion of North Easter region of Nepal and same is the case with Kanchenjunga region. Rais celebrate "Sakela" as their main festival which falls on April/May month of Gregorian calendar.
Weather and Temperature on Kanchenjunga  Trek
As any other region in Nepal , there are 4 major weather patterns in the Kanchenjunga region.
Spring ( March- May): The weather is generally dry and mild. The average temperature during the day ranges from 10°C to 20°C (50°F to 68°F), while the temperature at night drops to around 5°C to 10°C (41°F to 50°F). This is the perfect time for the trek.
Autumn (Sept- Nov):  Autumn is another great time to trek on the Kanchenjunga route, as the weather is dry and clear. The average temperature during the day ranges from 10°C to 20°C (50°F to 68°F), while the temperature at night drops to around 5°C to 10°C (41°F to 50°F)
Winter ( Dec- Feb): Winter is the coldest season on the Kanchenjunga Trek, with temperatures dropping below freezing at higher altitudes. The average temperature during the day ranges from 5°C to 15°C (41°F to 59°F), while the temperature at night drops to around -5°C to 5°C (23°F to 41°F).
Summer (June- August): Summer is the monsoon season in Nepal, and the Kanchenjunga region receives heavy rainfall during this time. The weather can be unpredictable, with frequent rain showers, cloudy skies, and low visibility. The average temperature during the day ranges from 15°C to 25°C (59°F to 77°F), while the temperature at night drops to around 10°C to 15°C (50°F to 59°F).
Meals on Kanchenjunga Trek
Kanchenjunga Trek traverses through some of the remotest terrain in the Eastern Nepal. This region is limited by road access and it is a cumbersome job to transport food supplies up into the region.
The tea houses along the Kanchenjunga trek serves Nepalese and Tibetan dishes.Most tea houses in the region serves typical Nepali Dish: Daal Bhaat ( Rice and Lentil Soup), this dish is served alongside vegetable curry and pickle.
Modern tea houses in the lower stretches of the trek also provide western version of Nepalese dishes like pies, pasta, french fries, momos and others. Soups, Noodles, Potatoes, Rice and Vegetables are available all across the trail in the tea houses. You can consult your trekking company in advance if there are any special meal requests that differs from the one provided in your trekking package.
Kanchenjunga Trek Itinerary
Cost Include/Exclude
What's include
Airport/ Hotel/ Airport Transportation.
Three Nights    hotel in Kathmandu including breakfast included.
 3 Meals a day during the trek ( Breakfast, Lunch, dinner)
Lodge/ Tea house Accommodation during the trek.
A government licensed English speaking Guide during the trek.
 Trekking porter ( One porter for every two members) the limit weight is 20-25 Kg)
 All special trekking permits & fees.
Flight Ticket from Kathmandu – Bhdrapur – Kathmandu including airport departure taxes in both airport.
Ground Transportation by Bus / Sharing local Jeep
Trekking Equipment provide, Down Jacket and sleeping bag  (which needs to be returned after the trek.)
All our government taxes.
Tourist service charge, vat.
Official expense.
What's excluded
Lunch and dinner whilst in Kathmandu.
Your travel insurance (compulsory).
International airfare and Nepal Entry Visa
Items of a personal nature such as alcoholic drinks, cold drinks, laundry.
Tips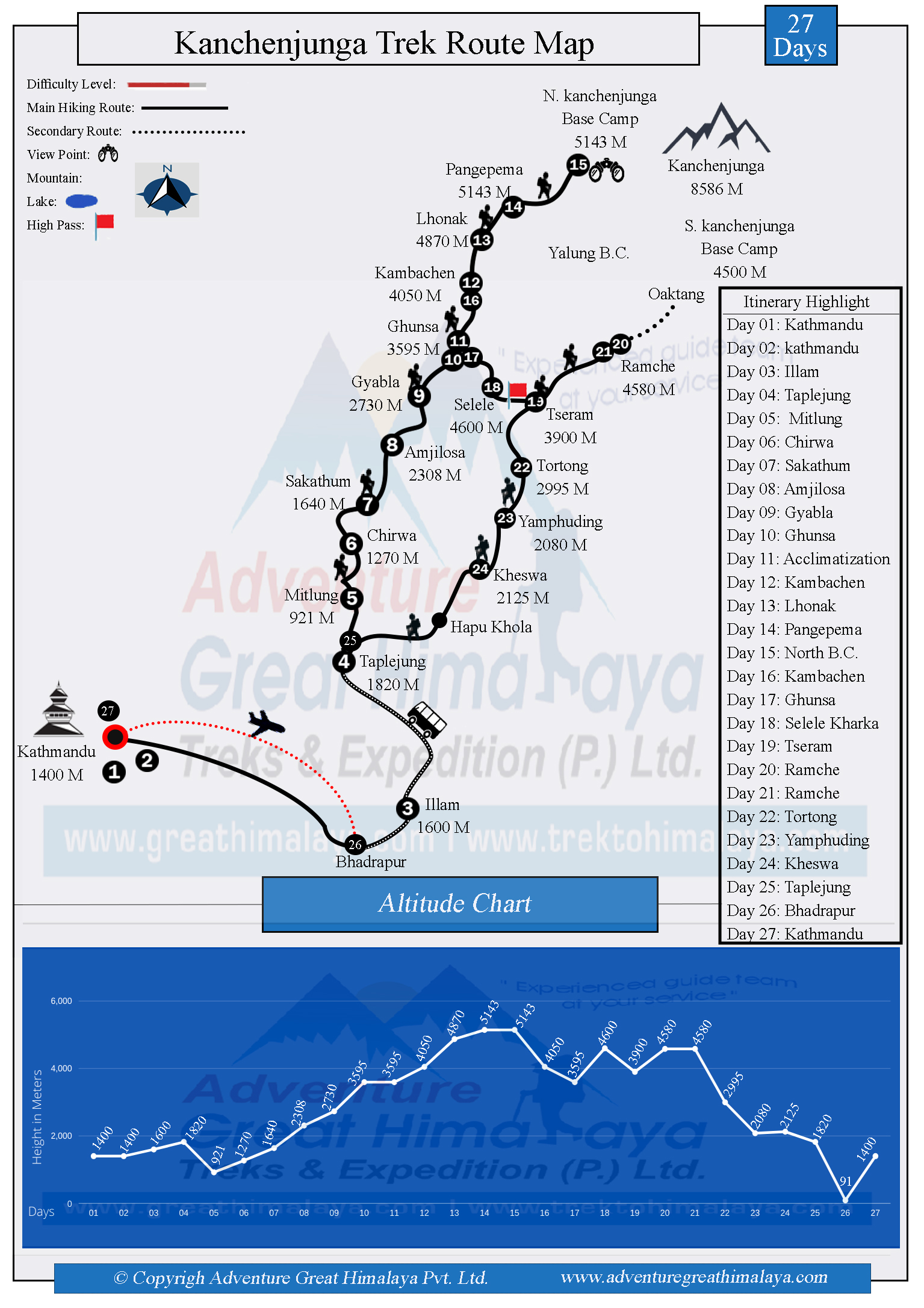 Gallery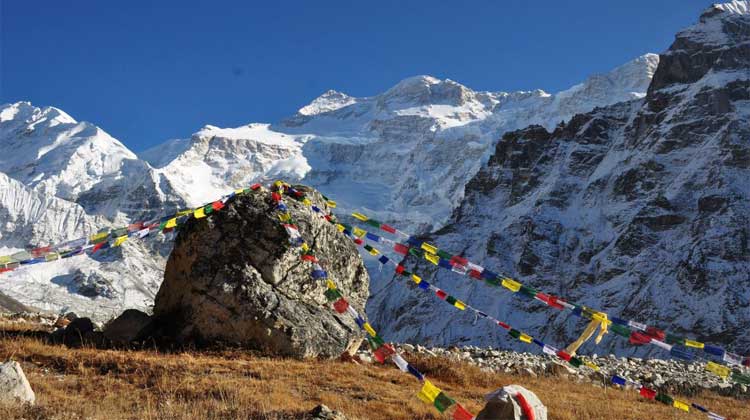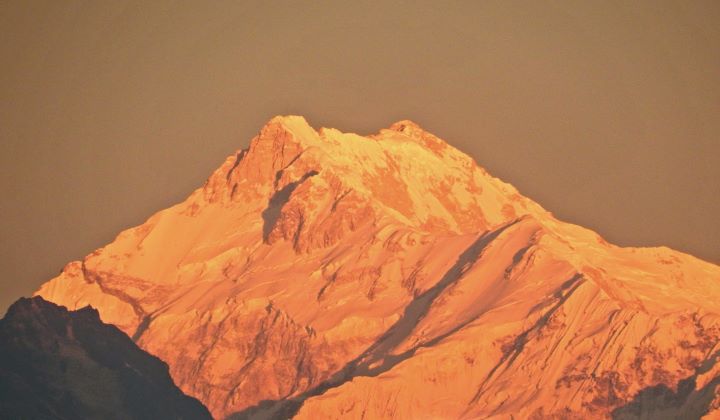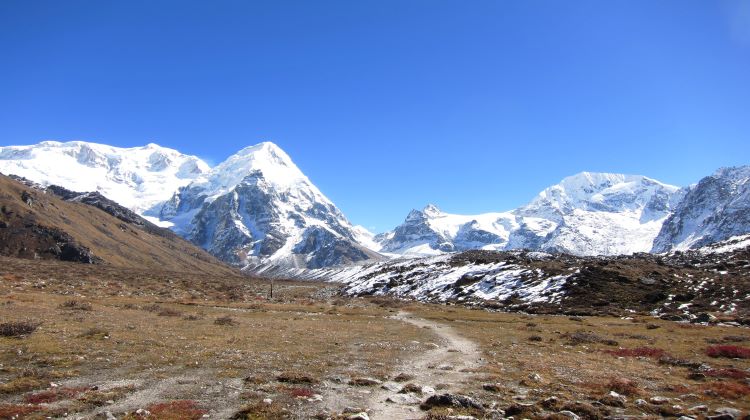 Reviews of Kanchenjunga Trek