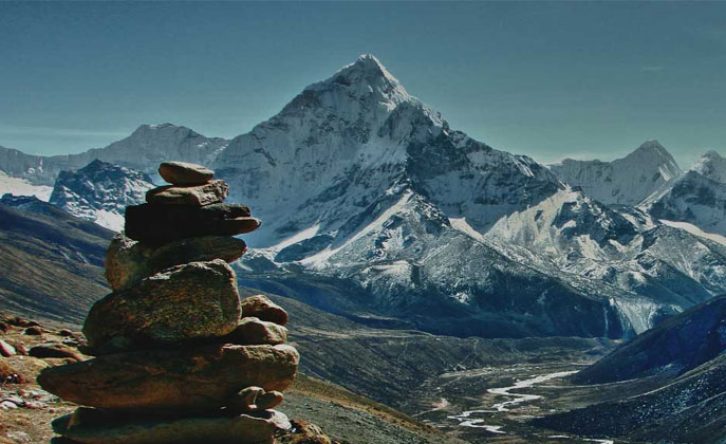 Trip Facts
Best Month
September to Novemver / March to May
Overview
Everest three  high Passes Trekking will take you to the less traveled way to the Everest Base Camp where you will have a magnificent view of the mountains such as Mount Everest, Mount Lhotse, Mount Ama Dablam, Mount Nuptse, Mount Thamserku and many more.
Everest 3  High pass Trek is  one of the most challenging treks in the Everest region. If you are one of those who like to experience more thrilling and adventurous trek, Everest 3 High Pass Trekking is best for you.
Everest Three pass trek is a truly lifetime Adventure   journey To Himalaya , This  Adventure trip take you  7 Superb destination over 5 thousand meter  Namely,  Renjo la Pass (5388 m), Cho La Pass (5380 m) and Kongma La pass(5535 m) With  climbing of the three peaks  Gokyo Ri (5483 m), Kalapathar (5545m) and Chukung Ri (5550 m) ,
It is a trek with unparalleled alpine beauty and without doubt the grandest mountain scenery on the world. The highlights of the trek include the Sherpa village of Khumjung, the pristine Gokyo lake, the breathtaking scenery from the all these passes and the visit to Everest base camp. Unlike other treks in Everest region, this trek makes a loop, hence no tracing back of the route. The good thing about this 3 pass trek is despite having to cross three passes, you do not require any technical climbing and any person with good fitness and previous trekking experience can complete the trek successfully.
Everest Three Pass Trekking Route
The Everest  Three Pass Trek begins the next day after your arrival. You first fly to Lukla, viewing beautiful scenarios, and then trek to Phakding crossing several suspension bridges.
From there, you head to Namche, entering the Sagarmatha National Park, and acclimatize there. During the rest day, you explore the nearby villages and the next day trek to Tengboche to visit the famous monastery.
Then ascending the trails, you head to Dingboche and later to Chhukung for your second acclimatization. This time you hike around the hills and explore the Imja valley.
You cross the first high pass Khogma-la and head to Lobuche the following day. From Lobuche, you walk uphill to Gorak Shep, have your lunch there, and hike to Everest Base Camp.
You spend some time there reaching the base and later descend to Gorak Shep. You hike to Kala Patthar for a sunrise view and later drop back to Lobuche the following day.
From Lobuche, you trek to Zhonglha and next day head to Thangma crossing the second high pass Cho-La. Then continuing the trip, you move towards Gokyo and have your third acclimatization there.
On this day, you explore the valley and visit the lakes. The following day you cross the final pass Renjo La and descend to Marlung. From here, you hike back to Namche while descending the trail and the next day head to Lukla. From Lukla, you fly back to Kathmandu and end the trekking journey.
Everest  Three ( 3) Pass Trekking Highlight

Trekking across the three major High Passes such as the Renjo La Pass, the Cho La Pass, and the Khogma La Pass.
Trek to the remote and untouched area of the Everest region.
Gorgeous view of the mountain ranges such as Mt. Everest, Mt. Lhotse, Mt. Ama Dablam, Mt. Nuptse, Mt. Thamserku and many more.
Exploration of the Himalayan Sherpa Community.
Visit Everest Base Camp and climb Kala Patthar.
Best Time for Everest Three  Passes Trekking
The Everest three Pass Trekking is doable in all the months in Nepal. But for a less challenging trek, it is better to trek the Everest 3 High Pass in Autumn and Spring seasons.
Autumn (September, October, November)
Autumn is the festive season for trekkers from all around the world for trekking In Nepal. The weather conditions in the month of September, October, and November are mostly suitable for trekking the Everest 3 High Pass.
Autumn is one of the peak seasons in Nepal for trekking. The temperature during this season is neither too hot nor too cold which fits for trekking. If you wish to trek the Everest 3 High Pass Trek in Autumn, you can also celebrate some of the major festivals in Nepal that falls during Autumn.
Spring (March, April, May)
Spring is one of the best times of the year where beautiful flowers bloom and new leaves start to grow. The whole environment becomes green which gives you fresh air and pleases your eyes.
During spring, Nepal looks ever more beautiful in nature. You will have clearer scenic mountain views during the season of Spring. The temperature and weather condition of the Everest Region is also favorable.
You may expect some light rainfall in late May. But, don't worry, the view you get to explore in the next morning is splendid.
Everest Three Passes Trekking Difficulty
Everest Three Passes Trekking is a challenging trek as you have to climb to a higher altitude and pass some of the difficult passes such as Renjo La Pass, Cho La Pass, and Kongma La Pass. These passes are one of the most challenging and physically demanding parts of the Everest trekking.
As you will trek to a higher altitude, you might have some difficulty in breathing. The amount of oxygen becomes thinner as you move to a higher altitude. Because of this, you may also face Acute Altitude Sickness.
The difficulty level of the trek increases if you trek during the monsoon season. During the monsoon season there are heavy rainfalls making the route muddy and slippery. You must be careful with your steps. Therefore, it is best to avoid trekking in Monsoon if you are a beginner. If you are an experienced trekker, then you are sure to enjoy every hurdle in any seasons.
Similarly, during winter, the Everest region is precisely enclosed with snow. This will cause difficulty in walking and passing the trails.
Everest Three Pass Trek Itinerary
Cost Include / Exclude
Service include
Airport/ Hotel/Airport transfer
 Three night's  Hotel in Kathmandu including breakfast
Meals: 3 Meals A day During The Trek (19 Breakfast,17 Lunch and 17 Dinner)
All Trekking permit and necessary company paper work.
Domestic Flight Ticket ( Kathmandu to Lukla / Kathmandu/ domestic airport Tax., (The baggage  limit is only 10 kg and hand carry 5 kg.)
Accommodation in Trekking; All accommodations in lodges/tea houses during the treks.
'Trekkers' Information Management System (TIMS) Permit.
Trekking Guide : An experienced, helpful and  Government license Holder English Speaking Trekking  Guide.
Trekking Porter-  Carry your luggage.  ( one porter for between 2 members)

 Trekking equipment  sleeping bag, Down Jacket, walking Poles, Crampons ( refundable after the trek)
Oxe -Meter- To Check your oxygen saturation and heart rating
Adventure Certificate and Trekking map.
Company Duffel bag and T-shirt
Arrangement of Emergency Helicopter service which will be paid by your Travel insurance company.
Medical supplies (first aid kit will be available).
All government taxes.
Service charge.
Welcome / Farewell Dinner
What's excluded
Nepal entry visa fee (you may easily issue the visa upon your arrival at Tribhuwan International Airport – Kathmandu).
 International air fair and personal Travel insurance.
Lunch Dinner in Kathmandu.
personal expenses.  Like Phone call, laundry service, extra porter, battery recharge etc.
 All kinds of  drinks, hot shower etc,
Tips for the guide, porter
More Trip Info
Nepal Visa
Every foreign citizen who wants to travel to the Nepal must apply for the Nepal visa. You can get a visa at the Nepal embassy or consulate in your home country or you can obtain one on arrival at Kathmandu's Tribhuvan International airport or at any land border crossing.
Travel Insurance
Trek to Everest 3 High pass trek Required Travel Insurance, The Adventure Travel Insurance allows you Trekking in Himalayas above 5000m with confidently, Travel insurance is very important for your safety In the event of any high altitude sickness or injury, the cost of emergency treatment and evacuation is shocking., Therefore, travel insurance is strongly recommended for everyone who joins with Adventure Great Himalaya , Be ensuring that your travel insurance covers you for altitude or not, Most standard policies do not cover for walking up more than 3000 meters altitude.
Everest 3 pass trek Permit
As with other treks in Everest, you will need 2 different permits. They are Everest (Sagarmatha) National Park Entry Permit and Khumbu Pasang Lhamu Rural Municipality Local Tax.
The Sagarmatha National Park permit cost $ 30. It can be bought in Kathmandu or en-route to Jorsalle before Namche Bazaar. And for the Khumbu Pasang Lhamu Local Tax, you have to pay $ 20 in Lukla.
Lukla Flight & weather
Lukla is in small Town of Solukhumbu district of Nepal. It is at 2,840 m elevation above the sea level.
There are 3 Airlines Company that operates flights every day in the fair weather. It is small twineter plane and accommodates around 12, 13 people. The flights leave early in the morning because it cannot be said how the weather goes in the afternoon.
The flight to Lukla often gets cancelled due to bad weather. It usually happens in peak season. In the case your flight gets cancelled, you can have the alternative of taking helicopter. A helicopter can carry 4 or 5 people. It costs $ 350 to $500 per person.
Everest 3 pass Trek Lodge Accommodation
The route of Everest Three Pass Trek has several tourist-friendly tea houses with basic accommodation facilities. The rooms are the twin-sharing type for this trek, but you can also get luxury suits at lower regions by paying an additional price.
Compared to other trekking routes, the accommodation services in this trail have advanced and developed throughout the years. Nowadays, they provide you with spongy mattresses, electric blankets, hot showers, and more.
But the facilities are limited to lower regions only, as the lodging is still simple in the upper parts. You will find a wooden bed with hard mattresses, a pillow, and a blanket.
Meals in 3 Pass Trek
We will be providing you a welcome or farewell dinner in Kathmandu and (Breakfast, Lunch, Diner ) throughout the Trekking . You can have any meal on the basis of your choice. There are a variety of options from typical Nepali dal-bhat, soups, snacks, momos, fried rice, to Chinese and continental dishes like noodles, spaghetti, spring rolls, and steak. The breakfast and dinner will be served in the lodge where we spend night and the lunch will be on the way in our destination
Toiletry
The Everest Three Pass trek trails lie in the Himalayan region of Nepal, where most of the areas are still underdeveloped. So, there are no public toilets available on the routes.
If you have to pee or poop while walking on the trail, you either go to the bushes or near the roads. So, do not feel embarrassed as everybody does the same.
Moreover, lodges and tea houses have proper toiletry, but most have pan style instead of sitting one. However, attached bathrooms are limited to lower areas only as upper regions have common toiletry.
Also, you should know that people living in these areas use water after pooping, so do not forget to carry toilet paper and tissues for yourself.
Guide
The Everest Three Pass hike is a solo trek, but we suggest hiring a guide for a better experience. Guides are great partners, navigators, and communicators who make your journey a lot safer.
Only professional and licensed guides can trek in these routes so that you can be relieved about their experience. They are the first responder in case of injuries and emergencies.
If you wish to hire a guide, then make sure they are fluent in other languages to make the communication easier. A guide also acts as a mediator between you and the local peoples and tells you about their culture, history, and lifestyles.
Porter
Traveling with a porter is also beneficial as they carry your load during the trek and become your closest companion.
Porters are residents of this region who have made several ups and downs in these trails. So, with their years of experience, they know several shortcuts and safe paths.
They carry all your baggage, belongings, and trekking gear, but the weight limit is from 20 to 30 kilograms only. Also, they only speak basic English, so communication can sometimes be a burden. However, they are very friendly, helpful, and fun people who entertain you throughout the trek.
Tip For guide / porter
10% of the cost of your trek is the average tips to be given to your guides and porters. It is kind and respect paid to your team. You can pay any amount above the minimum as per your service and satisfaction level.
How to book this trek?
When you confirm or book the trip with us, you will have to pay 25% trip deposit along with the copy of passport. After receiving it, we will send you the final confirmation letter. Click the link below for Booking Terms & Condition
Booking Terms and Condition
Equipment list
3 pass Trek is one of the challenging trek. We have to walk on the rocky ice and glacier. Proper gearing up is one of the most important things. With the right selection of equipment, trekking can become much easier and enjoyable.
View the List of Trekking Gear.
Cost & Date
Note: The below Price and Travel date is for the Group Join Basis. If you take private trip all travel dates are guaranteed. Private Trip
| Start Date | End Date | Trip Type | Price | AVAILABILITY | Booking |
| --- | --- | --- | --- | --- | --- |
| Sun, 5 Nov, 23 | Fri, 24 Nov, 23 | Group Join | $ 1550.00 | GUARANTEED | Book Now |
| Sun, 12 Nov, 23 | Fri, 1 Dec, 23 | Group Join | $ 1550.00 | GUARANTEED | Book Now |
| Sat, 18 Nov, 23 | Thu, 7 Dec, 23 | Group Join | $ 1550.00 | GUARANTEED | Book Now |
| Sat, 16 Mar, 24 | Thu, 4 Apr, 24 | Group Join | $ 1550.00 | GUARANTEED | Book Now |
| Thu, 21 Mar, 24 | Tue, 9 Apr, 24 | Group Join | $ 1550.00 | GUARANTEED | Book Now |
| Sun, 31 Mar, 24 | Fri, 19 Apr, 24 | Group Join | $ 1550.00 | GUARANTEED | Book Now |
| Sun, 7 Apr, 24 | Fri, 26 Apr, 24 | Group Join | $ 1600.00 | GUARANTEED | Book Now |
| Mon, 15 Apr, 24 | Sat, 4 May, 24 | Group Join | $ 1600.00 | GUARANTEED | Book Now |
| Sun, 21 Apr, 24 | Fri, 10 May, 24 | Group Join | $ 1600.00 | GUARANTEED | Book Now |
| Mon, 29 Apr, 24 | Sat, 18 May, 24 | Group Join | $ 1600.00 | GUARANTEED | Book Now |
| Sun, 5 May, 24 | Fri, 24 May, 24 | Group Join | $ 1550.00 | GUARANTEED | Book Now |
Gallery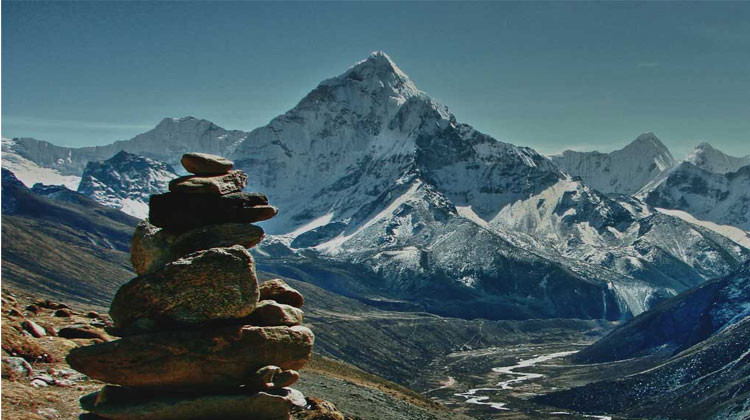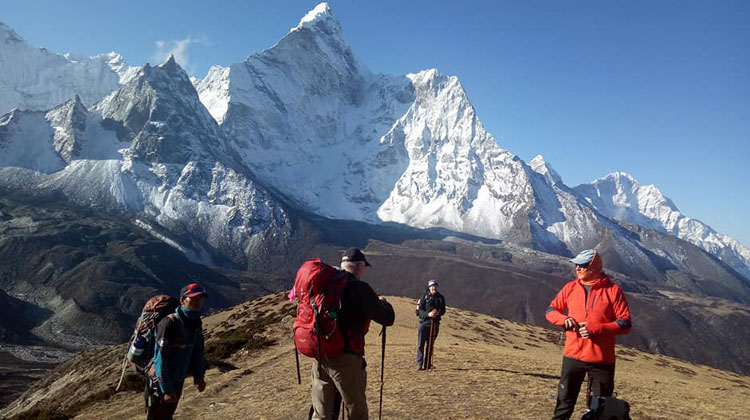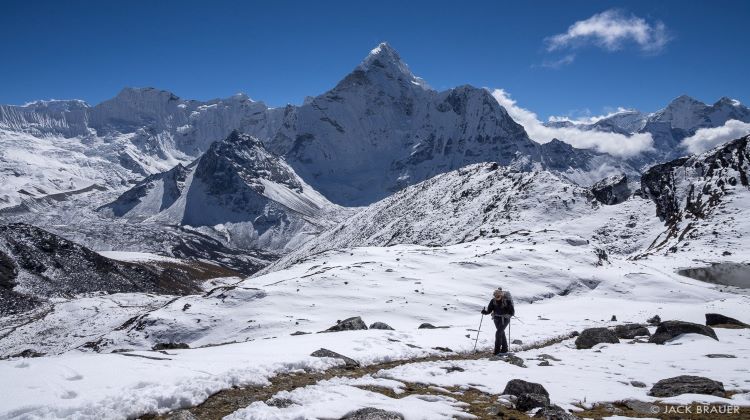 Reviews of Everest Three Passes Trek