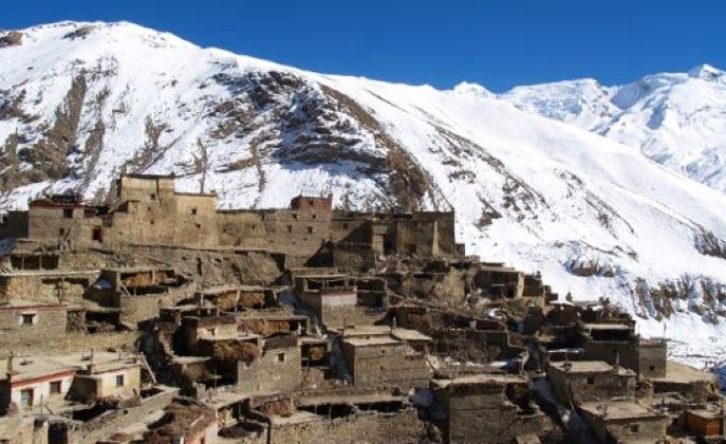 Trip Facts
Nepal Total Days
15 days.
Trekking Duration
12 days.
Trekking Destination
Nar Phu Valley
Mode of trek
Tea house/camping.
Overview
Nar Phu Valley trek is an ideal for trekkers who have time and appetite to venture into some of the less compressed remote regions, spectacular regions of ethnically Tibetans inhabitants for those of you that think you trekked all.
Narphu valley trekking is newly open trekking trail in Annapurna region. This trekking has been opened for the trekkers only since 2003. It is one of the best regions for viewing majestic mountains in the high land. And trek up to Nar and Phu combines high peaks and passes, glaciers, remote villages, narrow canyons, lovely forests, amazing rock formations, yaks, gompas and unique Himalayan cultures. The Phu is the most beautiful medieval village where you can learn the real life styles of Bhote communities enjoy and have a pleasure of the fabulous and typical
Nar Phu Valley trek begins with a long drive from Dharapani, followed by a walk to Koto. The multi-day hike has us passing through several villages, including Phu and Nar, before reaching Kang La Pass 5320 m,
The winding trail of Nar Phu works its way up through steep hills and mountain ridge to Thorong La Phedi. Trekkers have some great views to catch along the route, including lofty mountains, primordial monasteries, and gorgeous villages.
After Thorong Phedi, the trail slopes downward, making it easy to traverse. From there, the trail passes Manang and Muktinath, sacred temples of Hindus and Buddhists. The expedition allows the chance to catch a glimpse of Annapurna and Dhaulagiri before heading to Jomsom.
Highlights of Nar Phu Valley Trek
A pristine view of lofty snow peaks such as Mt. Annapurna, Dhaulagiri, and Manaslu
Explore the unspoiled and hidden places in the Annapurna region
Cross Kang La Pass ( 5320 m,)  for the most intriguing sceneries
Discover primordial Tibetan monasteries and chortens
Visit remote villages like Phu Gaon and Nar Phedi
Best Time for Nar Phu Vally Treks
Spring and Autumn are by miles the ideal time for a trek to Nar Phu Valley as they offer lovely weather with marvelous sceneries. They put forth mild weather conditions, following which it becomes easy for hikers to climb the trail.
Moderate weather, warm sunshine, fresh wind, and crystal-clear sky make the season the right time for the Nar Phu hike. Apart from that, trekkers are rewarded with full-bloom rhododendron forest in spring and colorful fall foliage during Autumn, making the trip even more remarkable.
Winter and monsoon don't have as impressive weather as it is during fall. It's gloomy most of the time, with heavy snowfall and downpour, which obstruct the path. It's bitterly cold in winter, while in monsoon, the trails are slippery, being drenched in the rain all day long.
The views are great, though with white-washed villages and forests. As the monsoon clears the dust and sky, travelers get an even clearer picture of snow peaks and glaciers. That said, visitors will have to take precautions before traveling the valley.
Accommodation & Meals
The trekkers also have to plan the accommodation in advance as it's super varied. From hotels to lodges and guest houses, travelers have a range of options to choose from. Still and all, most travelers visiting Nar Phu Valley prefer to make a reservation in tea houses.
It's because they are more affordable with a standard service. A lot of these tea houses have comfortable bedrooms with furnishings, bed sheets, and a pillow. They provide authentic Nepalese meals to the guest, consisting of rice, pulses, vegetables, and pickles.
Some of the recently built hotels and guest houses even serve western cuisines and Asian dishes to visitors. Apart from worrying about the food,
 Nar Phu Valley Trekking Permit Cost

Before Start The Trek, you'll also have to take care of the trekking permit to explore Nar Phu Valley. To visit the restricted area, hikers will be charged US$100 per week per person from September to November. If you traverse the region from December to August, the permit costs US$75 per person for a week. beyond a Week, permit cost  $ 15  Per day. Apart from that, The trekkers need to pay a mandatory US$30 per person for an ACAP permit.   All the permit should  issue in Kathmandu.
Nar Phu Valley Trek Itienrary
Cost Include / Exclude
What's include
Airport pick up and Drop by private car/van/bus.
2 Nights standard accommodation in Katmandu.
Your standard meals (Breakfast, Lunch and Dinner) during the trekking.
All necessary paper works and conservation entry permits.
Ground transportation by bus from Katmandu to Beshishar, and Pokhara to Kathmandu by tourist bus.
All accommodations in lodge/tea houses during the treks.
Nar Phu Vally trek all the night by tented.
Narphu Valley special trekking permit.
Necessary Camping gear
Trekkers' Information Management System (TIMS) Permit.
An experienced, helpful and friendly Guide, necessary porters Salary, Food, Drinks, Accommodation, Transportation and Insurance for the Guide and Porter. Flight ticket Jomsom to Pokhara.
One night standard accommodation in Pokhara.
Arrangement of Emergency Helicopter service which will be paid by your Travel insurance company.
Sleeping bag, down jackets, Duffle bag and walking stick, if necessary.
Medical supplies (first aid kit will be available).
All government taxes.
Service charge.
What's excluded
Nepal entry visa fee (you may easily issue the visa upon your arrival at Tribhuwan International Airport Katmandu).
2 passport size photos.
International airfair
Your Travel insurance.
Food in city like Katmandu and Pokhara.
Extra night hotel accomodation in Kathmandu also return early from trek.
Your personal expenses. Phone call, laundry service.
All the bar bills, like coke, beer, water,etc.
extra meal and accomodation than our schedule in mountian.
Tips for the guide and porter.
Gallery