Kathmandu – Pokhara – Lumbini Tour – 8 Days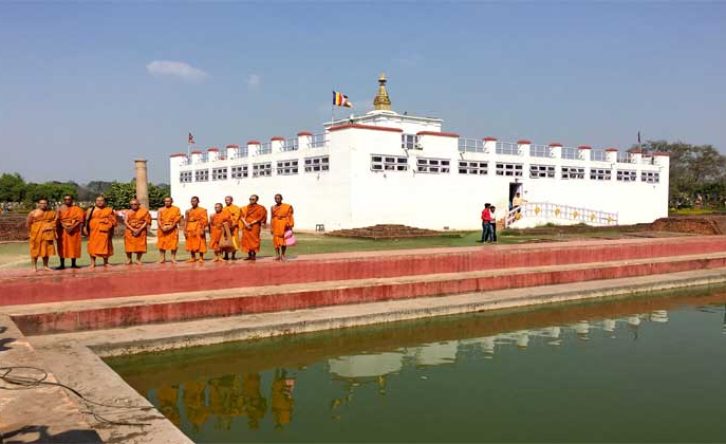 Trip Facts
Tour Duration
7 Night 8 Days
Type of Tour
Culture / Natur and Mountian View Tour
Transportation
Private car / Jeep
Overview
7 Night 8 Days  Nepal Tour (Kathmndu, Nagarkot, Pokhara and Lumbini Tour)
8 Days Tour In Nepal  take you the main city of Nepal, Kathmandu, Pokhara, and Lumbini,  these are  most beautiful places in Nepal. Each of these cities has its own historical values and importance. These cities are rich in natural beauty, culture, and ancient traditions.
This 8 days Tour In Nepal package includes guided city tours, fantastic hospitality from the locals, and lots and lots of beautiful memories. You shall cherish these memories for a long time.
You will be stunned to see the cultural versatility of Kathmandu. You will visit the birthplace of Lord Buddha, and know all about its history. And you will visit the beautiful city Pokhara, with a fantastic glance at the mountains, lakes and landscapes.
Highlights of 8 Days  Nepal Tours

Kathmandu sightseeing and explore the world heritage sites
Experience the ancient tradition and culture in the Kathmandu valley
Explore the beautiful city of Pokhara.
Visit an excellent viewpoint in Nagarkot.
A mesmerizing view of mountains like Mt. Fishtail(6993m), Annapurna range, Dhaulagiri(8167m), Langtang Lirung(7245m), Manaslu(8156m) and many more.
Most beautiful sunrise from Sarangkot
Visit world peace pagoda
Fewa lake boating
Explore Lumbini, the birthplace of Lord Buddha.
Learn more about the establishment and influence of Buddhism in Nepal.
Outline Itinerary – 8 Days Tour in Nepal
————————————————————-
Day 01: Arrive In Kathmandu.
Day 02: Sightseeing in Kathmandu Valley and Over Night Nagarkot.
Day 03: Everest Sunrise view- Sightseeing Bhaktapur-Drive to Pokhara.
Day 04: Annapurna Himalayas Sunrise View and Sightseeing Pokhara City
Day 05: Drive to Pokhara  to Lumbini
Day 06: Explore the Lumbini.
Day 07; Return to Kathmandu
Day 08: Departure from Nepal
Place to Visit In 8 Days Nepal Tour
1, Kathmandu
There is no doubt to the fact that the capital city of Nepal is one of the most versatile cities. When you say Kathmandu valley, it basically consists of three major cities. Kathmandu, Lalitpur, and Bhaktapur are three historically rich cities with great values.
Each of these cities has its own Durbar square. These Durbar squares are the prime attraction of these cities. Each of these Durbar squares is enlisted as world heritage sites. These squares contain temples dating back to the early centuries.
People from all over the country live in Kathmandu valley. But the Newa people are the primary resident of Kathmandu valley. Still, people from all castes and religions have been living in Kathmandu for many centuries.
Kathmandu valley is small, but there are lots of beautiful places to visit.
Swayambhunath
This world heritage site is popular among Buddhists and Hindus. But people from all religions visit this holy place because it is one of the oldest monuments in Nepal. And the view of Kathmandu from Swayambhunath is fascinating.
Pashupatinath temple
Pashupatinath is considered as one of the most important temples for Hindus. It covers a wide area, and lies at the banks of the holy Bagmati river.
Boudhanath
It is another famous destination while you are in Kathmandu. This holy monument is one of the biggest and attracts hundreds of tourists each year. The surrounding of Boudhanath is beautiful with traces of Buddhism in every corner.
Bhaktapur
An ancient town east of Kathmandu, Bhaktapur is rich in culture and tradition. You can find traditional houses, and beautiful monuments in Bhaktapur. Bhaktapur durbar square is the perfect place to have a cup of coffee and hangout.
Related: Kathmandu Tour
Patan
Patan durbar square is another important place with lots of historical values. The stone structured Krishna temple is fascinating and mystical. Patan is like an open museum with hundreds of inscriptions and numerous statues.
Nagarkot
Nagarkot is one of the best places in Kathmandu valley to view the mountains. It lies to the east of Kathmandu and at the altitude of 2175m. On a clear day, you can even view mount Everest from Nagarkot. And the sunrise from Nagarkot is amazing.
Related: Kathmandu – Nagarkot- Pokhara Tour
2, Pokhara
Pokhara is a beautiful city with lots of places to visit. Also known as the city of lakes, Pokhara offers a magnificent view of the mighty Himalayas. The city is only 200 Km west from Kathmandu.
Pokhara is a paradise for photographers. There are lots of places and activities to do while you are in Pokhara. Some of them include:
Sarangkot
Sarangkot is the most popular destination in Pokhara. Tourists get up early and reach Sarangkot before sunrise. And the sunrise from Sarangkot is out of this world. Sarangkot offers incredible views of the mountains like the Annapurna range and mount fishtail.
It also offers a beautiful view of the city beneath with Fewa lake beside it.
World Peace Pagoda
It lies at an altitude of 1400 m, and is a perfect place for a day visit. This place is famous among hikers and mountain bikers. You can see Sarangkot on the other side of Fewa lake, and beautiful mountains afar.
Boating in Fewa Lake
It is a must-do activity while you are in Pokhara. Fewa lake is the second largest lake in Nepal. It is a beautiful lake, and the boating experience is mindblowing. You can take a boat for yourself if you know how to row it. Or you can take a rower with you.
Anyways, it becomes an unforgettable experience when you rest your boat on the other side of the lake. Have a cup of coffee or a beer and spend some time with nature.
Begnas Lake and Rupa Lake
Pokhara is the city of lakes, and surely there are other beautiful lakes to visit besides the Fewa lake. Begnas lake and Rupa lake are other beautiful lakes near Fewa lake. You can do boating in the Begnas lake as well.
But Rupa lake has the next level of beauty. It seems beautiful from a top before you reach its banks.
Zip Flying, Paragliding, and Bungee Jumping
Pokhara is not just a place gifted with natural beauties (which it is) but also a place for adventure. Zip flying in Pokhara is fast and exciting. It is 1.8 km long and has a steep drop of 600m. A perfect activity for an adrenaline junkie.
Pokhara is famous for its Paragliding, as well. It offers incredible views of the mountains and the city. And bungee jumping is another activity you can do while you are in Pokhara.
Evenings in Pokhara and Lakeside
The evenings in Pokhara is beautiful. Lakeside becomes beautiful once the sun starts setting. The colorful shops and eateries are eye grasping. You will have a memorable time window shopping and strolling through the streets in Pokhara.
Also, you can take a bicycle for hire and visit another corner of the lakeside called Pame. This place is famous for its delicious local fish and beer. It might be the best way to end your day in Pokhara.
Other
Besides all this, there are other famous places in Pokhara. Davis falls, Gupteswor cave, Mahendra cave, Bat cave are some places to visit in Pokhara.
Related: Kathmandu – Pokhara Tour
3, Lumbini
Lumbini is another world heritage site in Nepal. It is one of the most beautiful places in Nepal with plenty of historical values. The birthplace of Lord Buddha is one of the top places to attract most tourists in Nepal.
This place is peaceful and beautiful. You can see the traces of Buddhism all over the area. Lumbini not only attracts Buddhists but also attracts people of all religious groups. Lumbini is the perfect place for those who seek for peace and spirituality.
Things to do in Lumbini:
Explore the Monasteries
There are numerous monasteries in Lumbini.
Vietnamese monastery
Chinese monastery
Indian monastery
Korean monastery
Sri Lanka Monastery
These monasteries reflect Buddhism and its tradition. These are the perfect places to learn more about Buddhism.
Mayadevi Temple
Named after the mother of Lord Buddha, Mayadevi temple is itself a distinguished monument. A small pond sits beside it where queen Mayadevi took a bath after giving birth to Lord Buddha.
Besides its values and importance to the place, this temple is extremely beautiful. It has incredible structure and establishment.
Ashoka Pillar
King Ashoka from India converted into Buddhism and visited Lumbini. He then built many monasteries and a historical pillar to show respect. How the workers erected this 6-meter pillar is still a question among many.
The Ashoka Pillar then lost into ruins after few centuries of its establishment. It was again discovered in the 19th century by Khadga Samsher Rana. The pillar has been an important monument reflecting Buddhism and peace for centuries.
Meditation
By now, you must have known that Lumbini is the ideal place to find peace. Hence, it is the ideal place for meditation, as well. You can find lots of monks and regular people meditating on the premise of the Mayadevi temple and under the Bodhi tree.
8 Days Nepal Tour Itienrary
Cost Include / Exclude
What's include
Airport / Hotel/Airport Transportation
All the Hotel with Breakfast as per Itinerary
Kathmandu Valley Sightseeing by tour guide.
All Sightseeing by Private Car/Van/Bus.
All sightseeing in Pokhara valley as mention in Itinerary.
Office service charge.
What's excluded
All Lunch dinner in Kathmandu and Pokhara.
All The temple and Monastery entrance fees.
Lunch / Dinner
Your personal expenses.
All bar bills
Tips for Guide and Driver.
Gallery