Best Tour In Nepal -10 Days
Trip Facts
Tour Duration : 9 Night / 10 days
Best Time : Feb- Jun/ Aug-Dec
Mode Of Tour : Hotel /Resort
Type of Tour : Cultural, Nature & Mountain View Tour
Transportation : Private car/ Van
Group Size : 2+
All price inclusive


$650 USD
Best Of Nepal  Tour  10 Days combine the Most beautiful and tourist attraction City of Nepal, The Cities Are ( Kathmandu Chitwan,  Lumbini.  Pokhara and  Bandipur) Offering you stunning temple architecture, breathtaking mountain scenery, and the grass and marshlands of the Terai Lowlands home to Chitwan National Park. Nepal Highlight  tour is perfect tour for fabled cities Kathmandu, Patan & Bhaktapur, each is an artistic exposition of graceful temples, elegant palaces, brick paved courtyards and quaint street.  A golden Opportunity  Sunrise View of Mt Everest From Nagarkot, Amazing rang of Annapurna Mountain views from Sarangkot, Pokhara and the world sacred land LUMBINI where Buddha was born.
10 Days Tour in Nepal package is completely perfect package for the visitors to experience Nepal and the adventurous aspects of this beautiful mountainous country. The tour to give experiences of cultural and adventurous aspects while visiting Nepal. The tour is exciting offer to get full size experience of Nepalese lifestyle in short stay.
Nepal is rich for its cultural varieties. Best tour in Nepal is an opportunity to gives full insight of the local people and the ancient monuments of Nepal's cultural and popular sites. The tour is pleasant with sightseeing opportunities and adventure experiences. Visitors attached with the package of Nepal tour can have knowledge about the people and their life style where they visit. Along the way, visitors have great opportunities to explore natural beauty and the picturesque views of the landscapes and scenarios.
Sightseeing Places In 10 Days  Nepal Tour
1,  Kathmandu : The city Of temple, you will visit:   Shyambhunath, Pasupati Nath Temple, Kathmandu Durbar quire,  Boudhanath, Patan durbarsqire.,
2, Bhaktpur Durbar Squire- The Oldest royal Place, Ancients city of  Nepal.
3, Nagarkot; A scenic hilly town considered to have the best mountain views from  Nearest of the  City Kathmandu, the  Capital of  Nepal.
4, Lumbini : Birth place of Lord Bhudda, One of the world's most important spiritual sites .
5, Pokhara :  A Lake city, Heart of Himalayas,  The Placees you will visit –    Sarangkot,  Devid water fall, Seti river gorge, peace stupa, Fewa lake Boating, Bindabasini Temple
6, Chitwan wildlife Jungle safari: Explore the Wildlife  Animals. The Activities are-  Elephant back Safari. Jungle walk, Bird watching, Boating, Local Village Tour
7,  Bandipur : Traditional village architecture, epic Himalayan views
Arrive In Kathmandu.
Full day Guided Cultural Tour  in Kathmandu Valley Overnight Nagarkot.

 Drive to Chitwan for Jungle wildlife Activities.
Full Day Jungle Activities
Drive To Lumbini ( The Buddha Birth Place)
Drive to Pokhara
Full Day Sightseeing In Pokhara City
Drive Pokhara to Bandipur (the enchanting mountain views, old cultural attributes. )
Drive Back to Kathmandu
Departure from Nepal
Arrive In Kathmandu. 
We will meet you at the Airport and Transfer to the Hotel. Welcome drinks. Free time. Over Night Hotel in Kathmandu.
Guided  Full Day Cultural  City Tour  in Kathmandu Valley Drive to Nagarkot . Today you will have full day guided tour of Kathmandu city   Discover ancient temples and Monasteries. Visiting the monuments  of UNESCO World Heritage Site and Cultural place.  Namely vising Sports are Monkey Temple, Patan Durbar Squire, Kathmandu Durbar Squire, Pasupati Temple, Boudhanath. The tour Start fat 9 am and finished about 4 pm.Overnight Hotel,
Hotel and Breakfast.
Everest Sunrise view- Bhaktpur Sightseeing-  Drive to Chitwan. After breakfast  Visit the Bhaktapur. and   Drive to Chitwan approximately 120 Kilometer.  Upon arrival in Chitwan, you will be received by the resort manager and invite for drinks. He will brief on the jungle package program. After lunch you will be guided for bird watching by the nature guide. Dinner and Overnight at resort in ChitwanBreakfast, Lunch and dinner
Full Day Jungle Activities Today you will spend your day in Chitwan National Park engaging in different jungle activities such as elephant ride, jungle walk, canoeing, bird watching, cultural tour and others. Breakfast, Lunch, Dinner and overnight at resort in Chitwan. Breakfast, Lunch, and dinner
Drive to Lumbini After breakfast we drive to Lumbini, Lumbini has a number of temples, including the Mayadevi temple, and others under construction. Also located here is the Puskarini or Holy Pond where the Buddha's mother took the ritual dip prior to his birth and where he, too, had his first bath, as well as the remains of Kapilvastu palace. Overnight Hotel.
Breakfast and Hotel.
Lumbini to Pokhara By car/ VanAfter breakfast, drive to Pokhara, Pokhara is a popular lake city in Nepal. Upon arrival in Pokhara you will go for Few boating. Overnight at hotel in Pokhara
Hotel and Breakfast
Full Day Pokhara City Tour This morning we have to be ready early morning. Drive 1 hour to Sarangkot. you will  enjoy an early morning visit to Sarankot for its beautiful  Annapurna Himalaya sunrise view. After the sunrise view back to hotel, have a hot breakfast. After breakfast we will go  Sightseeing in Pokhara valley. Such Devid fall, Bindabasini temple,  Seti River Gorge,  Peace Stupa, Tibeatn Monastery etc. Overnight at hotel in Pokhara Hotel and Breakfast
Drive Pokhara to Bandipur After breakfast drive to Bandipur. Bandipur is a pleasant and charming hill town situated on hill-chest that offers magnificent views of center Himalayas. Bandipur Village is located between Kathmandu and Pokhara this place is ideal sport for travellers refreshing holiday and for the enchanting mountain views, old cultural attributes. It still has its temples, shrines, holy caves and a newari architecture that harks back to the Kathmandu Valley of old.
Hotel and Breakfast
Bandipur to Kathmandu.This morning we get up early and injoy to Himalayas sunrise view, take brekafastAfter breakfast at the hotel drive back to Kathmandu.  It takes about 4 hour by private car/ van Hotel and breakfast
Departure from Nepal We will drop you at the airport. and good bye from Nepal.Breakfast
What's include
Airport/ Hotel/Airport by  Van/Car
2, 3 Star Hotels in Kathmandu, Pokhara, Lumbini and Bandipur.
Two night Hotel in Chitwan with full jungle activities and including meals,2 breakfast, 2 lunch and 2 dinner. Jungle Guide, All jungle permit
All sightseeing/ Transport  by private car/ Van as per group Size .
Professional Tour Guide in Kathmandu and Pokhara..
 Government tax.
Office Charge
What's excluded
All the bar bills
Lunch and dinner.
Personal expenses.
Temple and Monastery entrance fees
Donation and tips.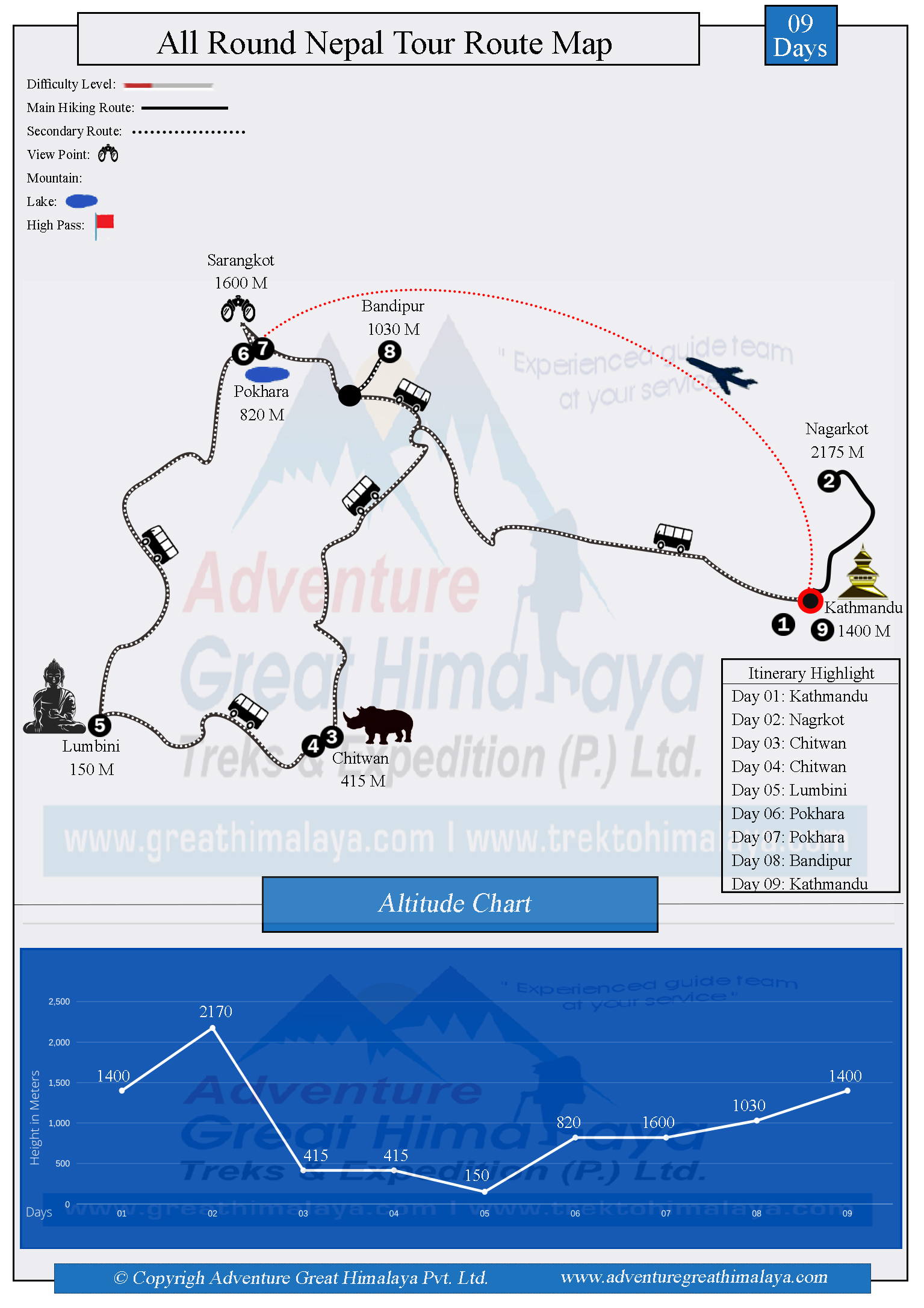 Reviews of Best Tour In Nepal -10 Days
Customer's Reviews in TripAdvisor: