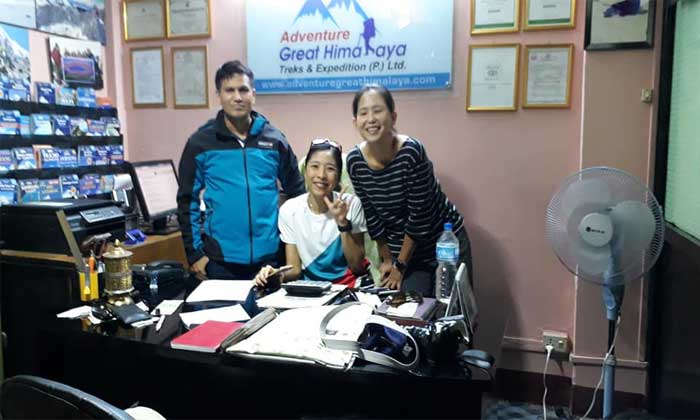 Welcome to Adventure Great Himalaya Treks & Expedition !

Are you planning to Trekking in Nepal?  If so Adventure Great Himalaya Treks & Expedition (p) LTD can be your best choose able Trekking Operator.  Adventure Great Himalaya is A Leading Himalaya Adventure Tours and Trekking Company in Nepal.  We are government registered trekking Agency / Operator based in Kathmandu, Nepal. We have been operating   Nepal Adventure Trekking / Tour Service   since 1996 and during that time our professional Guide team has collected experiences from all over the Himalaya. We have been in the profession long enough to know what makes our trips a huge success. We are pleased to be able to offer you this knowledge under the Adventure Great Himalaya brand.
Our main aim is to provide you with first class adventure tourism whilst generating a fair income for the local community. We pride ourselves on our vast knowledge and networks which allows us to focus on every detail of your journey ensuring minimal impact on the environment and local people. We've spent many years finding places to stay that are quaint, out of the way, and comfortable when we take you to the most amazing parts of the Himalayas.
What always been important to us all is our passion for people, trekking, mountains and the personal service we offer to everyone who travels with us. Adventure Great Himalaya Team uses all of its resources to organize and lead quality treks, tours and adventures for many Small/Big groups of like-minded outdoors people. That we remain understanding is enough for all our trips to be special.
With each of our holidays we can suggest  optional activities such as white water rafting, Scenic Mount Everest flight,  Jungle Safari the list goes on to find out more we can supply you with a  detailed list of optional activities so you can get the most from your panoramic Himalayan holiday. When travelling with us you will feel a sense of comfort as you become part of our family.  Our team has been carefully selected for their expert skills and talents along with their dedication to managing our large network of clients.
This is our corner of the world. We know it intimately. We love it passionately; so much so that we want to share it with kindred souls We are proud to showcase the Himalayas to the world!
We hope to see you soon so join us now trekking, touring outdoor adventure and cultural experiences in Nepal, Tibet and Bhutan Himalayas.
Our Service & offer
Trekking in Nepal
Culture / City Tour
Peak Climbing
Tibet Tour
Bhutan Tour
Why booking with us ?
Fully Locally Owned Company
Quality Of Service and Competitive price
Highly Professional Staff
Flexible and customization trip itinerary
100% Customer satisfaction
Need help?
Nepal: 00977-9841273869
whatsapp
: 00977-9841273869
24 hour customer service