Regardless of where you trek, you will need somewhere to take a rest and spend the night.Before starting the Everest Base Camp trek, being well informed about the accommodation facilities is important. Getting a good night's rest can heavily impact the comfort level of your EBC Trek. You can find many tourist-friendly accommodations on the route to EBC.
Types of Accommodation during Everest Base Camp trek
On the trail of Everest Base Camp, you can find friendly tea houses and luxurious hotels. Everest Base Camp trail offers accommodation to suit all budgets- cheap to luxurious. There are still possible to tented camp but not so popular since easily find the Tea house/ hotel
Tea House Accommodation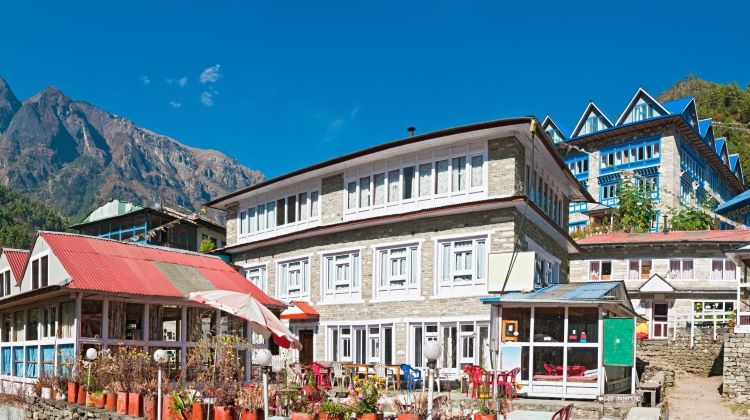 Teahouse accommodation is the classic form of trekking accommodation on the EBC trail. Along the way to Everest Base Camp, most of the tea houses are built and managed by local villagers. Tea houses are lodges specially designed to provide the basic facilities for trekkers to take rest. The quality of houses varies enormously.
The most common word in Nepali for a restaurant or eating place translates as "hotel". Since the word hotel has been pre-empted, Nepalese use the word lodge or tea house for a sleeping place or inn. Therefore, on the trekking trails of Nepal, a hotel has food, but may not provide a place to sleep. However, a lodge always offers accommodation.
Many innkeepers specify the services they provide by calling their establishments Hotel & Lodge. In reality, you can almost always find food and some kind of accommodation at any trail side establishment. The lodges on the trails of EBC are comfortable, warm, and very well appointed. They offer a nice, well-maintained place to stay and eat at. However, they become more basic as you go higher.
Rooms are available on a twin-sharing basis. Each room comes with two beds and does not have a bathroom attached. It also comes with some basic furniture, such as a small table or a chair. Some rooms have a shelf and hooks for hanging clothes. There are more luxurious options during the trek in some lodges with better rooms and facilities.The beds have mattresses, pillows, bed sheets, and some blankets.
The 'living room' area is used for eating and relaxing. It is also heated in the evenings with a pot-bellied stove. Lodges are usually sociable places where you can meet many other trekkers. Many trekkers come equipped with their own books to read and phones to pass their time with.
Almost all have hot showers available which are mostly gas heated. For places without a shower head, they offer buckets filled with hot water for bathing purposes.Wifi is available everywhere in the Khumbu (Everest) region. A good and reliable speed is not guaranteed.
You can also charge your electronics by the hour in most of the lodges. It gets more expensive as you go higher. It is highly recommended and popular to bring power banks. Most of the lodges do not have a TV. Stays at the local tea house/ lodge bring trekkers closer to the local lifestyle and culture.
You will find 2 types of tea house accommodation during the trek. One is tea houses with basic facilities. And another is luxury lodges.
Basic Lodge Accommodation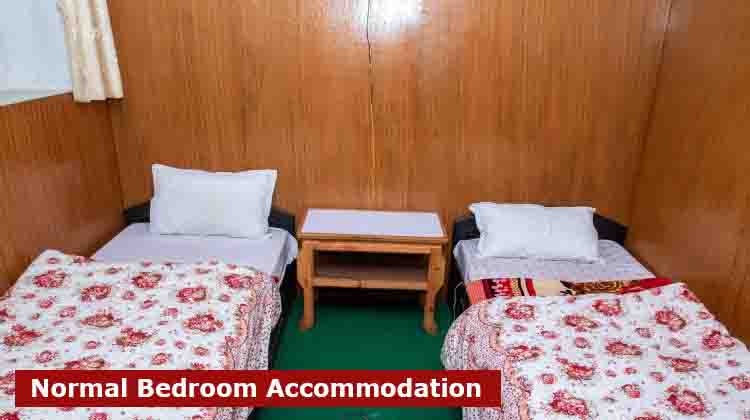 Tea houses with basic accommodation will provide you with basic facilities like normal beds, congested room size, and sharing bathroom, however you will have nice and cozy room with clean blankets, comfort pillow, For either room upgrade or wish for a single room, you need to arrange it with your guide first thing in the morning. He will send a porter ahead to change the booking.
Both of these cost extra money. You can pay directly in cash, but it does depend on availability. An average cost for a room around 750 to 1000 rupees.
Luxury Lodge  accommodation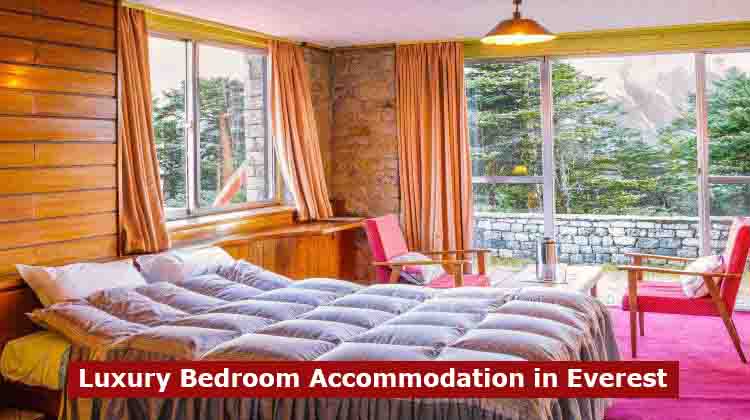 There is luxury lodge accommodation available during the Everest base camp trek, the luxury lodge accommodation Cost from $ 50 to 200,
Where, Luxury Tea House accommodation will serve you with a very comfortable bed with electric heating attached to it, a wide room size, an attached bathroom, and hot water facilities. These luxury rooms are a bit expensive and fewer tourists are interested in these kinds of accommodation.
Camping Accommodation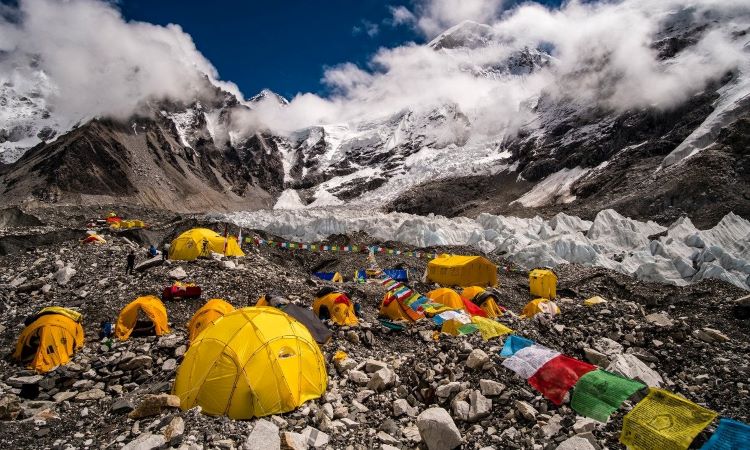 Camping is also possible for the EBC Trek. It is generally used by the expedition team while climbing Mt. Everest. Normally camping accommodation is used in the remote treks of Nepal like Dhaulagiri, Dolpo, and Kanchenjunga. Usually, a tent is used for accommodation- sleeping and resting. The cooking staff will prepare food and different crew members are hired for different work. Camping trek on the Everest Base Camp trail is an amazing experience. Yet, due to the easy accessibility of tea houses, camping is generally avoided.
Toilets Facilities in Everest Region
There are basic squat-style toilets in the teahouses. The bathrooms are pretty basic, and you can find a small wooden hut outside the lodge for toilet purposes. The toilet is simply a hole in the floor above a deep pit.The tea houses do not provide toilet papers or other toiletries. Hence, you should bring essential toiletries along with you to maintain it. In the lower elevation, most lodges offer commode-style western toilets as well.
On the trek, you can use other lodges or shops along the way if you need to use a toilet. They will let you use them if you ask. Do not go behind bushes or throw used toilet paper outside. Most indoor toilets have a bucket for putting in used toilet paper. It's important to do this because all waste ends up in large pits underground and unfortunately many seep into the river system. Paper is usually burnt.
Other Amenities at Tea House
You need to pay for hot showers on the Everest Base Camp trek. The cost of hot showers is about $1-3$, which changes by altitude.
You need to spend $2-3 per hour to charge your electronic devices. Luckily, if you have a plugin in your room, you can charge your device free of charge.
You can purchase a prepaid SIM card with mobile data for connectivity. Ncell provides 3G high-speed internet in the Everest region. There are also Wi-Fi facilities along with the lower Teahouses in the Everest Base Camp trail, which cost about $3-$5 per hour.
Accommodation of Major Places During the Everest Base Camp Trek
Kathmandu
Kathmandu is the city where your journey to Nepal begins. There is a wide variety available for accommodation- budget to luxurious five-star hotels. You can also find a wide range of cuisines at varied prices in these accommodation facilities. There are also numerous restaurants, pubs, and cafes. These offer anything from western or other world cuisines.
Lukla
Lukla is the start and endpoint for most treks to the Everest Region including the EBC trek. Most trekkers usually take a flight to and from Lukla to Kathmandu. The Kathmandu to Lukla flight normally arrives in the morning. Hence, very few people stay their first night in Lukla.
The majority prefer to get on the trail straight away, and head to Phakding or Namche. Trekkers usually stay here on their way back from EBC. Trekkers also may end up staying here when or if the flights are canceled due to the bad weather.
There are plenty, and the accommodation is usually better than the ones in the higher altitudes. There are also some very good hotels to stay in, although they are a little more expensive than the lodges. Most of the facilities have landscaped lawns, balcony rooms, patio dining for their guests, and a hot shower. The hotels here offer rooms from where you'll get a direct, jaw-dropping view of the highest peaks.
Being the trailhead for the EBC trek, Lukla has the first of the imported goods and foods that come to the Khumbu region. These imported goods and foods are then transported to the rest of the Everest Region.
Hence, you will find the meals to be good and fresh at a very reasonable price. You can get almost anything here. The menu includes everything from curry to pizza, as well as the local dishes. You also might be able to hire porters and guides from here if you have not done so already.
Phakding
Phakding lies between Lukla and Namche Bazaar.  For many trekkers, this is the place of their first overnight stay on the EBC trek. It only takes 3 to 4 hours to walk from Lukla. Hence, most trekkers make their way to Phakding on the same day.
Phakding has sufficient hotels with plenty of choices on both sides of the river.For those with more budget and looking for more comfort, Yeti Mountain Home is an option.The food here is comparable to that in Lukla and is just as reasonably priced.
Namche Bazaar
Namche Bazaar is the biggest commercial town in the Everest Region. It is famous all over the world thanks to Everest summiteers.
More than 90% of the trekkers passing through the Everest Region end up spending 2-3 nights in Namche.These include two days on the way up (one extra night to acclimatize) and one on the way back.
Hence, there is an abundance of hotels and tea houses, around 50 in fact. This wide range leads to a wide range of prices- basic to deluxe. Namche is home to the highest altitude 5-star hotel in the world- Everest View Hotel. There are other sophisticated hotels in addition to this. Above Namche, accommodations become more basic.
The option for food and drinks is also wide here. You can find local and some of the popular international cuisine here. This includes continental, Korean, Chinese, and Italian among others. Namche is famous for its bakeries and cafes as well. Here, you can have tea, freshly brewed coffee, and pastries.
Tengboche
There are only a few teahouses with basic facilities here. In the popular trekking seasons of Spring and Autumn, you may have to book in advance to get a decent room.
Tengboche Monastery (3,867m)- the largest monastery in the Everest Region lies here. Many trekkers choose to attend morning prayer there. You can get spectacular, panoramic views of the mountains from the monastery.
There are several small cafes in Tengboche as well. The food is a little more expensive than in the lower villages. The choices also decrease from hereon up.You can still find pizza in some lodges at slightly increased prices.
Dingboche
Dingboche(4,400m) is another place where most trekkers spend at least one day for acclimatization reasons. This place also has a few lodges with basic accommodation facilities. Most of the tea houses here are an extension of the family's home. So if the tea houses are too crowded, you might have to share a room with the family members.
Pheriche
Pheriche is situated in the northern part of Dingboche. There are some basic teahouses here. There is also a small health post/rudimentary hospital operated under HRA (Himalayan Rescue Association).
While trekking back from EBC, trekkers spend an overnight here. There are no trees this high in the valley; there are small, tough grasses and other tundra vegetation. Hence, you can get great views of the nearby mountains.
Dughla
Duglha or Thukla is another one of the nicer places to stop for the night on treks to EBC. It has a dozen or so lodges that are very basic. The families that run the teahouses live in it as well. The food is basic as well. There are only a few western dishes and many varieties of Dal Bhat.
Lobuche
Lobuche is basically a village of hotels. There are a few high-end hotels here. Besides these, accommodation here is quite basic and can be hard to find in the peak season. For campers, there is a camping area to the southwest of Lobuche.
Trekkers with tents also have an extra option here. They can stay at tent-hotels in the camping area in the peak seasons. They cater to all kinds of trekkers and climbers. Many of the basic lodges are known to be notoriously primitive, consisting mostly of stone huts with shared bunk dormitories.Some of the high-end tea houses provide oxygen service and internet as well.Food in Lobuche is getting better with the increase in the number of trekkers staying here.
Gorak Shep
Gorak Shep is the last human settlement of the EBC Trek. It lies just below the notorious Khumbu Icefall. It was the Base Camp for Everest till the 1950s.
It has five lodges or hotels. The accommodation is very basic. If there are a huge number of trekkers or people, you may have to share a room with other trekkers or have to sleep in the dining room. The dining room is warmer until the fire dies down.
It is the last outpost or stopping point for everyone who goes to EBC and Everest.
The food, however, is better here than in many places along the trail. You can find old favorites like pizza rolls and chicken curry on the menu. Prices, however, are not the same this high up the mountain. The meals are much more expensive than anywhere else on the trail.
Are you Planing to Trekking  to Everest base camp?
Call us get more information: +9779841273869
One Comment to "Accommodation in Everest Base camp Trek"