Kalinchok Hike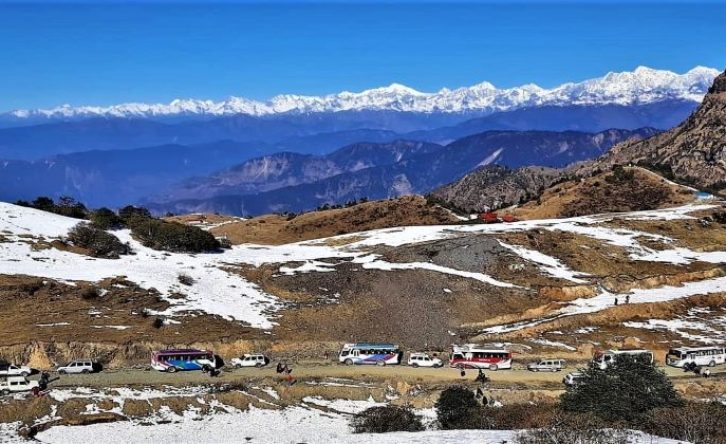 Trip Facts
Best Time
December / March
Overview
Are you free for a week or less and are trying to escape the urban lifestyle and enjoy the beauty of nature? Think no more than the Kalinchowk Hike. This is one of the best options if you are searching for a perfect destination for a quick break from your daily life.
Kalinchowk is a beautiful hill station and a highly visited tourist spot. A lot of people, both national and international, come to visit this hotspot every year. Besides, this place is primarily full of Hindu devotees.
Now let's talk about the location of Kalichowk. To reach Kalinchowk, you must drive 150 kilometers to the northeast of Kathmandu, the capital city of Nepal. In addition, this superb location is situated at an altitude of 3842m.
One of the most fantastic facts about Kalinchowk is that it gives you an outstanding view of several mountains, such as Jugal Himal, Gauri Shankar, Ganesh Himal, Langtang Himal, Dorje Lakpa, and many more. Therefore, many consider this hiking spot the closest point to Kathmandu to get the most intimate and transparent view of the Himalayas.
As Kalinchowk is located in Charikot, Dolakha, a direct local bus is available from Kathmandu. However, you can also rent a vehicle for a private trip. Remember that you will reach Kalinchowk from Kathmandu in just four hours. However, this will undoubtedly be one of the best four hours you will spend in a bus or private vehicle.
Once you reach Charikot, you will get off the vehicle and start the hike, lasting 5-6 hours until you reach Kuri village. During this walk, you will encounter several flora and fauna. We assure you that the views and sights you will visualize during the walk will help you stay calm, keep moving forward with strength, and reach Kuri village without many difficulties.
Kuri village is the checkpoint of the Kalinchowk hike, and it is full of several lodges and tea houses where the hikers can rest after a long walk for almost a quarter of the day. Also, you will be glad to know that the Kalinchowk Bhagwati temple is just one hour far from Kuri village.
Once you reach Kuri village, all your complex works and tireless walks have taken you to your destination. From Kuri village, the hikers will ascend to the Kalinchowk hill summit at 3790m. Besides, this is also the location of the Kalinchowk Bhagwati temple, where many Hindu pilgrimages worship with great devotees.
Therefore, if you follow Hinduism, this trek can let you experience a great escape from the urbanized and busy life and takes you under the shadow of god, where you can forget all your pains and sorrows and experience religious freedom and pleasure along with the sights of Himalayas. Also, we recommend you wake up early in the morning to see one of the most mesmerizing sunrise views early in the morning.
Did the overview section excite you to go for the Kalinchowk hike and Kalinchowk Bhagwati "Darsan"? We are sure it did, but wait! We still have some highlights about this location and its specialties to excite you.
Highlights of the Kalinchok  Hike
The mind blowing sights of the snow-capped mountains include Langtang Himal, Ganesh Himal, Gauri Shankar, and a few more.
A chance to experience the holiness of the Kalinchowk Bhagwati and meet many pilgrims visiting the temple.
The snow-covered Kuri village, its locals, and their culture and tradition. Furthermore, you also get to experience the warm and heart whelming welcome and hospitality offered by the locals of that area.
A short break from the daily routine and into the warm and beautiful hug of nature and its beauty.
Trip Itinerary
Cost Inculde / Exclude
What's include
Meals:  3 meals a day during the trek  (Breakfast, Lunch and Dinner)
Necessary Permit

Transpiration by Private Car / Jeep

All Lodge / tea house accommodation
Trekking Guide: An experienced, English speaking Trekking guide , Including his insurance, meals, accommodation and well paid salary.
All government taxes.
Service charge.
What's excluded
Personal Travel Insurance and also Rescue evacuation in case of emergency
All the bar bills like coke, beer, bottle of water, hot water etc.
Tips (expected)