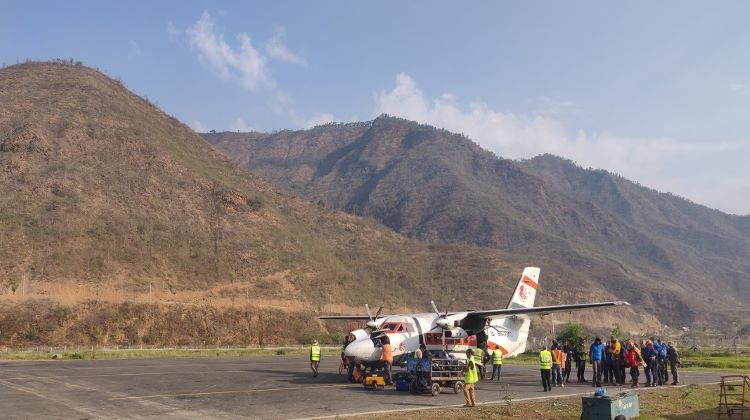 Lukla(2,800m) is the gateway to Everest or Khumbu Region, the home of towering peaks, famous trekking trails like Everest Base Camp Trek, Everest Three Passes Trek, and Gokyo Lake trek, and many other expeditions start from Lukla.  Lukla flights are diverted from the Manthali Airport, Ramchechap  due to the high volume of flights from Kathmandu during the months of Spring and Autumn.
However, in other months, Kathmandu Airport has daily direct flights to Lukla Airport. The country's civil authority body, the Civil Aviation Authority of Nepal(CAAN), has made the changes. It was applicable from October 1, 2022. The governing body has to divert the Lukla flights to Manthali Airport, Ramechhap, which is around 130 km from Kathmandu.
Yet, the divert will only be applicable for some months only. There will be regular Lukla flights from Kathmandu during  Winter and Monsoon. Winter(December to February) and Monsoon(June to August) are quieter times to visit Everest Region than Autumn and Spring. There is no need for 30 flights daily to Everest Region in low times like in high times. Hence, the divert to Ramechap applies only to Autumn and Spring. At other times, you can fly to Lukla straight from Kathmandu.
Why is Ramechhap Manthali  Airport the best alternative to Kathmandu Airport for Lukla Flights?



Firstly, the air duration of Lukla flight from Ramechap is just 12 minutes. The Kathmandu-Lukla flight takes around 25 to 30 minutes. So it is a quicker option. Secondly, we can reach Ramechhap Airport in just 4 to 5 hours of a scenic drive. The drive duration to get to Ramechap is shorter.
Why are Lukla flights being diverted to Manthali Airport Ramechhap?
CAAN took this decision solely to lower the traffic at Tribhuvan Airport(Kathmandu), an international airport. In peak seasons like Autumn and Spring, Nepal is full of tourists. During peak seasons, around 30 flights to Lukla from Tribhuvan Airport are too routine. That is only for the Everest Region. What are the numbers for other places? Just wonder.
FYI, Kathmandu Airport is Nepal's go-to airport for international and domestic flights. It remains busy all the time.  And those massive daily flights only to Lukla can make it difficult for Tribhuvan Airport to manage the heavy traffic. For this reason, CAAN has to come up with the decision.
When is Lukla Flight Divert to Manthali, Ramechhap?
The Lukla flight will happen from Manthali, Ramechhap during peak times only. More specifically, the flight from Ramechhap to Lukla is from late September to early December and from March to the end of May.
Late September to early December is Autumn in Nepal, a high time to visit Everest Region. Likewise, March to May is Spring, yet another popular time to do Everest adventures. So if you are visiting Everest Region in Autumn and Spring, you must reach Manthali or a flight to Lukla. There will be no flights to Lukla from Kathmandu during this time.
When is the direct flight to Lukla from Kathmandu?
As said earlier, you can take the direct flight to Lukla from Kathmandu in Winter and Monsoon months. Later December to February is Winter in Nepal. Due to cold weather, only a few travelers come to Nepal for Everest Region. As a result, the crowd is low and fewer flights can meet the demand. Unlike Autumn or Spring, there is no need for 30 flights every day. There will be direct flights to Lukla from Kathmandu in such a short time.
Similarly, the direct flight to Lukla from Kathmandu will be available in the Monsoon months. June, July, and August are the months of Monsoon. The rainy and cloudy season decreases the number of Everest visitors. Hence, due to low traffic, it becomes easy to operate the Lukla flight from Kathmandu instead of Ramechhap Airport.
Therefore besides Autumn and Spring months, Kathmandu Airport will aid Lukla flights.
How will the Lukla flight divert to Manthali Airport affect Everest Region expeditions?
Ramechap, or Manthali Airport, is precisely 140 km away from Kathmandu. It takes a drive of 4-5 hours to reach Ramechhap from Kathmandu.
An early morning drive to Ramechhap Airport. We can catch early flights to Lukla from Ramechhap Airport if we reach Ramechap in time. For that, we must leave Kathmandu around 2 or 3 am.
This diversion will not significantly affect our Everest Region treks if we can do that. We will complete our trip in time. It will not add any extra days. However, we will lengthen our journey one day if we cannot.
How Long will Lukla Flight divert to Manthali Airport stand?
The trend of diverting Lukla flights to Ramechhap Airport has been happening since 2019. So the practice will continue for a while. In only one case, it will happen when Tribhuvan Airport, the busiest airport in the country, can manage the heavy traffic. It is not possible anytime soon. Hence, we must go by the rules and decisions the authorities make. And let's hope that the responsible people do exercises to manage regular Lukla flights throughout the year from Kathmandu again.
Why booking with us ?
Fully Locally Owned Company
Quality Of Service and Competitive price
Highly Professional Staff
Flexible and customization trip itinerary
100% Customer satisfaction
Need help?
Nepal: 00977-9841273869
whatsapp
: 00977-9841273869
24 hour customer service