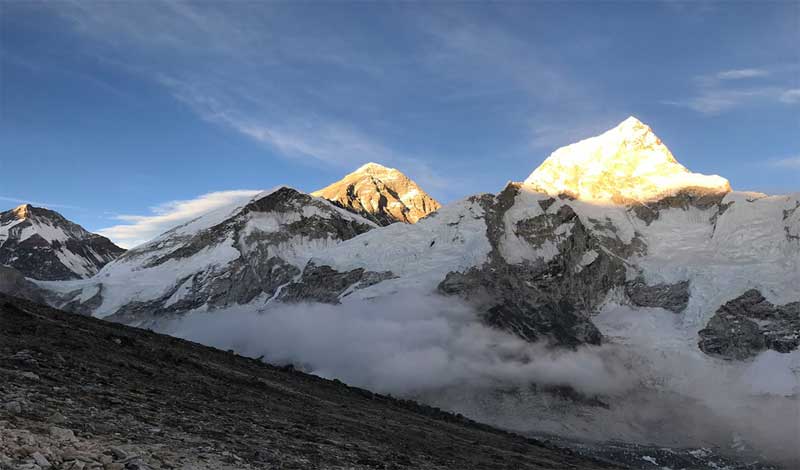 Kala Patthar, ( A best Mt Everest view point)  Every year Thousand of people hike to kalapatthar for Mt Everest Sunrise and Sun Set view.  Kala Patthar   is also known as ' Black Stone' is a well-famed landmark in the Khumbu region of Nepal. It is also one of the main highlights of the Everest region due to the fantastic panoramic view it provides from the top. Kala Patthar is not an actual mountain since it has a prominence of only 10m. However, it is the highest point you can venture during the Everest treks without any climbing permit.
Kala Patther Situated at an elevation of 5,643m, it lies close to the Everest Base Camp. The site also provides a fantastic 360-degree panoramic view of the Mahanalgnur Himalayan Range. Tha significant summits visible from here are Nuptse, Changtse, and Everest. However, the summit of Everest is not visible due to the structure of Everest massif which Mt Nuptse blocks.
Geographic Location
Kala Patthar lies at the southern ridge of Mt Pulmori of the Mahalnagur Himalayan Range. It lies just above Gorakshep and 9.3 kms away from the base camp. According to the GPS survey the site perches at the co-ordinates 27°59.750'N, 86°49.705'E and at an altitude of 5,643m. The site usually features in the traditional Everest Base Camp trek.
How to get to Kala Patthar?
Helicopter Tours From Kathmandu / Lukla
The helicopter tours are generally for people who have limited time or want to opt for the trip in complete luxury. These helicopter tours typically commence from Kathmandu or Lukla. They start early in the morning and conclude by noon.
The flight commences by exiting the verdant hills of Kathmandu into Lukla where it stops for a short refueling process. Then, it further continues towards Kala Patthar passing through the well-famed settlements of Pangboche, Dingboche, and Tengboche.
An average flight from Kathmandu can cost up to 1000 USD or more and can hold up to a maximum of 5 in-flight passengers. Although expensive, these short trips allow you to travel in full amenity and luxury!
Kala Patthar Trekking
The trekking route is the most widely preferred way of visiting Kala Patthar. Most of the tourists visiting Kala Patthar are on their way to Everest base camp. The venture starts with a short flight from Kathmandu to Lukla from where the trek commences. You pass through Namche Baazar, Tengboche, Dingboche and Pangboche eventually into Gorak Shep. A few hours of walk from Gorak Shep eventually leads you into Kala Patthar.
You can also opt for trekking from Jiri, which was the well-preferred route way before Lukla airstrip was present. The route is a little longer and time-consuming. However, it eventually joins the conventional EBC trekking route. Many tour operators organize the trekking packages which include a visit to Kala Patthar. They usually cost from 1600 USD onwards.
Major Attractions Around Kala Patthar
360-degree panoramic view of the mountains
Kala Patthar is famous for its magnificent 360-degree panoramic view of the towering peaks. These are mainly Nuptse, Changtse, and Everest. The giant Nuptse, however, blocks the summit of Mt Everest. The best time to visit Kala Patthar is during the day. If you do so, you can view the glorious sight of the sun setting down through the mountains!
Climates and Temperatures Of Kala Patthar
Lying at an altitude above 5000m and with such proximity to the Himalayas, Gorak Shep has very unpredictable weather that can change in the blink of an eye. Thus it is best to travel during the favorable seasons. The most favorable seasons remain the autumn and spring seasons. During these times, the skies are much more transparent, blessing you with a crisper and sharper view of the mountains.
The average temperatures during the winter retain around -17 degrees Celsius, which is the coldest time of the year. During the day these numbers spike up to -5 degrees. On the other hand during the summer seasons, temperatures climb up to 22 degrees during the day falling to around -5 degrees during the night time. Also, occasional heavy winds contribute to an even more, colder climate.
Cultures and Traditions around Kala Patthar
Sherpas normally habituate the areas around Kala Patthar. They follow a strict Buddhist culture with numerous monasteries built all around. The main villages such as Tengboche, Dingboche, and Pangboche also celebrate various Buddhist festivals with the Mani Rimdu festival being the most prominent one.
The traditions of the Sherpas here are highly influenced by the Tibetan culture. Many people still even speak the native Tibetan Language! Despite some differences, all the people residing are quite warm in hospitality and are always happy to welcome you with a smile!
Altitude Sickness In Kala Patthar
Since Kala Patthar lies at a quite lofty altitude, there are chances of falling prey to altitude sickness. This can occur if you fail to acclimatize properly. Thus always take a few rest days to acclimatize your body to the surroundings. Most itineraries developed nowadays include two or more acclimatization days. This reduces the chances of getting AMS (Altitude Mountain Sickness).
Another way to avoid altitude sickness is to stay hydrated. It energizes your body and also creates lesser chances of catching AMS. You can also carry Diamox or Ibuprofen tablets to help speed acclimatization.
However, if you still feel some signs of altitude sickness despite taking all the necessary precautions, do not hesitate to tell your guide who will take the required actions. If the illness develops badly, you will have to travel back to a safer location for treatment.
Final Say,
For people looking to have a much clearer and broader view of Mount Everest, there is no place better than Kala Patthar! Despite some obstacles, the site offers you with the finest scenery that you can never get out of your head! So next time you visit the Everest region be sure to put Kala Patthar in your to-do list!
Why booking with us ?
Fully Locally Owned Company
Quality Of Service and Competitive price
Highly Professional Staff
Flexible and customization trip itinerary
100% Customer satisfaction
Need help?
Nepal: 00977-9841273869
whatsapp
: 00977-9841273869
24 hour customer service