Poon hill and Muldai Peak Trek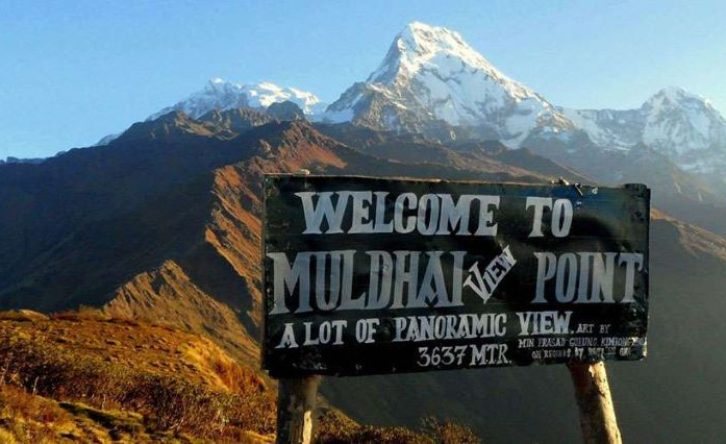 Trip Facts
Best Time
October / November and April / May
Overview
Nepal, a land of majestic Himalayas and rich cultural heritage, offers a plethora of trekking options for adventure enthusiasts. While the famous treks like Everest Base Camp Trek and Annapurna Circuit Trek are well-known among trekkers, there are also hidden gems waiting to be explored. One such hidden treasure is the Poon Hill & Muldai Trek, which combines two beautiful viewpoints in the Annapurna region – Poon Hill and Muldai. Herein, we will take you on a virtual journey to these breathtaking viewpoints, providing you with all the information you need to plan your own adventure.
Amongst some of easy treks in Nepal is Poonhill & Muldai Trek which traverses alongside astounding Himalayan vista of Annapurna range. This treks range of elevation and easy-going ascent makes it popular among beginner trekkers. Poonhill-Muldai Trek takes on charming villages, lush forests, and panoramic landscapes in foothills of Annapurna Panorama.
The Poon Hill & Muldai Trek is a truly captivating and accessible adventure that presents an incredible opportunity to witness the awe-inspiring grandeur of the Himalayan range within the Annapurna region of Nepal. Renowned for its remarkable beauty and diverse landscapes, this trek is an ideal choice for both seasoned trekkers seeking a memorable experience and beginners eager to embark on their first Himalayan adventure.
Like most treks in the Annapurna region, this trek begins from the submissive city of Pokhara. Traversing through a series of picturesque villages, each characterized by their unique cultural heritage and warm hospitality, you'll have the chance to immerse yourself in the unspoiled traditional lifestyles of the local inhabitants. From the intricately designed houses to the vibrant festivals and daily rituals, every step along the trail reveals glimpses of Nepal's rich and storied past.
Poonhill has long been a most sought after space for gazing at the amazing Himalayan grandeur. Stationed at 3200 meters, view from this vantage point is simply alluring. Muldai viewpoint is stationed at 3637 meters which is a merely 400 meters above Poonhill trek. Apart from being easy, this is also considered one of the short treks in Nepal. Spanning at most 8 days to and from Kathmandu, this is a perfect trek for those who are constrained by time and budget too.
Highlights of the Trek
Gaze at Annapurna Vista from Poonhill and Muldai viewpoint
Immerse in Gurung and Magar culture of Annapurna Foothills
Early morning sunrise view from Poonhill
Amazing Himalayan journey
Short and Easy going trek
Explore the bustling Pokhara City
Best Time to Trek
The Poon Hill & Muldai Trek can be done throughout the year, but the best time to undertake this adventure is during the spring (March to May) and autumn (September to November) seasons. During these months, the weather is generally clear, and the views of the mountains are at their best.
Check our blog Best time to trek in Nepal, for more information on choosing the most suitable time for your Nepal trek.
Difficulty of Poohill -Muldai Trek
Compared to other treks in Nepal, Poonhill-Muldai Trek is considered relatively easy. The trail to Poonhill and Muldai viewpoint are dotted with small villages of Gurung and Magars. The elevation reaches a maximum of 3637 meters at Muldai viewpoint. Apart from these, it is easily accessible by vehicle and short trek which makes it equally feasible for any age group of people.
Weather and Temperature in Poonhill-Muldai Trek
Nepal is a destination that is favourable for trekking round the year. Trekking in Annapurna region can be difficult or moderate based on the time and season of your choosing. Nepal experience 4 major seasons: Autumn (Sept-Nov), Spring ( March- May), Winter (Dec-Feb), Summer(June-Aug).
Poonhill-Muldai Trek in Autumn:
Autumn in Nepal is clear and calm. Autumn season begins from September and lasts till the end of November. As considered by many, this time of the year is best for trekking the himalayas. Right after the harsh winter, Autumn bestows with clear skies, blooming flora, lush green forest and moderate temperature. The temperature in Poonhill Muldai Trek is pleasant and stable during the Autumn time. The temperatures tend to be mild during the day and cool during the nights, but it can vary depending on the altitude.
Lower Altitude (around 1,000 meters): During the day, temperatures can range from 20°C to 25°C (68°F to 77°F), while at night, temperatures may drop to around 10°C to 15°C (50°F to 59°F).
Higher Altitude (above 2,000 meters): During the day, temperatures typically range from 15°C to 20°C (59°F to 68°F), and at night, temperatures can drop to 5°C to 10°C (41°F to 50°F).
Poonhill-Muldai Trek in Spring:
From March to May, Nepal's spring season offers an ideal time for trekking enthusiasts to explore the stunning landscapes and diverse ecosystems of the Himalayas.
As winter recedes, the weather becomes milder, and the days gradually become longer, creating a perfect environment for outdoor activities. The blooming rhododendron forests add vibrant colors to the hillsides, creating picturesque scenery that delights trekkers. The temperature begins to rise, making the trekking trails more accessible and enjoyable.
During spring, the lower altitudes of Nepal experience pleasant daytime temperatures ranging from 15°C to 25°C (59°F to 77°F), providing a comfortable trekking environment. At higher altitudes, temperatures can be cooler, ranging from 5°C to 15°C (41°F to 59°F), necessitating appropriate layering of clothing.
Poonhill-Muldai Trek in Winter:
Winter in Nepal can be characterized by dry and cold days. It begins from end of November and lasts till the end of February. The region nearby Himalayan belt receives heavy snowfall during the winter making it difficult to access. As the elevation mark reaches a mere 3637 meters during Poonhill-Muldai Trek, winter trek can be arranged.  That being said, it is advised that you prepare accordingly for cold and harsh winter during the time. Temperature of Poonhill Muldai trek in winter:
Lower Altitude (Upto 1,000 meters): During the day, temperatures can range from 10°C to 15°C (50°F to 59°F). At night, temperatures can drop to around 0°C to 5°C (32°F to 41°F).
Higher Altitude (Above 2,000 meters): During the day, temperatures typically range from 5°C to 10°C (41°F to 50°F). However, at higher elevations, temperatures can drop significantly. During the nights, temperatures can fall below freezing, ranging from -5°C to 0°C (23°F to 32°F) or even lower, depending on the specific location and weather conditions.
Poonhill-Muldai Trek in Summer:
Nepal experiences the monsoon season during summer, characterised by heavy rainfall and increased humidity. The weather can be unpredictable, with rain showers occurring frequently, especially in the afternoons and evenings. The temperature in lower altitudes ranges from 20°C to 30°C (68°F to 86°F), while at higher altitudes, it can range from 10°C to 20°C (50°F to 68°F).
Despite the rain, one of the advantages of Poonhill Muldai trekking during summer is the lush greenery and vibrant landscapes. Summer is considered the off-peak season for trekking in Nepal due to the monsoon. This means that popular trekking routes tend to be less crowded compared to the peak seasons.
Trip Itinerary
Cost Include / Exclude
What's include
Airport transfer (Airport – Hotel – Airport) by private vehicle
 2 Nights  3 Star  Hotel in Kathmandu and Pokhara Including Breakfast
 Transportation – Kathmandu to Pokhara  / Kathmandu Flight ticket
Full board meals on the trek  (Breakfast, Lunch and Dinner)
Hot Drinks : Tea / Coffee
 All Trekking Permit and necessary Paperwork
All accommodations in lodges/tea houses during the trek.
 Trekking Guide :An experienced, helpful and good English Speaking Guide.
Trekking Porters: Carry your luggage ( One porter for 2 members) No Porter for Solo trekkers
Company T-shirt and Trekking map
Medical supplies (first aid kit will be available)
All government taxes and service charge.
welcome  dinner
What's excluded
International airfare and Nepal entry visa fee
 Travel   insurance.
Lunch and dinner in Kathmandu and Pokhhara.
All the Bar bills and personal expenses (phone call, laundry service, battery recharge,
All kinds of drinks, Hot Shower, WI-FI
Tips