ABC Trekking, Solo Trekkers With Adventure Great Himalaya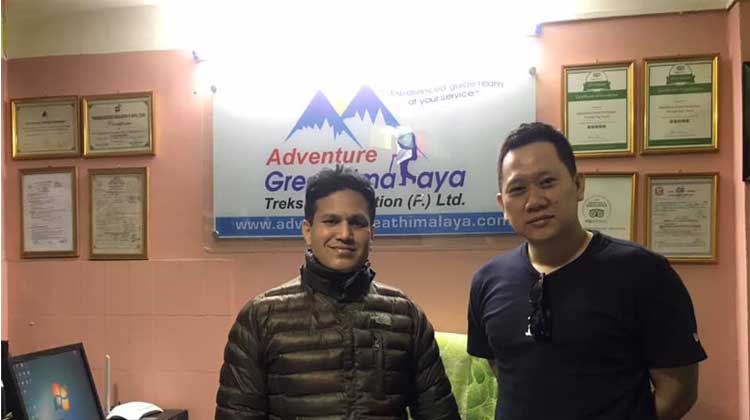 This time it was my first trip to trekking in Nepal, I was worried about many things.
But Babu's team has very good care, starting from the airport pick up, take me to exchange money, buy a SIM card. BaBu has explained about trekking schedule very clear, and advises me to not have to exchange money more than necessary.
This time I chose to move to Pokhara by used the domestic flight of Nepal.
Babu arrange me a flight and Taxi to pick me up from airport to the hotel, so it made me felt very comfortable during traveled. And the driver come to pick me up always on time.
The day before trekking to ABC, the guide came to the hotel to introduce himself and explain about route for trekking and necessary equipment also. His name is Ram Which the person who will be both to be guide and the Porter for me this time.
Ram is a funny person and has a good knowledge of trekking ABC routes. My body conditions is not good enough for ABC trekking. Therefore, Ram trying to save as much energy as possible to make me walk up to the goal that ABC has achieved. Ram will always ask about my condition and switch to rest to maintain my physical condition. Throughout the trekking the Babu team will take care all meals and accommodation expenses. There will be only water and miscellaneous items that we have to pay for ourselves made the cost management is as planned.
This time I chose to go for trekking at the end of December. The weather is very cold enough when we arrived to the Chomrong area. The weather is obviously cold. Combined with the accumulated fatigue, my condition began to worsen. I couldn't start eating, feeling tired faster and couldn't sleep. When entering the 5th day of trekking, the weather became noticeably cold. The temperature in the morning begins to be minus degree. But the weather outside it was so sunny made my body's warm, so we decided to continue trekking. We decided to walk from Chomrong to MBC, but when we arrived at MBC, the weather changed very quickly. At night, the air was negative to -18 degrees. My body was chilling, even covering two layers of blankets.
The meals that was prepared for me was not able to eat at all. Drink only milk. And began to feel a severe headache. Therefore, I tried to coordinate to Babu to help. After that Babu tried to find a helicopter for me to return back. But the cost is very high so BaBu suggested me to walk up to sleep on ABC one night so that while they will trying to find a shared helicopter with other customers, the rental price would be cheaper. In the next day I tried to walk up to ABC in the morning. I received good news from Babu that he can find a helicopter to share with other customers, so I sleep one night on ABC and get a helicopter back for 250 USD price.
After return back from Pokhara, Babu organised a trip for me to travel to Kathmandu for one day trip by providing both cars and guides at a special price. There is a good team work between the guide and the driver. Making me able to travel to Nepal, including Monkey Temple, Patan Durber Square, Thamel, just a half day trip.
For those who are thinking of traveling to Trekking on ABC, I recommend that you try to fit your body well. And if you wish to travel in the winter Should carry the equipment to make warm appropriately. So you will walk up ABC for safely.
If you think about travel in Nepal I highly recommend Adventure Great Himalaya Teams!
Wish you all success and happiness in traveling.
Show less
warauhoshi
Bangkok, Thailand
Why booking with us ?
Fully Locally Owned Company
Quality Of Service and Competitive price
Highly Professional Staff
Flexible and customization trip itinerary
100% Customer satisfaction
Need help?
Nepal: 00977-9841273869
whatsapp
: 00977-9841273869
24 hour customer service