Everest Panorama Trekking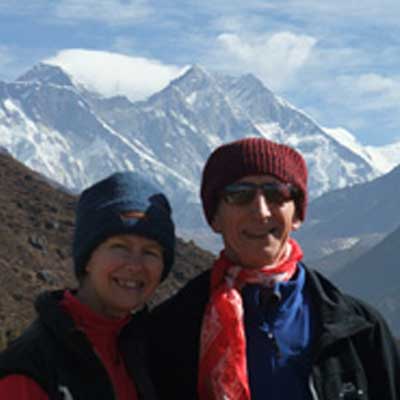 To all those wishing to trek in the Himalaya
I would like to recommend the services of Adventure Great Himalaya Treks and Expedition Company. In February this year, my husband and I fulfilled a lifetime ambition to trek in the Everest region of the Himalaya. Our daughter was living in Kathmandu at the time and suggested we use Adventure Great Himalaya to organise our trek. Local knowledge is a great thing, as we were to discover. Kathmandu has many such companies offering similar services at variable costs.
Prior to leaving for Nepal Mr Babu Karki, the Managing Director, contacted us by email, advising us on kit, medicines and how to prepare for the trek. He gave us route options, suited to our age, fitness and interests. We finally decided on the Everest Panorama, a seven-day trek taking us from Lukla to Namche Bazaar and Tengboche.
From there on Mr Karki organised everything, flights to and from Lukla, permits, porter services, accommodation en route. He was our guide for the trek. His credentials were excellent, having worked his way up from porter to guide over 12 years, and finally, to management of expeditions. His knowledge and experience of the mountains and trekking, combined with his friendly manner, contributed significantly to the thrill and enjoyment we experienced on this life-changing trip to the top of the world. It was comforting to have a guide who was so obviously respected by other porters and guides on the mountains. When difficulties arose with another trekking party, Mr Karki was consulted and provided advice on the appropriate action to take. All along the way he ensured our needs were met and that we achieved success.
Mr Karki's company has a team of experienced guides and offers a range of trekking experiences, which can be tailored to meet individual needs. His company also offers other types of activities. He organised our jungle safari to Chitwan National Park, which was a fantastic experience and an excellent contrast to our Himalayan trek. So if you are looking for a reliable, responsible trekking company in Nepal which offers good value for money, I would recommend you look no further than Adventure Great Himalaya with Babu Karki and his team.
Should you wish further information about our trek you can contact me at fionashearer689@btinternet.com
Why booking with us ?
Fully Locally Owned Company
Quality Of Service and Competitive price
Highly Professional Staff
Flexible and customization trip itinerary
100% Customer satisfaction
Need help?
UK: 1803328214
Thai: 081-5546979
Nepal: 00977-9841273869
24 hour customer service