Royal Trekking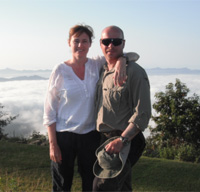 Having searched the internet to organize an advance booking for our holiday we came across the Great Himalayan Trekking website. I liked the look of the information and the apparent flexibility that was allowed with regard to how you wanted to plan and carry out your holiday.
All email contact in advance was responded to quickly, informative and helpful. On arrival we were met by Babu the company's owner who showed us a warm welcome which set the scene for the entire trip.
We did the Royal Trek – we loved it and the support we received from the company was great – at no point did we have any worries or concerns and we really could not have asked for any more. Arjun our guide was a great chap and he insisted that we operate as one family for the duration of our time – this we did and it worked very well….
We also organized white water rafting, an internal flight and accommodation via the company, all of which went to plan.
All I would say is that we wished we had selected a trek that was longer and more challenging, as the Royal trek can be carried out in 2 days. We would have preferred a trek over a 5 day period that took us to a higher altitude and with closer access to the mountains. But this was our choice and no reflection upon the company. Personally speaking Poonhill trek would have been a better choice.
We hope to return to Nepal later this year to carry out the Everest base camp trek and of course will be using Adventure Great Himalayan Trekking again. We have requested Arjun be our guide.
I have no hesitation in recommending this company to you – feel free to email me should you have any further question.
Name: Elizabeth and Jim McGhee
Country: Australia
Email: lizbuff322@hotmail.com
Trip Feed Back: Royal Trekking
Why booking with us ?
Fully Locally Owned Company
Quality Of Service and Competitive price
Highly Professional Staff
Flexible and customization trip itinerary
100% Customer satisfaction
Need help?
UK: 1803328214
Thai: 081-5546979
Nepal: 00977-9841273869
24 hour customer service