The circular Manaslu trekking is a great Himalayan trek that takes you to the base of Mt. Manaslu. Being a remote trek, this trek offers you the less trodden, untouched, and unspoiled trails in Manaslu. Also, you will have chances to witness the basic Tibetan Buddhist lifestyles of good-hearted locals.
Larkya La, the longest pass in Nepal is an attraction of trekking in Manaslu. Reaching the pinnacle of the pass is hard. But the astounding Himalayan views of high Himalayas are worth it. Every moment at Manaslu trek is a breathtaking experience. You will see gigantic Annapurna Himal, Ganesh Himal, and Mt. Manaslu.  
The trek is rich in nature and culture. Trekking from the lower altitudes to higher altitudes, you will witness a wide range of biodiversity and wildlife. Also, you will see the changes in topography, weather, and temperature as well.
The villages in Manaslu are peaceful and quite. The practices of Buddhism is displayed by the stupas, monasteries, chortens, prayer wheels, and prayer flags en route. You will see the colorful prayer flags fluttering in the strong cold wind at the top of Larkya La pass also.
The best time of year for Manaslu Circuit trekking is in Autumn (September, October, and November) and in Spring (March, April, and May). This trek route is the best option to avoid the busy trekking trails of Everest and Annapurna during peak seasons.  
There are numerous reasons for you to do Manaslu Circuit trek. Trust me, you will love the moments with us. Here are some of the reasons why you should go on Manaslu Circuit Trek. Have a look:
1. Sceneries and Himalayas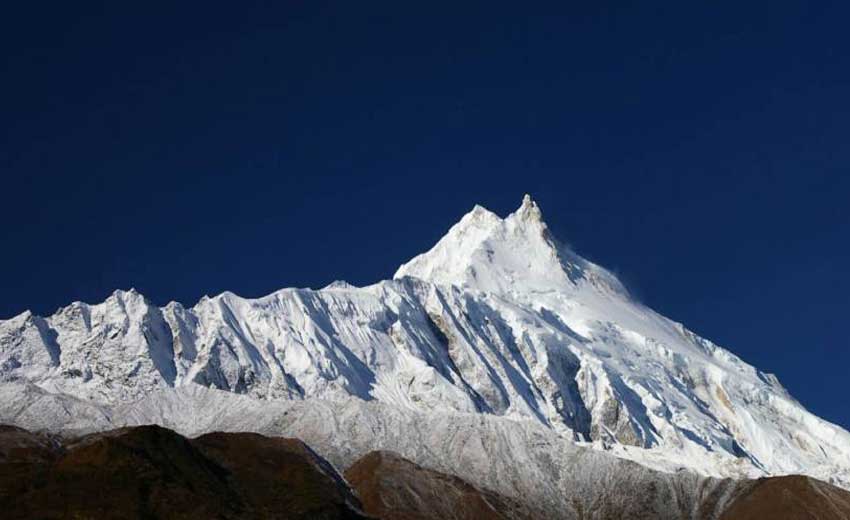 Manaslu trek is one of the attractive Himalayan treks in Nepal. On gaining altitude during this trek, one can see impressive views of magical snow covered Himalayan peaks. You can enjoy the excellent panoramas of the dramatic Himalayas during your Manaslu trek.
The trek route blesses the trekkers with beautiful sights of astounding Himalayas including Himalchuli (7,893m), Manaslu (8163m), Shringi(7,187m), Ganesh Himal, Ngadi Chuli (7,879m), Himlung Himal (7,125m), Cheo Himal (6,820m), Kang Guru (6,981m) and Annapurna II (7,939m), Larkya Peak (6250m) and Manaslu (8163m).
The magnificent sceneries during the trek vary with altitudinal variations. On the lower regions, one can rejoice exotic wilderness along with extensive vegetation. Walking through the amazing mountain sceneries, diverse landscape is a beautiful experience. You can see the variations in the ecosystems as you will start trekking through river banks of Budhi Gandaki river, to lush jungles, to the alpine vegetation around Larkya La.
The mesmerizing sceneries at lower regions and striking panoramas of the Himalayas at higher elevations make perfect pair of beauty. You will be super thrilled to trek through the scenic Himalayas over the foot of dashing Himalayas during this trek.
2. Larkya La Pass- Cross 5125 m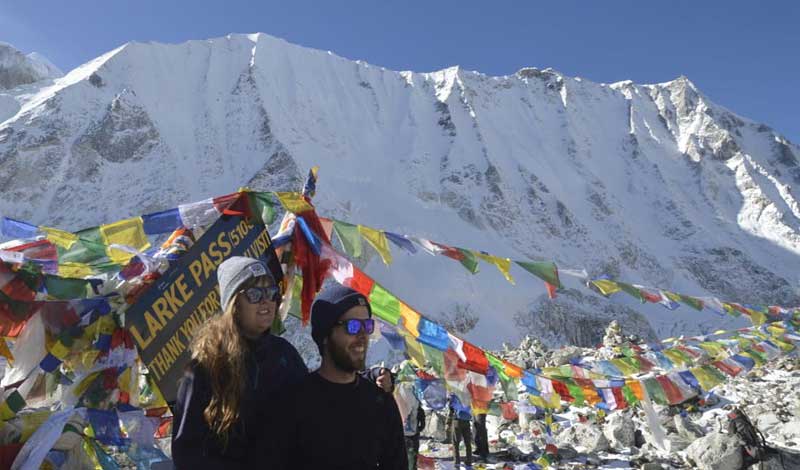 The Larkya La pass, 5125 m is an adventurous pass in Nepal situated at Manaslu trek route. It is the longest pass that the trekkers should be doing during Manaslu Trek. Larkya La pass is the highest point on the Around Manaslu trek. Being the highest point, this is undoubtedly a perfect viewpoint en route.
From the pinnacle, you will see the fabulous views of majestic Himalayas. The panoramas of glistening peaks seen from the pass are beyond explainable. Also, crossing the tough pass doing ascends and descends is in itself is a fascinating moment. It is super adventurous, yet satisfying after you see the glowing Himalayas right in front of your eyes.
So, if you are someone who is fond of doing challenging high passes at Nepalese Himalayas, Manaslu trek is eagerly awaiting your arrival.
3, Less Crowded and Peaceful Trail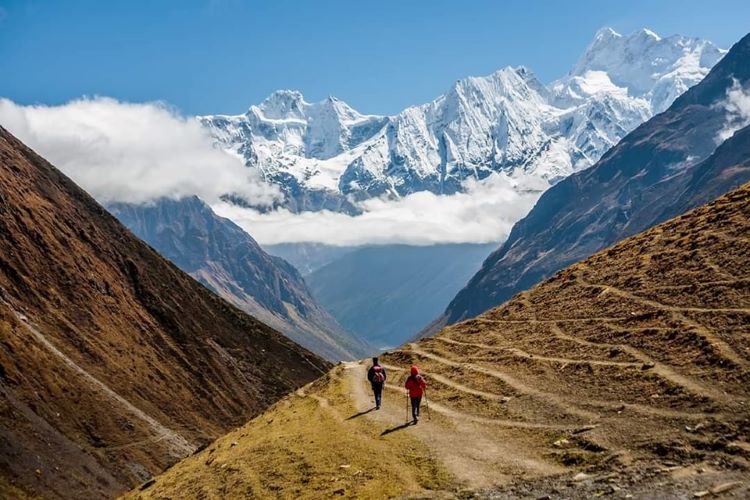 Manaslu Circuit trekking, being more remote than the other popular treks in Nepal is less sorted than them. So, the number of trekkers trekking in the Manaslu circuit is very less as compared to that in other popular trails of Everest and Annapurna. This makes Manaslu Circuit trek a quiet and peaceful trekking destination even during the peak seasons (autumn and spring).
The peaceful trails are lovely. You can have a good bonding with nature while trekking alone on the empty and wild trails of Manaslu. Making a thrilling journey to the top of Larkya La, this trek rewards the trekkers with best memories of a lifetime. If you are a peace seeker, Manaslu Circuit trek is the next to do thing on your bucket list.
4. Remote and Unspoiled Trekking Trails
The trekking trails in Manaslu are remote. The lifestyle, animals, plants, and everything you will see around is wondrous. You will see everything in their natural form, untouched by modernism.
Trekking through the remote and off-the-beaten-path of Manaslu blesses the trekkers with enriched natural beauty and varying topography. Journey to Manaslu base camp is marvelous.
You can explore the perfect nature while trekking through the rugged and remote trekking trails.
The trails are diverse. At the lower altitudes on the trek, you will be trekking through the river banks of Budhi Gandaki river. One can see the changes in physical and natural sceneries while doing this trek. Trekking into the wild forests with chances of encountering wildlife at their natural habitat is a completely unique experience.
Being a remote trek, life at the small settlements on the trek is basic. The houses are basic, there are no proper roads for transportation. People engage themselves in agriculture and trade. You can see the typical life at remote villages of Nepal during this trek.
The fact that this trek is less prioritized by the trekkers is a perk to trekking enthusiasts who are seeking tranquil trails. Manaslu circuit is indeed a less touristy and less commercial trek route with local inhabitants, local culture, basic life, and diverse range of ecosystem.
5. Unique Cultural Experiences
Manaslu region shares its history and culture with Tibet. People in Manaslu are those who migrated from Tibet to Nepal a long time ago. Several centuries have passed since they migrated. However, you can still see the likeliness of Tibetan culture while traversing through the amazing settlements in Manaslu. People have been continuing and preserving their culture and tradition.
Lifestyle in Manaslu is far behind the era of modernization and development. The uniqueness in culture is easily visible as you trek along with the villages. You will see people wearing their traditional attire. Here, people follow Buddhism. There are several stupas, monasteries, gompas, prayer wheels, and chortens in the trekking route.
Visiting Tsum valley is another cultural highlight of this journey. Tsum valley is a hidden valley called a 'Beyul'. At the valley, you will experience the best form of the culture in Manaslu. There are various monasteries. This peaceful place is a place full of positive energy. The Mu Gompa is the largest monastery in the region. Visiting the monasteries, walking under the shadow of prayer flags printed with praying chants is blissful.
Trekking to Manaslu circuit is culturally enticing. You will also see many sacred caves. People believe that at one of these caves, big master Milarepa, Guru Rinpoche meditated for many years. He is the one who discovered the Tsum valley.
6. Safe and Moderately Strenuous Routes
Though Manaslu Circuit trekking is a remote trek, it is an absolutely safe and a beautiful trek. It is safe doesn't mean you can go there and get back easily. You have to be moderately fit. Also, you should have a strong heart and a determined mindset.
Also, since you are going to high altitudes, you should also take into account need to consider your health issues. There is a risk of altitude sickness, injuries, knee pain, upset stomach, cold, and many others. You should consult your me.dical advisor before you set off on the trekking trails of Manaslu.
There are some tough sections on the trail. But the trek as a whole is not hard. It is moderately strenuous to an average trekker. If you have some previous trekking experiences at high altitudes and high mountain passes, this trek is not that difficult for you.
After arranging the trek properly and going with adequate gears and good preparations, the trek is absolutely safe. Ensure your own safety by following the instructions of the guide. Do not trek alone at any places. Especially at nights, do not get out alone.
If you are a beginner, you should exercise and train yourself starting a month or few before you go on the trek. You can do exercise to boost your energy and to adjust with altitudes. Boost your endurance level and you will not have much difficulty along the rugged and tough trails.
Trekkers are prone to altitude sickness at higher altitudes. However, proper acclimatization and some other safety concerns will help reduce the risk. Drink plenty of water, walk at your own pace of the walk, do not try to overdo. We wish you a safe and exciting journey to Manaslu Circuit.
7.Reach to Manaslu Base Camp-The Eight world tallest peak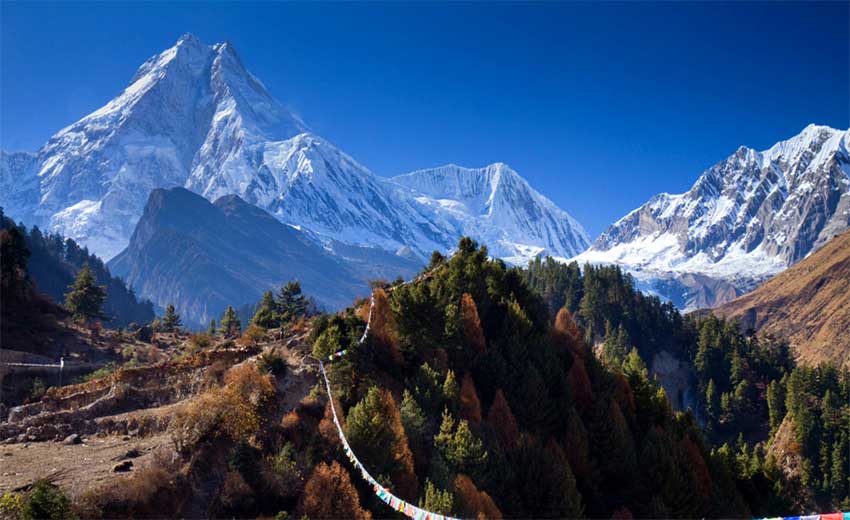 Manaslu Base Camp is one of the major attractions during the trek. Trekking to the lap of the eight highest peaks in the world, Mt. Manaslu, 8163 meters is a wonderful experience.
Samagaun, 3530 meters is the base camp of Mt. Manaslu (8163 m). At Samagaun, there is a tiny village with old Tibetan inhabitants. This is a beautiful village where you will see beautiful monastery.  Since you will have a rest day at the village, you can briefly visit around the place and see the way of life and the fascinating culture.
8. Freshwater lakes at High Altitude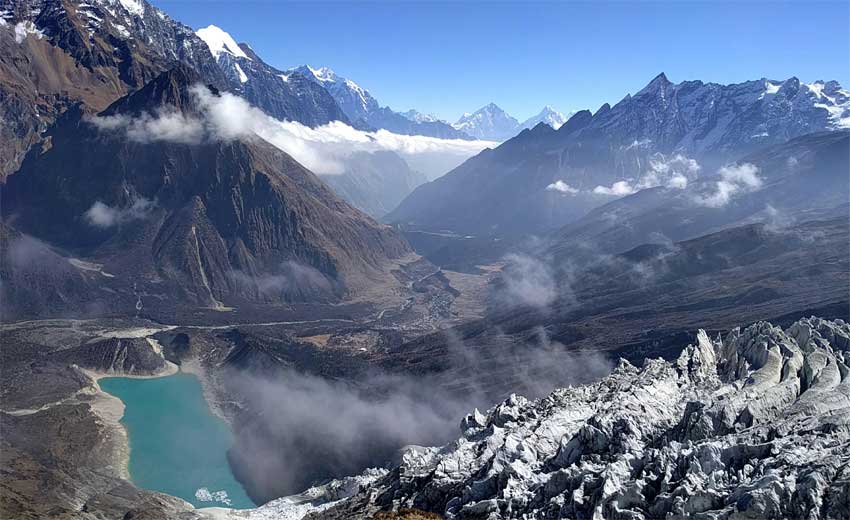 Manaslu Circuit trek is not only about Himalayas, rivers, wildlife, and forests. One of the attractive things on the trek are the freshwater lakes above 3500 meters. In fact, there are a bunch of high altitude freshwater lakes in Manaslu.
Among them, Birendra Tal and Phunkar Tal are the most popular. Trekkers take a short acclimatization hike to Birendra Lake on their rest day at Samagaun, Manaslu Base Camp. This lake lies in Manaslu Glacier closer to Punhyen Glacier. These lakes are the habitats of rare alpine migratory duck. If you are lucky, there are chances that you will see those at the lakes.
9. Manaslu Conservation Area
The trekking area in Manaslu lies under the protected boundary of Manaslu Conservation area. The conservation area protects the forests, rivers, lakes, and several species of birds and wildlife. The area of Manaslu Conservation area extends from an altitude of 1400 meters to 8156 meters.
You will see wide variations in topography and vegetation inside the conservation area. At the lower regions are lush jungles, splashing rivers, streams, and cascading waterfalls. On trekking t higher elevations, you will see vegetation keeps thinning. At high elevations, they become scarce. The only thing you will see will be small bushes. The interesting thing is even the pines and junipers are small in height and look different at heights. You will see how the organism in earth adapts themselves to the surrounding.
Walking through the conservation area, there are chances of encountering with several species of wildlife and birds. The peaceful trails and the melodious chirps of birds make a perfect mood to trek. You will lobe this trek.
10. Easy Side Trips
Manaslu Circuit Trek offers many side treks. You can reach some of the amazing places around the trekking trail of Manaslu in only a couple of hours. Some of the most popular side trip journeys are a trek to Birendra lake and Pungeen Gompa near Samagaun.
These side trips are hiking destinations. You will not find any accommodations or food there. Also, these are not overnight spots. You can visit these places if you have extra hours to reach there and come back.
Planing to trek in Mananslu Contact Us;
whatsApp: +9779841273869
Email: info@adventuregreathimalaya.com