Manaslu Base Camp Trek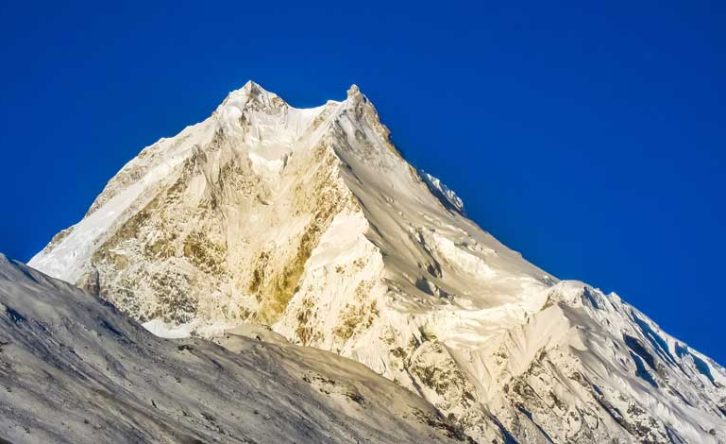 Trip Facts
Trekking duration
18 Days
Mode of Trek
Lodge to Lodge
Best Time
March, April, May and October, November
Overview
Manaslu Base Camp Trek is the epitome of solidarity and untouched natural beauty. This pristine region turned into an adventurous classic trek in the year 1992. Since then, Manaslu Trek 19 days is one of the demanding treks of Nepal with remote and exotic off-beaten trails.
The trek takes you around the Manaslu Conservation Area. Manaslu, itself is the world's eighth highest mount at 8,163 meters (26,781 ft). Thus, Manaslu Trek offers an immense adventure within spectacular mountain scenery, beautiful landscapes, tottering cascades within deep forests. This exhilarating journey completes in 18 days manaslu trekking.
The Manaslu Base camp Trek starting point of the trek is Soti Khola while Besi Sahar is the ending point. Manaslu Trek 14 days is of difficult grade. The trails are remote and physically demanding. So, it is not suitable for amateurs and will require an adequate level of preparation. The maximum elevation you hit is 5,160 meters at Larkya La Pass. While you cover the total length of around 177 kilometers on the entire route.
With the perfect views of snow-clad mountains, this journey is a unique combination of rich cultural heritage and rare biodiversity. The intrepid trails and lush tropical lands captivate a true natural essence. It takes you to several farmlands, rice terraces, mighty gorges of the Budhi Gandaki with turquoise waters and suspension bridges. The natural biodiversity of the Manaslu Region is jaw dropping and cherish every one.
Manaslu Base Camp Trekking also offers the right combination of rich social legacy with natural pleasant. Scattered settlements of Nuri people in the Tibetan border and their culture is one major attraction. Nuri are the ethnic inhabitants of the region. Other tribes inhabiting lower hills are Indo-Aryan Hindus like Magar, Gurung, Tamang, Burmese. However, their fascinating culture and festivals attest interesting influences of Tibetan Buddhism.
Manaslu Base Cam Treks begins with scenic drive from Soti Khola via Arughat. You reach Machha Khola and start walking through deep forests, climbing onto ridges and cross suspension bridges. You then arrive at Dyang where the snow-clad mountains start appearing. You cross to Namrung village, a great viewpoint of Ganesh Himal and Himalchuli. Then comes Samagaon, Samdo village followed by Dharmasala. You will have the astonishing views of Larkya Glacier and Larkya Peak. The challenge awaits until you cross the Larkya La Pass (5100m). Eventually, you reach Bhimthang then to Goa . Further moving to Dharapani, you take a local jeep or a bus to Besisahar.
Manaslu Trek is the restricted trekking region in Nepal. Thus, you need a minimum of two people in your group with a certified guide. You will need ACAP, MCAP, and Manaslu Special Permit. For this paperwork and documentation, you might need an extra working day.
Manaslu Base Camp Trek is the best choice for trekking enthusiasts. However, this trek can be completed in different ways. Alternative Manaslu Trek Itinerary can be Manaslu Trek with Tsum Valley 22 Days or 17 Days Manaslu Trek. These options are best if you have enough time.
Highlights of Manaslu Base Camp Trek
Cross one of the highest passes in the world at Larkya La Pass at 5,106 meters
Spot wildlife species of Tahr (mountain goat), Agali (Blue Sheep), Pika (Highest Living Mammal), Himalayan Marmots, and even Snow Leopard
Spectacular panoramas of Manaslu, Cheo Himal, Ganesh Himal Range, Himlung Himal, Lamjung Himal, Nemjung, Gyaji Kang Guru, and Annapurna II
One of the popular restricted trekking regions with high altitude glacial lakes; four glaciers are mingled above Lamjung Himal
Soak into the lifestyle and culture of Nuri, ethnic habitant of the region
Explore the fascinating Tibetan influenced culture and festivals celebrated by Indo-Aryan Hindus like Magar, Gurung, Tamang, Burmese.
Rich in local multi ethnic biodiversity and natural scenery with captivating of Manaslu Conservation Area
Trails pass-through several farmlands; Budhi Gandaki River Gorge, forests of rhododendrons, oak, pine, bamboo, cedar, birch, juniper, and delightful meadows
Best Season for Manaslu Trek
Manaslu trek is only possible if there is a vehicle service from Kathmandu to Soti Khola, Tal to Besisahar, and Besisahar to Kathmandu. Most of these roads are off-road and temporary that might work only in fall season. Thus, Autumn (Sept to Nov) is the most suitable time for the trek. Autumn offers the outstanding panoramas of Manaslu and other Annapurna Range.
Likewise, Spring (March to May) is the second most popular time. Colorful rhododendrons light up every forest of the Manaslu Area in an alluring way. Plus, both seasons have low chances of rainfall with moderate temperatures.
For other seasons, the trails can be very disturbing. You need to have an extreme level of preparation for other two seasons.
Food and Accommodation on Manaslu Trek
As this Manaslu Trek lies in a remote and restricted area, the food and accommodation facility is quite basic. Your accommodation will be at an ordinary tea house or lodge run by local people. For one night you also have to at Dharmasala, an old inn. That Represents the true rural condition of Manaslu. Thus, you have to carry your own warm & reliable sleeping bag.
Regarding food, there are no extravagant items on the menu. Dal and Bhat is the easy, safe and healthy choice. Other food items may or may not be available. The cost of food may range between USD 3-8 depending on where and what you eat.
Manaslu Base camp Itinerary
Cost Include / Exclude
What's include
 Airport / Hotel / Airport Transporation.
Hotel in Kathmandu – 3 Nights, at 3 Star Hotel.
Transportation: Kathmandu to Sotikhola Private 4*4 wheel Jeep and return to Kathmandu.
Kathmandu City Guided tour
Meals In Trekking: 3 Times Meals a day (14 Breakfast, 14 Lunch and 13 Dinner)
Manaslu Circuit Trekking Permit: Manaslu Conservation permit, Annapurna Conservation permit, and Special Manaslu permit and Company necessary paper works
Accommodation In Trekking: All accommodations in lodges/tea houses during the treks.
Trekking Guide: An experienced, helpful, friendly and English speaking Trekking guide , everything for him.
Trekking porter: A porter to Carry your Backpack ( One Porter between every 2 members) their food, accommodation and well paid salary.
Oxe -Meter- To Check your oxygen saturation and heart rating
Arrangement of Emergency Helicopter service which will be paid by your Travel insurance company.
Adventure Certificate.
Medical supplies (first aid kit will be available).
All government taxes & Vat
Service charge.
What's excluded
International airfare and Nepal entry visa fee
Travel insurance
Lunch Dinner in Kathmandu.
All Hot and Bottle of Drinks., WI- FI, Camera, Mobile recharge
Tips for the guide and porter.
Gallery