8 days trekking in Nepal into the deep nestled Himalayan destinations is a worthwhile journey if you cherish geography and landscape. There are numerous treks that you may opt on your trip to Nepal.
Ranging from the longest trek, Great Himalayan Trail Trek that spans over 145 days to small short treks such as : Poonhill trek, Muldai Trek, Gosaikunda trek and others, there is so much to choose from on your trek to Nepal.
Usually, the long treks in Nepal are characterized by high passes that traverse through deep mountain valleys and remote locations. Short treks are usually limited by the elevation gain of 4500 meters or less at the most. These kinds of treks are moderate difficulty wise and are easily accessible with less hassle and technicalities.
Nepal trekking for 8 days is just the perfect time frame which is not lengthy to stress out physically nor is it shorter. 8 days trekking can be just the ideal time for trekking in Nepalese Himalayan belt.
As preferred by most trekkers, popular 8 days treks in Nepal are hereby discussed so you can choose the best treks in Nepal that suits your time frame the most.
Langtang Trek – 8 Days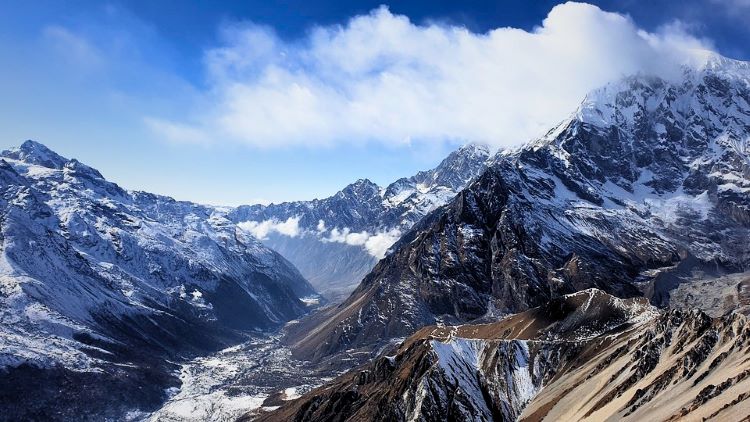 Langtang trekking is one of the most sought after 8 days trekking in Nepal. The deep valleys of northern reach of Kathmandu valley is fascinating and adventuresome. Located in the heart of Langtang National Park is Langtang valley which is a series of villages inhabited by the Tamang people residing by the Langtang river.
Langtang mountain range includes several astounding lofty peaks such as: Langtang Lirung, Gyanchempo, Yala, Dorjee Lakpa, Koenpo Gang, Langshisha Ri, Dogpache and other mountains. These range of mountains sit in the northernmost edge of Rasuwa district bordering the Tibetan plateau.
The geographical and cultural diversity of this heavenly land makes it one of the most noteworthy trekking destination. Your trek to Langtang will pierce will accompanied by raging rivers, quaint hamlets, lush forests, wildlife, cultural encounters, geological amusements and lots of mountains.
The standart duration of Langtang valley trek is 8 days which includes transfer to/from Kathmandu. The highest point of Langtang trek is Kyanjin Gompa, you final stopover at 3800 meters. There are numerous peaks that you can hike to from Kyanjin Gompa. Kyanjin Ri (4700 meters) and Tsergo Ri(5033 meters) are two towering peaks located nearby Kyanjin Gompa.
For Itinerary and cost go through below link
https://www.adventuregreathimalaya.com/langtang-trek/
Annapurna Base camp Trek- 8 Days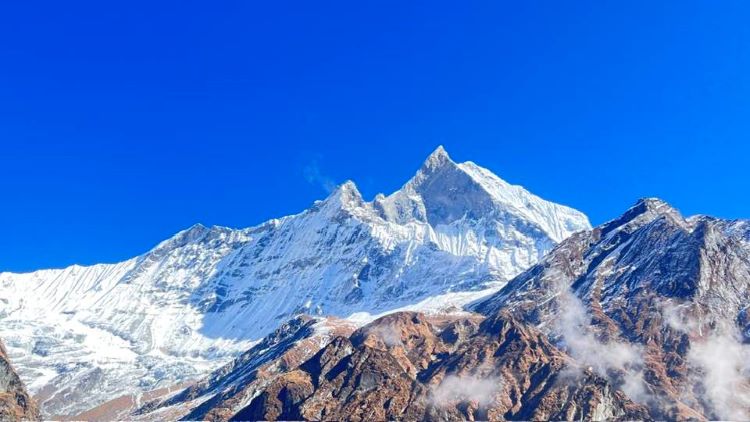 The trek to Annapurna Base Camp is amongst the best 8 days trekking in Nepal you can choose. Trekking to the base of Mount Annapurna (8091m), the tenth highest mountain in the world cannot be as enthralling as anything.
Considered to be the second most preferred trek after the mighty Everest Base Camp trek, Annapurna Base Camp trek stands as another 8 days long trek that pierces deep into the remote valleys of Annapurna Sanctuary.
Annapurna Base camp  is an Arcadia for nature lovers. This region is filled with natural wonders that is sure to suffice the need of any trekkers. From high mountain to deep gorges to lush forests to untamed animals, Annapurna Base Camp Trek provides for your adventure needs.
For those constrained by time, 8 days Annapurna Base Camp Trek is the best bet for trekking in Nepal. Your typical trek to Annapurna begins from western city, Pokhara. You have the option of taking a road vehicle or straight up fly to reach Pokhara from Kathmandu. Annapurna mountain range includes towering massifs like:
more information  visit below link
https://www.adventuregreathimalaya.com/poon-hill-annapurna-base-camp-trek-abc-trek/
Everest View Trek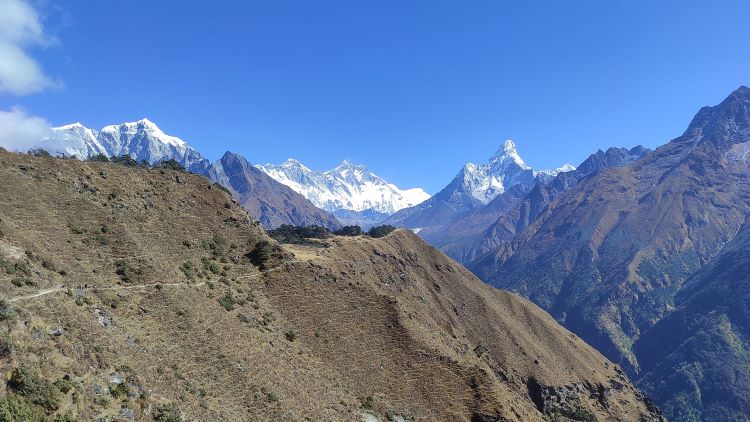 8 days trekking in Nepal to view Everest is possible if you opt for Everest View Trek. For those who are limited by time and budget, Everest view trek can be a perfect substitute of Everest Base Camp Trek.
A classic EBC trek will last a minimum of 13 days for the round trip journey and will require you to traverse at high altitude ranging above 5000 meters. For those looking for a better option that is comfortable for your wallet as well as your body, Everest View trek is the perfect alternative.
8 days Everest Trekking includes traversing up to the midpoint of EBC trek, and gazing at the highest mountain range of the from distant.
Your typical journey on Everest view trek will take the same route as its other counterparts. You will fly to Lukla from Kathmandu and begin your trekking navigating through the rural landscape of Solukhumbu district. In the days to come, you will pierce through the bustling markets of Namche Bazaar, hike to the highest hotel on earth, Everest view hotel to cherish the best view of Everest mountain range.
Following, you will trek to Tengboche village as the final stopover to witness the amazing Buddhist heritage, the Tengboche Monastery, largest of all in Khumbu region. All this while, you will have the amazing mountain vista of Everest massifs overlooking your trip.
Get more information in below link.
https://www.adventuregreathimalaya.com/everest-sunrise-view-trek/
Poonhill and Mardi Himal Trek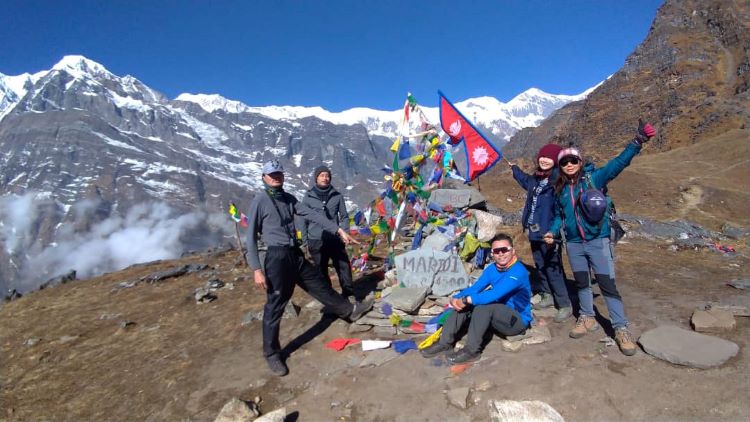 Poonhill and Mardi Himal trek is one of a kind 8 days trekking in Nepal traversing the foothills of Annapurna massifs. Both of the popular treks: Poonhill trek and Mardi Himal trek, when combined into one, provides one of the most fruitful adventure you can have.
This trek circumnavigates the lower sections of Annapurna foothills reaching 4500 meters at the most at Mardi Himal High Camp. The first leg of this trek traverses to the popular vantage of Annapurna region Poonhill stationed at 3200 meters. You will remain spellbound gazing at the Dhaulagiri and Annapurna mountains from the Poonhill. Thereafter, you will make a steep descent through numerous Gurung villages that reside in the area.
Form thereon, the next leg of the trek heads towards Mardi Himal which resides adjacent to the famous Fishtail mountain. The trail towards Mardi is a bit rugged and remote compared to Poonhill. Upon reaching Mardi Himal view point, you will appreciate the mountain vista that you will get to gaze at from the top. This trek is optimal for beginners and amateur trekkers with average fitness.
For more information  Click  below link
https://www.adventuregreathimalaya.com/poon-hill-and-mardi-himal-trek/
Conclusion
A week long trek in Nepal is abundant to explore and immerse if you choose the right destination matching your time and budget. All the treks listed above are selected treks and offer distinctive experience.
Additionally, a reliable trekking agency is paramount to plan amazing holiday adventure in Nepal. Adventure Great Himalaya Treks and Expeditions specialist in crafting Himalayan adventure in Nepal for over a decade. Inquire with our experts and we shall craft the best possible holidays.