Poon Hill Trek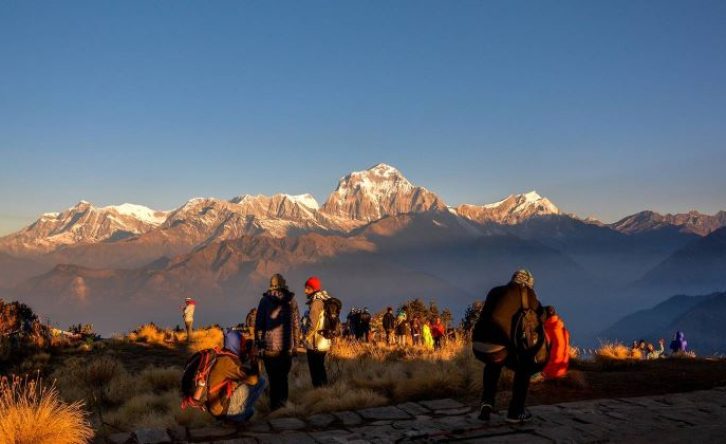 Trip Facts
Mode of Trip:
Tea House and Lodge basis.
Highest elevation:
3,210 m at Poon Hill Top.
Trek duration:
7 night 8 days
Season:
Aug-Dec and Feb -Jun
Overview
Poon Hill Trek is A famous  Short and easy trekking in Nepal, Annapurna Region.  The 7 night / 8 days Ghorepani Poon hill  Trekking is an enjoyable and fun loving trekking destination where all can participate in this marvelous walk on the mid hills of Annapurna Himalaya with never ending views of mountains and its fascinating daily sceneries.
Poon Hill is a Hill station with a 3210-meter altitude overlooking the sunrise view of Annapurna and Dhaulagiri mountains which are world's 8th and 9th highest peaks. It is one of the best viewpoints in Nepal to get a close view of the Himalayan ranges.
Adventure Great Himalaya welcomes you in this short-moderate walk to taste the way of life of mid hills traditional villages with old Buddhist and ancient Bon culture along with constant views of mountains and landscapes.
Starting this fabulous  Poon Hill Trekking from touristic and scenic Pokhara city after reaching from Kathmandu with interesting overland drive, the trek also concludes in this beautiful Pokhara where Annapurna Himalaya reflects on its pristine lakes.
Walk leads on old Trans Himalayan Salt Trade of Nepal / Tibet on route to Ghorepani after visiting nice villages of Bhirethati – Hille-Tirkhedhunga and Ulleri.
As the walk progress with uphill walk into charming lovely forest of rhododendron trees to reach at Ghorepani village beneath the Poon hill.
Next morning an hour hike to Poon Hill  catch stunning sunrise views over array of Himalayan peaks from Dhaulagiri-Annapurna and Manaslu with majestic Machhapuchare "The Fish Tail" peak,  after soaking in with views then heading back to Pokhara with a short circuit.
Walk leads past traditional Gurung village of Gandruk and Landruk to reach back at Pokhara after a marvelous time in high hill of Annapurna Himalaya on Ghorepani and Poon Hill trekking.
Highlight of  Nepal Poon Hill Trek

Magnificent panorama of snow capped mountains with stunning sunrise,
Enchanting beautiful rhododendron forest a natural garden in spring times,
cenic short circuit trek on southern Annapurna mid hills with traditional villages,
in the land of Gurung and Poon / Magar ethnic tribes famous as Gokha soldiers,

Best Time for Poon Hill Trek

Poon Hill Trek is not a high-altitude trek; thus, it is possible all year round. However, the best times for Poon Hill Trek are Autumn(September to November) and Spring(March to May).

In these two seasons, you get to experience the perfect weather conditions. A stable climate, blue skies, warm temperature, crystal clear mountains, vibrant visibility, no snowfall, less chances of rainfall are the major highlights of those seasons in Nepal.

But if you do the trek in Winter and Monsoon, you might not experience the above-said conditions. Monsoon brings a lot of rainfall, and Winter is the cold and snowy season in Nepal. But, many people visit poon hill to expereince snow in December and early January.

Ghorepani Poon Hill Trek Difficulties

Ghorepani Poon Hill Trek is one of the easiest treks in Nepal. People with no training and trekking experience can conveniently do it. However, some difficult and steep sections along the trail can be demanding to newbies.

Moreover, you have to trek for around 5-6hrs daily on the trekking days. As the trail is uneven and steep, some travelers might get exhausted while walking that much length daily.

Similarly, the weather is chilly during the morning and night hours. It can also turn unprecedently without any warning, especially during Winter and Monsoon. Other than these difficulties, the trek is a no-hard journey. You shall do it comfortably.

Meals  on  Poon hill Trek

You do not have to worry about meals in Poon Hill Trek. This particular trek is full of teahouses and lodges that offer a wide range of meals for your breakfast, lunch, and dinner. You will get to taste the hygienic, delicious, and well-cooked food served by local chefs. They are good at cooking local and international cuisines like Indian, Chinese, and Continental.

Dal Bhat, Pasta, Noodles, Eggs, Bread, Porridge, Soup, Pancakes, Spaghetti, and Momos, to name some. Likewise, coffee, tea, bakery items are also available on the trek. The cost of these meal items is also not too high; it's pretty reasonable. You should get those meals for around $2 to 8$.

Accommodation on Poon Hill Trek

In the case of accommodation, you'll find accommodations from primary to luxurious ones. While in the city area, you have all kinds of options available. However, the lodges are basic as you gain heights and reach the outlying ideas.

Every stop of Poon Hill Trek has enough teahouses. If you don't know, teahouses are lodges that offer both tea & meals and accommodation. You will be spending nights in these teahouses which offer basic rooms with basic facilities.

Most teahouses have rooms on a twin-sharing basis with two beds, enough bedclothes, and an attached bathroom(in some teahouses). And the cost to spend a night here in these rooms is around $4 to $10.

Poon Hill Trek Transportation


Poon Hill Trek starts from the outskirts of Pokhara, a picturesque town in Nepal. So, we will drive to Pokhara from Kathmandu on tourist bus. Tourist bus will take around 8 hours to reach Pokhara. But, if you don't want to travel on bus, you have option for Kathmandu to Pokhara flight.

Note: Plane ticket is not included in the package price.

From Pokhara, we will be traveling on Jeep to Nayapul. It will take around 1hr-1.5 hrs to reach Nayapul. Nayapul is the starting point of Ghorepani poon hill trek.

People and Culture In  Poon Hill Trek


The people and culture are one of the major highlights of Poon Hill Trek. Poon Hill Region, which lies in the Annapurna Region, is home to Nepal's Gurung and Magar ethnics. You will also meet diverse people of various other local ethnic groups. However, the main occupants of the region are Magar and Gurung communities.

To know their lifestyles, food, culture, places, and hospitality is one of the parts of this trek. They showcase a unique way of culture and lifestyle that can inspire you somehow. You contribute to the communities by doing this trek, and in return, they give a vibrant smile and welcoming experience to you.

Poon Hill Trek Permit

You need two trekking permits to be on the trail of Poon Hill Trek, TIMS Permit and Annapurna Conservation Area Permit. Let's know them particularly. TIMS, which stands for Trekking Information Management System, is a permit for your safety and recording your information and activities in a database for emergency needs. It costs USD 20/NPR 2000 per person.

Similarly, Annapurna Conservation Area Permit is a ticket to enter the protected side of the region. You pass through the Annapurna Conservation Area on Poon Hill Trek.

Without this permit, you will not be allowed to enter the region. It costs USD 30/3000 per pax.

We will arrange both permits for you. You need to submit passport copies and some passport-sized photographs, that is all.

Sight Trip to Ghorepani Poon Hill

The sight trip, an early morning hike to Poon Hill(3,210m), is the finest and ultimate part of Poon Hill Trek. You will do a morning hike under low light. Just to be there at Poon Hill to catch the majestic sunrise over the mountain panorama of various Annapurna Region mountains.

In precise words, the view of the sun breaking out is just worthy and surreal. It leaves everyone awestruck; it will you as well. You will be peeking at the snow-loaded mountains like Annapurna I, II, III, Annapurna South, Gangapurna, Dhampus Peak, Machapuchare, Hiunchuli, Nilgiri Himal, Dhaulagiri, and more. It takes a while to return to life after experiencing the view at Poonhill.
Poon Hill Trek Itinerary
Cost Include/Exclude
What's include
Airport/ Hotel/ Airport Transportation
2 Nights 3 star Hotel in Kathmandu including breakfast
2 nights hotel in Pokhara including breakfast
3 Meals during the Trek (Breakfast, Lunch and Dinner) with f Tea / Coffee
Annapurna Conservation permit, TIMS permit
All Ground transportation by Tourist bus from Kathmandu to Pokhara and   Kathmandu
All accommodations in lodges/tea houses during the treks.
1 Trekking guide
Trekking porter carry your luggage- 1 porter for 2 members ( no porter for solo trekkers)
Adventure Certificate.
All government taxes.
Service charge.
Welcome  dinner
What's excluded
International airfare and Nepal entry visa fee
Lunch Dinner in Kathmandu and Pokhara
All the bar bills like coke, beer, bottle of water, hot water etc.
Tips
Gallery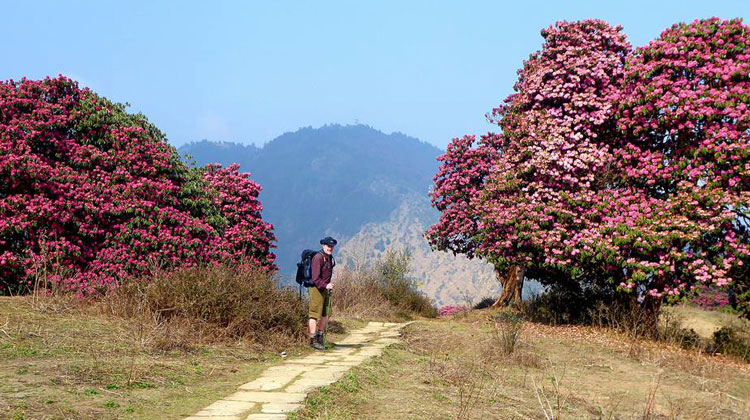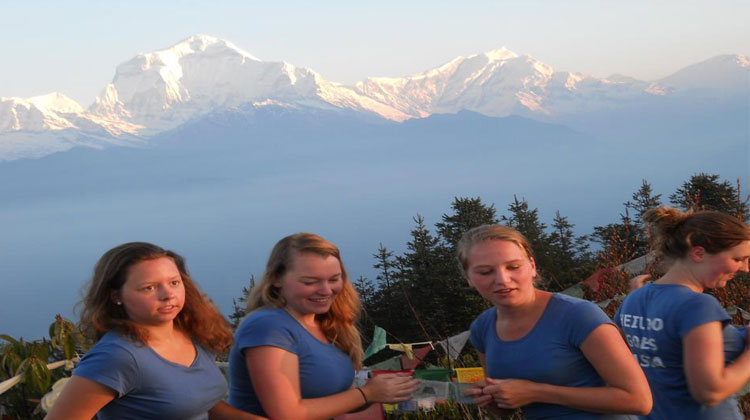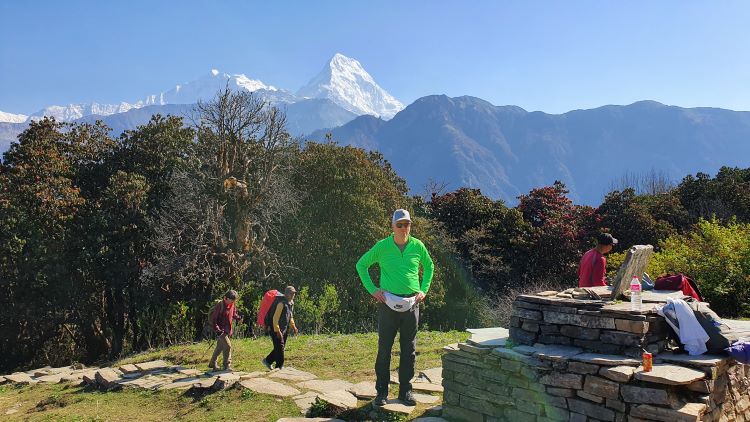 Reviews of Poon Hill Trek