if you  have already set your  Annapurna Base Camp  Trek Destination then you must be concerned about where you will spend the night. ABC trek demand at least 5 to 6 hours of walk every day, So, you must choose your accommodation wisely.
Accommodation In Annapurna Base camp, some of the hotel,  they don't facilitate any blankets, power supplies, and attached bathrooms. So, you must be aware of the fundamental facilities accessible in that location, such as pricing, sanitation, teahouses, camp lodging, and specific route. Besides that, always be prepared with trekking gear .
The ABC trek  route offers a variety of tourist-friendly lodgings, including tea house accommodation, basic lodge accommodation, and camping accommodation.
Teahouses are the most popular rest stop for many Annapurna Base Camp visitors since they provide adequate accommodation and other amenities at a reasonable price. Teahouses are often created and operated by residents in that region, and they are overseen by the NTNC (National Trust for Nature Conservation), which established some guidelines for pricing, menu standards, and, most importantly, the restrictions for erecting teahouses in specific places.
Many teahouses are situated at the point where the traveler would get a chance to acclimatize and explore the local communities of that area. These teahouses basically offer wooden beds with simple mattresses, pillows, and blankets. They also handle a Bukhari-style stove for room heating, give meals in the same room, and create a delightful atmosphere by allowing us to perform with their native music tools .
The rooms provided by teahouses are normally availed with two beds, basic furniture (chair, table, cloth hanger) and shelf. As you go up the mountain, these teahouses are designed their single room for 7 to 9 people which is of course too cozy and create small space for bag shelves.
Apart from that, you just need to be sure about your advance booking , especially in the peak season (March- June, and September- Mid December) of trekking, it is really hard to find good hotels during the peak seasons. Luckily, in the off-season, winter climbers don't have to worry about the crowd, and it is quite easy to get good rooms.
Types of Accommodation on the Annapurna Base Camp Trek.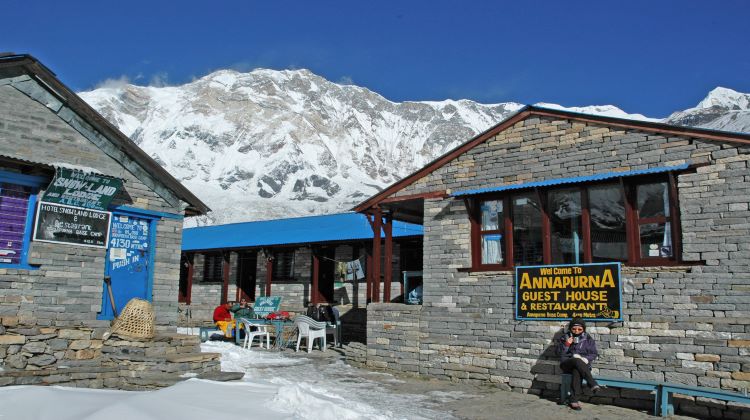 Basic lodge accommodation
Tea houses with basic accommodations will supply you with basic amenities such as standard mattresses, crowded room sizes, and shared bathrooms, but you will have a lovely and warm room with clean blankets, a comfort pillow, and a television. You can concern your guide for hiring porters or other additional services which may cost you extra than the package. Normally it cost 700 to 1000 for a night.
Camping Accommodation

Basically, camping is recommended in areas where teahouses are difficult to reach, although it is completely dependent on the traveler's preferences. If you wish to camp during the Annapurna Base Camp trek and want to explore different vibrations of the journey, we suggest March to May and September to November as the month of Camping in Nepal . Camping will definitely offer you the magical panorama vistas of olive-green vegetation and lofty mountain peaks.
Wi-Fi facility During ABC Trek

Many teahouses have installed wi-fi and charging stations in their dining rooms, but the connection still does not operate as expected, and the speed is too sluggish. Teahouse at lower region somehow managed network and electricity but over the high altitude, these signals are too poor to connect. Most teahouses around the Annapurna Base Camp do not have Wi-Fi, it is usually recommended to carry a Namaste SIM card for 4G connections, which works fantastically.
Electricity
In the case of electricity, people at higher altitudes prefer solar energy for lights and power which might be disturbed by the poor weather mainly in the rainy and winter seasons.  So, all the travelers who want to avoid the dark room and want a full charge on their smartphones are advance advised to bring their own torch lights and power banks.
Meals at Teahouse
You won't be surprised to know, that almost every teahouse at Annapurna Base Camp trail can serve you with variety of meals and their menu is quite impressive including Dal Bhat, Momos, Spaghetti, French Fries, and so on. Dal Bhat is usually recommended by your guide since it has a high-calorie count (430) and is more nutritious than other dishes on the menu.
Because of shipping costs and uncommon vegetation, these meals will be pricey at higher elevations and have relatively limited options on the menu.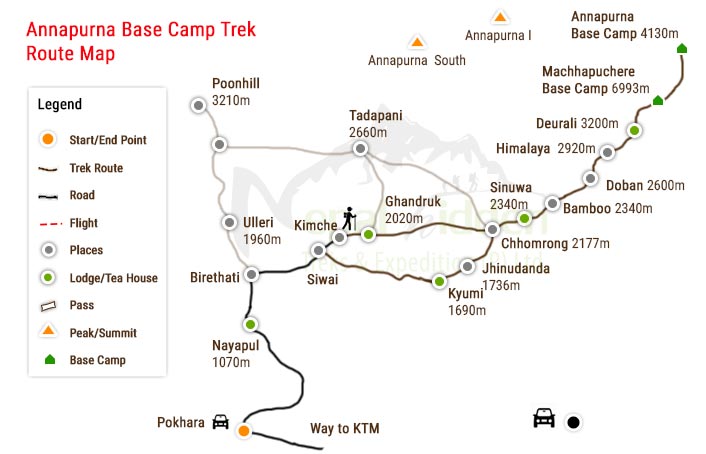 Accommodation in Annapurna Base camp  Trek Routes
Accommodation in Pokhara
Pokhara is 5 to 6 hours away from Kathmandu valley. This city is extremely modernized, with both traditional lodges and luxurious hotels  in the same location. You have various options for lodging, and it all depends on the type of experience you wish to enjoy.
If you are looking for the best high-class experience of hospitality including a Pool, Spa, Hot tub, and Water park then you must go to the hotels like Pokhara Grande, The Pavilions Himalayans the farm, Le Glamour Luxury Resort and Wellness Spa, and so forth. whereas travelers who are limited to their budget might go to hotels that are offering the best and optimum facilities such as wi-fi, nice rooms, tidy bed as well as flavorsome food. You can find the medium range of the hotel easily near to lakeside of Pokhara.
Accommodation in Ulleri Village

Ulleri has many teahouses and lodgings in the small, enchanted hamlet. The place can offer more than 20 teahouses and basic lodge facilities where you can find a little wooden room with its attached European bathroom and a sit-down toilet, a bed with a comfortable mattress, and cozy duvets.
Ulleri is situated near Pokhara, so the accommodation and food don't cost that expensive. Likewise, these teahouses serve authentic Nepal food as well as other dishes such as Hash Brown Potatoes, Crab, and Chicken fried rice.
| | |
| --- | --- |
| Single room | Rs 250 to 400 |
| Double room | Rs 400 to 600 |
| Double with attached bathroom | Rs 600 to 1000 |
| Triple room | Rs 700 to 1500 |
Accommodation in Ghorepani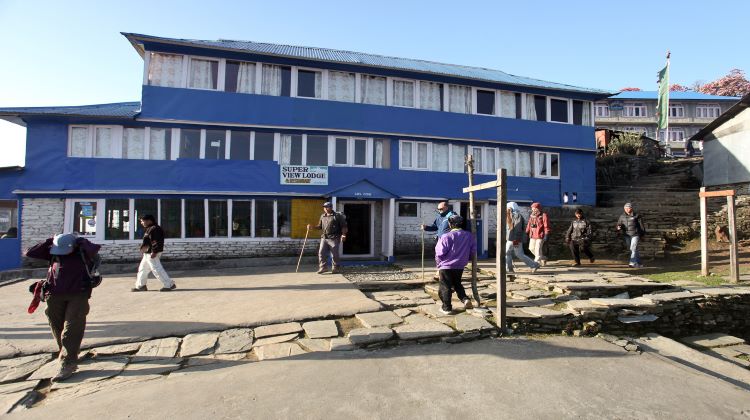 Ghorepani is the gateway to the Annapurna region divided into upper and lower Ghorepani. Both places provide you with a wide range of accommodation, but we suggest you stay at upper Ghorepani for a more clear view of the mountains and greenery. Even though Upper Ghorepani is more expensive compared to Lower.
At Ghorepani, you will get the best rooms made of bricks and concrete, which are soundproofed from the outside construction work, the room provides you with stunning views of the mountains, and there you have an attached toilet and shower.
The rooms come with two beds and traditional furnishing whose price range is from $10 to $ 250 USD (Rs 127 to Rs31,798) per night.
Accommodation In Tadapani
Surprisingly from Ghorepani to Tadapani, there is a vast difference in the number of teahouses, comparatively the number are low and Tadapani contains only 6 teahouses with western-style bathrooms that provides both hot and cold showers. These teahouses serve you with basic accommodation facilities, a room of timber plasterboard walls, and creaky old window frames with amazing mountain views from your bed.
| | |
| --- | --- |
| Food (Dal Bhat) | Around Rs 700 |
| Room | Rs 500 to Rs 700 |
Accommodation In Ghandhruk
Ghandruk is one of Nepal's most marketed tourist settlements. As a result, there are around 50 hotels and homestays for its tourists. The cost of hotels  at Ghandruk  about $ 20  and $ 5  Home stay.
Dal, Bhat, and Tarkari are the most popular lunch and dinner options at Ghandruk. Meanwhile, you can have pizza, burgers, and a variety of other foods. Most teahouses and homestays charge a fee for providing Gurung attire for photo-shoots of their guests.
| | |
| --- | --- |
| Room | Rs 500 -1500 |
| Food (Dal Bhat) | Rs 450 |
| Electricity | Free |
| Hot Shower | Free |
| Wi-Fi | Free |
Accommodation In Chhomrong
Chhomrong is the finest spot to stop for the night after Ghandruk. The accommodations are decent, with a bed, comfortable cushions, and an electric blanket. The place provides you with the magnificent scenery of mountains, and they have their way of hospitality and gastronomic culture. Teahouses serve organic vegetables as well as Dal Bhat and other Tarkari dishes. In the morning you can visit the famous Chhomrong organic farm(link) which is owned by Aakash Gurung. He actively supplies organic vegetables to teahouses of Chhomrong. To be honest, after Chhomrong you must down your accommodation expectations because of the limited number of teahouses.
| | |
| --- | --- |
| Room | Rs 500 |
| Food (Dal Bhat) | Rs 520 -650 |
| Electricity | Rs 100 per phone |
| Hot Shower | Rs 100 |
| Wi-Fi | Rs 200 (unlimited) |
Accommodation In Dovan
Dovan is one of the greatest sites for ABC trekkers to stay; at this height, there are five teahouses with large rooms and a common restroom. These teahouses usually have a western bathroom with a shower. This is the busiest and a favorite location for many Annapurna base camp hikers.
These accommodations are divided among the Upper and lower Dovan, you will find three teahouses at lower Dovan and a remnant at upper Dovan. If you want to experience the lively vibes of rooms, then you must stay at lower Dovan which comes with brighter and nicer rooms than upper Dovan.
| | |
| --- | --- |
| Room | Rs 500 |
| Food (Dal Bhat) | Rs 650 -750 |
| Electricity | Rs 200 per phone |
| Hot Shower | Rs 150 |
| Wi-Fi | Rs 300 (unlimited) |
Accommodation In Deurali
At Deurali we find a total of 4 teahouses each teahouse consisting of 6 rooms (2 or more than 2 beds in one room). Remember you must  share a room with 3, 4 people. you can;t have privae room even you pay more. However, in the winter season, Deurali has high chances of avalanches (snow slides) so for those who are planning to trek to Annapurna base camp in the winter season, it would be better if you skip your accommodation plan at Deurali and directly walk to Machhapuchre Base Camp.
| | |
| --- | --- |
| Room | Rs 500 |
| Food (Dal Bhat) | Rs 750 -800 |
| Electricity | Rs 200 per phone |
| Hot Shower | Rs 250 |
| Wi-Fi | Rs 300 (unlimited) |
Accommodation In Annapurna Base Camp
Because of the increasing number of tourists in this region, the Annapurna Base Camp has recently announced plans to expand its teahouses. There are now four lodges, with two more under construction.
At the Base Camp, you don't even try to bargain for the rooms and facilities; if you do, you will end up spending the entire night outside in the cold. Comparatively, you will find hotels to be quite expensive. The place holds a high probability of snowstorms which is the one main reason for high costs.
| | |
| --- | --- |
| Room | Rs 500 |
| Food (Dal Bhat) | Rs 800 -950 |
| Electricity | Rs 200 per phone |
| Hot Shower | Rs 350 |
| Wi-Fi | Rs 300 (unlimited) |
One thing that all travelers should bear in mind is that trekking and exploring are often fraught with difficulties, so never expect to find the same level of accommodation on the trails. It's better to lower your expectations for lodgings as you progress along the path. At a higher level, your housing options grow more rustic. However, the people are still constructing several teahouses to give various services to visitors.
If you're still puzzled and can't find the hotels on the Annapurna Base Camp journey, here's a list of them.
Planing to Annapurna Base Camp Trek?



Call Whats App  – +9779841273869
Email – aghtrek@gmail.com
2 Comments to "Annapurna Base Camp Trek Accommodation"