Annapurna Base camp Trek Via Poon Hill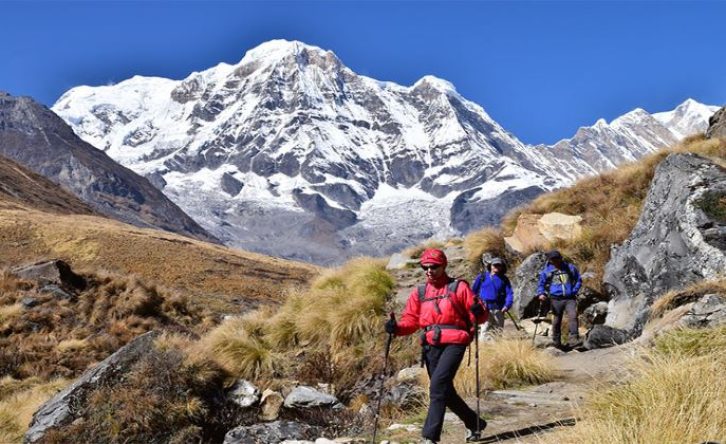 Trip Facts
Mode of Trip
Tea House /Lodge
Trek Grade
Moderate and Adventurous
Highest elevation
4,130 at ABC
Trip Duration :
13 Nights & 14 Days
Overview
The Annapurna Base Camp Trek via poon hill  is one of the most renowned and popular trekking in Nepal. It provides breath-taking mountain views as well as the chance to explore a diverse terrain and culture, including beautiful Gurung villages, terraced fields, and a broad range of flora and animals.
Annapurna Base camp Trek is know by ABC Trek. The journey to ABC is the most well-known because of its simple and compact schedule, and Mount Annapurna (8091m) is the 10th tallest peak in the world.
One of the vast ranges that extend from Vara-Shikar (Annapurna Fang) towards Manaslu and Lamjung range is the Annapurna Base Camp Trekking range. The journeys include a wide variety of sceneries and get you quite near the foot of peaks that are 7,000 and 8,000 meters high. This hike is perfect for all outdoor enthusiasts, family outings, and wildlife lovers.
Adventure great Himalaya offer 14 days ABC trek via Poon hill, the trek  let you enjoy the amazing Annapurna  sunrise view  from Poon hill, The lush green forests of Rhododendron, Oak and Pines, rocky terrains, glacial rivers, scattered villages with unique culture and traditions.
This two weeks  ABC trekking includes enough days for acclimatization in higher altitude so that you will feel comfortable while in higher elevation. This makes novice trekkers easier to complete ABC Trekking.
All ABC trekkers get the chance to stay overnight at  Base Camp of Annapurna and  Macchapucchre Base Camp (MBC) and take the splendor of the snow-capped mountains Views. Visitors will also come across the Pujinam Baraha temple, which is encircled by an amazing waterfall that covers part of the wall, along the trekking route between Dovan and the Himalayas. Animals are not allowed to enter this shrine because it is the most famous in the region. The folks do a significant puja every year in June or July.
Why you Love Annapurna Base camp ( ABC ) Trek
Incredible Sunrise and Sunset view from Poonhill Over Annapurna range.
Walk through of Local Village and their spectacular lifestyle.
Overnight   stay at the Base camp (4130m) from the see level.
Stunning landscapes,  terraces, lakes, forests and mountain views
360 degree views of the Himalayas from base camp.
Visit the beautiful   lake city of Pokhara
Annapurna Base Camp ( ABC) Trek  Route
We design  14 days Annapurna Base camp Trek Via poon hill start  From Kathmandu, we drive to Pokhara, the "Venice of the Himalaya", where the white peaks are reflected in the water of Phewa Lake. After having breakfast, we will drive to Nayapul to start hiking. The hiking trail passes through a Hindu farming village up to Tibeto-Berman groups for two days to Ghorepani. We will ascend Nepal's most incredible viewpoint, Poon hill. Trekkers could see panoramic sunrise over Dhaulagiri I, Annapurna South, Annapurna I, Machhapuchhre and Manaslu.
We have created 14 day Annapurna Base Camp trek with a perfect itinerary at a reasonable cost. This scenic hiking leads you through golden rice paddies, high-elevated scenery and lush rhododendron forest.
The ABC trail then swings east towards the Modi Khola where gushing water rush over boulder on their way to Indian plains. This route offers plenty time to acclimatize as it gains the altitude gradually. At Taglung, the trail veers north and climb up the valley through the mixed forest and lush farmlands. The villages on the route are charming and warmly hospitable.
The main activity begins at Macchapuchhare BC, which is followed by a challenging ascent to Annapurna BC (4,130m/13,550ft), amid the breathtaking Annapurna Sanctuary Amphitheater. At BC, a massive wall of rock and ice rising 4,000 meters (13,100 feet) will surround you, with a U-shaped glacial valley below. Some prominent peaks seen from BC are Annapurna (8,091m), Annapurna South (7,219m), Machhapuchhre (6,993m), and Hiunchuli (6,441m).
Annapurna Base Camp Trek with a Hike to Poon Hill
A scenic hike to Poon Hill offers a good time for acclimatization before we rise to Annapurna Base Camp. Add to this, you will get opportunity to interact with local – Gurung and Magar community, who are known for their bravery in British Gurkha Regiment.
14 Days Annapurna Base Camp Trek is perfect amalgamation of two most sought and popular trekking routes of Nepal (ABC and Poon Hill). These two trekking routes cover about 80% of visitors in Annapurna region.
Adventure Great Himalaya Time Sever
If you have a limited time and you truly want to spend quality time at your vacation, flying (Ktm to Pokhara and back to Kathmandu) is the best choice. Flight route will deliver you early; allowing you to start your vacation as soon as you arrive. If you opt to drive, you will spend whole day in vehicle; which drastically cuts down the time you can spend there. And at the end of your trip, a flight back to Kathmandu will save your one more day.
14 Days Annapurna Base Camp Trek is perfect for avid trekkers who wish to explore the major attractions that Annapurna Conservation Area. A complete trip is full of adventure, fun, and discovery!
Best Time for Annapurna Base Camp ( ABC ) Trek
Best time to trek to the Annapurna Base Camp depends according to personal preferences and choices. But, one of the peak seasons for trekking to the Annapurna Base Camp is during the month of September, October, November, March, April, and May.
Autumn ( September, October, November)
The temperature of the Annapurna region during autumn may range between 13-17 degrees. During the day and night, the temperature is comparatively low. One of the best things about autumn is that you may not have to face the problem of rainfall while trekking. Autumn brings clear and dry weather which is the most favorable time of the year.
Spring ( March, April, May)
Spring is the second best time for trekking to the ABC after autumn. During Spring, the weather and temperature of the Annapurna region are warm and humid but not too hot for trekking. Spring is the time when new plants grow and flowers bloom. So, during this time, the surrounding becomes even more beautiful.
If you are trekking in Spring, be prepared for the May rainfall too. Carry appropriate trekking gears when you leave for trekking. Make sure you check the weather forecast before starting your journey.
Annapurna Base Camp Trek Difficulty
The Annapurna Base Camp sits at an altitude of 4130 meters while you have to cover a distance of 115 kilometers. To cover the distance, you may have to walk for about 6-7 hours a day. The Annapurna hiking trail is easy for those who used to walk regularly. You might get altitude sickness if you are fresher in trekking and hiking.
weather and temperature
The weather and temperature of the Annapurna region also determine the difficulty level of the trek. It might turn quite challenging during winter and monsoon. During winter the paths may be covered with snow. Similarly, during monsoon, rainfall may make your trek uncomfortable since the paths get muddy and slippery.
Accommodation in ABC Trek
Finding accommodation in the ABC trek during peak season is hard in some places. However, we can arrange accommodation for any season.  You must be aware of the fundamental facilities accessible in that location, such as pricing, sanitation, teahouses, camp lodging, and specific route. The route to Annapurna Base Camp is well-worn. There you find several tiny villages appear along the trail where you encounter bazillion teahouses and have lunch breaks. get more details here ow is the Accommodation in ABC Trek
Poon Hill ABC Trek – Distance / Altitude and Walking Hour
| | | | | |
| --- | --- | --- | --- | --- |
|   Route |  Distance (km) |          Walking (hrs) |   |       Altitude (m) |
| Hille to Ulleri |      4.4 |          3 – 4 hrs | |         2,055.00 |
| Ulleri to Ghorepani |      8.0 |          5 – 6 hrs | |         2,860.00 |
| Ghorepani to Poon Hill |      3.0 |          2 hrs | |         3,210.00 |
| Ghorepani to Tadapani |      9.7.0 |          6  hrs | |         2,630.00 |
| Tadapani to Chomrong |      10.0 |          6 hrs | |         2,170.00 |
| Chomrong to Doban |      9.0 |          6 hrs | |         2,130.00 |
| Dovan to M.B.C |      8.0 |          5- 6 hrs | |         3,230.00 |
| M.B.C  to Annapurna Base Camp |      7.0 |          3 hrs | |         4,130.00 |
| Annapurna Base Camp to Dovan |      20.0 |          6 – 7 hrs | |         2,130.00 |
| Dovan to  Chomrong |       9.0 |          5 – 6 hrs | |         2600.00 |
Annapurna Base camp Trek Itinerary
Cost Include/ Exclude
What's include
Airport transfer (Airport – Hotel – Airport) by private vehicle
 2 Nights 3 star  Hotel in Kathmandu Including breakfast
2 Nights Hotel in Pokhara Including Breakfast
 Transportation – Kathmandu to Pokhara /   Kathmandu by flight
Full board meals on the trek  (Breakfast, Lunch and Dinner)
Hot Drinks : Tea / Coffee
 All Trekking Permit and necessary Paperwork
All accommodations in lodges/tea houses during the trek.
 Trekking Guide :An experienced, helpful and good English Speaking Guide.
Trekking Porters: Carry your luggage ( One porter for 2 members) No Porter for Solo trekkers
Company T-shirt and Trekking map
Medical supplies (first aid kit will be available)
All government taxes and service charge.
welcome  dinner
What's excluded
International airfare and Nepal entry visa fee
 Travel   insurance.
Lunch and dinner in Kathmandu and Pokhhara.
All the Bar bills and personal expenses (phone call, laundry service, battery recharge,
All kinds of drinks, Hot Shower, WI-FI
Tips
Gallery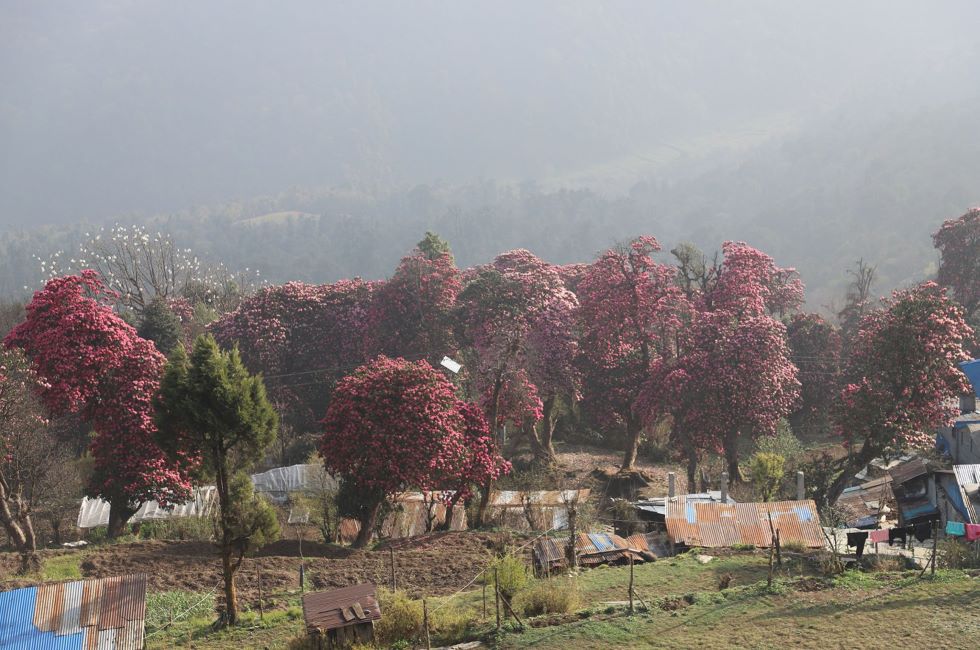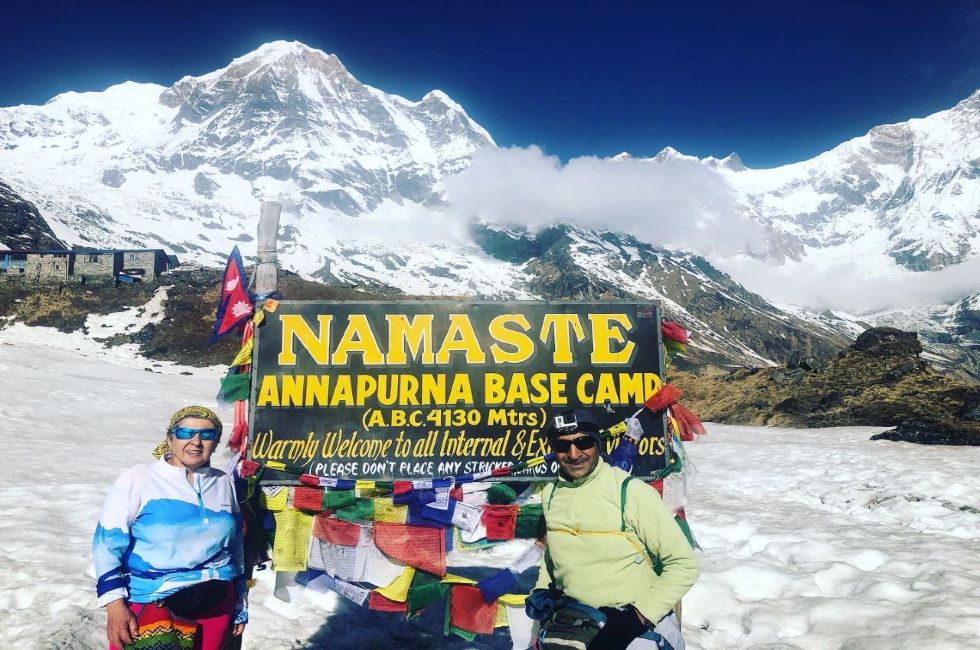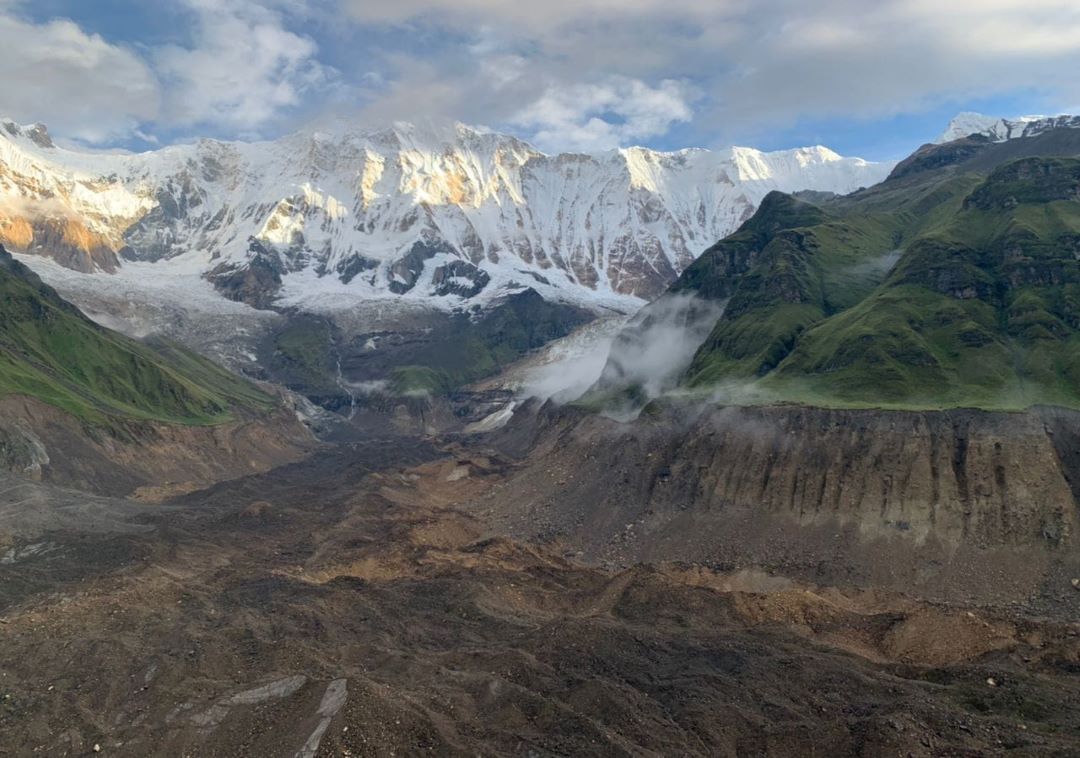 Reviews of Annapurna Base camp Trek Via Poon Hill