The  Annapurna Base Camp trek  Cost you depends on various factors, including the duration of the trek, the season, the type of accommodation, and the mode of transportation. On average, the cost of the Annapurna Base Camp trek ranges from $700 to $1,500 per person, depending on the level of comfort and services you require.
This cost typically includes the cost of transportation to and from the starting and ending points of the trek, accommodation in local lodges or guesthouses, meals, and the services of a guide and porter. Some trekking agencies may also include the cost of travel insurance, permits, and equipment rental in their package.
The cost of the Annapurna Base Camp trek  is more expensive during the peak season, which runs from September to November and from March to May, due to higher demand and better weather conditions.
ABC Trek  Cost With Local Operator

Annapurna Base Camp Trek Package cost is the total cost that you will pay to a trekking agency for the trek. Going through an agency gives you numerous benefits, making your trip much more comfortable.
As a leading  trekking agency in the country, they offer $ 800 to 1200 , the cost coverage, food, permit, guide, transportation etc. the service start   from international airport to airport , When you booked package trek, then you don;t need to woris to pay this and that, The trek becomes an equal responsibility of the agency once you select to go with them. An agency charges you a package cost for managing everything. You have to pay the package fee, that's all.
Total Breakup  Cost
Annapurna Base Camp Trek is an elating trek to the foothills of the Annapurna. Every penny spent on this journey will make sense and be worth paying. On what things will you spend money? The list is as below.
Permit Cost
Like you need a visa to enter Nepal, you will need some permits to enter the  ABC trek area. TIMS Card and Annapurna Conservation Area Permit are the two permits necessary for the trek. You can obtain the licenses from Kathmandu and Pokhara. The Nepal Tourism Office and Trekking Agencies Association Nepal(TAAN) issue the permits.
TIMS or Trekkers Information Management System is a permit that ensures the security and safety of trekkers. Travel insurance, photocopy of a valid passport, passport-sized photos, and fees are necessary for this permit. The permit costs USD 30 or NPR 3000.
Likewise, Annapurna Base Camp Trek operates through the rich flora and fauna of the Annapurna Conservation Area. It is a protected site covering an area of 7,629 sq km. You must have a permit to enter the place. It costs around USD 20 or NPR 2000 to obtain. The access works for once only.
Transportation Cost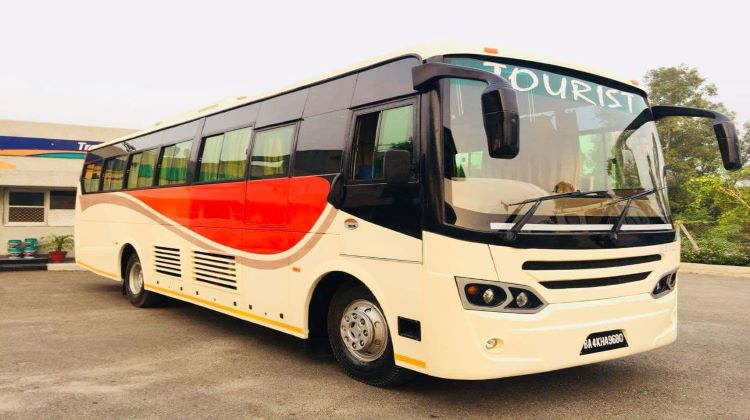 On Annapurna Base Camp Trek, transportation is another major cost. After arriving in Kathmandu, you have to travel to a hotel.  Next, you must reach the starting point of the trek in Pokhara. Likewise, you have to return to Kathmandu. You will be using vehicles several times throughout the trip.
To reach Pokhara, you can use an airway or roadway. The Kathmandu to Pokhara flight is around 40 to 80 USD. It takes only 25 minutes to reach Pokhara or Kathmandu.
Likewise, you can reach Pokhara by road. You can either join a public bus ride to Pokhara, which costs about 10 USD. The drive is about 6-7 hours long. Or you can hire a jeep to Pokhara, which can cost 80 to 130 USD. And from Pokhara, you have to go to the starting point, which lies on the outskirts of Pokhara, via taxi or other means. The taxi fare is around 3 to 8 USD.
Accommodation Cost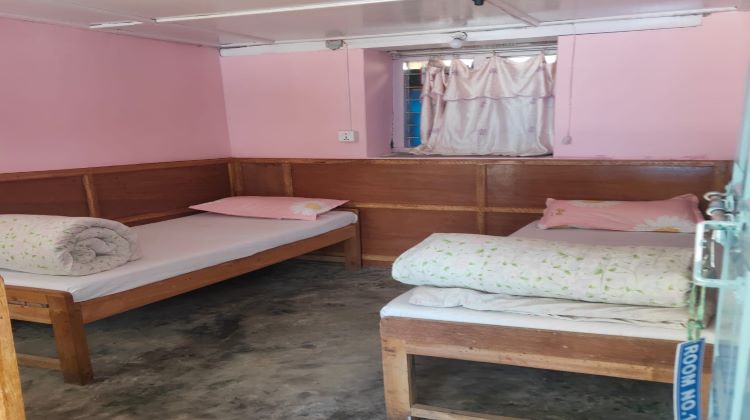 Now, let's move to accommodation costs. Annapurna Base Camp Trek is a tea house trekking, which means you will spend evenings in tea houses. The trail has enough accommodation facilities. However, the quality, service, and amenities are essential. At least you do not have to install a camp every night.
The tea houses have twin-sharing bedrooms, communal dining rooms, and shared or private bathrooms. You get essential bed items like pillows and blankets. The tea houses also have hot showers and wifi facilities for which you have to pay extra. Usually, for the basic service, the tea houses on the trek charge USD 2 to 5 per night, which is quite economical. You can add a hot shower and wifi by paying 2 USD and 3 USD, respectively.
Meal Cost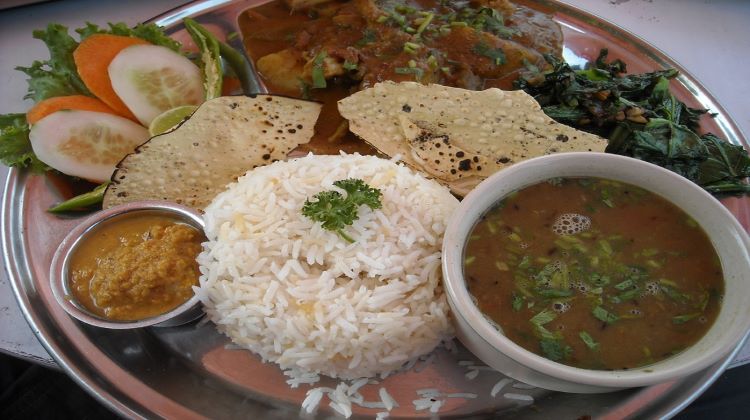 Now, let's come to the food part in which you must be interested. You can enjoy a wide range of meals during this trek. The teahouses and lodges along the route offer good options. Food menus may include meal options across continental, Indian, Chinese, and local cuisines.
We suggest you try the local meal, which is Dal Bhat. It is also famous as the trekking food in Nepal. "Dal Bhat Power, 24 Hour" is a famous saying. That means Dal Bhat can keep you going for a long time. Genuinely, the meal is nutritious. You can have this meal for 5 to 7 USD. On the plate of Dal Bhat, you get steamed rice, fried lentils, pickles, curry, vegetables, and non-vegetable items.
The other popular options are pasta, noodles, bread, dumplings, spaghetti, porridge, fried rice, etc. You can also quickly get hot and cold beverage items and bakeries on the trek. These foods cost 3 to 7 USD on average.
Our Annapurna Base Camp Trek cost covers all the meal costs during the trek.
Drink cost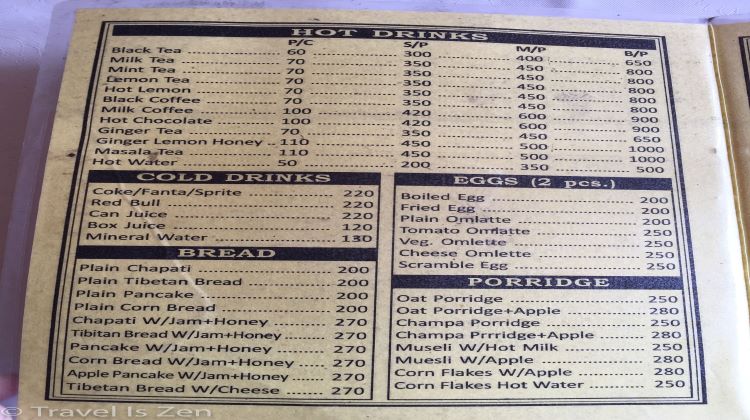 Drinkable water is available on the trek. You can drink directly from water taps, which the locals drink. You can use medication to purify the water if you are not sure. Or there are water refilling stations along the route. Those stations, which serve boiled drinkable water, charge you around 25 to 100 Nepalese Rupees. Or you can purchase bottles of mineral water, which cost around 25 to 100 NRS.
Internet WIFI Cost
The Internet is a necessity for many of us. Thankfully, the service is available on the trek. The teahouses and lodges provide WIFI service. But never think it comes free with the accommodation cost. You need to pay extra for the internet. The regular fee for Wifi per day is around 5 USD. Yet, do not think you will get super fast internet. The speed is slow and sometimes unstable. At least be glad you are getting some connection.
Mobile Recharge Cost
You can subscribe to Ncell and NTC networks for the trek. The two networks are available along the tour. The NTC is more reliable, and NCELL is faster. These two are widely popular networks in Nepal.
The sim cards of both networks are available for around 100 rupees with a balance of Rs 50.  A photocopy of your passport can be necessary to obtain a sim card for a foreigner.  You can also recharge the balance by purchasing balance cards of Rs 50, Rs 100, Rs 500, etc., along the route. Do not forget to carry extra recharge cards for the trek.
Guide Cost
Treks become a lot easier with an experienced guide. A guide will navigate a trail, help you to connect with the place & people, lead you in the right way, arrange meals and accommodations, and more.
You can hire a guide for Annapurna Base Camp Trek by paying a daily salary of around 25 USD. The salary will cover insurance, food, accommodation, and the guide's pay. Make sure the guide is licensed and experienced. You will be in the safe company if your guide is licensed.
Porter cost
Like a guide, you can also employ a porter on the trek. Porter is necessary if you think your bag is too heavy or just want to enjoy the hike. With a porter, you can have a pleasant trekking experience. The steep and strenuous walk will feel a bit easier with a porter. You have to pay a salary of around 20 USD per day to enjoy the service. The stipend covers insurance, food & accommodation, and the porter's pay.
Miscellaneous Cost

Trekking Gear
You might not have all the trekking essentials for Annapurna Base Camp Trek. In such a case, you will have two options, buy or rent. You can buy trekking gear from Nepal as well. However, we suggest you hire trekking gear and things. There is no need to buy everything. You can easily rent equipment like down jackets, sleeping bags, trekking shoes, etc., in Nepal. The rental cost of these gear begins from 1 USD per day.
Charging Electric Device
Charging electric gadgets is not free of cost on the trek. You have to pay a fee of around 2 to 5 USD. The region does not have a regular electricity supply. You have to charge from solar panels and limited energy. Hence, charging is not free on the trek. You will find charging stations in teahouses and lodges.
Tips and Donations
Sometimes you might love the service of your guide or porter and want to reward them with tips. Or you might like to help some people or groups with money. It is all your choice to tip and donate. As such , you can carry extra money.
Souvenirs and Gifts
The trip takes you through places like Kathmandu, Pokhara, and remote areas. You might like something on the way and want to buy it for home and friends.
Hence, it could be another cost.
Valuable tips for Annapurna Base Camp Trek Cost
Choose an authorized licensed agency that offers the trek at a reasonable cost.
Have a strict budget for the tour.
Do not spend money on unnecessary things.
You can choose low seasons like Winter and Summer for discounted trip packages.
Avoid the usage of alcohol and other beverages.
Drink water by purifying and refilling from places rather than buying bottles.
Buy anything for the trek while in Pokhara and Kathmandu; the things can be a bit expensive in the hills.
Locals may try to sell you everything; Be a wise buyer by buying what is worthwhile.
A trusted trekking agency offers treks at the best price; you will have a well-managed budget for the tour.
Conclusion
Annapurna Base Camp Trek is a fantastic hike through the Annapurna Region to the foothills of Mt Annapurna. The Annapurna Base Camp Trek cost is also not that high; you can manage it. As said earlier, every dime spent on the journey will make sense. The trek will offer many things, from mountains, people, culture, and landscapes to vegetation. You will have an utter experience on tour.
We are one of the trusted trekking agencies in Nepal. And our Annapurna Base Camp Trek itineraries are the best seller. You can reach us to know more about the options and their costs. We will find a suitable itinerary for you!