Langtang Valley trekking is popular among adventure enthusiasts for being one of the short treks in Nepal. The mere distance of the wonderful Langtang valley which is filled with numerous snow-capped mountains from the capital city of Kathmandu makes it one of the best treks in Nepal. As a distinct trek, Langtang offers views of astounding mountain vista just within duration of 3-4 days from the Kathmandu valley.
Drive to Syafbrubesi on the first day, trek to Lama Hotel then further to Langtang and bam, you are sitting amidst one of the most quaint places on earth. Unlike other lengthy treks, Langtang provides a wholesome Himalayan experience within matter of 6-7 days. It would be a perfect trek for those that are limited by time and budget. Witness the towering Langtang Lirung(7234m) within 3 days from Kathmandu. Here is everything that you would need to know for your Langtang trekking experience.
The Langtang  Trekking Experience
The Langtang Trek offers trekkers a variety of experiences and sights. From Lama Hotel, a thriving community of teahouses, to Kyangjin, a cluster of teahouses nestled amidst imposing mountains, there is always something new to discover. Along the way, you'll encounter lengthy prayer wheels, colourful prayer flags fluttering in the wind, and glaciers glistening in the sunlight.
For those seeking a more challenging adventure, there are opportunities to go on glacial walks or climb peaks such as Tsergo Ri, the highest point in Langtang valley Trek. From the summit of Tsergo Ri, you can admire the breathtaking views of the valley below and witness the progress that has been made since the earthquake.
Why Langtang Trek?
Langtang Trek is a popular choice for travelers looking for a different kind of adventure. Its proximity to the capital city of Kathmandu, being only 200 kilometers away, makes it easily accessible. Additionally, it is one of the budget friendly trek in Nepal and the fact that treks lasting 6-8 days are feasible here make it an appealing choice for solo and independent travelers.
Best Short Treks in Nepal
Langtang Valley trekking is popular among adventure enthusiasts for being one of the short yet mesmerising treks in Nepal. The mere distance of the wonderful Langtang valley which is filled with numerous snow-capped mountains from the capital city of Kathmandu makes it one of the best treks in Nepal.
Highlights of the Langtang Trek
The Langtang Trek offers a multitude of breathtaking highlights that will leave you spellbound. From the picturesque landscapes to the vibrant local culture, each day on the trail is filled with unique experiences.
Syabrubesi: The Gateway to Langtang Valley
Your Langtang adventure begins in Syabrubesi, a tranquil town accessible by public bus or private jeep from Kathmandu. The journey takes approximately 8 hours by bus or 6-7 hours by jeep, offering scenic views of the countryside. Syabrubesi serves as the starting point for the trek and provides a glimpse into the local way of life.
Langtang Village: A Resilient Community
Langtang Village, the largest settlement in the valley, is a testament to the resilience of the Nepalese people. Despite the devastation caused by the earthquake, the village has been rebuilt and is now a thriving community. The traditional stone houses, teahouses, and monasteries provide a glimpse into the rich cultural heritage of the region.
Kyanjin Gompa: A Sacred Destination
At an altitude of 3,870 meters, Kyanjin Gompa is a sacred destination for both trekkers and locals. The monastery, surrounded by majestic mountains, offers a serene and spiritual atmosphere. Take a moment to soak in the tranquility and marvel at the intricate Buddhist artwork inside the monastery.
Kyanjin Ri- For Exceptional Mountain Vista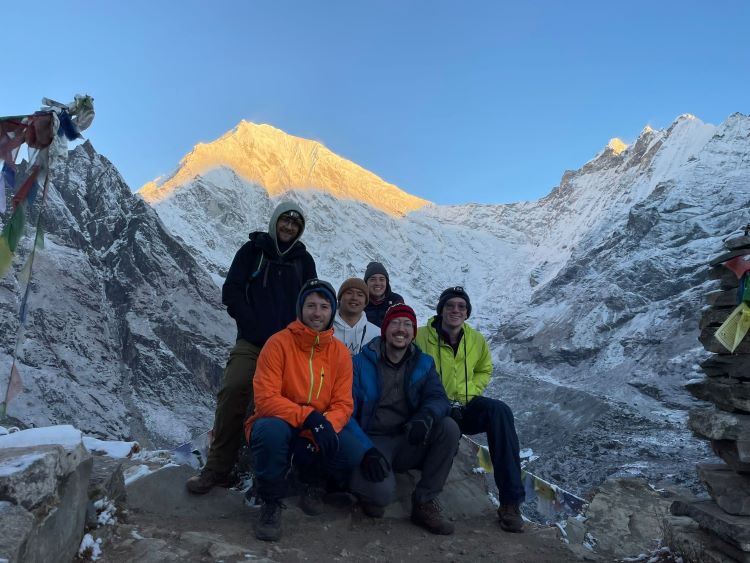 Kyanjin Ri is a peak that sits bordering Kyanjin Gompa village from the north. This peak measures an altitude of 4773 meters from sea level and provides amazing views of Langtang Lirung, Gangchempo, Yala Peak and other mountains.
The round trip journey to Kyanjin ri from Kyanjin Gompa takes about 3-4 hours depending upon your pace. It is advised to take the hike to Kyanjin ri early in the morning so you can witness the sunrise in the mountains that is truly mesmerising.

Langtang National Park
Established in 1976, Langtang National Park is the fourth-largest national park in Nepal, covering an expansive 1,710 square kilometres. The diverse landscape of the park includes lush forests, alpine meadows, rugged mountains, and glacial lakes. Serving as a haven for a wide variety of plant and animal species, it provides refuge for endangered inhabitants like the red panda, snow leopard, Himalayan black bear, and musk deer.
The Langtang Mountain Range, situated within the park, attracts trekkers and mountaineers with its exceptional trekking and climbing opportunities in Nepal.
Planning Your Langtang Trek
Before embarking on your Langtang Trek, it's essential to plan and prepare accordingly. Here are some key aspects to consider:
Best Time for Langtang Trek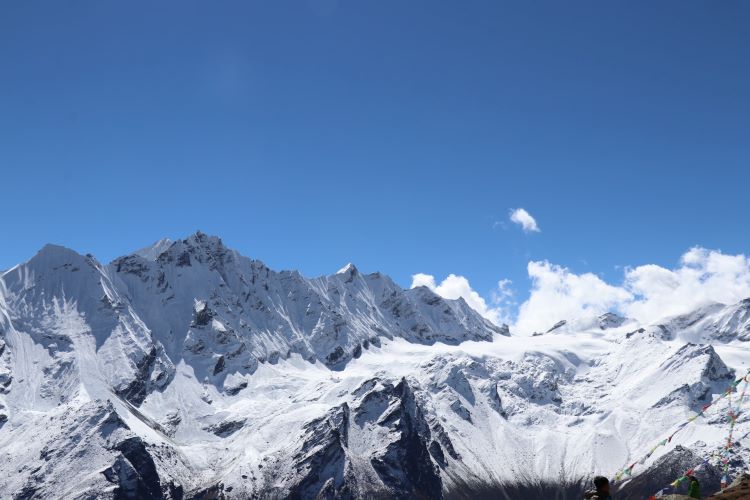 To make the most of your Langtang Trek, it's important to choose the right time to visit. The best seasons are mid-March to April and October to mid-November, when the weather is pleasant and the skies are clear.
These periods offer optimal conditions for trekking and provide the opportunity to witness the beauty of the region in full bloom. It's advisable to avoid trekking during the monsoon season (June to August) and the winter months (January to February), as the weather can be unpredictable and the trails may be challenging to navigate.
Accommodation and Facilities
Throughout the trek, you will find teahouses and guesthouses in the villages along the trail, providing comfortable accommodation for trekkers. These establishments offer basic amenities such as attached bathrooms with hot showers, charging facilities, and Wi-Fi in some cases. It is advisable to carry cash, as credit card facilities may not be available in remote areas.
How Long is the Langtang Trek?
The Langtang trek covers a distance of 77km (48 miles), including the climb to Kyanjin Ri peak. On average, it takes 5-7 days to complete the trek, depending on your pace and itinerary. The trek can be extended by adding side treks, such as the Tamang Heritage trek, which adds an additional 3 days to the itinerary. ude the Tamang Heritage trek in our itinerary.
How Difficult is the Langtang Trek?
The Langtang trek is considered to be of moderate to difficult difficulty level. While it is shorter in length compared to other popular treks in Nepal, it still presents its own challenges. The trek involves steep ascents and descents, with some sections reaching an altitude of 3800 meters. It is important to be physically fit and prepared for the altitude and rugged terrain.
However, one advantage of the Langtang trek is that it reaches a maximum altitude of 3800 meters (4600 meters if you climb Kyanjin Ri peak), which is lower than other popular treks like the Everest Base Camp trek or the Annapurna Circuit trek. This makes it a good option for those who are new to high-altitude trekking.
Where Does the Langtang Trek Start?
The Langtang trek starts from Syabrubesi, a small town located 120km northeast of Kathmandu. Syabrubesi can be reached by road, and there are two main options for getting there.
Private Jeep: Hiring a private jeep is the most convenient and comfortable option for reaching Syabrubesi. It takes approximately 7 hours to drive from Kathmandu to Syabrubesi, depending on the traffic and road conditions. The cost of hiring a private jeep is around $180 USD, which can be split among your group.
Public Bus: Taking a public bus is a more budget-friendly option, but it is also a longer and less comfortable journey. Buses from Kathmandu to Syabrubesi leave daily from the New Bus Station at 6 am and 8 am. The bus ride takes approximately 7-10 hours, depending on the traffic and road conditions. The fare for the bus is around $10 USD.
Do I Need a Guide for Langtang valley Trek?
While it is not compulsory to have a guide for Langtang trek, it is highly recommended, especially for those who are new to trekking in Nepal. A guide can provide valuable assistance in navigating the trail, managing logistics, and ensuring your safety throughout the trek. They are familiar with the local customs, language, and culture, which can enhance your overall experience.
If you choose to trek without a guide, it is important to have a good level of physical fitness and prior trekking experience. You should also be well-prepared with a detailed map, GPS device, and knowledge of the trail. Keep in mind that having a guide will also support the local economy and provide employment opportunities for the local community.
If you decide to hire a guide, there are several trekking companies in Nepal that offer guided Langtang treks. Adventure Great Himalaya is a highly recommended trekking company that provides experienced guides, well-organized itineraries, and excellent customer service.
How Much Does the Langtang Trek Cost?
The cost of Langtang trek can vary depending on several factors, such as the duration of the trek, the number of people in your group, and your choice of accommodation and meals. Here is a breakdown of the estimated costs for the Langtang trek:
Permits: To trek in the Langtang region, you will need a TIMS card (Trekkers' Information Management System) and a Langtang National Park entrance permit. The cost for both permits is approximately NPR 5000 (US$38) per person.
Guide: If you choose to hire a guide, the cost will vary depending on the duration of the trek and the number of people in your group. On average, the cost for a guide is around US$25 per day. If you are trekking in a group, the cost can be shared among the members.
Transportation: The cost of transportation from Kathmandu to Syabrubesi and back will depend on your chosen mode of transport. Hiring a private jeep can cost around US$180, while taking a public bus costs approximately US$10.
Accommodation: Accommodation along the Langtang trek is available in guesthouses, also known as tea houses. The cost for a basic room is around NPR 500 (US$4) per night for a double room. Prices may vary depending on the season and the facilities provided.
Food: The cost of meals on the trek can vary depending on your choices. On average, a meal costs between NPR 500-700 (US$4-6). It is recommended to carry some snacks and water purification tablets to save money on food and drinks.
Miscellaneous Expenses: Additional expenses may include charging your electronic devices, using Wi-Fi, purchasing bottled water or snacks, and tipping the guide and porter. It is advisable to carry some cash in Nepalese Rupees for these expenses.
Keep in mind that these are estimated costs, and prices may vary depending on the season and the services you choose. It is always a good idea to have some extra cash for unforeseen expenses or emergencies.
Conclusion
The Langtang trek in Nepal offers a unique and rewarding experience for trekkers of all levels. From the dense forests and charming villages to the towering peaks and glaciers, the trek showcases the beauty and diversity of the Himalayas. Whether you are an experienced trekker or a beginner looking for a challenging adventure, the Langtang trek has something to offer.
By following this comprehensive guide, you will be well-prepared to embark on your Langtang trek. Remember to plan your itinerary, obtain the necessary permits, and pack appropriate gear. Whether you choose to trek with a guide or independently, the Langtang trek will provide you with unforgettable memories and a deeper connection with nature.
Planing to Trekking In Langtang ?
Call WahtsApp – +977-9841273869
Email- info@adventuregreathimalaya.com