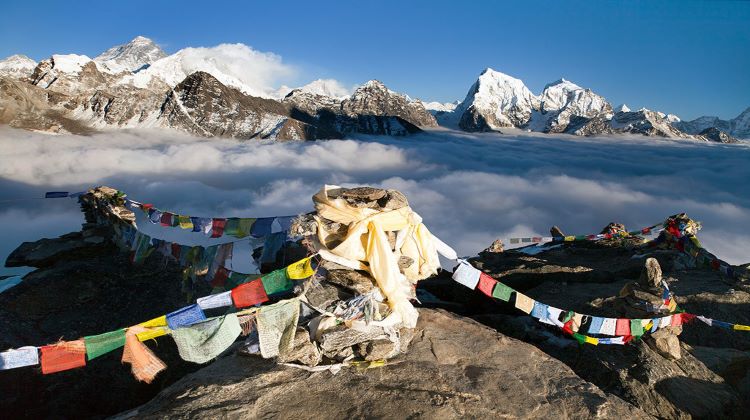 Gokyo Ri (5,357 m/17,575 ft) is a stunning trekking peak in the Everest region. This incredible peak is ideal in addition to your trekking itineraries. Located on the west side of the Ngozumpa glacier, this high point is also known for its scenic vista. There are sweeping views of the Himalayas and Himalayan landscapes.
There is a turquoise group of Gokyo Lakes at the base of the mountain. These seven lakes look incredibly pristine from the summit of Gokyo Ri. The outstanding journey to Gokyo Ri peak is widely considered as one of the best trekking destination in the Everest region. The narrow trails with rugged terrains adds adventure to your journey.
The beautiful summit of Gokyo Ri offers splendid views of at least four 8000m mountains, including Mount Everest, Makalu, Lhotse, and Cho Oyu. There are other smaller 7000m snow-clad mountains that you can observe from this viewpoint. Gokyo Ri summit is once considered the best viewpoint of the entire Everest region.
From Gokyo Ri, you can take different routes to return to Lukla. You can also reach Everest Base camp by crossing the Cho La pass. These routes are generally considered off the beaten path compared to the traditional route leading to Everest Base Camp.
Overall, Gokyo Ri is an ideal destination for all travelers who want to experience unique natural landscapes in a tranquil atmosphere.
How to Reach Gokyo Ri?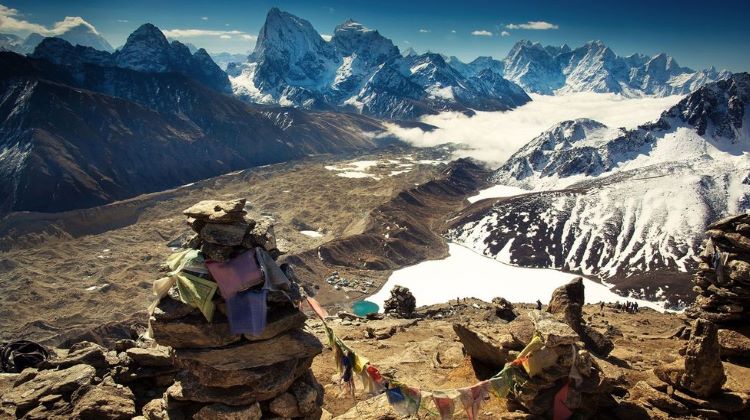 The Gokyo Ri is a beautiful high-altitude destination where you generally arrive through trekking. Located at an elevation of 5,357 m/17,575 ft, this mountain peak is famous as a trekking peak. These trekking journeys typically begin from Lukla after you arrive there on a flight from Kathmandu. The trails of the trek then pass through the Dudh Kosi valley.
Passing through the numerous small settlements like Jorsale and Monjo, you will first arrive at Phakding. From Phakding, you will descend to arrive at Namche. You will take a detour from the Everest Base Camp route and then travel to Dole. From Dole, you will travel to Machermo village settlement.
Trekkers will finally arrive at Gokyo from Machermo. After exploring and acclimatizing at the Gokyo lakes region, you can climb the Gokyo Ri the next day. You can join trekking groups or trek solo to arrive at the destination. The climb is a short duration one that gets completed in a day. You will return back after observing and exploring the summit on the same day.
Difficulties
Gokyo Ri is a trekking peak of moderate difficulty. The challenging routes require proper fitness and stamina to complete. The climb to the Gokyo Ri summit passes through some of the rugged terrains. Some narrow uphill climbs lead to the top of the summit, but it is not highly technical.
There are numerous days of trekking to go through before arriving at Gokyo Ri. The 5-6 hours of trekking for a week in the region of the Himalayan foothills is quite challenging for all. Hence, this aspect is generally considered a difficulty along the trail.
Moreover, in the late Autumn and Winter season, you will find icy frozen trails that can get quite difficult to traverse. Hence, you can use crampons or shoes with microspikes to trek in the freezing snow. On peak seasons with snowless trails, the Gokyo Ri is relatively easy to climb.
Another difficulty you might face in the journey to Gokyo Ri is unpredictable weather. The weather remains highly unpredictable in the high-altitude region. Hence, you must prepare well for the trip with proper training and other emergency measures for the journey. You should travel in the peak seasons as far as possible for stable weather and easy trails.
There are high chances of trekkers getting altitude sickness as well. Oxygen levels and air pressure levels are lesser in the altitude above 5000m. Hence, it can be difficult for trekkers to breathe at the Gokyo Ri summit compared to the lower areas.
Therefore, you need to acclimatize well and drink lots of water to tackle this problem. Altitude sickness can lead to severe and even fatal cases. You can also take Diamox, an anti-nausea tablet, to tackle the symptoms of altitude sickness. Hence, these are the various difficulties you might face in your journey to Gokyo Ri.
Views From Gokyo Ri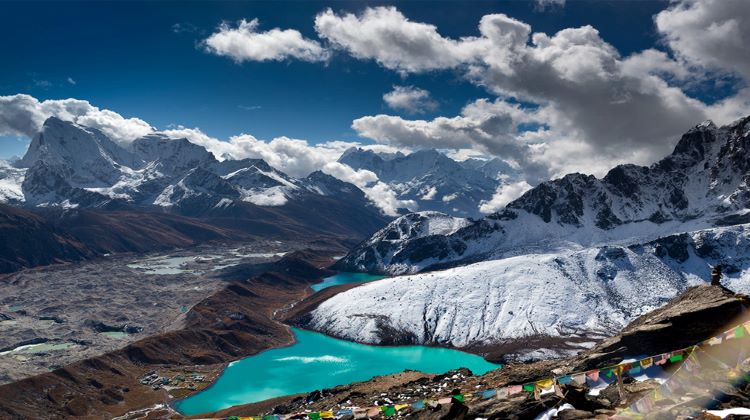 Fabulous Views from  Gokyo Ri  an early morning ,  you will see  views of turquoise Gokyo lakes,- Ngozumpa Glacier ( the world's largest glacier )  and breathing views of the  world's tallest mountains – including Mount Everest (8,848m/29,028ft), Cho Oyu (8,201m), Lhotse (8,516m), and  Makalu (8,463m)
Why booking with us ?
Fully Locally Owned Company
Quality Of Service and Competitive price
Highly Professional Staff
Flexible and customization trip itinerary
100% Customer satisfaction
Need help?
Nepal: 00977-9841273869
whatsapp
: 00977-9841273869
24 hour customer service