Poon Hill -Annapurna Base Camp – Mardi Himal Trek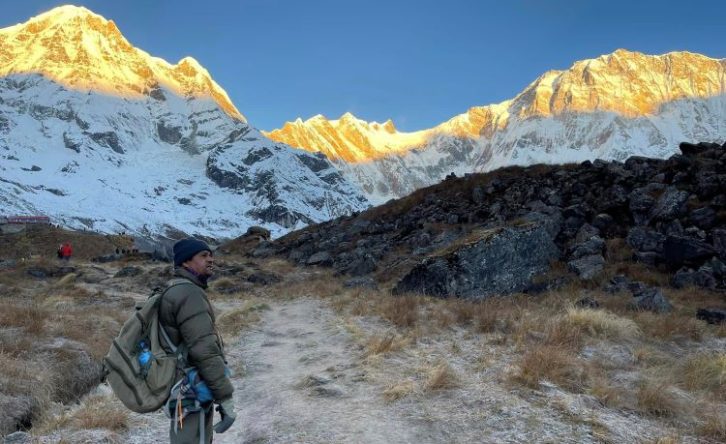 Trip Facts
Trek Destination
Poon Hill -Annapurna base camp - Mardi Base camp
Best Month
November / December / April / May
Overview
Poon Hill-  Annapurna Base camp  and Mardi Himal Trek collaborates 3 of the most popular trekking trails of the western Himalayan Belt into one single one. This trek traverses into the highlands of Annapurna outskirts circumnavigating small Gurung and Magar settlements across the region.
Annapurna Base Camp, Poonhill and Mardi Himal are amongst the best treks in the Annapurna Region providing some of the most spectacular views of the region.

Trekking in the Annapurna Region has always been a fascinating trip for trekkers all across the globe for its varied diverse offerings of natural variation, cultural mix and geographical distinction. And the best part of it is, the trail pierces through the heart of Annapurna Conservation Area Project (ACAP) making this trip even more enthralling for naturalists.
The trek starts from the picturesque city of Pokhara, which can be reached by a domestic flight from Kathmandu or you may opt to take a bus via scenic route of Prithvi Highway. From Pokhara, we head westward towards Nayapul which acts as the crossroad for 3 popular treks in Nepal: Poonhill Trek, Upper Mustang Trek and Annapurna Base Camp Trek.
Poon hill – ABC and Mardi himal trek start from from Nayapul  which drive an hour from pokhara city, we will visit Poon hill, the most popular annapurna himalaya sunrise / sunset  views Point
After Poon hill we will visit Annapurna base camp
The trail passes through village of Banthanti and Naagthanti till you reach your destination, Ghorepani. The first destination of the trek is Poon Hill, which is famous for its panoramic views of several Himalayan peaks, including Dhaulagiri (8167m), Annapurna (8091m), and Machhapuchhre (6993m). The sunrise view from Poon Hill is breathtaking, and you can see the snow-capped peaks glowing in the morning light.
The next stretch of the trek takes you from Poonhill towards the base of Mt.Annapurna. The trail  to Annapurna Base Camp Trek from Poonhill passes through dense forests of rhododendron and bamboo, past waterfalls and rivers, and through traditional Gurung villages
Annapurna Base Camp is a spectacular destination that offers panoramic views of several Himalayan peaks, including Annapurna (8091m), Hiunchuli (6441m), and Machhapuchhre (6993m). The campsite is surrounded by towering peaks and glaciers, and you can see the stars twinkling in the clear night sky.
After AbC trek, we will toward to Mardi Himal Base Camp, Mardi Himal Base Camp, located at an elevation of 4500 meters, offers a great view of the Annapurna Massifs, including Annapurna South, Hiunchuli, Machhapuchhre, Gangapurna, Annapurna I, and Mardi Himal.
     Trek Highlights
Gaze at the picturesque Himalayan vista that includes 3 mountains above the elevation of 8000 metres: Annapurna I (8,091m), Dhaulagiri (8,167m), and Manaslu (8,163m).
Diverse range of landscapes, from lush green forests to arid desert-like terrain.
Immersion in culture and lifestyle of several ethnic communities, including Gurungs, Thakalis, and Magars.
Find relaxation in Hot Spring at Jhinu Dada which is believed to have medicinal benefits .
Save you time and money with our combined trek that lets you venture to 3 major trekking destinations of Annapurna region within a span of 18 days.
Accommodation and Food during the trek
During Annapurna- Poonhill- Mardi Himal Trek, you will pass through charming Gurung settlements. The route leading up to Annapurna Base Camp, Poonhill and Mardi Himal Base Camp is dotted with teahouses. These traditional lodgings are managed by the Gurung and Magar people and offer basic amenities to trekkers. The rooms are typically equipped with twin beds, foam pads, pillows, and blankets.
While most teahouses have private bathrooms, those at higher elevations may have shared facilities. To stay warm, teahouses use a Bukhara stove, which is a cylindrical iron structure with a chimney duct that burns logs. The stove is typically located in the dining area, where guests can gather around to enjoy the warmth of the fire. Please note that there is power supple , internet services and cellular connection in this trek but is not reliable as there are several disruptions that occur time and again.
Poon Hill ABC – Mardi Himal Trek passes through small settlements of charming Gurung communities in the Nepalese region. Due to the area's remote location, food supplies are transported either by helicopter or by pack animals such as mules.
The Annapurna region borders Tibet to the north, and the food habits of the Sherpa people in the area have been largely influenced by Tibetan culture. While every Tea House offers the traditional Nepali dish of Dal Bhat (rice and lentils), there are also a variety of other options such as vegetables, noodles, potatoes, soup, and even some Nepali versions of western food like pie, pasta, and french fries. We do not recommend meat products (even the canned meat) during the trek owing to the hygiene factor.
Best Time for the Trek
Nepal's geographical location in a sub-tropical latitude makes it an ideal place for adventure activities due to its moderate and pleasant climate. The most favourable seasons for travel in Nepal are the autumn/fall and spring when the weather is clear and comfortable. However, during the summer months from May to August, the weather is harsh due to the scorching heat and monsoon rain brought by the Bay of Bengal clouds.
Winter in Nepal, which lasts from December to February, is also harsh as the Himalayan region of Nepal receives heavy snowfall, making it inaccessible for trekkers. For those planning to trek in the Annapurna region, the best time to do so is during the autumn and spring seasons.
How Difficult is Annapurna Base Camp – Poonhill – Mardi Himal Trek?
Relative to other major treks in Nepal, ABC- Poonhill- Mardi Himal Trek is moderate. The trek becomes arduous for travellers as they ascend to altitude above 4000 meters i.e: above Machhapuchre Base Camp and High Camp. In the elevation above 3500 metres, there is a probability for AMS ( Acute Mountain Sickness) and the oxygen level in the air gets thinner which slows down your walking pace. You will trek through semi-arid landscape high in the Himalayas and traverse through some of the toughest terrains in Nepal. This trek is medium level difficult for those with limited or no prior high altitude trekking. An optimum level of fitness and endurance is required for choosing this trek.
The highlands of Annapurna Region is a remote area that is accessible only on foot or via helicopter. The trail that lead to Annapurna Base Camp and Mardi Himal Base Camp are narrow, rugged, uneven and rocky making it harder to walk on. Withal, this is a teahouse trek which provides very basic accommodation with limited food options: usually Nepali and Tibetan dishes. Owing to the remoteness of the region, cellular network disruption is common in the villages of the trail.
That being said, our team of professionals are willing to take all these risks into consideration and ensure a safe trek for our clients. We have set aside 1 days for acclimatization so that you can adapt well into the high altitude and travel comfortably. Our team of trekking experts at Adventure Great Himalaya are trained professionally in order to tackle any such unforeseen events that might occur during you trek.
( Poonhill -ABC – Mardi ) Trek Walking Hours/ Altitude
| | | | |
| --- | --- | --- | --- |
| Stopovers | Max Elevation | Distance (Kilometres) | Walking Hours |
| Nayapul to Ulleri | 2055m/ 67422 ft | 4.4 | 4 Hrs |
| Ulleri to Ghorepani | 2860m/ 9383 ft | 8 | 6 Hrs |
| Ghorepani to Poonhill | 3210m/ 10531 ft | 3 | 2 Hrs |
| Poonhill to Tadapani | 2630m/ 8628 ft | 9.7 | 6 hrs |
| Tadapani to Chomrong | 2170m/ 7119 ft | 10 | 7 Hrs |
| Chomrong to Dovan | 2620m/ 8595 ft | 9 | 6 hrs |
| Dovan to Machhapuchre Base Camp | 3700m/  12129 ft | 8 | 6 Hrs |
| Machhapuchre Base Camp to Annapurna Base Camp | 4130m/ 13550 ft | 7 | 3 Hrs |
| Annapurna Base Camp to Bamboo | 2300m/ 7546 ft | 13.5 | 7 Hrs |
| Bamboo to Jhinu Dada | 1780m/ 5839 ft | 7 | 6 Hrs |
| Jhinu Dada to Pothana | 1890m/ 6200 ft | 18 | 5 Hrs |
| Pothana to Forest Camp | 2600m/ 8530 ft | 10 | 6 Hrs |
| Forest Camp to High Camp | 3585m/ 11761 ft | 7 | 6 Hrs |
| High Camp – Base Camp – High Camp | 4500m/ 14763 ft | 12 | 5 Hrs |
| High Camp to Siding to Pokhara | 1750m/ 5741 ft | 24 | 8 Hrs |
Trek Itinerary
Cost Include / Exclude
What's include
Airport/ hotel airport transportation
2 Nights Hotel in Kathmandu including breakfast
2 Night Hotel in Pokhara including Breakfast.
Kathmandu to pokhara  / Kathmandu tourist bus
 Pokhara to kande and after trek siding to pokhara jeep
Trekking Permit : Annapurna Conservation Fees and TIMS Permit
 Trekking Guide: An Experience, English Speaking Trekking Guide
Trekking Porter: One porter between 2 Members ( No  porter for Solo Trekkers)
Meals : 3 meals a Day ( breakfast, Lunch, Dinner) during the trek
Lodge Accommodation:  4 Night Twin sharing Lodge to Lodge Accommodation
Trekking Equipment: Sleeping Bag, Down Jacket, walking poles ( refundable after the trek)
Government Tax and vat
Office Service charge.
Welcome Dinner
What's excluded
International air fare and Travel Insurance
Nepal entry visa fee
All bar bills and Bottle of drink
Lunch / Dinner In Kathmandu and Pokhara
Kathmandu to Pokhara / Kathmandu flight ticket $ 190 per person
Tipping