Rara lake Helicopter Tour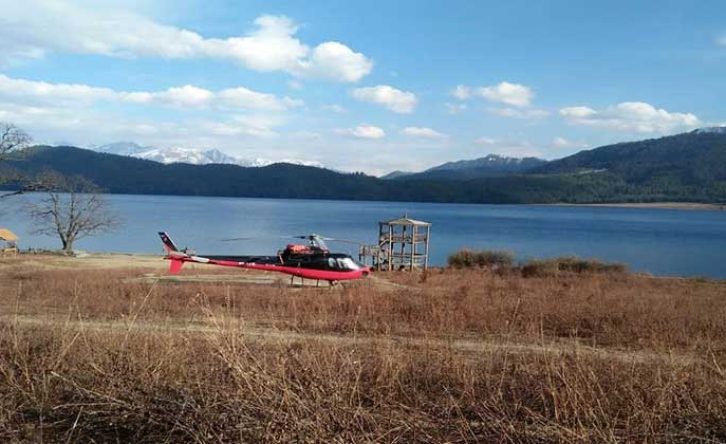 Trip Facts
Best Time
November /Oct and April /May/ March
Group Size / passenger
5 pax
Tour Start
Kathmandu Domestic Airport
End The Tour
Kathmandu Domestic Airport
Overview
Rara Lake Helicopter Tour is a dream trip to the biggest lake in Nepal, Rara. Located at an altitude of 2990 meters, Rara lake expands over the area of 9.8 Sq Km. Rara Lake is a magical lake surrounded by the calm Himalayas and whistling pine forests. The deep blue freshwater lake and the rays of sun reflecting over the tranquil water, does it not sound like one from a fairy tale? I must say, Rara is a heaven on earth!

Rara Lake is a remotely located lake. The easiest way to reach the Rara lake is via a helicopter ride. Trekking to Rara lake is time-consuming, strenuous, and demands a strong physique. To those who are physically unable to trek through the strenuous trekking trails, helicopter tour to Rara is a perfect choice.

This helicopter tour is also suitable for those who seek a luxury way of visiting the mesmerizing Rara lake. Also, to those explorers who have a tight schedule, this tour is the best one.

Make your dream come true with Adventure Great Himalayas. We are one of the best helicopter tour operators in Nepal. Join us on the luxurious helicopter tour into the heart of Mugu and the wonderful Rara National Park.

Rara Helicopter landing tour starts from the airport in Kathmandu.  We will fly over the brilliant views of Langtang range heading towards Nepalgunj. The helicopter lands in Jumla for refueling. From Jumla we will fly to Rara Lake to rejoice its enchanting beauty.

We will see the brilliant views of the green hills, tranquil valleys, beautiful villages, and amazing landscapes. We will also see the majestic views of the Dhaulagiri Range and Mt. Kanjirowa. From Rara lake, we will fly towards Kathmandu via Nepalgunj.
For Booking Rara lake Helicopter tour,
Call direct @ Babu Or WhatsApp: +9779841273869
Email: info@adventuregreathimalaya.com
Gallery