Short Annapurna Circuit Trek – 7 Days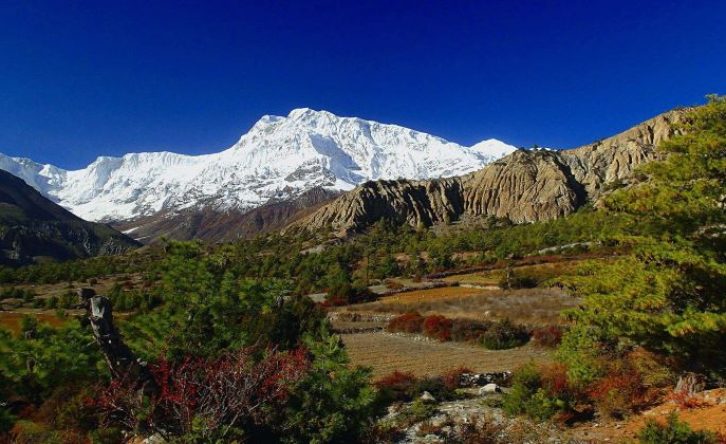 Trip Facts
Best Season
October / November And March / April
Overview
You must not have heard of the Annapurna circuit trek 7 days itinerary, but yes, it is possible. We Adventure Great Himalaya have created a short Annapurna circuit trek package who has few days for trekking and want to skip the dusty road trails. Let us give us some information before showing you the itinerary.
If you are planning your first visit to Nepal, let us brief you about this trek. The Annapurna mountain range is a popular attraction located northwest of Nepal. The mountain has a high number of admirers within the mountaineering community. Trekking around the mountain range is also quite popular worldwide. The Annapurna mountain range offers almost two-thirds of Nepal's mountain trail trek options. The number of days for the treks is also diverse. It could take 7 to 20 days to finish based on itineraries and routes.
Generally, you will find this route itinerary 14-21 days long, and you might think the Annapurna circuit trek of 7 days may be a bluff. But a BIG YES, you can easily finish the trek just in 7 days. The itinerary gets shorter when you start the trek from a drive to Manag through the jeep.
The Annapurna circuit trek 7 days trip is unique as it immediately gains significant altitude. The Jeep ride from Kathmandu to Manang is a gain of 2119 meters of altitude. Although most Annapurna circuit treks follow a similar itinerary, this one takes you up to Manang through a jeep. While trekking on foot, people have to face a lot of dust and pollution on the road. But jeep travel will prevent the such hassle. This itinerary provides a shorter, pollution-free, unique perspective on the Annapurna circuit trek.
During 7 days Annapurna circuit trek, you will pass through many gorges, and high altitude mountain passes like Thorong La Pass. You'll get a stunning view of the main peaks of the Annapurna Massif. There are also monasteries, temples, adorable small villages, and the villagers of different settlements.
The trip starts from Kathmandu as you drive to Manang through a Jeep. You will trek to Ledar after acclimatizing for a day in Manag. The trail takes you to High Camp from Ledar. You shall cross the Thorong La Pass from High camp to reach Muktinath. After Muktinath, the itinerary takes you on a trek to Jomsom. From Jomsom, you get a flight to Pokhara, ending the Annapurna circuit trek in 7 days.
Trek Highlights
A drive through the remote trails of Nepal to reach Jomsom via Jeep.
Visiting Mustang's headquarter of Jomsom.
Explore the eternal flame and 108 faucets of the Muktinath temple.
Learn about various Hindu and Buddhist cultures through Muktinath.
Cross the Thotong La Pass at 5416 meters above sea level.
Enchanting view from the trekking trails. These include Thorung peak, Nilgiri, Chulu west and east, Tukuche peak, Dhaulagiri, Lamjung Himal, Annapurna II and IV
See the fantastic views of the beautifully flowering rivers of Marsyangdi Khola.
You can bathe in Tatopani's natural hot water springs, which carry legends that say to have healing properties.
 Beautiful lakes, glaciers, gorges, and waterfalls are throughout the roads.
The biggest monastery in the Manang district is Barge Monastery; pay a visit there.
Difficulties of the trek
Annapurna is on the grade three difficulty, a step lower than most challenging hikes. The trek's lowest point would be 300 meters above sea level. But to reach the trek's summit, which would be at about 5416 meters, you will have to ascend higher each day. Let's discuss some of the challenges you might have to face on the Annapurna circuit trek 7 days long.
Altitude sickness
The first and foremost difficulty this trek brings is altitude sickness. In this itinerary, risks of minor altitude sickness like AMS are more probable. The beginning of the trek gains a lot of altitude at once. You move from Kathmandu's 1400 meters altitude to Manang's 3519 meters altitude. This rapid change of elevation might result in symptoms of altitude sickness. So the itinerary has a day in Manang to rest and accommodate the altitude.
Crossing  Thorong La pass
The highest point of this trek will be the Thorong La pass. This structure stands at a height of 5,416 meters and is infamous for snowstorms. You need to immediately halt your hike if there are forecasts of potential snowfall in the region. These avalanches are almost always the result of heavy snowfall and are life-threatening.
The trail along the Thorong La pass is also very tricky. You go through some of the most challenging landscapes, which are frequently rocky, dry, and steep. When the weather is icy, the slope can be rather steep, making it difficult to descend from the Pass. If the weather is humid or warm, then the trails become slippery. So either way, the icy paths of Thorong La pass need to be crossed with caution.
7 Days Annapurna Circuit Trek itinerary
Cost Include / Exclude
What's include
Annapurna Conservation permit and TIMS Card
 3  Meals a day during the trek ( Breakfast, Lunch and Dinner)
Tea / Coffee
Transportation  Kathmandu To Manang  By  Jeep
Jomsom  / Pokhara flight ticket
All accommodations in lodges/tea houses during the treks.
 Trekking guide
Trekking porter ( one porter for two members)
Adventure Certificate.
All government taxes.
Service charge.
What's excluded
International airfare  and Nepal entry visa fee
Travel insurance and also rescue evacuation in case of emergency
Lunch Dinner in Kathmandu and Pokhara
All the bar bills like coke, beer, bottle of water, hot water etc.
International airfare
Tips
Gallery