Tsum Valley Trek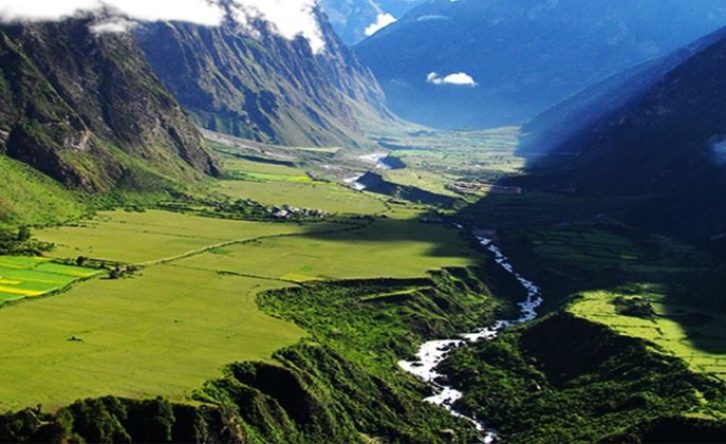 Trip Facts
Mode Of Trek
Simple Lodge
Season
January - December
Overview
Tsum Valley Trek takes you to the secret Tibetan Buddhist land lying at the edge of Ganesh Himal. The valley lies along the border with Tibet and is one of the most secluded part of Himalayas.
About 4,000 Tsumbas reside in 18 villages. Time has stand still; little has changed and you are rewarded with fascinating glimpse of bygone era. The geography comprises countless ups and downs; making it fairly challenging trek.
Very few adventure travelers have made it to this high and isolated valley, which used to be significant trade route between Nepal and Tibet. The Tsum valley trekking route is relatively less-visited in comparison to other touristy areas, with relatively virgin and less-trodden trail. Tsum valley was first opened in 2008 at the request of Tusambas.
Tsumbas are the descendant of Tibetan who are believed to be migrated here centuries ago. They follow unique culture and form of Buddhism; they speak an ancient dialect and have unique lifestyle.
You will be surprised to witness the practice of polyandry system; where one girl is married to all brothers of family. But the system is practiced by few families which tend to wealthier than conventional families. Barley, maize, buckwheat and potatoes are grown on here short growing season. Look out Himalayan Thars and Bharal along with illusive snow leopards on high slopes.
The major highlights of Tsum Valley Trekking includes impressive square chortens, clustered stone houses and ancient religious sites with ancient arts and jaw-dropping views. Mu and ancient Dephyu Doma Gompas (800 years old) are the final destination and highest permanent habitation of the region.
Notable sites also include Rachen and Gumba Lungdang Nunneries. They warmly welcome visitors to stay overnight and participate in their evening puga. Fropm Gumba Lungang, a forest trail leads to the Ganesh Himal Base Camp: and presents superb views of Ganesh Himal to the west and Manaslu to the east with its surrounding peaks.
Trekkers with more time and strength can combine Tsum valley with Manaslu Trek for more adventure and discovery!
Tsum Valley Trekking Highlights
The Tsum Valley trek is a unique and off-the-beaten-path trek in Nepal, and there are many highlights to this trek. Here are some of the main highlights of the Tsum Valley trek:
Stunning Scenery: The Tsum Valley is located in a remote area of Nepal, and the scenery is breathtaking. You'll see snow-capped mountains, deep gorges, rushing rivers, and lush forests.
Tibetan Culture: The Tsum Valley is home to the Tsumba people, who are of Tibetan origin. The people here have a unique culture and way of life, which is heavily influenced by Tibetan Buddhism. You'll see colorful prayer flags, intricately carved mani walls, and traditional villages.
Mu Gompa: Mu Gompa is a famous monastery in the Tsum Valley, which is believed to be over 700 years old. The monastery is perched on a hilltop and offers stunning views of the surrounding mountains.
Wildlife: The Tsum Valley is home to a variety of wildlife, including Himalayan tahr, musk deer, snow leopard, and red panda. You may have the chance to spot some of these rare animals during your trek.
Challenging Trekking Routes: The Tsum Valley trek is a challenging trek, with steep ascents and descents, high-altitude passes, and long days of walking. However, the rewards are worth it, as you'll see some of the most beautiful and remote parts of Nepal.
Overall, the Tsum Valley trek is a unique and rewarding trek that offers stunning scenery, rich culture, and a challenging adventure.
The Tsum Festivals
Tusm is a destination known for its rich and diverse culture. The lush culture has been preserved in various forms – fortress, Chortens, Gumpas, houses and temples. Besides architectural uniqueness, innumerable numbers of fairs and festival are integral part of Tsumbas. Each festival celebrated in Tsum is unique but enthusiasm, fest and joy are common for these fairs.
"The Lhosar" is the most significant festival celebrated in Tsum valley. It literally signifies the Tibetan New Year. The local sof the lower Tsum valley celebrates the festival earlier than in the upper reaches. Likewise, "The Horse Festival" is also important festival in the region. The males of valley participate in horse race during the day and in the evening, the women performs traditional singing and dancing.
On the full moon day, People celebrate the birth of Lord Buddha – also known as "Happy Saka Dawa" which means the rituals of enlightenment and Nirvana. According to Lama Zopa Rinpoche, if anyone performs any kind of ritual in this day, the rituals will be multiplied by 100 million time. Thus, you can witness devotees performing rituals in local monasteries and nunneries with great faith. The "Fining" festival celebrated in mid-August signifies the internal energy from any kind of food including water.
Tsum Valley Weather: When to Trek Tsum Valley
When it comes to traveling, weather play a significant role to make your trip memorable or worse one.  The weather in mountains are highly unpredictable, however, the spring and autumn are the statically best season to visit Tusm valley. This is because, the winter is extremely cold and monsoon receives heavy downpours inviting the threat of floods and landslides.
The month of January and February are extremely cold with heavy snow showers. Although days remain clear, nights and mornings are at freezing level. The snows and ices on the approaches will add more challenge to the trek.
Tsum Valley Weather is at its best in the month of March – May. The weather tends to remain stable with clear views of Ganesh Himal and Himal Chuli. The colorful rhododendron flowers along the trail add more dimension to the trek. The month of July and August do not favour trekkers because the rainfall is at its peak and the trail becomes slippery. September – October is the best season to trek Tusm Valley. The climate favorable with clear sky and stunning mountain views.
Tsum Valley Trek Difficulties
As the valley is tucked away far amidst of Himalayas, Tsum valley trek presents real challenge that includes long climb, steep descents, rocky path and remote trail. Therefore trekkers need to be fit and confident enough to tackle the challenge that the mountain throws on them. The more fit you are, the trek to the Tsum valley becomes more interesting and enjoyable. This trek is not recommended to the trekkers with heart and lung disease.
Tsum Valley Trek Permit
The protected area act of Nepal requires foreigners to obtain Restricted Area Permit (RAP) to enter
certain areas in Nepal. The restriction is imposed to protect the fragile ecology and culture.
Tsum valley is restricted for trekking and you need to obtain RAP Permits. You also need to purchase
MCAP and ACAP.
Tsum Valley Trek Permit cost
September – November – USD 70 person per week and USD 10 per person for each additional day
December – August – USD 50 per person per week and USD 7 per day per person for each Additional day
ACAP (Annapurna Conservation Area Project Permit) – USD 20 or convertible foreign currency
MCAP (Manaslu Conservation Area Project Permit) – USD 20 or convertible foreign currency
Tsum Valley Restricted Area Permit Rules
· You must have a valid passport with at least six month of expiry date
· You must process for permit through the authorized local trekking/travel agency
· You must accompany an authorized guide or porter on trek
· You must be at least two in a group (excluding your guide or porter)
Accommodation in  Manaslu Tsum Valley trek
he Tsum Valley trek is a popular trekking route in Nepal that is known for its stunning scenery, unique culture, and remote mountain villages. While trekking in the Tsum Valley, you will find a range of accommodation options, including teahouses and home stays.
Teahouses are basic lodges that offer simple rooms with shared bathrooms. They typically provide meals, hot showers, and blankets. The facilities can be very basic, and you may need to bring your own sleeping bag. Some popular teahouses on the Tsum Valley trek include:
Rachen Guest House
Samagaun Guest House
Philim Guest House
Chhekampar Guest House
Lokpa Guest House
Home stays are also a great option for trekkers who want to experience the local culture and customs. Homestays offer a more authentic experience, as you will be staying with a local family in their home. The facilities can be very basic, but the hospitality is usually excellent. Some popular home stays on the Tsum Valley trek include:
Cheyang Homestay
Lama Gaun Homestay
Mu Gompa Homestay
Chumling Homestay
Nile Homestay
Tsum Valley Trek Itinerary
Cost Include / Exclude
What's include
Airport/Hotel/ Airport Transfer.
3 Night Hotels in Katmandu.
Necessary Trekking Permit and Company paperwork.
  Meals during the trekking (Breakfast, Lunch, Dinner)Tea coffee with meal.
Experience, English speaking trekking Guide, and necessary porters (general 1 porter between 2 clients) their wellpaid salary and insurance.
Lodge to lodge accommodation during the trek.
Trekking Equipment, Sleeping bag, Down jacket and Duffel bag
Kathmandu to Sotikhola / Kathmandu by Jeep.
Government tax / Vat/ Company service charge
What's excluded
International air fare to and from Nepal.
Nepal entry visa fee
Travel insurance. emergency rescue evacuation
Lunch/ Dinner in Kathmandu
extra porter, extra night hotel in kathmandu.if arrive early or late departure than our Itinerary.
personal expenses (bar bills, beer, coke, bottle of water, hot water, phone call, laundry service etc)
Tips for guide, porters, driver.
FAQs
Gallery