The astonishing beauty of Nepal has always been the main attraction for many nature lovers and adventure seekers. The low lands of Nepal to highest Himalayan series, all are equally beautiful and rewards every visitor with lifetime unforgettable memories. Nepal offers wide range of travel activities. Ranging from adventurous and thrilling tours to luxurious tours all are filled with immense natural beauties and are best escape to your busy schedule and hustle and bustle of city life.
The country Nepal is land of paradise for those who loves the peace and beauty. You can plan a family tour in Nepal and spent some precious moments with your loved ones in the lap of high Himalayas and in the land of peace and bravery. The diverse landscape makes Nepal more unique and offers wider platform for visit and larger opportunities to cherish the beautiful moments.
We suggest you to Travel Nepal with children and let them explore the immense natural beauties and cultural heritages. The remote areas of Nepal are still holding the same cultures and traditions as it was in the centuries ago. Unaffected from the city life, rural peoples of Nepal Himalayas are still practicing the same lifestyles. Travel Nepal with Children is more worthy if you manage to plan a trip in festival season i.e. autumn season. In this season you can explore the unique ways of celebrating the different festivals in Nepal which will make your trip more exciting.
Why Nepal is best for Family Tour?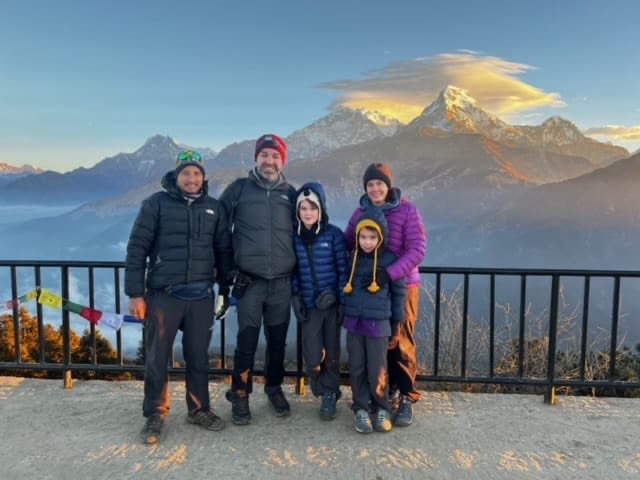 If you are planning a family tour then you must be careful about selection of your destination. Choose the destination where you and your family feel comfortable and can explore the tremendous beauty even in a short duration. Nepal is the country where you can get chance to explore the very low lands to highest peak of the world. The gigantic mountains are very famous throughout the globe and most of the people dreams to explore Nepal once in their lifetime.
The dense forests of Nepal is a habitat for many rare and endangered birds and mammals. You can explore the Tiger (Panthera Tigris), Asian Elephant(Elephas maximus), One Horned Rhino(Rhinoceros unicornis )to Snow leopard (Uncia uncial) and Red Panda (Ailurus fulgens)in Nepal. Also you can explore the migratory and endemic bird species in the forests of Nepal.
Almost 80 percentage of Nepalese are Hindus and this makes the country full of beautiful Temples everywhere. The Kathmandu valley was once known as 'The valley that houses more temples than Homes'. There are many such big and beautiful temples carved with unique and astonishing wooden arts and designed. You can also feel the warm sunshine with incredible picturesque views which will blow your mind.
The Nepalese are very kind and polite and always welcomes our guest with a warm love and huge smile. Nepal could be the best destination for Travel with Children or Family Tour.
Things to Consider for Family Tour In  Nepal

Before planning a Family tour to Nepal, you must be careful with the accommodation services, travel agencies and many more to complete your trip successfully. Below we have discussed some most important factors for your ease. Go through it once, we guarantee you that this will help you a lot in choosing right destination for you.
Accommodation
Accommodation is one of the compulsory factor you should think about while planning a family trip in Nepal. You must fix what kind of Hotels/lodges are suitable and comfortable for you and your family. If you are planning a trip in spring and autumn season you will find all the hotels packed in the trekking trails as this is the main seasons for trekkers and foreign tourists. So, we recommend you to book your rooms before starting the trip.
There are so many travel agencies in Nepal that offer you a family tours and many more. Some of them offer the cheapest price too. It depends on you what you want, a cheapest price or standard service. Travel Nepal is not so costly after all. Almost all of the trekking agencies offer same range of prices. Choose a reliable and trustworthy travel agency so that you can make a wonderful tour.
Selection of Travel Package
We recommend you to short and scenic tour packages for travel with children in Nepal. Don't go for strenuous trekking and thrilling trips with children. Choose the destinations that are nearby Kathmandu or those travel destinations that are easily accessible. Going for long and strenuous tours may lead you to some health issues and make your trip quite miserable experience.
Knowledge of weather conditions in Nepal
Weather in Nepal is calm in autumn and spring with sunny days and favorable temperature for every tourists even in the High altitudes. The monsoon is rainy and it rains almost all the days but temperature is not very low.
During winter temperature decreases dramatically in the Higher Himalayas and almost all nights are below zero degree. It's very cold even in the lower altitude like Kathmandu Valley. So, we recommend you this season only if you feel comfortable to travel in the cold weather.
Best Time for Family Tour in Nepal
Family Tour in Nepal with children is best if you managed to visit in autumn and spring seasons. These are the most loved season of international tourists and domestic, too. These season offers best scenarios over a clear sky and you will meet many tourists on the way to encourage you and enchant you.
Family tour in Nepal is also possible in winter and monsoon but it may not be suitable for all the tourists. In monsoon, Nepal receives heavy rainfall almost all the days which may lead to flight delay or even cancellation. In the steep hills, there is a risk of landslides and leeches may attack you in the Himalayas.
As we all know, winter is cold. And it is even colder in the higher Himalays of Nepal. The temperature falls below zero during nights. So, if you feel comfortable travelling in cold days then only choose this season. The plus point of Trekking in winter is, you will not find so many trekkers and travelers and can complete the solo trip enjoying all the mesmerizing views all alone.
Recommended Destinations for Family Tour in Nepal
Here we have mentioned top five best destinations for family tour in Nepal. Read it once and plan a wonderful tour in Nepal.
Kathmandu Valley Tour
Kathmandu Valley Tour is one of the most famous and easily accessible Family Tour in Nepal. The valley is filled with beautiful monuments and rich in the ancient old Gumbas and Temples. The Temples like Pasupatinath and Changunarayan have always been the center of attraction. On Kathmandu valley Family Tour you can explore the old Palaces like Bhaktapur Durbar Square, Basantapur Durbar Square and Patan Durbar Square. In addition, you can also plan a visit to famous Monkey Temple
(Swoyambhunath) and the largest monastery of the world (Bouddanath Mahachaitya).
Chitwan Jungle Safari
Chitwan Jungle Safari is a best Family Tour in Nepal filled with adventurous experiences. In Chitwan, you will get a chance to ride an Elephant and explore the whole national park observing the various endangered wild species. This is also a best chance for exploring beautiful birds. Jeep Safari and Boating are other options of Jungle Safari in Chitwan National Park.
Pokhara Valley Tour
Pokhara valley is also known as the queen of cities and the city of lakes.  There sever big lakes and the most famous is Phewa Lake. Nestled between the gigantic Mountain ranges of Annapurna and Fish Tail (Machhapuchhre) Pokhara valley looks mesmerizing. You can also plan a short one day hike to Sarangkot and observe the eye catching view of sunrise and also experience horse riding in High Himalaya.
Chisapani Nagarkot Hike
Chisapani Nagarkot Hike is a short one day hiking in Kathmandu Valley. This is best suitable hiking for family tour in Nepal. The Chisapani Nagarkot Hike offers you a great chance to explore the countryside lifestyle of Nepalese. You can observe the traditions and lifestyles of Newar peoples residing in this area. The hike follows the trail through Shivapuri national Park where you can explore many diverse species of floras and faunas. Nagarkot is also famous for best sunrise and sunset view point. Additionally, this trek rewards you with best panorama of snow-capped mountain ranges.
Ghorepani Poonhill Trekking
For older kids, Ghorepani Poonhill Trekking is a best option. This takes you to the Annapurna Region of Nepal which is enriched with tremendous natural beauties and offers best sunrise views. You can explore the high Himalayan ranges closely from Poonhill and also get a chance to explore the lifestyles of Gurung Communities which makes your trip more interesting.