Everest Base Camp Trek Cost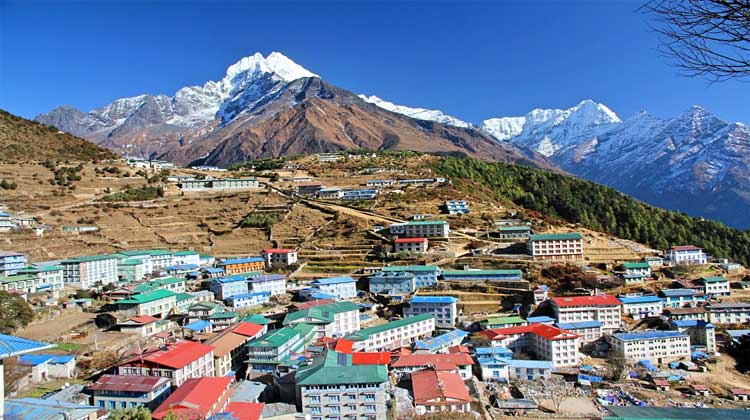 Everest Base camp Trek Cost is depending on your requirement service,  generally Everest Base Camp trekking cost you around USD$ 1,200 to $1500 per person for standard package  an average 12 – 15-day trek. The prices usually include  permits, round trip flights from Kathmandu to Lukla, accommodation, and meals. However, the booking price won't include visa fees, trekking, and travel insurance.
If you choosing the luxury type of Everest Base camp Trek, it cost $2500 to 3000 per person and  hike to base camp and return by helicopter cost you  from $ 4000 to 5000 per person
The Everest Base camp Trek is one of the popular trekking destinations for trekkers from all around the world. Conquering the Everest Base Camp is once in a lifetime experience as you hike through the challenging high altitude terrains, rocky tracks, and steep inclines.
Trekkers and Climbers desire to grab their goal by reaching the Everest Base Camp with proper preparation and budgeting. The travelers start their journey by collecting funds leading to a strong budget for the Everest Base Camp trek. Here, we offer you a brief insight into the cost for your dream destination, Everest Base Camp.
Accommodation Cost



Everest region is one popular trekking regions in Nepal so you won't have any problem finding hotels, lodges and tea houses along the trail. The lodges and the tea house in the lower elevations are quite cheaper as the cost for accommodation ranges around $5- US $10 per day. Extra facilities like a hot shower or attached bathroom will cost you more money at the tea houses. if you wish to stay in luxury Lodge, it cost you around 40 to 50 $ per night.

Meals Cost
Most of the tea houses along the Everest Base Camp region offers typical Nepali dish like Dal, Bhat, Curry, and Pickle for dinner. However, you can enjoy a variety of cuisines at standard tea houses in the lower altitude region. You will spend around $25-$30 per day on your Everest Base Camp trek depending on your food choices.
 local Guide Cost



Guides are an important part of the trek to make your Everest Base Camp trek Expedition successful. Guide cost will not include in the booking process so you must hire them separately from the trekking agency. The cost price for the guide ranges from USD$400 up to $600. It is a wise investment because the expertise of the guides in the field will only ensure your safety on the Everest Base Camp trek.
 Sherpa porter Cost



Porters are a core part of the Everest Base Camp trek because they will assist you with your luggage to the destination. A porter is only allowed to carry up to 20kg of equipment or luggage. A proper porter will cost you around from USD$150-400 for the entire trip. However, you must understand the porters are only meant to carry your luggage and not meant to guide you.
 

Permit Cost



You will need special permits to explore the restricted area on the Everest Base Camp trek expedition. So, you will need permits like TIMS and Sagarmatha National Park entry permits.  The cost for Sagarmatha National Park permit is around 3000 Rupees as the TIMS cost around 2000 rupees. However, as of 2018, you will not have to pay for the TIMS because you pay an additional $20 for Solukhumbu at Lukla.
Tenzing Hillary airport at Lukla is the main gateway to Everest base camp as more than 25,000 trekkers experience the thrilling flight on their destination to Everest Base Camp every year. Travelers are allowed to carry the maximum of 10Kg of luggage and maximum 5kg of hand-carry on their flight to Lukla. You will have to pay $1 extra per kg if you want to carry more than 15kg.
The Flight Ticket is arranged in a two-way flight route so you don't have to go through the hassle of booking the air ticket again. For most of the foreign travelers, the round way flight to and from Lukla cost around $ 360, for an Indian it cost around INR.18,400 and NRS. 10,400 for Nationality per person.
Trekking Equipment Cost



Trekking to the Everest Base Camp is not a random decision you take because there are proper planning and appropriate trekking gears you need to consider. Trekking gears are important for the successful journey to the Everest Base Camp and back. So, you must be careful before you buy the necessaries.
Cost of the trekking equipment for the Everest Base Camp trek varies according to your preferences and how much gears you already have. You can buy the necessary equipment and gears from Thamel at around $2,000. Whereas, you can also rent that equipment for around $3-$5 per day.
Travel insurance costs
Everest Base Camp trek takes you through rocky and adventurous terrains. However the thrilling experience might be risky as factors like climate, weather and wind may cause difficulties while hiking. The weather patterns are unpredictable in the Himalayan region so you will never know what befalls upon you while trekking in mountains.
So, you must have proper travel insurance for your trekking expedition in Nepal. The travel insurance cost varies and depends on the cover you need and the activities you will involve in. Normally, 30-day insurance will cost you around $150 as it covers all the emergencies and necessary requirements for up to the height of 6,000 meters.
Conclusion
There are many options of trekking to Everest Base Camp. You can spend anywhere between 10 to 25 days during the various types of trek to Everest Base Camp. You can customize your trek to visit other sumptuous places like Gokyo valley or even go to the high passes during the trek.
So the cost of accommodation and food will be dependent upon the number of days you spend there. The same is true of the cost of porters and guides too. Apart from those costs, the other costs during this trek are pretty much the same no matter how many days you spend there.
Should you need more information, Contact Us
WhatsApp – +9779841273869
Email:- aghtrek@gmail.com
Why booking with us ?
Fully Locally Owned Company
Quality Of Service and Competitive price
Highly Professional Staff
Flexible and customization trip itinerary
100% Customer satisfaction
Need help?
Nepal: 00977-9841273869
whatsapp
: 00977-9841273869
24 hour customer service