The  Langtang Trek Cost is low compared to other famous trekking in Nepal. Like Everest Base Camp, Annapurna, Manaslu trekking, The Langtang Trekking Cost is  between 500 to 900 USD for 10, 12 days trekking, The cost of your trekking depends on how you travel, what you carry with you, and what you eat during your journey. All these factors affecting the Langtang Trek cost can be optimized.
Start saving some money, pack your bag, and head off to Nepal for this incredible trekking experience. This article will give you an idea about the Langtang Trek cost, and tips to manage your expenses.
There is no doubt to the fact that the Langtang  trek is one of the most exciting trekking in Nepal. This short trekking takes you to a journey between the mountains and through incredible valleys. Langtang valley is not that far from Kathmandu. And unlike other famous trekking routes in Nepal, Langtang valley trek takes a week to 12 days max to complete.
Surrounded by giant mountains and beautiful landscapes, all you can think of is how lucky you are to witness such a sight. The snow-capped mountains are gorgeous, and the lush vegetation you can see is mesmerizing. Langtang is a beautiful place with a rich tradition and incredible places.
But, how costly can this trek be? Is this trekking as expensive as the Everest Region? These are some of the FAQs regarding Langtang Valley trek. It might be news to you, but Langtang Trek cost is low compared to other famous trekking in Nepal.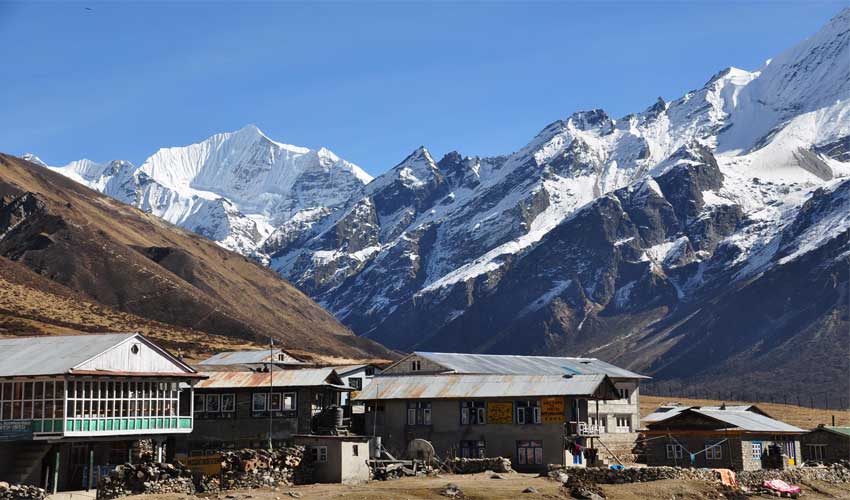 Primary Langtang Trek cost
There are many factors that play a huge role in the Langtang trek cost. Langtang valley lies in the Langtang National park. So, you need a permit to enter this region.
Langtang Trek Cost: Permits
Due to recent updates made, you no longer need the TIMS card to enter the Langtang region. What you do need is the Langtang National park entry permit.
You will need to pay  Nrs. 3000 (around $30) for an entry to Langtang National park. And it costs you Nrs. 1500 (around $15) if you are from a SAARC country.
You can get this permit from the Nepal Tourism Board office in Kathmandu. If you are not able to get it in Kathmandu, you can get it at the checkpoint at the start of your trail.
Book this trek with us, and you do not need to worry about any of this. Our team is here for you, and we assure you will have the best trip to Langtang. Contact us for further information.
Langtang Trek Cost for Food and Accommodation:
Langtang Trek might not be as famous as the classic Everest region or Annapurna region. But there are enough accommodations for you in this region. Trekking in Nepal basically means hiking from one tea house to the other.
You will find many tea houses during your journey. These small tea houses offer you hot beverages and hot meals. Dal Bhat with curry (Rice with Lentil soup and curry) is the primary food in Nepal. And so it is in this trekking.
The higher the altitude gets, the more expensive the food becomes. You will have to pay more for the same food in higher altitudes than at lower altitudes. Remember, everything needs to be carried or flown out there. Considering the lack of proper modes of transportation, the price seems reasonable.
Also, there are other food options for you. You can even get pasta, noodles, momo, pizza, and many more. You will also get hot beverages like tea or coffee. Choosing varieties of food from the menu can increase your expenses. It might cost you $2 to $6 for a meal in Langtang.
Even a bottle of water costs you more in the higher altitude than in the lower altitudes. There are almost no sources of water as you get higher in this region. You are most likely to pay $1 to $3 for a liter of water.
Accommodations are cheaper than food in these regions. In general, you will be paying $2 to $5 for a night in Langtang. You will not get a luxury hotel sleep, but you will get a hot bed and enough blankets for the night.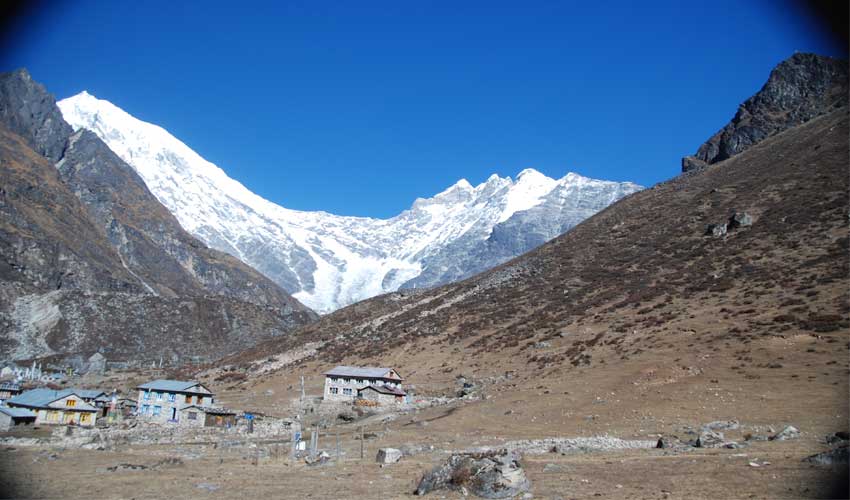 Transportation:
Your journey to the Langtang Valley starts at Kathmandu. You need to take a bus from Kathmandu to Syabrubesi. There are different modes of transportation from Kathmandu to Syabrubesi.
You can find a local bus from Kathmandu for about $10. These buses get crowded by the locals (for obvious reasons).
Another alternative for you is taking a private Jeep from Kathmandu. You could be spending around $140 for a jeep ride from Kathmandu to Syabrubesi. But a private jeep is available only if you are a group or if you can tag into some group.
You can also find a local jeep from Kathmandu to Syabrubesi.
Tour operators can spare you a great deal of problem and make your trekking experience extremely secure and dependable. Since they have an extended knowledge of the trekking trails and a professional crew of guides/porters, they can make you trekking experience a breeze!
Tour operators are also beneficial when it comes to emergencies and evacuation! They can quickly transport you out in any case of unforeseen emergencies. Also food and accommodation will not be a problem even during peak season if you travel with tour operators.
You can find two types of tour operators. They are regional and western. Western tour operators though expensive, are extremely professional and reliable. But their high cost can prove a little difficult for budget-friendly travelers. Western administrators normally charge anywhere between US$1,500 – US$4,000.
On the other hand, local operators are much cheaper. Since they are in the same province as the trekking destination, they have much more experienced guides and porters. Also, if you opt for a local trekking guide you will not have to communicate through a middle man. Local operators charge you around US$1,200 – US$3,000. Be that as it may, be cautious while choosing local operators as the cheaper ones are normally ineffectively run, give unobtrusive facilities and have poor administration.
Langtang Trek Cost:  Guides and Porters
This trek is doable without any guide or a porter. But, I recommend you take a guide if you are traveling solo. A trekking guide and porter can be your ultimate friends.
Also, if you are new to trekking, it is best for you to take a guide with you. A guide can make  easy and comfortable trip. he will take you right path, quick arrangements for everything. You will have no trouble in finding accommodations or proper food.  And It might cost you around $25 to $35 for a guide, and around $20 for a porter per day. Also, the porter cost might vary according to the luggage you take with you.
Langtang Trek Duration
Langtang Trek cost also depends on the duration of your trek. You will be spending more money as the days pass by. You will pay more for accommodations, food, guides, and porters.
Packing Costs
Besides all the expenses mentioned above, you might not want to skip the cost of packing. Yes, it does not fall under the actual trekking cost, but you will be spending money on your goods.
You will find all the required stuff for your trekking in Kathmandu. And your packing depends upon the time, or the season you visit this region. There are some primary trekking stuff that you must pack. And you must pack considering your budget.
Secondary Langtang Trek Cost And Possible Expenses
Besides the primary trekking cost, there are some other expenses you should be prepared for.
Charging your Devices
You will get electricity for free in the lower altitudes, but things change when you hit the higher altitudes. Since the Langtang region is remote, even the basic things are complicated to get. Hence, you should be prepared to pay to charge your mobile phone and cameras.
It could cost you about $3 for an hour of charge. Again, this expense is avoidable.
A Hot Shower
Although, It is unlikely that you would want to take a shower in such a cold surrounding. But if you have to, do not expect to get it for free. It might cost you money, as water is valuable and very hard to get around there.
Extended travel
In general, you will complete Langtang valley trek in a week or so. It can get to 12 days max. But you might want to get even further and visit Gosaikunda as well as Helambu during your journey.
Your expenses will increase in such situations. You will spend more on food, accommodation, guide, and porter.
Insurance costs
Langtang valley trekking will take you to some of the most remote places in Nepal. This place lacks proper transportation and dense settlements. There is a possibility of getting altitude sickness. And you have to avoid getting sick or injured at all cost.
However, if you do get altitude sickness or injured, you will need help as soon as possible. I recommend getting an insurance before visiting this place. Some health insurances cover a flight up to an altitude of 6000m.
You might want to add the insurance cost to Langtang Trek cost.
How to minimize your Langtang Trek cost
Though the Langtang Trek cost does not seem too high, it is always better if you optimize your expenses. The primary expenses are fixed and somewhat accurate; still, you can minimize some of the costs during your trek.
You will spend less if you travel in a group. When you travel in a group, you are more likely to get discounts on accommodations. Also, you will be paying less for your guide.
Carry a high-power portable power bank to charge your cell phone or cameras. Since charging costs a certain amount at higher altitudes, a power bank will save you some money.
Pack wisely and lightly. You should carry everything you need, but do not overpack your bag. Packing light helps you avoid porter or get a discount.
Make sure you carry some snacks with you. Biscuits and chocolates tend to be expensive in those regions.
Make sure you pack the water purifying tablets. You can fill stream water and purify it, rather than paying for a bottle of water.
Make sure you eat at the very hotel you stay in. You might get a heavy discount on accommodation if you do so.
You can carry your own tea bags and only pay for how water.
You can rent your trekking gears in Kathmandu. It will cost you significantly lower than buying your own gears.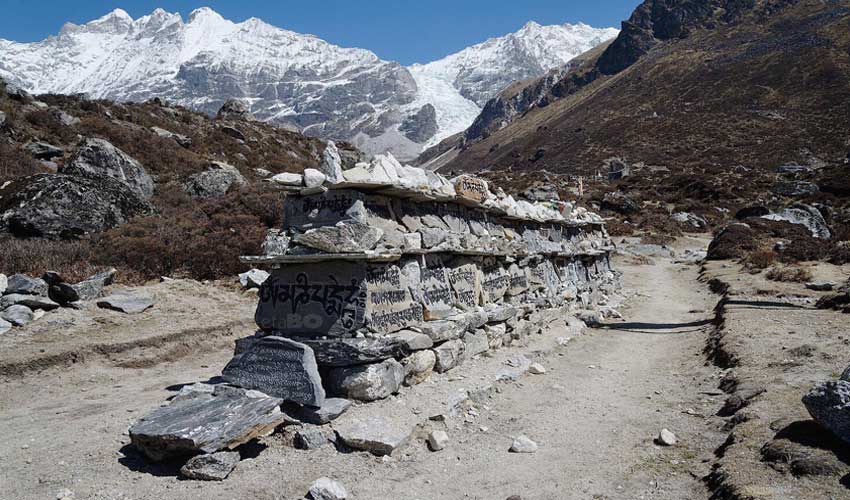 Some Basic Tips for Langtang Valley Trek
Make sure you have enough Nepali currency in cash with you. There are no ATMs or swiping machines in this region.
Stay hydrated.
Consult your doctor before packing any medicines with you.
Pack wise and pack light.
Do not overdo your trekking. If you need some extra days for acclimatization, take them.
Conclusion
All in all, Langtang Trek cost is not as high as the other famous treks. But it is just as beautiful as them. You will see incredible mountains, astounding valleys, waterfalls, glaciers, and traditional Tamang culture during your trek.
Langtang is a beautiful place filled with beautiful people and natural beauty. You will enter a remote part of Nepal, which does not get too crowded even in the trekking seasons.
There are certain things you can avoid in this trekking which will help you to optimize your expenses. Just enjoy your journey, and you will have the best time of your life.
Note: Make sure you keep the environment clean. Do not harm animals and vegetation. Do not pollute the water and the surrounding. Make sure you follow the Nepal government and local rules. 
Need Help Contact:
Adventure Great Himalaya
Email: info@greathimalaya.com
WhatSApp: +977-9841273869