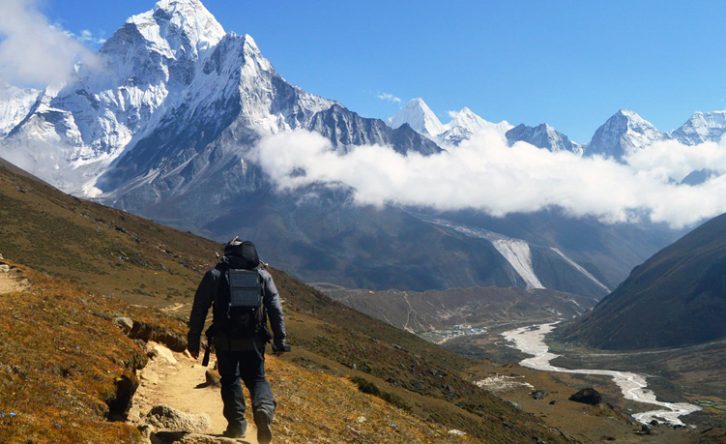 Trip Facts
Best Time
October to November and March to April
Mode of Trek
Lodge/ Tea house
Overview
Everest base camp and Gokyo lake trek  is one of the challenging adventure trekking  in  Mt Everest trekking region. The trek combines spectacular viewpoints and enthralling sights of world's tallest mountain  such as  Everest base camp ( 5356m, The famous Mt Everest  sunrise view point  (Kalapther  5545) crossing chola ( 5367 m) and Gokyo lake, Gokyo ri ( 5467m ) This trek is for people who want to experience the Everest Base camp trek with added benefits.
The 18 days Everest base camp &  gokyo lake trekking via cho la pass,   starting from lukla after 40 minutes flight Kathmandu.  the trek takes you Everest base camp and kalapather  first, then after cross cho la pass and gokyo lakes.the highlight of trek fabulous close-up views of Mt. Everest while the gorgeous Gokyo Ri presents views of the Gokyo valley, which is one of the Himalayas' unsung treasures, the massive Ngozumpa Glacier and scenic vistas of the Himalayan peaks.
A trek to Everest Base Camp tops the bucket list for many trekkers. And the reason is obvious. The trail meanders along the foot of snow giants and the views of Everest and other imposing peaks are simply astonishing. And adding Gokyo & Cho La pass makes it magical.
Everest Base camp- Kalapather and Gokyo Lake Trek demands good physical shape: you must be able to walk for 6 – 7 hours a day on rugged mountain terrain. If you are in doubts to your physical ability, No Problem,  Our professional mountain guide and staff will handle everything; they understands your interest, needs and above all take care of your safety along the way. We will ascend gradually making sure that we avoid mountain sickness and acclimatize as per schedule.
Highlights  of Everest Base Camp and  Gokyo Lake  Trekking Via Cho La Pass

#  Scenic & adventurous flight to and from Lukla
#  Cross cultural privilege with the mountain people in the heart of Everest
#  The sparkling turquoise-tinted Gokyo Lakes
#  Magnificent views of Khumbu Glacier and Ice fall
#  Everest Base Camp at 5,364m
#  Standing Three viewpoints for overview Himalayas – Chukung Ri ( 5550m)  Kalapatthar (5,545m) and Gokyo Ri (5,483m)
#  Crossing  and Waling to Ice Glacier, The Challenging Cho La Pass (5420m)
 # Visit the Sacred Tengboche Buddhist Monastery
Best Season for Everest Base camp & Gokyo lake Treks
If you are planning for Everest Base Camp and Gokyo Lake Trekking and are after a quick answer on when to trek, well, the answer is: Spring and autumn. However there is no absolute best time for everyone; your experience will depend on how you feel about the crowds, how high you are intending to trek and your tolerance for heat, cold and rain. Each season in Everest is unique and has its own pros and cons.
Weather in spring (March – May) and autumn (September – November) tends to be mild with clear
blue sky and outstanding views. But nights get bit chilly at higher elevation: better to pack warm clothes.
Monsoon (Jun  – August) receives heavy downpours in Nepal inviting the potential risks of flood and landslide at lower elevation and avalanches at higher elevation. The rainfall makes trekkers difficult to have a quality adventure as the  trails are wet, muddy and slippery. But it might be real boon for keen botanist as the entire region is endowed with greenery and lushness. Likewise,
Winter (December – February) is extremely cold in Everest (sometimes it even drops to -15  degree Celsius) and tea houses on Gokyo – Chola Pass – Everest trail might get closed due to heavy snowfall. If you want to explore mountain at its best and walk on solitary trail; then winter is perfect season for you. Better check the availability of tea house at higher reaches and consult local beforeattempting Cho La Pass.
Everest Base Camp and Gokyo Lake Trek Difficulty
Trekking difficulties are usually measured via altitude, geo-structure and duration of the trekking.Everest Base Camp and Gokyo Lake Trek comprises high altitude trek with a walk on uneven part ofEarth for several days. Therefore it is highly challenging and needs good fitness with endurance capacity.
Elevation and Acclimatization
Kathmandu is at 1,300m and you will reach above 5,000m at different point of trek. Throughout the trek, you will rise 500m – 700m altitude walking 6 to 8 hours each day. If you are not seasonal trekker, it can be very to your body to adopt the thin atmosphere (due to increased elevation). Always acclimatize your body and walk on slow pace to adjust your body at high elevation.
Weather and Temperature
The unpredictable weather of Everest region is one of the most crucial factors than make your trek even more taxing. Always check the weather and consult local before heading for Cho La Pass. A well-experienced guide is always helpful.
How to deal with the difficulty in Everest Base Camp and Gokyo Lake Trekking?
In general, Everest Base Camp and Gokyo Lake Trekking is not that difficult if you follow some advice, The major problem of this trek is AMS (Acute Mountain Sickness) and the unpredictable harsh weather. Not to worry, the heli rescue service is readily available in case of any emergency situations.
Follow the following instruction to reduce the difficulties of trek:
1, Check your health at least two times a day
2,  Listen the calls of your body: only head forwards when your body is fully prepared
3,  Be sure to schedule enough acclimatization days
4, Stay hydrate: drink at least 3 liters water each day
5, Pack all the necessary gears: especially – warm gears, trekking poles and crampons ( you might
need it if approaches on pass are full of snows and ice)
6, Comprehensive Medical Kits (consult your guide or travel companies)
EBC Cho la pass Gokyo Trek Itinerary
Cost Include
Service included
All Airport Transfer (Airport – Hotel – Airport)
Hotel in Kathmandu: 3 nights , Twin sharing basis  standard hotel in Kathmandu, including breakfast.
Trekking Permit: Necessary  All Trekking Permit and company paperwork.
Transportation from Kathmandu to Manthali airport and return kathmandu
Domestic flight Ticket:  Manthali to Lukla -Manthali – Limit weight is 16 kg per person.
 Trekking Guide: An experienced, helpful, friendly, and Good  English speaking trekking guide
Trekking Porter: Carry your bag pack. a Strong Sherpa Porter and everything for him
Full board meals during the trek 🙁 Breakfast, Lunch, dinner)
Twin Sharing Basis Lodge Accommodation In Trekking

Trekking Equipment: Sleeping bag, Down Jacket,walking poles
Everest Trekking map,Walking Poles if needed.
Company T-Shirt,  Duffel Bag
All Government Taxes and Service charge.
Welcome or Farewell  Dinner in Nepalese Cultural Restaurant.
Service excluded
International Air fair and Nepal entry visa fee
Travel insurance and emergency rescue evacuation.
Lunch and Dinner in Kathmandu
All bar bills , Personal Expenses
All kinds of drinks,  Hot shower, WI-Fi
Tips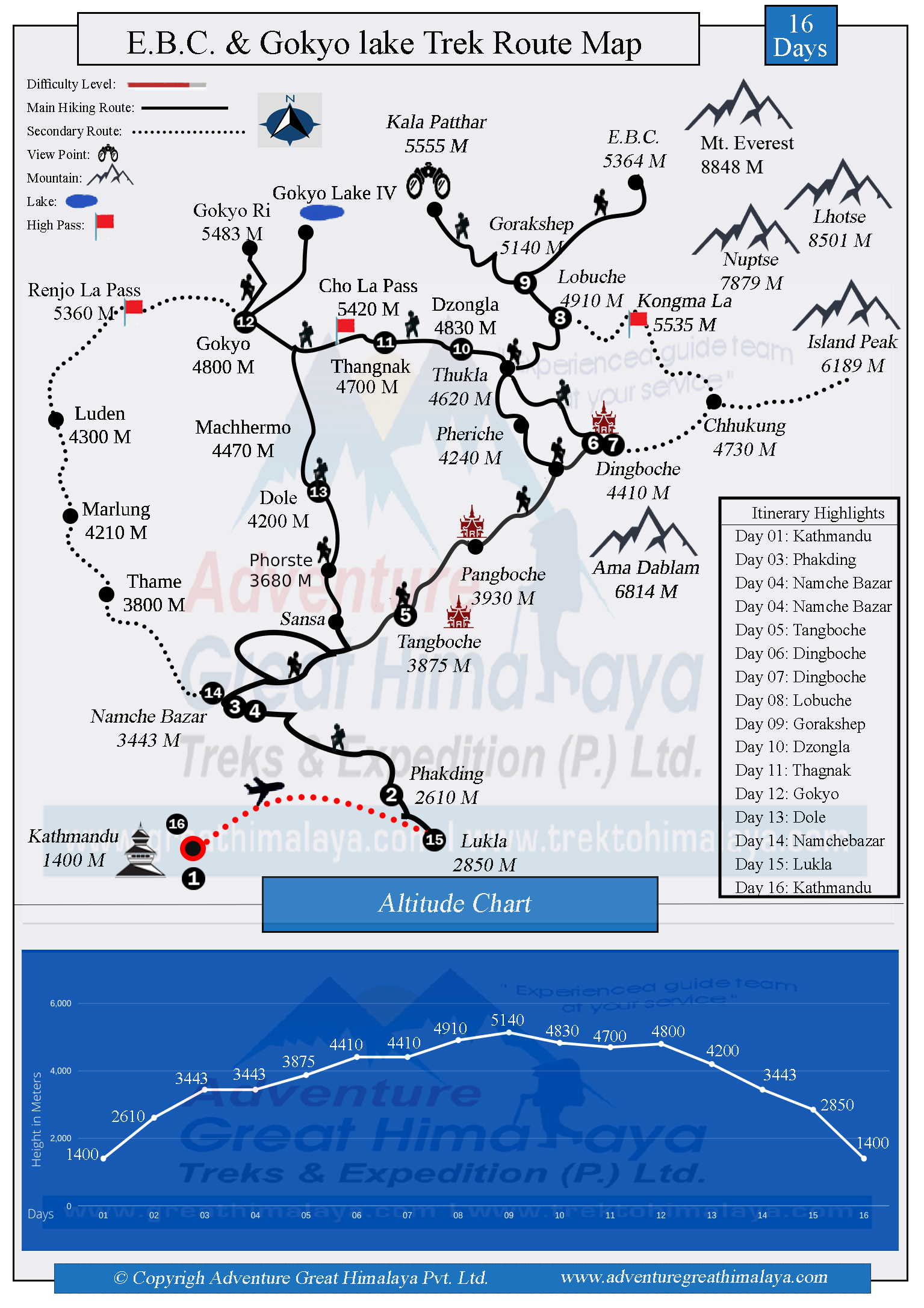 Gallery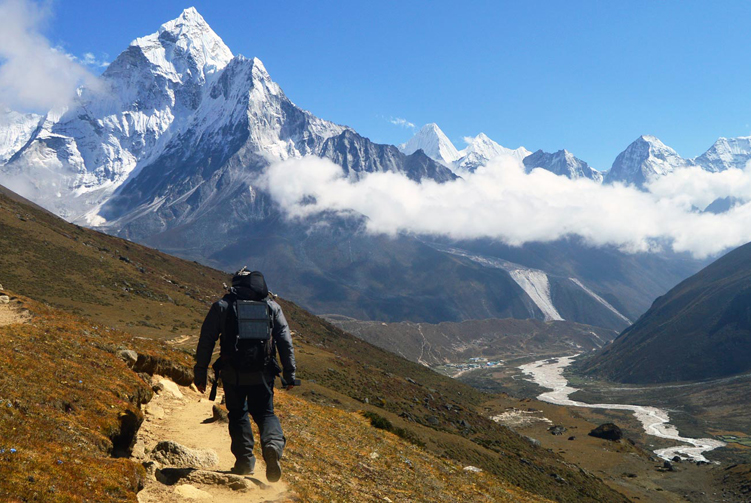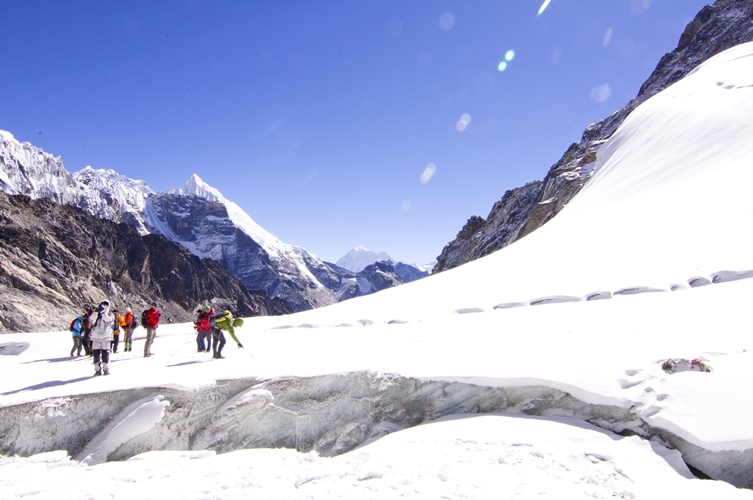 Reviews of Everest Base Camp & Gokyo lake Trek